by SP Clarke.
Part 1: Introduction
"How in the world could anyone write about Portland bands for so long?" is probably the most frequently asked question I have encountered over the past thirty-five years, when confronted by a member of the local community at large, upon learning of my mostly ulterior identity as a long-time local music "critic." My shocking reply is always the same. It's been surprisingly easy! It would be difficult, if not impossible for a local music novitiate, staring squarely at the third millennium AD, to envision the scene that was thriving in Portland back in 1970's. It was nearly unrecognizable by today's standards.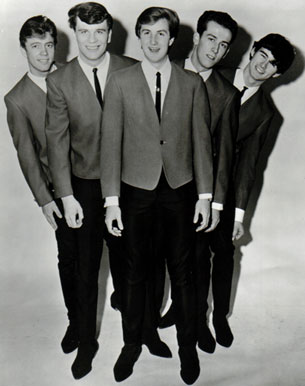 The state was fresh from an edict handed down by the OLCC in 1972 that, at last, permitted the unholy admixture of live music, performed by real, living human beings, to be played in Oregon taverns. That was a luxury which, in the '60s, was afforded only to hard-liquor "dinner clubs," such as jazz pianist Sidney Porter's memorable Sidney's club in Northwest Portland. The alternatives had always been non-alcoholic venues: folk coffeehouses such as the Psychedelic Supermarket and the Folksinger in Southwest and the 9th Street Exit (which was originally located in the same Salazar Building, which eventually became La Luna) in Southeast; or teeny-bopper "pop" hangouts such as the Silver Skate, D [Division] Street in outer Southeast and The Chase, in Milwaukie. It was at the Chase where owner Ken Chase (KISN radio Program Director and entrepreneur), their manager, first contracted the Kingsmen (who were the house band at the club and went so far as to make a live recording there) to record "Louie Louie."
With the lifting of OLCC restrictions, rock clubs, serving beer and wine, soon sprang up everywhere across Portland. Popular spots of the day were clubs such as the Refectory and Frankenstein's; and later, Jekyll & Hyde's and the Inferno. They offered all varieties of popular music to an ever mounting throng of hip, young patrons; increasingly with an emphasis on dance music over listening music (which had been the stock and trade of bands back in the coffeehouse days).
Liberal attitudes toward drinking and drugs, and few harmful socially-transmitted diseases, helped to promote an atmosphere of "never-ending party," which culminated in the hedonistic excess espoused during the height of the disco era of the late '70s. By the end of 1979, as both Two Louies and I were being initiated into this loopy landscape, musical territories had been defined and staked out and there were fifedoms in every corner of the land.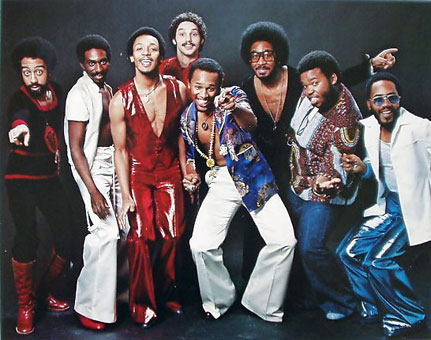 The funk band Pleasure had already gone national. Pleasure, who started out in Portland in 1974, quickly rose to regional prominence. Over the next ten years they were to record seven albums, releasing a single that rose to #5 in the charts. Leader Marlon McLain soon acquired a reputation as a world-class producer, which resulted in his working with some of the biggest names in the business, a position he still maintains to this day. Pleasure's early success blazed the path for the many bands that followed.
Probably the most seminal rock band of that early era was Sleazy Pieces, a band with a crazy amalgam of influences, made manifest by several of its many component parts: lead singer Earl Benson, whose esoterically bohemian blend of off-kilter Beat poetry and goosey, operatic vocals would have been at home with Frank Zappa; guitarist Steve Bradley, whose name will ever remain legend among the annals of prominently regnant local musicians; and drummer Johnny Koonce, whom eventually stepped out from his kit to form Johnny and the Distractions.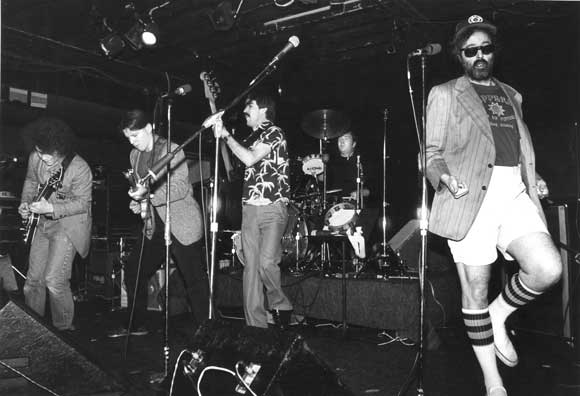 The Pieces formed in 1971 with Benson, Bradley, rhythm guitarist Billy Bob Wyatt, Richard Englund on bass and a fellow named "Alaska" on the drums. Bradley was already a local legend, even in 1971, having played in such prominent local bands as the Firemen and U.S Cadenza in the '60s. The Sleazy Pieces were named by a raucous fan who yelled the name at them during one of their earliest shows.
Tom Gifford soon became Alaska's replacement on the drums and Fred Coyner took over for Richard Englund on bass. Coyner was eventually replaced by Bill Piland. In 1975, it was the Benson, Bradley, Wyatt, Gifford and Piland line-up that fans in the clubs soon came to know and love. By 1978 when the band finally broke up (not the first, nor the last break up), Koonce had been behind the kit for several years.
Notary Sojac (whose name was taken from the Smokey Stover comic strip: wherein the ostensibly nonsensical word cryptically appeared at least once per strip) was the brainstorm of two guitar playing brothers from Tigard, Steve and Bobb Koski, who had previously played with the Warlocks in the mid-'60s. Along with keyboardist Will Herrold, vocalist/guitarist Tom McKeenan, drummer Justin Bonner and bassist Jim Lowry, the Koski brothers turned the band into one of Portlan's most popular bands in the early 1970s.
Sand was another popular band of the early '70s, a soulful folk-rock outfit whose sound and sensibilities were similar to Crosby, Stills and Nash- with, perhaps, a little funkier veneer overlaid. Band members included guitarist/vocalists Dan Wilson, Dan Ross and Jack Meussdorffer, bassist Rich Gooch, along with keyboardist Attilio Panassidi and drummer Steve Williams. Sand were so popular that they were able to release for the Barnaby label (distributed through MGM) a modestly successful self-titled double-record vinyl album, which had recorded material on only two of four available sides- the premise being that side one could flow directly into side two on a standard record changer turntable!
Without doubt, the most successful early blues band was Brown Sugar, who gigged tirelessly throughout the Willamette Valley. Brown Sugar garnered the first local exposure for a young, flashy guitarist named Jim Mesi and an obscure neophyte harmonica player from Milwaukie- Paul Delay. Together Mesi and Delay delivered the blues message to a mostly uninitiated public; a message that both are still spreading, to this day, over thirty years later.
By far, the most popular and successful band of the time was Seafood Mama. Fronted by the husband and wife team of Marv and Rindy Ross, Seafood Mama evolved out of a group called Jones Road (named after their address in Bend, Oregon), which the Rosses put together in the mid-'70s; while they were pursuing day-jobs as schoolteachers. The band briefly changed its name to Beggar's Banquet in 1976, before moving to Portland in 1977 and becoming Seafood Mama.
At that point, the team roster included Marv on lead guitar, Rindy on vocals and sax, violinist/guitarist Bruce Sweetman, bassist Blaine Moody and drummer Morry Woodruff. Together, the quintet combined elements of folk, rock, pop, country, swing and bluegrass into an engagingly entertaining stage show. Those musical performance aspects, coupled with Marv's uncanny aptitude for crafting sure-fire-hit original songs and Rindy's unique talent on the saxophone, found the band receiving heavy local and regional radio airplay- with self-produced singles of songs such as "Hold The Mayo," "City Of Roses," and the favorite, "Harden My Heart," which was punctuated by Rindy's signature sax theme. And, with that verifiable hit, came eventual national attention, precipitating the evolution of the ensemble into the rock band Quarterflash and a subsequent platinum record. But the transition was not without its problems.
Johnny Koonce and his Distractions followed a similar course to national exposure, garnering heavy local airplay with the independently produced version of his Springsteen-like "Shoulder Of The Road." When Koonce left Sleezy Pieces in 1978, he did so with the intention performing his own original material. At, first, he did this by occasionally comandeering the Wasted Rangers.
Hank Rasco's Wasted Rangers were a force with which to be reckoned in the Portland club-scene. They combined a Little Feat-ish blues sensibilty with the country/folk/rock elements of bands such as Buffalo Springfield and Firefall. Guitarist Bill Feldman and pedal-steel master Ron Stephens shared vocal duties, bassist Rick Edwards laid the rhythm foundation with drummer Tom Johnson. Hank Rasco played keys and sang with the band. Within a year the Wasted Rangers would play their final gig. Meanwhile, Johnny and the Distractions had already been born.
But Koonce soon re-tooled the Distractions, replacing everyone but Feldman. Greg Perry (who played with Mr. Lucky and the Gamblers in the '60s and and the super band Wrinkle in the early '70s) took over keyboard duties, while bassist Mark "Larue" Todd and drummer Kip Richardson took over the duties of the rhythm section. The band produced the single "Guys Like Me" and released a full, self-produced album in 1980, which had the requisite gusto necessary to attract attention from a number of major labels. Soon, Mark Spangler joined the band as rhythm guitarist. Eventually, Feldman was unceremoniously booted from the band.
During this decisive period, the Robert Cray Band (featuring Blues Brother prototype Curtis Salgado) was on the verge of greater success. Jeff Lorber was a fixture on the jazz fusion charts. Movie Star was opening for the Boomtown Rats at the Paramount. Movie Star: Tommy Thayer, Jaime St. James, Julian Raymond, Pete Horne and Virgil Ripper, were a pop metal band with solid chops and an abundance of good-looks.
At the same time, a small but devoted Portland underground scene was thriving. With the advent of the Sex Pistols' first album, Never Mind The Bollocks, released in 1976, several independent individuals began counter-cultural musical enterprises of their own, in a town that had only barely accepted the notion of hippies, let alone punks- ostensibly abhorrent nihilists, profiled in several conservative national publications of the day. There were a few early pioneers in the local punk music scene, the foremost of whom was Fred Cole.
In 1976 Cole formed King Bee, a stripped down, Zep-inspired Blues band with his wife Toody's brother, Pat Conner on drums and Mark Sten (Stanley) on bass. Even at that early date, Fred was no stranger to playing in a band. For, Fred Cole was born to play in a rock band, and, since childhood, rock and roll has been the only lifestyle he has ever known.
Beginning at the age of thirteen, Fred played a series of bands, early on, with the Little Red Roosters and The Barracudas. But his recording career began at fifteen, with Deep Soul Cole, an all-black soul revue from Las Vegas, Nevada. Fred was billed as "the white Stevie Wonder," touring the Western states and recording a series of acetates, including one for MGM entitled "Poverty Shack," produced by Larry Williams (who wrote the songs "Bad Boy" and "Slow Down," made popular by the Beatles, as well as "Boney Maroney"), who also played guitar on the track.
From there, Fred went on to play in a band called the Weeds in 1966. The story goes that the Weeds were enroute to Canada to escape the long arm of the draft, when they ran out of gas and money, while passing through Portland. Destitute, they asked a citizen where they might find a place to play and were told of a coffee house called The Folksinger. It just so happened that young Toody Conner worked at the club. Quickly she and Fred became a couple and were soon married- a fact that his record company ordered the groom to hide.
The Weeds' first manager also managed the Seeds, who had a hit with a song called "Pushin' Too Hard." The Weeds were subsequently signed to a contract with the UNI Records, whereupon the label assigned the legendary "Lord Tim" Hudson (who claimed to have coined the term "flower power") to manage the band. Hudson promptly convinced the lads to change their name to the Lollipop Shoppe. That band's first release for UNI, "You Must Be A Witch," became a minor hit. The Lollipop Shoppe went on to appear with the Peanut Butter Conspiracy in the B-movie, Angels From Hell, released in 1968.
In 1969 the Lollipop Shoppe broke up. After a few failed attempts to revive the band, in 1970 Fred, Toody and their two infant children moved to the Yukon Territory, where they lived for two years in an effort to avoid the draft. The family returned to Portland in 1971, and, with Piers Munro, a fellow former-member of the Lollipop Shoppe, Fred and Toody opened their first music store, Freedom Guitar, which they operated for about a year. After that, Fred and Toody opened Captain Whizeagle's, which quickly became a hang-out for every new band to hit the pavement. The Coles became foster-parents to a legion of underground musicians from all cultural corners of the city: as Fred and Toody were widely renown to have a generous credit policy.
In 1973 Fred formed a band called Zipper, which released an album on Whizeagle Records in 1974. With King Bee, in 1976, Fred was firmly ensconced in what there was of the local "scene," and he has never once looked back; leading one band or another, almost continuously, ever since.
Another seminal figure in the local alternative music scene was John Shirley. An avid connoisseur of the budding DIY ethic related to the new music sensibility emanating from the United Kingdom, Shirley, along with Mark Sten, opened the first punk venue in Portland, the Revenge Club, in 1977. Shortly thereafter, Shirley formed one of the first punk bands in town, Terror Wrist.
It was right about that time that Greg Sage first emerged upon the landscape. Sage grew up as something of a musical fanatic. His father, who worked in the broadcast industry, gave Greg his own record cutting lathe when he was in the 7th grade. From that point on, Greg spent endless hours peering through a microscope into the grooves of the records he cut. In 1977 he formed the Wipers (named after his day-job at the time, as a window washer), with drummer Sam Henry and bassist Doug Koupal.
Sage founded the Wipers intending for the band to be strictly a recording project and not a performing act. His original goal for the band was to release fifteen records in ten years, which is a pace of about an album every eight months. While he failed to live up to that goal, Sage created a body of work with the Wipers that was acknowledged by Kurt Cobain, himself, as an early influence upon his songwriting (Cobain, like Sage was a left-handed guitarist). Cobain would produce a Greg Sage tribute album fifteen years later.
1977 was a pivotal year for the burgeoning Portland music scene. KGON radio had begun participating in "Catch A Rising Star" promotions- in which, for 92 cents fans were treated to a concert at the Paramount Theater (now the Arlene Schnitzer Concert Hall) by a couple of up-and-coming acts, whose music, in most cases, KGON- a station dedicated to mostly traditional rock and metal, never played. Occasionally the new band was paired with a non sequitur established act. Such as Elvis Costello with AC/DC. It was the first opportunity that Portland audiences had to see bands such as Costello, Blondie, the Cars, the Pretenders, the Divinyls, Talking Heads and, perhaps most importantly, the Ramones. Seeing the Ramones in concert motivated Greg Sage to make the Wipers into a live act.
And following that same Ramones concert in February 1978, countless local musicians were inspired to form bands. One of the first bands from that renaissance to break out was Dave Corboy's Sado Nation. Minnesota-born Corboy, began playing in rock bands in 1963 at the age of fourteen. After migrating to the Bay area in the late '60s, he continued to play in a variety of rock bands until 1973, when he migrated to Portland to attend art school.
Corboy continued his schooling through 1977, when the call of rock and roll lured him back to the stage. Inspired by John Shirley's songs with Terror Wrist, Corboy was prompted to launch his own band, when Shirley's subsequent band, The Monitors, broke up. With Mark Sten (this time playing drums) and bassist Dave Propp, Corboy and Shirley broke new ground with Sado Nation.
Another band to form as a direct result of that fateful Ramones concert was Hari Kari, which featured, among others, guitarist Otis P. Otis (who was profoundly affected by the Ramones concert), guitarist Spencer Heime and drummer Chuck Arjavac, who also eventually drummed for the band the Ziplocs (which featured guitarist Jeff Williams). Unwittingly, Hari Kari and the Ziplocs were to take part in one of the most memorable events of the early Punk years in Portland: the infamous "Linnton Community Center riot" of 1979.
Accounts vary, but this much is known- Hari Kari were the hosts to the all-ages affair at the Linnton Community Center on Highway 30, outside Portland city limits, heading north towards Scappoose. Besides the headliners, and the Ziplocs, also on the bill were the Wipers, the Neo-Boys and a Thin Lizzy cover band, who brought with them a throng of beer-swilling, flat-head fans who were "uncomfortable" with the new kind of music they were hearing. Not only that, but a large contingent of redneck local yokels were also in attendance, drinking heavily in the parking lot and spoiling for trouble- which was not far off.
Hari Kari had only gotten a song or two into their set when fighting broke out among various factions in the crowd. The band attempted to soldier on, continuing to play, but when members of the throng began taking the stage and heading for their equipment, Hari Kari quickly retired. It was not long before the police arrived, restoring order once more. The following day, the members of Hari Kari collected empty beer bottles from the premises in order offset the bill for broken windows and other damages to the community center. Hari Kari broke up shortly after that legendary gig, with Arjavac joining the Ziplocs.
Soon there were dozens of "punk" bands playing the stages of the Revenge, the Earth Tavern, Euphoria and Long Goodbye. Bands such as Lo-Tek, Fix, the Rubbers, Pell Mell, the Cleavers, the Malchicks, the Kinetics, Stiphnoids, Faceditch, the Dots, Bop Zombies and SLA; the cult noise bands Smegma and Rancid Vat; the Marcel Duchamps of the music world and tres dada-esque Wallpaper Music; Ice 9, the Braphsmears and Suburban Guerillas, Hari Kari and the Ziplocs- all joined with headliners, such as Sado Nation, the Wipers and the Neo Boys.
The Neo Boys were Portland's first all-female rock band. Though they were still basically novices on their instruments, their enlightened political stances and sophisticated demeanors are still in time with today's standards. Vocalist Kim Kincaid, guitarists Jennifer Lobianco and Meg Hentges, bassist KT Kincaid and drummer Pat Baum, became outspoken feminist fixtures in the local underground scene. Hentges eventually migrated to Austin, where today she is still a very popular performer.
John Shirley left Sado Nation late in early 1980 to pursue a writing career in New York City, where he became the acknowledged (by William Gibson, no less) father of the "cyber punk" genre of science fiction literature. In early 2004 he published the book Gurdjieff – An Introduction To His Life & Ideas, about the noted mystic and spiritual teacher. Shirley was replaced as vocalist for Sado Nation by Leesa Nation, who sang with the band for the next three years. Alec Burton replaced Mark Sten as the drummer for the band. When Burton failed to show up for a gig (something he was frequently known to do) early in 1980, Chuck Arjavac replaced him. Meanwhile Steve Casmano, a California native who had recently migrated to Portland from Eugene, became the regular bassist. In 1982, Mish Bondage, lead singer for the Braphsmears, replaced Leesa Nation as lead vocalist for Sado Nation.
Also in 1979 (and also affected by that Ramones concert), Fred and Toody Cole founded the Rats with drummer Rod "Rat" Hibbert. The band's name came from the fact that all three members were born in the Chinese "Year of The Rat." After leaving the Wipers, Sam Henry briefly replaced Rod Rat in 1980 to help record the band's second album; before Louis Samora permanently settled into the drummer's chair. Rod Hibbert committed suicide not long after (an event which had a profound effect on Fred. Many of his songs refer to it).
Meanwhile Greg Sage brought in bassist Brad Davidson to replace Doug Koupal and drummer Brad Naish to replace Sam Henry as the rhythm section for the Wipers. These various shifts began an extended game of "band musical chairs," which continues to this day (in some cases, involving some of these very same names).
And that is where our story truly begins. By the Spring of 1980 an incredibly hospitable musical environment had evolved, spawning whole cultures of various musical breeds. The "club" scene became so raucous in fact, that the Neo Boys, among several other punk and new wave alternative bands (possibly mindful of the Linnton Commmunity Center riot), threatened to abstain from attempting to perform in venues where drinking was promoted, citing the dulled audience consciousness at such gigs; preferring the wired-up energy of underagers over the glaring, jaundiced eye of the average pub-goer.
Urban Noize was just such an all-age haven. Run by Fred and Ronnie Noize (Seegmeuller) the club catered mostly to alternative punk audiences with local bands as varied as Upepo and the Wipers, Urban Noize was also the locale for several early shows from touring acts such as Joan Jett, Black Flag and DOA. Ronnie Noize led a band of her own, Toxic Shock, which frequently played at Urban Noize. Clockwork Joe's was opened by Mark Sten who, along with a small coterie of other undergrounders and punks, had become disenchanted with Fred and Ronnie Noize's venue.
Still, there emerged a club for every musical style- and a couple of bands who were able to fill any particular club on any particular weekend. Hair bands such as Sequel, Legend, Rising Tide and Fire Eye found refuge in a multitude of clubs, mostly located on the outskirts of town: the Orange Peel on Capitol Highway in deep Southwest, Jody's at 122nd and Northeast Glisan, the Wreck Of The Hesperus on 102nd and Halsey in outer East county and Zack's at 30th and Southeast Powell, the chief among them.
Folkies such as Gary Ogan, Lew Jones, Craig Carothers, Valerie Brown and Jill Khovy gave forth at the Dandelion in Northwest, downtown at Sweet Revenge, the East Avenue Tavern on East Burnside and at the Riverway Inn on Southwest Macadam. Blues-based purveyors such as the Pete Karnes Blooz band, the Paul deLay Blues Band migrated to the White Eagle in North Portland.
Seafood Mama, Johnny and the Distractions, the Cray Band, Sleazy Pieces, the soulful Slowtrain, the boogie-down Burnside Bombers, the ubiquitously Latin Upepo, country swingers Trigger's Revenge, Sleeper, Lone Coyote Club and Hurrman Burrman, and bluegrassy flatpickers Wheatfield and the Beaver Trail Boys all held court at an array of inner-city clubs including the compact basement location of Last Hurrah on Alder, the old-time, woodfloored storefront of Sack's on Front Avenue downtown, the spacious Earth in Northwest on 21st, and the cavernous Euphoria in the warehouse district at Southeast 2nd and Stark. The Faucet on Southwest Beaverton-Hillsdale Highway and Tipper's on Powell near Southeast 102nd served as the suburban outlets.
Slowtrain were one of the first funk/soul bands to make a name for themselves on the local scene. The brainchild of keyboardist Mike Strickland, the band was originally fronted by singer Molly Ingran (who later, briefly, sang with Nu Shooz in their formative days). Ingran was replaced by Caren Knight, whose raspy vocal style drew comparisons to everyone from Big Mama Thornton to Kim Carnes to Janis Joplin.
Knight was backed by bassist Scott White (whose own local tenure went back to the late '60s with the Portland Zoo Electric Band and the Sunnyland Band) guitarist Mark Storch and drummer Jeff Moore; as well as percussionist Caton and a horn section of Jim Pepper, Gary Harris and Dave Mills. Strickland was later replaced by Dave Gaylord. But when nationally known vocalist Lee Garrett (who co-wrote Stevie Wonder's hit "Signed, Sealed, Delivered) joined the band as advisor and co-vocalist, things deteriorated rapidly. Knight soon left the group. From there, it was not long before the band broke up altogether.
The Burnside Bombers were a boogie band, first and foremost. Initially specializing in quasi-jazz and southern-style butt rock; the Bombers gradually integrated original material into the mix, including the popular local single "Cocoanut Girl." The three founding members, guitarist Jerry Murphy, keyboardist Mark Bosnian and bassist Bob Thompson, went through a number of drummers before they settle on Rick "Grease" Starr, who brought the band more of a hard driving style. They replaced a string of sax players with a second guitarist, Matt Kilwene, which also lent them a harder edge. The Bombers broke up in 1980 after five years on the boards in the local clubs.
Veterans of the '70s, Upepo were an eclectic ensemble who, at first, focused their stylistic inclinations on latin-flavored jazz intonations in their pop songs. As the '80s dawned, the band incorporated new wave aspects into their presentation with such songs as "Condo, Condo" and "RV, RV" (the echolalia was theirs). Headed by vocalist/guitarist Charles Croft, the band relied heavily on the rhythm section of J. Michael Kearsay and drummer Steven Blomberg; as well as upon the talents of keyboardist Glenn Reuger and saxman David Nelson. Percussionist Stan "Rubberband Man" Wood often played solos on specialized rubber bands, a sound which preceded numerous annoying synthesizer settings by several years. But, beyond that novelty factor, his usefullness in the band was dubious, at best, especially as the band shed its latin skin for the new wave. Upepo continued on, into the early '80s, before permanently disbanding. Wheatfield were the kings of bluegrass-flavored folk/rock. Founded in 1970 by guitarist/vocalist Will Hobbs, Wheatfield became one of the best known local bands of the 70's. Their strongest lineup consisted of Hobbs and Paul Douglas on guitars, Susan Scholz on vocals, Kenny Sawyer on drums, Kelly Stites (a former member of the Street Corner Band) on bass and keyboardist Kerry Canfield. While the band was one of the most popular in the '70s, they were unable to make the musical changes necessary to survive as a band. Of course, the name Wheatfield became a liability when popular musical tastes changed toward punk and new wave.
Another band that embodied the '70s country rock ethic was Trigger's Revenge. Evolved from another country rock band, Country Al and his Pals, Trigger's Revenge was fronted by singer songwriter Keeter Stuart, whose grandfather, Stan Jones, wrote the country classic "Ghost Riders In The Sky," with Al Garcia on lead guitar. In later incarnations, Trigger's Revenge featured vocalist Alison Rice, bassist Don "The Rock" Weiss, drummer Mike Koreyow, Hank Rasco on keys and Al McLeod on guitar along with Stuart.
Hurrman Burrman were among an elite few country rock bands to dominate the local club scene. Hurrman Burrman were a show band in the truest sense of the word, whose roots went back to junior high school in Grant Pass, Oregon, where the four founding members, bassist Steve Vincent, drummer Jim Sanders, guitarist Smiley Brion and drummer Al Klassen first conceived the band back in 1976.
At their peak, the Burrmans regularly held forth on the weekends at the more influential local clubs, including the Last Hurrah and Euphoria. More so than their counterparts, Hurrman Burrman had a looming presence from one end of the state to the other a claim which few among the competition could make.
Their stage shows were legendary: a muscular cast, which included two drummers (only one kit, Klassen and Sanders alternated behind the kit and adding conga percussion) and a pedal steel guitar player backing Vincent and Brion, with all four founding members providing dense, Dead-inspired vocal harmonies (all four took the lead vocal duties from time to time. Beyond that, Klassen was quite proficient on the harmonica, which lent another dimension of color to their sound.
But, most spectacular of all, was the appearance within their stage show of "Johnny Smash and the Marijuana Brass," whose take on the Johnny Cash songbook was raucously over the top. Donning sombreros and serapes, Vincent, Sanders and Klassen would also act as the Marijuana Brass, punctuating Brion's Smash interpretations with sloppy horn (Sanders played trombone, while the other two played trumpets) interjections, while continuing to play their regular instruments as well. Their somewhat vulgar, riotous version of Johnny Preston's '50s hit "Running Bear" was also a crowd-pleasing institution, as well.
As the '70s came to a close, musical tastes of the public began to change. Sensing the shift (as Wheatfield and Triggers Revenge were also forced to face), Hurrman Burrman retired; firing their original pedal steel player and replacing him with Ron Stephens- a member of Hank Rasco's Wasted Rangers, when Johnny Koonce more or less took over the band, calling them the Distractions (for whom Stephens helped to engineer their first, locally produced recordings). With Stephens on board, the band briefly permutated into Sleeper, before embarking upon an extended USO tour of military bases across Asia, which, while lucrative, did nothing to further the bands' music career.
Instrumental in the development of the Portland music scene in the late '70s was Tony DeMicoli, whose wild, outlaw bar, Club Long Goodbye (located in Old Town at Northwest 10th and Everett, where Jimmy Mak's is now housed) served as an unbiased proving ground for any band of any musical persuasion, but most predominantly for up-and-coming new wavers such as the Cleavers, the Neo Boys, Sado Nation, the Balloons, Modern Problems, Casey Nova and, most importantly, for the Miracle Workers, the Rats, the Odds, the Untouchables and the Malchicks.
Born on the island of Malta, Tony soon migrated to the U.S. (Brooklyn); with a profound appreciation for the rich culture of music that existed in this country. Upon arriving in Portland, Tony quickly became a fixture in the local music scene, at first at the Long Goodbye. Tony launched the careers of innumerable local musicians from Long Goodbye, not the least of whom was Jeff Lorber.
Tony also demonstrated an abiding appreciation for theater, allowing various troupes to perform in the basement space at the Long Goodbye, as well as permitting the madcap machinations of antique hippie rebels the Rounders, whose political and social commentaries knew no boundaries nor barriers.
One of the most unifying events in those primordial days of the Portland music scene, was the annual Pub Crawl, which was sponsored by the Portland Opera Association and involved dozens of bars- each offering some form of live entertainment. Thousands of people would attend these alcohol-fueled free-for-alls, many of them ferried from site to site around town by an endless procession of school buses, which had been leased for the occasion. Great fun could be had simply by standing outside one of the participating bars; observing the revelers who would arrive or depart upon one of the jolly yellow buses that would roll up every fifteen minutes or so.
Early in the evening, riders would observe strict decorum in boarding and leaving the buses- politely filing down the steps to the sidewalk. By night's end, etiquette and convention were abandoned in a wash of beer. People would slosh from the buses, careening down the steps; pour drunkenly from passenger windows; fall blindly from emergency exits, plummeting to the pavement with a dull thud, amidst debauched laughter and screams. The recent North By Northwest extravaganzas were a scout jamboree in comparison to the bacchanal that was the Pub Crawl. It was NXNW, the Bite and a riot at Pioneer Courthouse Square, all rolled into one.
Those were the embryonic days of the Portland music scene, as we regard it today. Within two years that scene rapidly grew to unprecedented maturity, reaching unparalleled proportions. In that short span of time Seafood Mama signed a lucrative deal with the then-fledgling Geffen Records label. At that point it was determined that the band needed to change their name. Suggestions included "Rindy," "Rindy & the Changes" "True North" and "Chance," but none were deemed as acceptable.
Geffen brought producer John Boylan on board to steer the young band in the studio. Boylan, an industry veteran, architect of Rick Nelson's Stone Canyon Band, was renowned to have hand picked the backup band for Linda Rondstadt's groundbreaking 1971 tour- a band that later became known as the Eagles. Boylan's initial assessment of the Seafood Mama was harsh, but optimistic.
"David Geffen called, said he had a new label, and he had just signed an unknown band out of Portland. He wanted me to fly and see them. They were called Seafood Mama. I had a choice to produce either Pablo Cruise or this new group. I went to see the group and saw a girl in a granny dress playing a sax, but I heard two hit songs: 'Find Another Fool' and 'Harden My Heart.' It was while staying at Boylan's house that Marv and Rindy discovered the name for their new band. While looking through a book, they came across an Australian saying, "One quarter flash and three parts foolish," which caught their fancy. And the band was named at last.
It was also Boylan who proposed that Marv and Rindy drop the rest of the band- whose style was quickly being left behind in the pop music world. Blaine Moody, Morry Woodruff and Bruce Sweetman were summarily dismissed, although Sweetman did play on the subsequent eponymously titled debut album for Geffen. Free of the old band, the Rosses transformed into the new band by raiding a local band, Pilot, of most of its members.
The new members, rocked considerably harder than their predecessors. Drummer Brian David Willis and bassist Rich Gooch created a driving rhythm section, reminiscent of Mick Fleetwood and John McVie of Fleetwood Mac, with more of a "new wave" edge. In addition, keyboardist Rick DiGiallonardo and lead guitarist Jack Charles lent Marv Ross' songs previously unattainable depth and scope. Charles, under his real name Jack Meussdorffer, along with bassist Gooch, had already achieved success in the early '70s with the band Sand.
By the Summer of 1982, Quarterflash's first, self-titled, national release had gone platinum (with the two hits Boylan heard, "Harden My Heart," and "Find Another Fool," reaching the Top Twenty; the former, Number 3 on the Billboard charts), in commemoration of which the band bestowed upon Two Louies an honorary Platinum Album Award. And by that time Johnny Koonce and his ever-changing Distractions had signed with A&M Records; releasing an over-produced album that made it to the neighborhood of number 150 on the Billboard album charts. Quite suddenly, the Portland music scene was on the national radar screen.
SP Clarke © 2011 – All rights reserved