The Oblivious
America
Daemon Records
You know, besides getting tons of recordings from local heroes and unknowns, I receive a lot of stuff from all over the world, from labels big and small, major and independent. And if space were available, I'd happily review some of them. But this publication is dedicated to Oregon music, so unfortunately I cannot.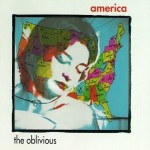 But I would be negligent in my duties, if I did not make mention of this one recording. For in all my years of doing whatever this is, I've never felt so compelled to violate our 'locals only' rule. I would be utterly remiss if I did not tell you about America by the Oblivious on the obscure Daemon Records (POB 1207, Decatur, GA 30031) label.
Perhaps some of you might recall a band called Holly and the Italians, who put out about an album and a half in the 80's. The leader of that band was one Holly Vincent — a singer/songwriter/guitarist of the highest magnitude.
Backed by a simple, but effective drum/bass unit, and frequently by Camper Van-like violin, Vincent delivers 14 of the strongest songs I have ever heard come from a single recording. From the wrenchingly tender ballads like "20's" and "Witness," to the Cinnamon Girl whiplash guitar of "Marianne," to the nervous Pretender in "It's the Sound," there is, simply not even a marginal cut to be found. Her sound and style most resembles that of Juliana Hatfield. But Holly is the grown-up version of Juliana's little girl. Both are vulnerable, yet wise, and tough. But where Hatfield is ambivalent, Vincent is blue sky clear and diamond solid.
Any fan of Juliana will go crazy for America by the Oblivious. It's by far the best recording I've ever received from out there. And it stands as one of my favorites in all of my extensive collection. Find it. Buy it. You'll absolutely love it.
**********************************************************************************************************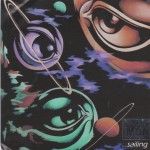 Jolly Mon
Sailing
Elemental Records
Ahoy. Here is Jolly Mon fat as the Pillsbury Doughboy, schitzing chaotically across a river of fire on a sailboat made of metal and funk. Gone is rasta Jolly Mon, he reggae away in his pipe of dream. Bye bye. These waters are far rougher. Frenetic waves.
Case in point, opening cut "The Machine," which alternates between three disparate styles — one a jagged chunk with a monotonal vocal; another, a happy ditty; the third, a piece of rot gut from the bowels of Hell. Pick yer poison.
"The Glass Headed Boy" is a funky dub number that swirls around in burbling space. Guitarist Karl Becker launches into deep screeching dimensions during his agitated solo break, while intoning nervously in the verses.
"Fairy Tale" is Deep Purplish musically, with vocals straight out of "Safety Dance." And "Mother Nature" underscores the split-personality of vocalist/bassist Carey Rich, wherein he undergoes about five vocal personality changes in a little over two minutes. Some of them are pleasurable. "Alien" is the Floydy thing for which the Mon are duly distinguished, but kind of boring unless yer like, um, real tripped out or something.
"So Big" builds on a flicking guitar filigree in the intro, before launching into the most cohesive 'song' to be found on this outing. A delicious chorus, with thick chorded-bass frosting, and nifty guitar-riff candles blazing away against a surprisingly tasty vocal. Becker's guitar runs dive-bomb in spirals around Rich's driving to a dead halt in a digitally delayed parallel universe — breaking back through to the verse. A fine dynamic segue follows. And into the intoxicating chorus. "So Big" showcases Jolly Mon's many strengths neatly and succinctly.
"Why Goodbye is more Deep Purple meets Men Without Hats ("Safety Dance"). "The Ode" is more machometh psychofunk. Shouty and blustery, breaking into a quirky middle. Drummer Greg Eklund leads the hand through the scorching solo section with a stuttering syncopated series of lightening flams and falling down rolls.
Sailing is alternately intense and spaced out. Jolly Mon are a band of muscular musicianship. What they lack are solid, consistent vocals — though they do their utmost to disguise the fact. Still, with a vocalist to match their instrumental prowess, Jolly Mon would be a band with which to be reckoned.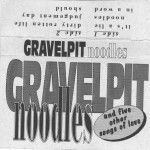 Gravelpit
Noodles
Self-Produced
Gravelpit charge hard on this six-cut recording. "It's a Lie" is a rowdy, four-chord piece of garage written by bassist Johnny Huck, with early Who-like harmonies on the chorus, and rockin' guitar fills. Guitarist Grant Cumpston's title tune "Noodles," is built upon a contagious drop-kick riff that leaves a permanent imprint on yer brain. Deadly.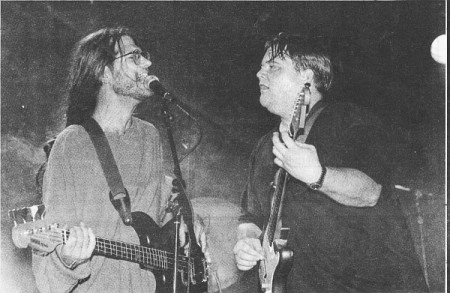 "In a Word" untwines on a weblike guitar riff, escalating into four Nirvana chords before Steve Wilkinson's Vedderish vocal slams the puppy home. Not a bad piece of work. "Dirty Rotten Life" is a demented re-make of "Ride My See Saw." But catchy and demanding of attention. Huck's sturm und grunge gothirocker "Judgement Day" wields a weighty wallop — Blue Oyster Culty down to the flickering guitar interludes and misty harmonies.
And "Should" is a tightening noose of doom, unrelentingly dark. Huge black clouds of chords thunder and flash as a strangled, choking vocal commits a suicidal prayer to hopelessness and rage.
Gravelpit have made great strides in creating for themselves a sound that is hard-hitting, memorable, punchy and distinct. They deserve wider attention.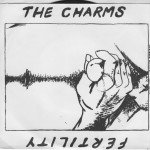 The Charms
"Bessie …/Fertility"
Brujo Records
Just in from L.A., you'd do well to remember the name. The Charms.  These guys rock hard. And they're tighter than Robert Dole's asshole. "Bessie Brings the Ribbon Home" combines searing guitars over a Bo Diddley rhythm and a Pinball wizard vocal, into a Camper Van chorus, only much much tougher. The ghost of Peter Green hovers over the finale rave-up.
"Fertility" is a moody paean to hormones that cuts across a lot of musical turf, from ballsy big beat brontorock into tough blues riffs, into mayhem and back again. A nifty hunk of instrumental goo.
The Charms offer a unique sound,  formidable, complex but accessible and loads of fun. Check them out. They'll blow you away.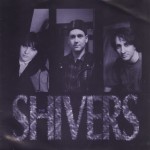 The Shivers
"Almost Gone/Love – Other – Gone"
Chariot Records
Another new arrival to the City of Broken Dreams, the Shivers come to us from Minneapolis, though their roots are distinctly Texan in origin. The band is headed by singer/songwriters bassist Kelly Bell and guitarist/violinist Carey Kemper. They've been described as a cross between Tom Waits and Cowboy Junkies. But that misses the mark.
On "Almost Gone," a jangling piece of cowpone, Kemper sounds more like Jerry Jeff Walker or Townes Van Zandt with overtones of  John Stewart and Michael Stipe. Bell grew up honing her bass chops with eventual members of the Reevers, refining them with Go Dog Go out of Austin. She and drummer Barry Haney create a pocket you could roll a bowling ball through. And Kemper's finger plucky Fender bending solos ring like silver spurs.
Bell has a sweet, plaintive voice—reminiscent of a new k.d. laing, Patsy Cline, or, more obscurely: Gale Garnett. "Love-Other-Gone is a catchy acoustic-laden concoction, over which Kelly's dusky voice floats like fresh whipped cream.
Portland has never had a band with the true Texas sound of the Shivers. Country it ain't. It's the sound of a sidewinder in the sagebrush, endless plains and dusty roads. It gets under your skin and it won't scrub out.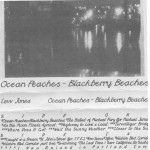 Lew Jones
Ocean Peaches—Blackberry Beaches
Self-Produced
Without sounding anything like him, Lew Jones could be fairly compared to Neil Young. Both have an array of styles ranging from acoustic folk to flaming electric. Both are prolific songwriters. Neither submits to the whims of public taste.
Some of the recordings on this journey through the past compilation go back over fifteen years. I know because I recorded them in my living room on my faithful Dokorder 4-track through a couple of SM-57's. And, through nothing I did, these songs still stand up.
As it does Steve Bradley and Johnny Koonce, this town takes Lew Jones for granted. That's a shame. Guys like these don't grow on trees. Sure, Lew's not the greatest player. Some guys could sing rings around him. But then, the same can be said  of Neil Young.
And, likewise, Lew Jones will remain uncompromising and fiercely independent, writing and performing songs that do not conform to trends—because he must.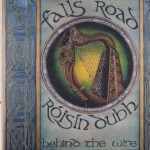 Falls Road
Behind the Wire
Red Hare Productions
Falls Road were called Roisin Dubh, but changed their name because nobody could pronounce it right. They're still the same band, steeped in Irish traditional music, jigging away like crazy leprechauns high on mushrooms.
Comparisons to Jethro Tull, Horslips or Steeleye Span — while appropriate, still miss the mark. Vocalist/keyboardist Shandeen has the perfect big, bawling voice for the job; having honed her chops singing in local bands that go back to Alf Rider's Da Da. Here she wails a clarion call. "Sioban" showcases Shandeen's powerful, evocative voice, while featuring two of the band's other many strengths: guitarist Sean Kinjo and fiddler Brendan Fitzgerald. The two duet as if dueling with amplified swords.
"Love Without Pride" materializes slowly, building on a soft acoustic intro before mounting into a cut that sounds like Pat Benetar fronting Big Country (I know, they're Scottish, but it's the same jiggy sound). Kinjo cuts loose with a fine Neil Geraldo flavored solo in the middle.
"Our Day Will Come" builds slowly before launching into a strident march with falgs waving and muskets firing into the sky. Shandeen effortlessly soars above it all like gunsmoke. Kinjo again launches a high-charged volley that would make Tull's Martin Barré proud.
"Highland Love" is another fiesty fling, stampeding like a herd of wild horses. The hard, staccato  accents underscore the Tull feel. Bassist Will Barnes and drummer Tim Brown capture neatly the loping quality of the rhythm, driving it incessantly. And the ballad "See Me" features pretty vocals, and a nice fiddle solo by Fitzgerald. "Tailor of Humanity" is a traditional ballad that would do Maddy Prior proud.
Falls Road are doing something entirely anachronistic here. I can't think of another band anywhere who is so successfully demonstrating the antique exhilaration of Irish music fused with the energy and impact of rock. Jethro Tull have been considered dinosaurs for a long time But with Behind the Wire, Falls Road serves notice that it just might be time to re-investigate a very exciting form of music. This is a most enjoyable recording.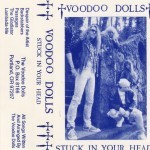 Voodoo Dolls
Stuck in Your Head
Self-Produced
Here's a band, that if they_ could keep it together has always risen to  the top. Guitarist Leslie Karlson and bassist Jeannine Dawson are the founding members. Vocalist Danny Scott is a solid, new addition, adding decided vocal muscle to the rhythm section sinew.
"Despair of the Artist" is a droogy number that moves between 4/4 slam and trippy 3/4 time with expert dexterity. Scott exhibits a flair for dynamics, which widens the bands' sonic palette substantially. "Backstabbers' is driven by Karlson's sharp guitar figures and a catchy chorus. "Passages" begins in a twisted mangle of sound, slowly evolving into a moody ballad. Ghostly sounds move through the sonic graveyard as the cut builds in speed in intensity, bound two a twirling guitar figure.
"The Gladiator" is a dark, sludgy piece — as foreboding as the title might suggest. Karlson initiates "Lambada Me" with a twisted cluster of tones, before the song breaks free into a galloping swagger.
The Voodoo Dolls continue a long tradition with Stuck in Your Head. They can be depended upon to come on strong with hard- hitting, tightly-executed sludge. The five songs here maintain that tradition nicely.
**********************************************************************************************************
Phantasmagoria:
Taking a Bath at Blue Lake Park
by  S.P. Clarke
Never in the annals of Portland Music history have so many done so much, so well for so few. A musical event of nearly Jurassic dimensions, 100 bands on 10 stages, went off with nary a hitch. There were vendors of food and merchandise aplenty. It was a perfect blue sky day in an idyllic setting — an event that was, ostensibly, to benefit the Portland Public Schools. And nobody came.
Oh, I guess the gate was estimated to be perhaps three thousand attendees. But this was no Mayor's Ball. It certainly could have been. And from a production standpoint, it was proven that an event of such grandiose magnitude was not only do-able, hell, it got done.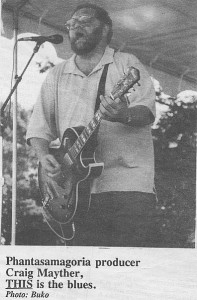 But the promotional ball was fumbled so miserably, this would seem to be a gig doomed from the start. An eleventh hour media blitz failed to adequately publicize a show that needed probably ten to twelve thousand ticket buyers to break even, twenty thousand to really succeed. Months of planning was required to rein in almost inconceivable production logistics. Promotion seems to have been a last minute afterthought. A serious blunder.
For if the plan was to have schoolkids hawk this affair to their parents and other likely prey — as if marketing girl scout cookies, somebody forgot to tell the kids about it. A smattering is an effective definition of the amount of school age kids at this alcohol-free attraction.
Corporate sponsorship certainly might have helped defray production and promotional costs. But what was missing were people. There simply were too few bodies to occupy the acres of space the setting had to offer: too few to see and hear a lot of great acts and performances.
The Bethesda Christian Choir were scintillating throughout their energetic set. And the Shims were razor sharp, delivering a dynamic segment. Johnny Koonce and the Gas Hogs turned in a tight, tuneful performance. The Native Suns were exciting and innovative. Smegma were absolutely out of this world. Heatmiser were a might restrained, but solid. The Crackpots were entertainingly versatile while providing a unique dance groove. The Crazy 8's maintained a sense of humor while keeping the whole affair in perspective.
Perhaps the only logistical flaw in the proceedings was the placement of the Metal Stage. Bands performing on that stage were so loud that they frequently bled into the performances of bands on the adjacent Rock and the Alternative stages. In the case of Smegma, they seemed to use this ambient sound source to their advantage. Perhaps if the Metal Stage had been located in another area — Vancouver perhaps, the problem could have been avoided.
By and large, the sound reinforcement crews performed admirably and the production staff had bands on and off stage with expert precision: What is clear is that in the past few years, this city has acquired a vibrant network of sound technicians. Most of them were working at Phantasmagoria.