Ah, the New Year. Time to buy the old, invent the new and carry on. 1993 was what might be called a "building year" for the Portland music industry. Certainly a few bands trundled out of town to show the world a glimpse of Portland music, amassing darling accolades from press everywhere, while acquiring modest public acclaim.
Still, far more bands have moved in to Portland than headed out. Hot on their heels have been all manner of industry types; setting up shop and laying the foundation of the architecture for what will one day be a flourishing local enterprise.
What remains true is that there a lot of good bands in this town. Bands of all styles and stripes struggling to be acknowledged, vying for visibility in an environment that seems blindly indifferent to its own fertility. But newcomers marvel at the level of talent here. They seem genuinely amazed at all the activity in the musical community, for a city this size. We just take it for granted.
The Eastside has solidified itself into the local musical hub that I first predicted it would become two years ago — offering a rich variety of venues in which all these acts may pitch their battles for recognition. La Luna is the stage to aspire to play on the Eastside. But the Laurelthirst is a haven for up and coming folkies in the tradition of Dublin Pub—right down to maintaining the neighborhood tradition of regular noise complaints to the authorities.
Bojangles is a viable blues joint, propitiously adjacent to the always pertinent Cafe Lena.  But the club to watch in '94 is the Mt. Tabor Pub. No other venue in Portland can match their entertainment versatility — A I00-seat theatre, with rocking chair seats and cheap but cool flicks like A Clockwork Orange, Easy Rider and The Trip; a huge big-screen sports/pool room and a large music room whose great natural acoustics seem to throw a lot of bands off.
The addition of the vibrant Revolution Records and Espresso Bar rounds out the area. The record store offers an "exclusively locals" approach — although their selection of exotic Reggae/Ska/Dub singles is unparalleled in Portland. And the Espresso Bar nearly competes with the alcohol bar in beverage sales.
All of this in one compact space is difficult to envision. But in five brief months, Mt. Tabor Pub has developed into a formidable configuration of fun, where, with growing frequency. the better bands can be found.
And so with the New Year comes another season of hope. My wish for you is that you may find the means to express the exquisite visions that you hold dear, and the encouragement necessary for their creation.
**********************************************************************************************************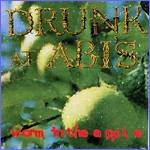 Drunk At Abi's
Worm in the Apple
Self-Produced
Long-time followers of the Drunks may be surprised by their first release on Dan Reed's new Thrive Recordings label. In place of the soul/funk sound that led some to call them the Culture Club of the 90's. Drunk at Abi's—along with producers Tony Lash and Crow—have opted for a tougher, heavier sound that calls to mind various bands from our sister city to the North.
You can bear the change right away. "Princess in a Cobweb" is drixen by Ray Grucn's churning  thump of a bass and Tom Peterson's frenetic drums: which lend muscular support to the bowelly growl of Von Porter's guitar, creating a certain Alice in Pearl Jam milieu. Vocalist J.R. Pella adds to the elfect, cooing and crooning over the top, as if Simply Red's Mick Huckrtall had invaded Eddie Vedder's body.
"Evidence" reflects such influences as Edwin Starr ("War") and Bill Withers as much as Ozzie Osborne, but both styles are fully integrated—forging a freaky disco/soullmetal. A cool guitar figure saws through the sonic framework of "Shit Dust," an angular, hard-edged, relentlessly raw-nerved cut.
J.R.'s melodic vocal line carries "Little Cage" over jaggy guitar fills and the moody. pumping syncopation of the rhythm section. "Stranger 'Dian Time" is closer to a conventional Drunk's tune, a kind of a funky, soulful LennyKravitz-like ditty.
Stevie Wonder and Sly Stone stand as staunch Influences on "War Inside." another funky metal hybrid that reminds of the Daddies (without the horns).
Similar influences mark "Scrape Cut." A weirdly effected bass figure gives way to a standard Sabbath riff. The clever chorus borrows liberally from Sly Stone while simultaneously throwing a nod in Nirvana's direction as well.
It is here, two-thirds of the way through the recording that Drunk At Abi's not unlike Crackerbash on Tin Toy, take a stylistic hard left turn. Check out the curious folk feeling of "Boy in Dirt." where Pella sounds like Meatloaf fronting R.E.M. And the classic cut is "Like It That way." a symphonic number where the bass plays slow piano arpeggio and the guitar adds a legato cello figure. J.R. intones a soft ballad, melodically similar to Sinead 0'Connor's "Just Like U Said It Would B." Lyrically. J.R. traverses the territory of emotional treachery and psychic desolation. A very compelling song.
The finale, a hymn-like folk ballad "Hick Deviant" finds J.R. singing acapella a short, bittersweet tale of anomie. A stunningly odd end to a very satisfying recording.
J.R. Pella and Drunk At Abi's are nobody's clones. Their sound, while thick with the Seattle metal contagion, is infused with elements of funk, soul, disco and rap music which lends the lads a distinctive sound of their own. There is power and fury here, sensitivity and an ear for nuance. But what is most apparent is that this band has done its homework. They have assimilated an array of musical styles, creating informed sound of their own. This is what it's all about.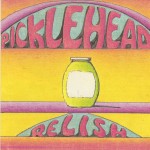 Picklehead
Relish
Loozer Records
Mitch Fraas is a busy guy. A list of his alter egos could fill a page. This one is Picklehead, a band comprised of two tough guitarists, rhythm player Eugene Register and lead guy Kevin Sanders, bassist John Donnelly and several different session drummers. Over this Mitch plays some acoustic guitar, some bass and sings his acerbically cynical pop songs.
Mitch's songs are the stuff of rock 'n' roll: sex and drugs. "Oh Carolyn" speaks to the former while recalling the Clash or Robyn Hitchcock. Sanders provides a sizzling solo.
Ditto for Sanders on "Put Up or Shut Up," a badass rave up that combines the philosophies of Andrew Dice Clay and Pat Benetar in a unique and rarely explored line of thought. The gnarling riff and nasal vocals of "Sleep Your Way To The Top" call to mind Mitch Easter and Let's Active.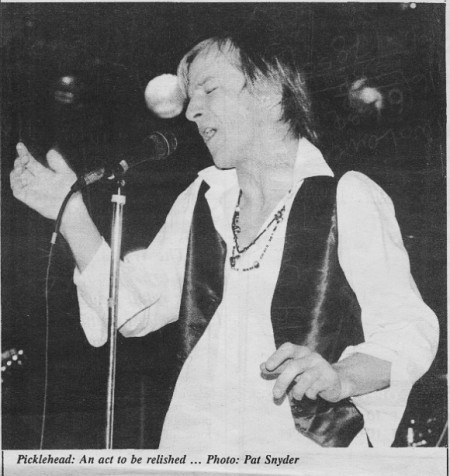 "Quit My Job" is a succinct ventment of spleen, reminiscent in feel to the Byrds' "So You Wanna Be a Rock n Roll Star," but with a story line that is identifiable to everyone.
"You Had a Walk" is Gin Blossonfs territory all the way, a catchy little number about one that got away. "Thunder Songs" comes in somewhere between Replacements and Soul Asylum turfs. The revamped version of the old Green Room nugget "Code Blue" cooks along feverishly under a current of bubbling guitars before turning into a completely different, Uncle Tupelo kind of deal halfway through.
All of this applies to "Someone Better" whose sarcastic lyrics are supported by a crunching, straight ahead guitar section. The ballsy rifting of the tough guitars provides the foundation for "Whatever It Takes" and "Bullshit," as well as "I Drink" — a forthright discourse on alcohol and recovery. "Time For Getting Stoned" is the great Ramones' song they never wrote — with a distinct antecedent in the Stones' "Dead Flowers."
Picklehead have a lot going for them, with tight arrangements and a knack for concision. There are  among the fifteen presented here — tending to obscure the focus. And the songs, as presented, have a "punched-in" quality about them. But if the band can wrangle up a drummer, and play together in gig fashion for six months or so — they could easily become an act to be  relished.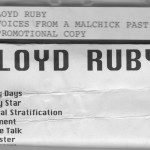 Lloyd Ruby
Noises From a Malchick Past
Self-Produced
Whenever talk of an "Eastside sound" arises, I bring up the Rancher brothers, Billy and Lenny, and their band from the late 70's and early 80's. For here was a band Eastside born and raised. raucous and rowdy rebels of the real kind: the bad boys. The Malchicks. Their sloppy. energetic, barroom rock was (and remains) the epitome of anything amounting to an Eastside sound.
Fifteen years later, Billy is seven years dead. But Lenny and fellow Malchick, bassist David Stricker, carry on the tradition with Loyd Ruby. Here Lenny contributes thirteen songs that deal with inter-personal relationships and social issues.
As a guitarist, as a vocalist, Lenny has never sounded more assured or controlled. Check the McCartneyesque "Easy Days" or the Petty-like rap above the strut of "Sexy Star."
Or "Moment," a tightly structured ballad of tender beauty. "Dude Talk" is a briefglimpse into the Malchick past: "Now Billy was a fisherman who got me hooked into a rock 'n' roll show/15 short years ago/ On the streets we would roam and we lived for parties/ and the girls we would meet/ we'd use the cool Malchick speech/ talking Dude Talk."
"The Rooster Done Crowed" slithers through a mean swamp beat, with a snakey blues tale of a sadistic serial killer. Not yer average pop song. "The Minstrel" continues the musical feel while depicting a story that could be about Jesus or John Lennon or brother Billy. "Strike Out At Everybody" and "Thief" are understated ballads with simple acoustic guitar accompaniment. Poignant in their unadorned splendor.
"Heart Goes Out" investigates ecological and sociological impropriety over a funky reggae rhythm. Bob Marley smiles somewhere over the thought in this song. And "Angela" takes up where the Stones' "Angie" leaves off.
Lenny Rancher has ridden the Rock roller coaster for fifteen years in Portland. In that time he has acquired the ability to delineate concise musical statements with dexterous panache — the essence of Eastside sound. This clearly and freely demonstrated on Noises From A Malchick Past.
Various Artists
1993 Portland Waterfront Blues Festival
Willamette Week
From the inexplicable blues capitol of the Western world (or at least the Western coast of one part of it) comes this impeccably recorded commemorative collection featuring the best performances by twelve of the best local and regional Blues acts.
Noteworthy performances abound but Kelly Joe Phelps' version of "Crossroads," featuring his crisp, flowing acoustic slide work, is a special delight. Deserving of  mention too are The Channel Cats' "Strange Land," wherein Chris Miller imparts an air of authenticity. as do Sheila Wilcoxson and Back Porch Blues with "Mean Old Man." The Switchmasters turn in a blistering boogie with "Back to Baker City" and Duffy Bishop smolders on Hooker's "Boom Boom."
This recording will. doubtlessly and deservedly, sell. It doesn't require a lot of excessive blather from me. For all fans of the local Blues scene. it's a must have. And for those who are curious about the scene, it's a great start.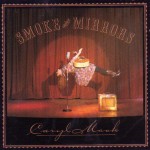 Caryl Mack
Smoke and Mirrors
Cascot Music
A schizophrenic recording of 13 finely crafted songs—with more personalities than Robin Williams on a triple latte. Caryl, husband guitarist Scott Parker and sidemen, former Quarterflashers Doug Fraser on guitar, Sandin Wilson on bass and Brian David Willis on drums, seem unable to decide as to whose market they wish to appeal.
There's the Melissa Etheridge-like "So Far, So Good," the Bonnie Raittish "Torn Apart," the Aimee Mann-ican "Don't Hang On." There's the variation on the "Wind Beneath My Wings" sentiment of "Where Love Survives," and the Tori Amos approach to "Mother Theresa."
Only "So Much The Same." with its hint of melodic reference to the Association's "Never My Love," shines with any real spark. The rest of the material is, indeed. "smoke and mirrors" — yielding no tangible evidence as to who those wizards are just behind the curtain.
Vern Collins & Cross Country
Vern Collins & Cross Country
Self-Produced
Vern's got a lilting tenor, not unlike that of the late Marty Robins. The band is tight, combining Henry James' steel guitar with Bob Baker's violin and mandolin stylings.
"She Just Came Here To Dance" is highly reminiscent of the 50's R&B tune "Let The Little Girl Dance," with a country twist. "Country Living" recalls Charlie Daniels' "The Devil Came To Georgia."
"Midnight Urge" is an arresting tune. leading in with a tasty guitar filigree over a moody, latin-tinged arrangement — this instrumental serves as a showcase for Baker and James. "Calling Baton Rouge" is a countrified Marshall Tucker sort of hoedown, which is highlighted by Collins' stirring vocals and an energetic, uptempo arrangement. "Back In The Swing of Things" predictably swings intensely. Collins' rendition of "Wind Beneath My Wings" brings to mind Larry Gatlin. "Way Up North Around Shreveport" rocks pretty seriously for a country band.
Vern Collins & Cross Country play a Southern brand of country swing that isn't heard much on radio these days. There are indications that this is a ltick-ass live unit with a lot to offer fans of the style.