There's a reason why this column is named what it is. See, good and bad are kind of binary in the extent of their latitude. I have the luxury of subjectively perusing the good and bad amidst the local music scene—and the choice to report on what I want. Usually I avoid the ugly, just as readily as I avoid the pretty: preferring the grey regions of non- description. But every once in a while I see something really ugly happen. Ugly seems to be an event as much as a thing.
What I saw was an ugly, mean-spirited little tract in the Deadly Arts section of the Sunday Boregonian of February 17th. Marty Hughley, inexplicably, chose to perform a narrow-minded hatchet job on Satyricon—purposefully diminutive in scope and depth, microscopic in its objective consideration of what yet remains Portland's best "underground" night club. Besides a few quotes from club owner George Touhouliotis, obviously taken out of context; and a few random quotes from noted local philosopher David Wilds and the always helpful unnamed band manager (who wants to make sure his band still plays the "scummy" club).
When we begin to speak of unsavory stereotypes, and cutting edges, which are not as sharp as they used to be, perhaps we need look no further than to the purveyors of such black and white generalizations. And don't such wan declarations further contribute to the scumminess? Where was the mention of Satyricon's rousing CD release? Where were Marty's colors when the Satyricon "riot" went down? He mentioned ". . .columnists rallied behind those arrested. . ." Can Marty number himself among those columnists? What is unsavory in this scenario is the picture of the "critic" who esteems his own opinions so highly, that he actually believe they mean shit to a tree. Get real.
Satyricon is about bands, about music, about expression. There are phonies everywhere. Some are on the stage, singing phony songs—some stand on the slick beer-spilled floor and watch. Some write about it. But they're still phony all the same. Man, I was really disappointed. The bottom line here is that there will always be bands, music, and an atmosphere of free expression it's the nature of the human monkey. There will be these things long after the phonies and the hypocrites, the critics and the columnists, have all blown away to dust. Sometimes it's best to bear that fact in mind.  Enough about politics. Let's talk about the music.
********************************************************************************************************
Sons of Cain
Flee the Wretched
There's a possibility that this band takes itself too seriously, but that does not prevent them from creating intelligent, thoughtful music. Singer/acoustic guitarist Daniel Harvey seems concerned with relationships within the context of the lyrics. "X is X" is a relationship that he settles for in order to compromise the deeper thoughts he used to entertain. "I used to think the heart unchecked would stain the mind/But now I try to think less/I'm willing to let x equal x." And, on "'Treehouse," he goes on to equate "Tree's just a tree/Bird's just a bird/Man's just a man/And we all gotta eat." What the resolution of these introspections may be, is thus far unknown, but they are delivered earnestly. Dan sounds not unlike the Byrne-man at times, both in tone and timbre; and, how do you say in zis country, in ze flow of ze rhythm in relation to ze clipped character of ze lyrics.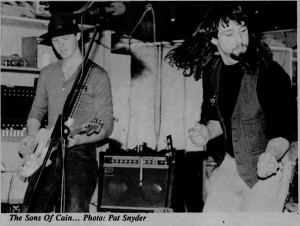 Lead guitarist Josh Bogle is art-ish in his sense of presentation, coloring each tune distinctively. On "Treehouse" his snappy, plucking riffwork through the verses simulates Andy Summers. Through the choruses he wails, though a sense of restraint is readily apparent in his approach.
"Alien Gold" is a dramatic song about the wages of the working class with a slightly preachy attitude, lobbing "Matthew five" and "Henry David"–presumably the Bible and Thoreau—at the bad old supervisor. Ouch! That's gotta hurt. But the tune is a rousing anthem all the same, with its folky ethic nearly approaching vintage Jethro Tull in intensity. And Matthew V is a fairly well known stretch in the Bible, wherein Jesus delivers "the meek shall inherit the earth" as well as "turn the other cheek," while elaborating on the Ten Commandments. How all this fits into the time clock world, I'm not positive, but this exciting four-piece band delivers their gospel with a lot of gusto.
"Meaner than Missiles" is INXS like in feel, and probably more pertinent than the boys could have known when they were recording the number.  "Sharks" is atmospheric in texture, aided by fine, slithering guitar figures from Bogie. His Edge-like harmonic work adds to the depth of the music, though the lyric is unfocused, and slightly incoherent.
Likewise "Days of Old," though the tune shines instrumentally. Harvey's acoustic adds rhythmic flavor to the musical soup, while Bogle wanks on the whammy bar. Nothing fancy, but always with a lot of taste. "Ego" proselytizes a tad, while some decent U-2ish feel develops around and beneath.
Sons of Cain are a good band. They've learned how to give their music space in the context of a recording. Now if the band can be more direct in what they mean to say. What is the message? If they merely mean to convert the masses to some enlightened Christianity, then the road may be hard. But if they mean to convey to the world some hard-won knowledge about life, then they best live more—with deeper conviction, to invest their work with the dynamic fire and urgency their music seeks to suggest.
VooDoo Dolls
VooDoo Dolls
Unknown Soldiers
Ambulance
Similarities between these two bands far outweigh the contrarieties, thus the coupling here. The most obvious similarities are that both bands are fueled by male singer/songwriters, but are held together, fairly integrally, both rhythmically and musically, by women. Though the bands differ in musical texture, they do relate as to the depth of their conviction.
VooDoo Dolls have yet to generate much of a local following, though they were one of a handful of Northwest bands to reach the semi-finals in Musician magazine's "Best Unsigned Band" promotion last summer. They were the only band from Portland to make it—though the Usual Suspects were spotted on the list, now hailing from Chula Visa, California. Also spotted were Boise's Dirt Fisherman, who played at Belmont's recently (look for increased import action at that club as summer closes in). Seattle's Like Rain and Adrian's Childhood also made the list.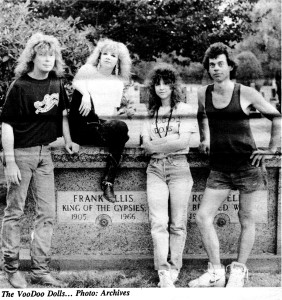 Anyway, the VooDoo Dolls are propelled by the songs of Colly-Michael and the nifty guitar work of Leslie Karlson. In an arena wrought with testosterone, she proves herself as ballsy as the next guy. They are backed by Jeannine Dawson on bass and Lenny McKeever on drums. Stylistically the band probably falls somewhere between the Lennon-invested vocal phrasings of Mitch Easter in Let's Active and the angsty turf of Frank Black Francis and the Pixies.
Unknown Soldiers are fronted by singer/guitarist Al Paschke. His gruff sawblade of a voice evokes identification with the likes of the B- 52's Fred Schneider, as well as Johnny Cash. There's a certain Hitchcockian eeriness in Paschke's vocals, but they've come to grow on me immeasurably since they released their first album, the daringly named Unknown Soldiers. Backing Al up on lead guitar is Sylvia Hackathorne, a long-time member of the local rock and folk scenes. And drummer Pat Baum has slugged her way through the local scene since her stint with the Neo- Boys back in the early 80's.
Both bands are solid. Theirs is a stance, not a posture. Such is the wisdom of conviction.
With VooDoo Dolls, Colly-Michael treads slightly desperate territory. The smug prance of "Easy Action" outlines a raw animal attraction between a couple. The focus here is tight and centered. The song oozes a creamy, sensuality. "Hollywood Nights" deals with the wheeling and dealings of Tinsel Town, appropriately snaky and bombastic in approach. "Tame Me" has a Small Faces vocal feel, supported by some flashy guitar work by Karlson. The music is raw, metallic, punch and well executed.
Unknown Soldiers builds "Ambulance" around a pretty familiar B minorlA/G/F riff, with some fine chortling filigrees delivered in the chorus by Hackathorne. A rumbling sea chanty.  "You Fall Down" is achingly sad, nakedly sculpted, reminiscent in feel to some of Elvis Costello's earliest work. A punchy two-beat goose-step and slashing guitar pyrotechnics drive "It's Not For You."
"Look at Your Face" acquires its own Christ-like symbology, though only faintly. Hackathorne places some effective leads in the middle of this one. And Paschke has managed to alter his vocal approach, given the limitations of the instrument, to allow each song to have its own personality. This is a big improvement over the first album. No one can doubt his intensity or the depth of his perceptions, nor the sensitivity behind his approach.
"Ten-Cent Pistol" is a ballad with a lot of heart and soul. "I'll make you feel like you're almost clean/ like you've never been touched by the needle before," elaborating in the chorus with "Give me hotshot, give me ten-cent pistoll Give me hot'shot, ready to go under." The song is a harrowing roller coaster ride through the "Dime Store Cowboy" world of drugs. All aspects of the musical presentation underscore the aching tragedy of the scene.
Unknown Soldiers and VooDoo Dolls have a polished, compact sound, which affords both bands a lot of flexibility and dynamic discretion. While the Dolls opt for a more high-stepping metallic  approach, the Soldiers play with a grungy folk sound that works far more often than not.
It would seem prudent to expect to hear more from both of these bands as the year progresses.
John Schroeder
The King is Back!
Most people probably would recognize John's name if he were billed as Elvis. For that is the name for which he is most closely identified locally. And he has made a name for himself (if occasionally somewhat disruptively at Saturday Market, and more harmoniously at various Where's the Art functions), over the years, for better or worse.
Here we find John as naked as you want him to be. Maybe more so. For he fairly skates through these nine classics a cappella and without musical accompaniment. More odd still is that it all kinda works. When you hear John sing "Desperado" or "Tell Laura I Love Her," there is little doubt that the man knows what he's talking about.
The only Presley tune in the package, "Teddy Bear," is delivered faithfully and remarkably accurately. Other tunes like "Patches" and "Traveling Man" give a lot of insight into the man behind the local image. No doubt, this recording will become a collector's item. It's wild. lt's unpredictable. But it's as real time as you get.
Mule
Mule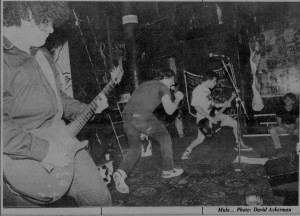 Hard ass-kicking grunge, thrash fueled in Ian Miller's sonic blitzkriegs on the guitar, in support of the cheeky, sarcastic vocals of Peter Nelson who intones the adolescent-fury type lyrics with suitable aplomb. The straight-ahead chainsaw of ''Killer'' is neatly offset by the gentle 3/4 intro of "What's Up Chuck," which eventually erupts in hyper fury. "Come Clean" is highlighted by the lyrical couplet "When we got together you were so pretty/Now all I do is make you feel shitty." Well, that's certainly to the point. Miller cuts loose with lightning quick riffs here and on the following number, "Failed to Comply"—a number which pretty adequately sums up the disenchantment of youth with the bonds of a repressive society. These guys are incredibly tight and relentlessly overdriven. They execute with precisions and a humorously vicious attack. Not bad at all.
Ralph Archenhold
It's About Time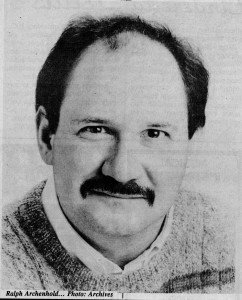 This is a recording that probably won't get heard now that Ralph has been stiffed by a publishing company for copping a four-bar lyric from a song. Ralph's major crime was that be bothered asking for permission at all. All this is too bad, because what's here is a trip down memory lane with someone who obviously knows the road. While sounding contemporary, Ralph seems to embrace musical influences that extend' back to the 50's and 40's from the jazzy instrumental "Gravy Waltz" written by Steve Allen to the sentimental ballad, "Only One," and the folky "Jack's Song." The depth of the booklet that accompanies the package, and the careful arrangements of these mostly original tunes, pays clear tribute to the loving care with which they were crafted. It's truly a shame that Ralph will be unable to share this labor of love with the world. But that's show business, you know.