Hey, summer's here and the time is right, dudes . . . Let the festivals begin. Probably the most important event of the summer (or of the year, for that matter) will take place at 8:00, Wednesday, July 10th, at Melody Ballroom. The show is masterminded by former PMA President Craig Mayther to help Satyricon owner George Touhouliotis offset some of the staggering legal debts accrued in the past year defending his actions in the "Satyricon Massacre." Six bands will play the benefit, all of them Satyricon regulars—Sweaty Nipples, Napalm Beach, Daddies, Completely Grocery, Hitting Birth, and M-99. Currently, there are no plans for a Rocky Balada Benefit, although the police have blocked off Broadway on weekends as some form of protest, so who can say? It's kind of hard to understand what the hell the Portland Police are trying to prove. But rest assured that they are sworn to serve and protect us, each and every one. Sure.
Anyway, if you don't do another thing the rest of the summer, attend this gig. A sellout show won't even cut George's debt in half, but it will certainly help. Show your support for a venue that Details magazine calls "one of the best rock clubs in the USA"-—though it is true, that according to the Boregonian, she ain't what she used to be, it's the only horse in a one—horse town. It will be a great show, for an important cause, and what more do you want?
And while I've got the soapbox out, I would like to address an issue that has come up recently. It seems that one of our more beloved local acts is going out of its way to bad mouth a certain club over a dispute that arose one evening not long ago. Other bands are now boycotting this particular club even though they have heard only one side of the story. Are there that many places to play in this town that bands are willing to shoot themselves in the foot over this issue? I have heard several versions of the incident and there is something deeply uncompromising about both sides of the story. In essence, whether they know it or not, both sides are being hurt by this situation.
My only comment is, until you have heard both sides of the story, it might not be wise to align with one or the other. lt's the public, your fans, who suffer the most in situations such as these. You're not helping them, or yourselves. The music community needs solidarity, not more back stabbing. Sheesh. This sounds like the La Bamba/Starry Night war of the early '80s, and it's just as stupid and unnecessary. I urge both sides of this issue to act like grown-ups, and cut out the bullshit.
But, most importantly, l've got a big stack of recordings in front of me just begging for a review. And that is my job, after all.
**********************************************************************************************************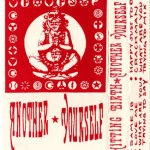 Hitting Birth
Another Yourself
Finally a recording by this dynamic band that captures, somewhat, the energy emitted in their live shows. Recorded at Dogfish studios, the sound is clean, and full, majestic-in an industrial sense. All that's missing here is the incense and the searchlight headgear. "Same 18″ is a jungle-beat tone poem, with characteristic unidentifiable found sounds oozing over the undulating percussion tracks. It's a good mood-maker of a tune. "Love Me ' sounds like the B-52's on an acid trip at Disneyland, chanting the title like they're doing the halftime sequence at a very odd football game.
"What Are You Trying To Say" is a full-fledged rap number, with perhaps the Beatles' "Revolution  #9″ overlain to good effect. The message here is heartfelt and well-delivered, though children under 13 should not be admitted.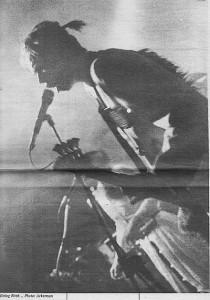 The primordial setting of "Happy Just To Be" recalls days when a man was just happy, some days, to come out of the cave and bang a rock on a log for a while. It is this same primitive joy that Hitting Birth expresses so succinctly, reaching past the facade of "civilized" culture to the lizard brain that operates within us all. A physical reaction to the band's work is wholly unavoidable and fully intended.
"Crackman" would be my choice for a single, as it is an actual song, with a melody and everything, though there is no danger of anyone mistaking this cut as being the work of, like, Jellyfish, or anything. It's just a little more stylized than most Hitting Birth numbers. Hell, there's even a guitar in the mix, I think. And the message is clear and precise. A good introductory cut to the band.
Hitting Birth has amalgamated and modified their presentation over the duration of the band's existence, honing the focus, editing out the unnecessary. What remains is a very tight, raw, insistent act that grabs the listener by the throat, shaking vigorously. What more could you ask for? This recording is a very good representation of what this very unusual band sounds like live. No small achievement.
Josephine Ocean
Josephine Ocean
This band suffers, slightly, from unevenness in live shows. Sometimes they can be very effective, other times out of kilter—which only goes to prove that they're still a young act, with room to grow and improve. They have a lot of potential. This three-song recording faithfully captures the band as it sounds today.
With chortling guitar transmissions and groaning vocals, "Rain" hearkens to the work of U-2, Echo & the Bunnymen and Simple Minds. Vocalist Rod Tucker commands attention with a powerful, arresting voice. A strong chorus propels the song. Alan Davis' guitar work is well executed, propelling a smart, rocking tune. The band contributes a good sense of dynamics and arrangement. A very hip cut, the kind that gets bands recording contracts.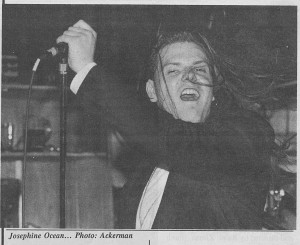 "The Path" begins with jangling acoustic guitar and whispered vocals, slowly building in urgency and intensity, as the drums whipcrack in the background. In the late 60's, there was a great band out of Texas called Fever Tree. In many ways, Josephine Ocean recalls that band—updated, of course.
A scintillating guitar riff over a zippy swing beat kicks off "Lately." But the cut takes a quick left turn toward the jackhammer, recalling the feel of the Pretenders' "Message of Love." Chunky power chords and a slutty beat drive the cut. With this recording, Josephine Ocean proves they have the chops to be one of Portland's best hands. If, in the coming months, they can achieve the same consistency in live performances as they display here, hey, the world is their oyster.
The New World
The New World
Not to be confused with Craig Mayther's New World Order, or New Order, The New World is centered around the work of Brian Hamilton, a poet and songwriter of enormous ability. Neatly packaged, I thought this was the work of a national act, but lo, Mr. Hamilton works at the Twelfth Fret, a local guitar repair store. Obviously, this guy knows something about marketing a product.
The emphasis is on the lyrics here. Hamilton is a published poet, with a book of poetry, Organic Architectures, out on the shelves. His song lyrics scan like poetry, in fact there is a section in his book which contains song lyrics. So it all fits together.
Ably backed on guitars and bass by David Hurd, Scot Baxter, and Matt Galaher, Hamilton plays guitar, drums and anything else needed, as well as performing the vocal chores. His pleasant baritone delivers incisive thoughts as on "Drop This Pin"—"I don't want a home, don't want security/I just want wings to fly, and sky to be free/ to have as my allies the sun and the wind/to lead me to places no one before has been." The music is basically low-key and a little laid back.
The jazzy Bossa Nova of "Anything for You" recalls middle period Steely Dan or the work of David and David. And the acoustic guitar driven "Anytown USA" is a fine cut with a socially aware message that pulls on punches, but bears no malice. "Incantation (A New Spell)" is reminiscent of Mr. Mojo Risin, Jim the Door hisself, during his Lizard King period, though Hamilton is not quite so intense, and nowhere near as drunk.
And the syncopated "What We Find" delivers an introspective piece of philosophy: "We're simple, selfish, naive and cruel/complex, selfless, omniscient and kind/ we may reach for what we feel is there/ and make the best of what we find." This is basically kind of a jazz rap tune, as there is not a lot of melody. "lmagine You" is a dark, dreamy ballad with some nice keyboard fills injected by David Hurd, all designed to create a sensual mood.
It's hard to categorize New World. They are a very unusual unit. Their music sounds like nothing heretofore presented to the world. Music of the New Millennium perhaps? The album suffers, somewhat, from a lack of cohesion. The lead guitar work, especially, is noodly and at times rather pointless. And the presentation lacks a certain fire that I would like to hear behind lyrics of this depth. But Brian Hamilton is a very capable poet and a fine vocalist, with a unique voice. Concentration on melody, tightening the arrangements and a fire of purpose should bode The New World well.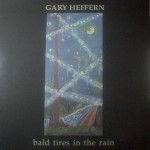 Gary Heffern
Bald Tires in the Rain
Here's the work of another poet/musician. Heffern hails from the Seattle area, recording on the Nocturnal Records label, which is headed by one Marty Jourard. Jourard was once a member of the Motels and had a hand in writing some of their best tunes. So you might say he knows his way around the business.
This record comes complete with a separate book, which contains the lyrics (poetry) and illustrations provided by such illuminaries as John Doe, Victoria Williams, Mojo Nixon—with an introduction by  Rolling Stone's Greil Marcus.
Performing on the album are Marty Jourard and his brother, Jeff, Terry Lee Hale, and Chris Eckman and Carla Torgerson of the Walkabouts. But, at no time does the spotlight drift far from Gary Heffern. The presentation is bluesy-folk, that at times recalls Leonard Cohen, other times Captain Beefheart. "Letter to San Diego" is a kind of a country send-up complete with yodeling warbles on the vocal turnarounds.
"Mr. Bland" is a little like Laurie Anderson, delivered as a poem with solitary piano accompaniment. "I knew a man who was happy/he never cried . . ./ he just thought of rivers/and he was so bland." "Wedding Song" sounds kind of like Captain Beefheart fronting Crazy Horse. "Washing Machine"  is memorable for the classic couplet "lt started so dirty/but ended so clean/Our love is like a washing machine." Yeah.
And the great conversational quality of "Bull and Matador" delivers a potent message: "Now when the art of conversation becomes such a bore/ and Art Linkletter's daughter mistakes a window for a door/ and a tear ain't a tear until it's been tore . . ./ Even the bull has compassion for the matador."
The riverboat shuffle of "Unwanted Children" reminds of the Violent Femmes or the Rolling Stones on a socially conscious kick. I guess that's kind of hard to imagine. There's a touch of the Kink's "Lola" in the musical presentation. The song makes a strong point about the throwaways in our society, and features some of Heffern's best singing. "Workin' All Day" sounds like Tom Waits, more sober than he would wish to be. "Human Bowling Ball" calls to mind Dylan, back in the days when he still cared about what he had to say, and still had something to say. Not recently.
Gary Helfern is definitely not a mainstream performer. But those of you who might appreciate something out of the ordinary would certainly appreciate Bald Tires in the Rain.
Kill Darling
Cat Piss & Cocaine
Kill Darling is comprised of members of Orphan's Reason, fronted by their soundman, Clint Caster. Caster also plays the bass and writes the material—which differs substantially from the work of Orphan's Reason, rocks harder. Even Orphan's guitarist, Jamie Ewing, sounds more psychedelisized here than with his own band, choking out wailing, feedback driven leads.
"All Your Love" kicks in with driving bass, while Clint growls a not so tender lyric. A love song it ain't. "Blue and Red" is more melodic with some nice solo work by Jamie, though no one would confuse this for the work of Paul McCartney.
"Harbour" is closer to Orphans' territory with jangling electric guitar motifs, and wrangling rhythms. Almost sounds like Material Issue. Not so fruity though. "Use For a Girl" scuttles like a rat down an alleyway, while the lyrics note the possibilities inherent in a mutually satisfying relationship with the opposite sex. Well, sort of . . .
"Children" is a pretty tune with beautiful chiming guitar work by Ewing—driving the song with a yearning, crying tone. Caster really has only one vocal mode: ON. Though no one could ever accuse him of under-emoting, he does sing with conviction and style. "Coming Home" pounds the point across with spittingly convincing elan, that Caster has some real talent as a singer and a songwriter. Actually, if Clint would sing a little more and yell just a little less, the world would find out he has a pretty damn good voice.