Ah August. The dog days, final days of the persistent fifty-foot high beer bottle etching the downtown skyline—lodged at various locations along the waterfront, to signify the  city-sanctioned and promoted desire for you, the public, to party on their drug of choice: beer. Oh yeah. Dig it, you can go to jail for a long, long time for growing a plant in your closet; but get faced with thousands of other socially acceptable monkeys, drive home obliterated and come on back next weekend. Sure thing. All in the name of Music. Music? What's that got to do with anything?
Personally, I'd rather go to the poetry reading at Cafe Lena on Tuesday nights than to participate in any mayhem with people whose SPF factors and lQ's are pretty much interchangeable. Call me whacky. Fortunately, a great lode of wonderful local recordings, by some of this area's best bands, have landed in my mailbox lately. That's enough to brighten even the darkest of concerns over food festivals and beer fraught orgies of vapidity.
**********************************************************************************************************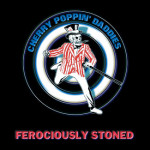 Cherry Poppin' Daddies
Ferociously Stoned
Without a doubt, this is the hottest band in town—and this is a town well stocked with hot bands. But singer-songwriter Steve Perry stands at the head of the pack of a lot of gifted musicians with a rapier wit, with which he pens clever, intelligent, insightful lyrics; masterful melodies and dynamite horn charts. Perry is undeniably a world-class talent. Success for him and his enormously skilled band is not a question of if, but when. It's really just a matter of time.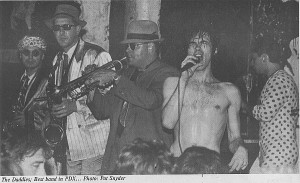 This recording is over an hour long. Fifteen songs divided into the Kiss Me Side and the Kill Me Side. Ironically enough, the Kiss Me Side kicks off with a rocking number about child beating: "Drunk Daddy." Red hot horns swing the tune in, a finger snapping bluesy romp in which Steve tells the tale.  "Momma married a big asshole, whiskey bottles on the floor/He just keeps watchin tv, stepchild tired of being poor/Kitchen smells like rotten garbage/ I can't chew my  food my face is sore . . . Drunk daddy broke my fingers/Drunk  daddy done kicked my head/ Drunk daddy smashed my sister/ Turned  my whole world red (blood red)."
Vocally, Perry is empowered of a facile and evocative instrument. All through this hard charging tune, he wrings nuance and pathos from his sordid story. It's a very fine line he is walking, between thoughtful entertainment and bad taste. Only one as artful as Steve could pull it off.
"Teenage Brain Surgeon" is propelled by chunk, monster guitar donated by Daddy John Fohl, while keyboardist Chris Azorr whirls rapacious filigrees, and horn guys Brooks Brown on alto sax, James Phillips on tenor and Dana Heitman on trumpet go off like Chicago—if that horn section were ever to be ferociously stoned. This is a crack band all the way around. The rhythm section of bassist Dan Schmid and drummer Brian West, is versatile and exact providing a steady stream of highly danceable beats while moving through ska, funk, barrelhouse r&b, jazz and straight ahead rock. Wow! Check out the rhythm section in the funky "Answering Machine."
And it is not a typo that this record is dedicated to Sammy Davis Jr.'s memory. Nor is it a joke. For Perry not only physically resembles Sammy somewhat, despite his, uh, caucasian—ness; but he sings like the master as well. He also alternately sounds like Sly Stone, Steve Wonder, Prince and many others on this cut.
Or check out the metalized kick of "Midas in Reverse" where guitarist Fohl gets to unleash a few salvos of machine-gun leads. Or the "Eleanor Rigby"-like French horn and wild harpsichord, moony Paulish vox and strange symphonic interludes. A wonderful tour-de-force that, lyrically, compares favorably to the best of Elvis Costello's work.
"You Better Move" details Perry's trials in the days when his hair was very long, and red, white and blue. And "Suicide" is a whipcracking funk send-up loosely detailing Perry's opinions toward authority figures. "Flotilla Thatch" is an x-rated piece of funk confection, guaranteed to get you up and dancing. Annnnddd… up the same alley, as it were, is the lascivious strut of "Shake Your Lovemaker." "Dr. Bones" carries on the line of thought. "Diabolic Tastemaker" is a loose excursion through the evolution of the species: ours. Which then sashays through a few graphic sequences lingual in nature, a guided tour of the lush and lulling lizard brain.
"Up From the Gutter" waves a red flag at the bulls of authority, while funking hard and dirty. And the Dixie crawl of "Cherry Poppin' Daddy Strut" echoes strains of seventy years of rock and roll evolution through the length and breadth of a little three-minute song.
To say this band or record is important is truly an understatement. As Frank Zappa has continually thumbed his nose at authority figures, rulemakers and morality toters, thus do Steve Perry and the Cherry Poppin' Daddies. This is an important band, as revolutionary as they are inflammatory. They may single handedly bring dancing back to the clubs too cool to do such a thing. They most certainly will make a big impression on the world.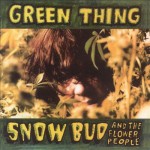 Snowbud and the Flower People
Green Thing
Perhaps in the not too distant future, it will be a crime to possess this recording. Of course if it were Bud Miller and the Beerpeople, they could probably gig all summer down at the Waterfront. Anyway, as most of you know, or should, Snowbud is a flowerchild of the mind of Mr. Napalm, Chris Newman—singing odes to the green thang, which is not illegal to think about, much less possess and consume.
Be that as it may, it has not prevented Chris from designing his own comic book world, where he's backed by cartoon characters: Slider, Roth and Jason; and they sing songs about drugs—good ones and bad ones, and gettin' high. Whereas previous Snowbud recordings tended to glorify pot for the sake of glorification, Green Thing casts a jaundiced eye at the wider scope of the drug culture.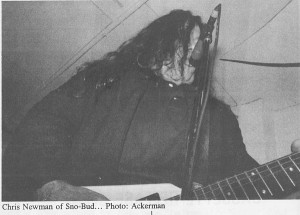 This recording is inhabited by junkies crashin' hard, mean bastards with pot tattoos, drug busts, and bad bitches. In between, there are some tremendous musical statements made as well. "Persian Rug," with its creamy, dreamy Hendrix informed vocal and guitar, or the alligator slink of "Cajun Bud," demonstrate Chris' versatility as a musician.
But check the wild stuff he pulls off on "Third Shelf" or "Big Skunk" with skittering, jazz-flavored leads almost reminding of Steely Dan (and I mean that as a musical compliment). Snowbud is an opportunity for Chris to play all the music that won't fit into the Napalm format. Which is a varied and entertaining lot, indeed.
And then there's the bitter blues of "Green Thing," a true story about one of the many beautiful souls who have been incriminated merely for growing a plant. It's a weird society in which we dwell folks. Have another beer.
The friendly acoustic chime of "Amsterdam" is offset by the woozy burn of "Crashin' Hard." And the arcane swing-kiltered "Undo Me" echoes Captain Beefheart, Jimi, Tom Waits, and numerous beat poets.
Green Thing is a sober and honest look at a culture within our society that is looked upon as deviant, strictly because it is a minority. While some drugs are harmful and dangerous, some are less harmful than even our beloved and malevolent beer. Chris Newman details the culture with honesty and insight, something politicians are unable to do. I wonder why that is?
This recording, masterfully produced by Jan Celt and recorded by Drew Canullette at Dogfish Studios, stands with its predecessor as an accurate document of our society. While it's not always pretty, there is no doubt as to the power and majesty that Chris Newman commands.
No one can ever fault these guys for lack of sincerity. I've faulted them in the past for being passionless, though it's obvious that the members of the band are passionate people. I guess it's just one of those conundrums with which we are doomed to live.
What we have here is a collection of takes culled from the past two years of recording, which means there's more than one bass player, besides guest appearances from Craig Carothers, Gary Ogan, Valerie Day and John Smith.
The initial cut, "Everything Stops" is a very pretty tune, with requisite yearning vocals intoned reverently by Michael Stanford. As always, Dan Gallo's guitar work is sensual and evocative not unlike the style of U-2's Edge. And "Heaven Knows" steers clear of the REM thing to which the band are sometimes prone.
But it is the second half of the recording that presents the newer material, and hints at the direction the band is taking now. "Crown Prince" is invested with a strong sense of introspection and disillusionment, and features some nice harmonies by some of the aforementioned guest stars. Kind of Beatlesque.
And the lilting ballad "Addicted to Carolyn" benefits  from a light touch—single guitar accompaniment behind two voices harmonically entwined. The message simple, direct and discerning. Lyricist/vocalist Michael Stanford is sensitive and romantic. This is either to his benefit or to be held against him, it depends on your outlook, I guess. But there is a sad power at play in his songs. And if one is open to the power of sadness, Stanford's songs can make a heart cry.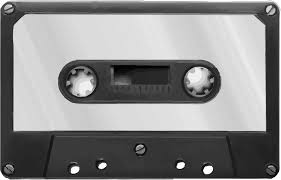 Be True
Never Been There
Self-Produced
Another recording out of Dogfish, Be True offers tight, rocking, jangling, happy music fused with wit and congeniality. Maybe like a West Coast version of the Replacements.
This four song EP is a fine introduction to the band for those unfamiliar with their work; and it serves as an accurate representation of the scrappy four-piece, for those who are.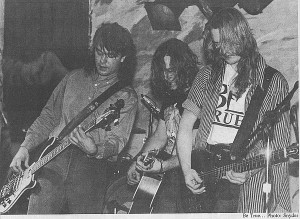 "Noah's Drinking" sort of echoes the wobbly, inebriatory celebration the Replacements often purvey, with solid guitars and vocals that are sung in unison, as if with tankards hoisted on high. Lead singer Chris Genest shares a gritty, smokey voice with Paul Westerberg of the Replacements. "My Finest Day" continues the party feel, with a nice guitar figure generated by David Percy. The rhythm section of Pete Genest on bass and Mark Pedersen on drums shows restraint and a sense of dynamics, which augment the presentation as well. This is a strong cut, with a lot of personality.
"Lost Lonely Dog" is a haunting ballad, with nice guitar touches provided by Chris and Davis. Harmony on the vocals, in place of the unison singing, might offer a nice change of pace. That's about the only criticism of the band I might venture. Chris has an evocative voice, and the unison singing in the choruses adds power and punch, but it is a little predictable.
"Quit lt" is a shook down rave up, with a great rhythm shift across the choruses. This is an infectious number, with wonderful pacing and fine ensemble work by all the members of the band.
Never Been There shows Be True to be a band still in the midst of growing, finding their own sound. They are not Replacements clones. But Be True do share with that band a loose feel, which sometimes disguises poignant lyrics. Based on the improvement Be True has made over the past few years, I'd say that they should be a band for you to keep an eye and ear upon.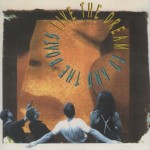 Ed and the Boats
Live the Dream
Honest John Records
Ed and the Boats have been kicking around this burg for over ten years now, going through numerous personnel changes, while maintaining the core group of Dennis Kenny on vocals, Dan Haley on vocals and guitar and Greg Newman on bass. Kenny and Haley are among the best songwriters in town. Here, as is typical of most Boats' recordings, one will find about half the songs to be brand new, while the other half are new versions of Boats' favorites, re-recorded to reflect the new membership.
Of the twelve songs presented, seven are new tunes. Each new tune offers the same witty wordplay and exotic sense of melody one has come to associate with Boats music. Here, too, this recording was made at Dogfish.
"Shining On You" is a funky little number, with lyrics that betray the up feel of the tune—as Haley, very honestly, confronts many of the paradoxical (and disheartening) events that come into every person's life. This story happens to be his own autobiographical account of some very personal experiences. "Creatures All" features chunky, metal flavored guitar which reminds, vaguely of the Kinks "Destroyer," while relying on very tight, very complex two and three-part vocal harmonies. Haley uncorks a Neil Youngish solo to add to the melange.
The new version of Newman's  "Runaway House" is more understated than others l've heard, but does not lose the energy that has always propelled it in the past. "Mountain Blues" is a piquant little flower of a song, unbearably pretty, with lyrics that scan like poetry.'  Here again quirky, faultless harmonies glide like a breeze across the tender petals of this lovely song: The Boats chestnut "Dreaming With a Vengeance" has probably been better done in the past. But for those unfamiliar with the band's oeuvre, it will suffice as a sample. And "The Goat" is a downright odd number, which juxtaposes intense balladic sections against rambling, unbridled passages.
"Simple Song" is another of many great Boats pop songs: unusual, memorable, unique and, distinctive. Here again Haley rips out a mean solo, which neatly offsets the song's inherent sweetness, without detracting from it. "Love So Well" features some of Newman's melodic basswork, which along with Haley's acoustic' guitar, flavors this ballad with a languorous quality that belies the bitter tone of the lyrics. Again, gorgeous harmonies abound—Beatlesque, yet original in construction. Kenny's lead vocals are intensely evocative, slightly sarcastic, yet always filled with passion and feeling.
"Cat & Mouse" is more squirrely funk from the masters of the genre. For in this area the band's work seems to fall somewhere between the styles of Hugh Masekela and that of Frank Zappa. "Thinking funk," if you will.
"Me and My Car" is an Irish flavored waltz dedicated to the proposition that a man with transportation is a man with a soul that is free. Not a heavy sentiment, to be sure, but an unusual one to find coming from the mouths of a rock band. This is not Springsteenian myth making, but honest appraisal of the value of a hunk of tin—and what it means to own it.
And the new version of "Climb and Punishment" is faster in tempo, eminently more danceable (does anyone care about that factor anymore, l wonder?) than preceding versions. This version is kind of Stonesy, far more straight ahead than others. In this case the change works for the better, as the message is not swallowed up by the arrangement, which occasionally happens with this band.
Live the Dream is the biggest project the Boats have mounted to date. Perhaps this will be the wave that finally carries them to the success they so richly deserve.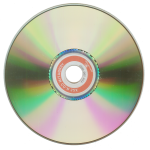 Young Turks
Young Turks
Self-Produced
This six-cut recording serves as a fine introduction to the work of singer/guitarist/songwriter Billy Snow—a recent transplant from New York state. ln an earlier review I commented that Snow reminds me of John Lennon vocally, without really sounding much like the Nurk boy. It is the power and edge in his voice that invites the comparison.
This is a live recording, no over-dubs, so one can instantly get an idea of the band's onstage power. "'Devil's Child" is a hard-charging number, driven by the undulating basswork of Bill Clark, and Snow's highly modified electric/acoustic 9-string guitar. Snow's gritty vocals punctuate the tune with nervous energy, paranoid schizo overtones.
"Fruit of the Fever" combines edgy song structure, familiar to fans of the Violent Femmes or Husker Du (though Snow's vocal style doesn't exactly sound like that of Bob Mould—it's still a fair comparison on an intensity level) with highly stylized lyrics: "Visceral tender fruit of the fever/ This dream is rendered on the slumber of rivers." O.k. Sure.
"Restless Son" feels like Bob Mould too. The tune is restrained, but as a river is restrained by a dam. It feels like the whole damn thing could explode at any minute, pun intended. It is the measure of Snow's abilities, that he is able to sustain this sensation of pending doom, without ever relieving the tension—which probably would have been easier for the singer and the listener. "Voodoo Christianity" is straight poetry, backed with musical accompaniment. I guess visceral is a good word here.
Being new to the local scene, Billy Snow and the Young Turks are, as yet, an untapped resource. For those of you looking for something original, meaningful and intense—without getting flogged over the head with machine gun pyrotechnics—then I think this might be the band for you.