September—when summer collapses, to fall to shambles yellow and brown. September also means that we can give the waterfront back to the people, and anticipate a corresponding upswing in the club scene. In celebration of that prospect, look for the fall round-up of live and living local rock bands, next month. I know some of you have been waiting . . . but I'm still trying to get caught up on all the recorded material that's been submitted in the past month or so.
Those of you who have submitted material, I do listen to all of it. There's only so much space here, and sometimes you get bumped for a better known band's stuff. Sometimes l just don't have much to say in response to what I hear. Such is Art Life.
Be that as it may, I would like to include here tips for sending tapes. DO: send me every scrap of information about the band: songs, lyrics, names and position: of the band members, gigs, contacts, addresses, phone numbers—every time you submit stuff. I have a file system based on chronology: new stuff gets piled on top of old stuff. I keep all promo material, but you wouldn't believe how many huge piles of paper that is. DONT: expect me to call you and ask you a lot of questions. I just don't have the time.
As it currently stands, I barely have enough space to cover local submissions or major recordings by local bands. I like to try to squeeze in recordings of significant merit from greater Northwest acts. But it says on the cover of this rag: "Oregon Music." And I truly subscribe to the myth that there is something unique about the music that comes out of this area. From Grants Pass to Portland; from Hood River to Sisters, to Lincoln City. From Eugene to Corvallis—there is an Oregon sound. I'm in the rather unique position of attempting to catalogue all this stuff. And you really wouldn't believe how much stuff that is.
**********************************************************************************************************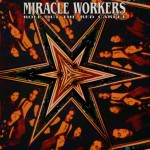 Miracle Workers
Roll Out the Red Carpet
So what do I go and do, but write up a band that hasn't lived in Portland for five years? I told you, my position is unique. And hey, if the Miracles aren't real purveyors of Oregon Music, then what is there left to live for?
Anyway, the Miracle Workers were a very popular band here in the mid-80's. They divorced themselves from Oregon, abandoning to the true Mecca of the music biz: L.A. This recording reflects those years spent in the fire. For the band have forged a hard-edged blade of a sound. Fused to their traditional psychedeliafolk sound of yore is a reckless, fitful style, occasionally reminiscent of early middle Led Zep fronted by the Hollies.
Check out the vocal harmonies in the chorus of the title track. Or check out the harp—if that's not a complete cop from Zep's "When the Levee Breaks" then I never listened to a record in my life. Of course the basic feel of the tune is similar as well. That doesn't help dissuade comparisons. But the chorus resolves in a kind of jaunty poppy grunge thing that's a nice departure. Vocalist Gerry Mohr has developed a nasally growl to his vocals, no doubt from slugging it out through the house PA all those nights, all those years.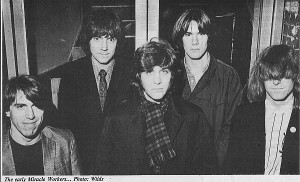 That voice is used to good effect on "Kindred Soul," a Stonesy rave-up. Here again, Mohr adds a bristling harp infusion that lends the song effective punch. But Matt Rogers' gorgeous guitar interlude comes out of nowhere. Developed, vaguely from the initial guitar figure, Matt hangs around there for about eight bars, then launches into some very original territory via multiple-guitar layered harmonies. Very hot. Then right back to the bar-room raunch. Pretty damn cool.
"Rock 'N' Roll Revolution in the Streets" sports a rousing, urgent feel, augmented by drummer Aaron Sperske's dauntless double—time drum bashing. Ostensibly this cut is mostly designed for Rogers to demonstrate all the licks he's acquired in Smoggy Town.
"Way Back When" hearkens back to an earlier era of Miracle Workers. A pretty ballad with nice harmonies and more solid guitar work from Rogers. "Magic Slide" is pretty much early Who stuff—with a couple git down, git funky Hendrix-type passages to throw you off the trail.
"Pretty One" delivers as advertised, slightly REMish in context: moody guitar filigrees over a slight modal feel, acoustic guitars and tambourines. The crazy waltz "Burn Baby Burn" echoes the Doors, and maybe the jazzy drunk looseness of the Clash's "Broadway" from Sandinista. A sinister aura hangs around the edges of this number. "In the Air" directs one more salvo toward the harder edge and rings out the record.
On the whole, Roll Out the Red Carpet lacks melody. Rogers' guitar work, while majestic at times, also tends to overstate—without a lot of intention. And the songs themselves lack much melodic development, something one would hope the MW 's might concentrate upon.
Beyond those gripes, however, remains the fact that the Miracle Workers have matured into a tight, energetic band that records fairly well—which wasn't always the case. In a live situation, Rogers' extended forays and Mohr's gruff 'n' raspy vox are surefire catalysts, but upon the close inspection born of several auditions of the recording, I can say that both lack any distinction. There is real possibility in this band. It just hasn't jelled yet. Wait and see.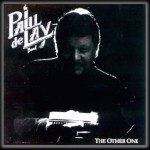 The Paul deLay Band
The Other One
Current difficulties with the Law notwithstanding, since that would give anybody the . . . uh, condition—this guy knows the blues. After all the time he's been around this town I'm still not precisely sure why. Paul and I grew up in the same part of town and I can assure you that the closest thing you got to the blues on the high school sound system was, like, "Hang on Sloopy." So I'm not sure where this blues thing came from for Paul. But somehow this guy is genuine blues, authentic down to the jailhouse.
In many ways The Other One is a rite of passage which closely mirrors, in context, that of Tom McFarland's Voodoo Gardens. Both men are wrestling with their own private demons, and that, after all is the essence of what the blues is all about.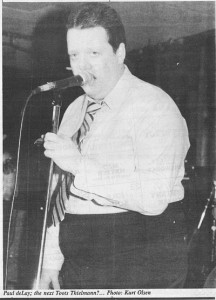 Lush orchestration does nothing to diminish the anguished passion of the title track. DeLay's wild chromatic forays on the harp add a jazzy, downtown feel to the mood—slick, controlled, yet soulful. It is the harp, beyond even Paul's very real vocal talents, which receives the spotlight throughout. Justly so. This guy can tear you a new set of lips. Check out the sizzling triplets Paul slides through on "Great Round World." And the jumping call and response he trades with guitarist peter Dammann, keyboardist Louis Pain and tenor sax man Dan Fincher. Each soloist blasts in for his four-bar shot only to be rebuffed repeatedly by Paul's zinging retorts.
Another nice orchestral number is the funky soul of "Why Can't You Love Me" featuring tasty Toots Thielman informed chromatic harpwork. It is through his work on the chromatic harp where deLay truly demonstrates his artistry and craftsmanship. He is complete a joy to behold whenever it is encountered.
The instrumental "Oat Bran" affords Paul some room to stretch out with a surfy freak-out—touching at the blues in the remotest r&b corner.  "Worn Out Shoe" typifies the hang-dog blues upon which deLay cut his teeth. Ouch. While he approaches his problems in a more oblique lyrical manner than say, McFarland—the weight of Paul's still-pending legal problems drifts in the atmosphere without being directly addressed.
With a crack band in his support, Paul deLay has fashioned a true tour de force in the realm of "blues harp," proving himself to be a master at any idiom he chooses to tackle. The Other One would be a cherished gem in anyone's music collection.
The Reason Why
The Reason Why
This cassette serves as a good introduction to this "thinking funk" outfit. The hard-edged rap of "When the World Turns lts Back" yields to skittering Derek Jensen induced  guitar. Periodically the rap reappears to support the milieu of angst and anomie.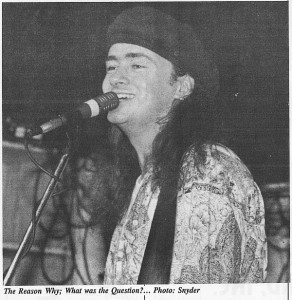 "The Wild Side of Albert" is highlighted by the melting keys of Lance Miller—as they slither across the musical landscape. Something about the rap on this cut reminds me of "Gitarzan," but I can't put my finger on it. It's a good-natured number, that reflexes Byrne-ian influences as well. Miller unleashes a futuristic key solo to send the song out.
Drummer Todd Bryerton opens the rumbling "In Your Face" with stumbling kick/tom rolls, joined by thumb-slapping bassist John Bartholomew. An unidentified authority figure is the object of the lyrical brunt, a certain air of retribution and/or anarchy inferred as a consequence.
This is a difficult band. They play dificult music well, but popsters would have trouble with the rhetoric. Perhaps lovers of Nine Inch Nails might find corresponding antecedents in the music of The Reason Why. Now, what was the question?
Rex and the Rockets
Rex and the Rockets
Rex and the Rockets have the distinction of being this city's not-heavy, metalish rockers comparable in good timey feel to Van Halen, maybe, with/or without Dave Lee. Producers Billy Triplett and Steve Branson opt for a dinosaur drum sound on "Power of Love." which does much to disguise the fact that the song is a fifteen-second  chorus in search of a raison d'etre. Rex's nondescript vocalization does little to dispel the notion this one could've been over in half the time.
Far more successful is the thundering pouty strut of "You've Got to Have Everything." Vinnie McKinney's Bonzo kick imitation serves as a foil to Joe Lomello lll's searing guitar solo. This cut works real well.
And not to be missed is the lovingly metalized version of "Strawberry Fields Forever." While sticking fairly close to the arrangement of the original, the Rockets manage to make the song sound up to date without the slightest ingenuousness. Not an easy task. All the instrumentation is stellar. Rex's vocals are perfectly understated.
"Baby Tonight" rolls in slow but kicks into gear with a Van Halenish account of one man's adventure in the meat factory of Promiseland via the roller coaster of anticipated sex with a consenting stranger. A welcome departure is the ballad "Goodbye To Another Piece of My Heart," with nice vocal harmonies and a rather straight-forward message, given the medium.
The Zeppish "The City's Got a Hold On Me" succeeds in creating an atmosphere, sustaining a sense of apprehension, without resorting to a lot of flash and dash. Lomello's solo is succinct and melodic, showing restraint.
Rex writes some goods songs for the genre. He's not exactly blessed with the world's most charismatic voice, but he has a certain charm. The Rockets are right and well focused, and this is a really well-recorded piece of work. Fans of the KGON mindset would do well to take a listen to this collection.
Scott Appleman
Sounds of Percussion
Ginger Baker roll (drum roll) over, here's the drum solo you've been waiting for. No instruments to impede one's beat enjoyment. Here we have the lexicon of drum solodom from Gene Krupa and Joe Morello to Tommy Lee and Ace Frehley. Drum Drops this ain't. Not for the faint of heart, nor can you dance to it. But if you want to drive the people in the apartment upstairs stark raving bonkers, turn this one up to eleven or so. That oughta do it. This guy's a hell of a drummer, but jeez. Just a low E on the bass now and then, a bird call, something!
Here's a guy who knows how to write and perform well-turned country/folk tunes with such easy stylishness that the charm is deceiving. These songs sound so natural that it seems as if Steve just plucked them out of the air, with no effort at all. Nothing could be further from the truth. For each tune here is a well- crafted gem. Backed by such local notables as Billy Kennedy, Lew Jones, Tom Tittle and Dennis Elmer, Hettum is given fine support. His craftsmanship is such that no seams can be detected.
But it's Hettum's irrepressible affability that is so neatly captured here by Jon Lindahl at FreshTracks. There is a country familiarity to Steve's voice that makes you think you're hearing from a long-lost friend. What's presented are hard-learned homilies about love and life, absolutely free of pretense and presumption. Not adventurous, but not phony. Merely honest and genuine. What more could you want?
Sean Gilbert
lntense Crossfire Laughter
Every once in a while I receive a demo, recorded on some cheesy home four-track that just blows me away. All time numero uno in that category is Sean Gilbert. This guy is a raving, flaming guitar genius! Ostensibly, I guess, Sean recorded the drums and bass (is there a bass?), which is of little consequence—he's a pretty good funk rock drummer, or drum machine programmer—I'm not sure which. But I'll tell you, this kid is a guitar God. Hendrix, page, Satriani: they got nothing on Sean. He certainly knows his way around the neck of a guitar, from flash metal speed to Duane Allman (Layla period) inspired slide work. He's done synth etchings or peaceful villages of sonic grandeur. And rather exuberantly.
All Sean lacks is a band. Sean is "basically new to the area" and hopes to "establish himself in the 'scene'." Hey, if some guy named Sean Gilbert wants to audition as lead guitarist for your band, hire him.