Autumnal Musings
One of the things of which I am constantly reminded is the rich renewable resource we have here in Portland. For it seems that whenever a cyclic paucity of good young rock bands hovers cloudlike above the environs of our fair outpost, a slug of new and exciting bands rises up from the mire to fill the musical void.
I noted with interest the recent struggle one local columnist has endured at the hands of a few discontents among his readership. Through elaborate demographics the writer determined that his coverage of "the scene" was not politically correct. I've got news for you all. Has anybody ever stopped to count just how many bands there are in this town? There are metal bands, grunge bands, folk-pop bands, reggae bands, metal-funk bands, ethnic bands. show bands, Top-40 bands. punk, funk, schlunk and clunk bands. Sometimes I think there are more bands than there are people to see them play.
How in the world could any one person ever cover all these bands? Do you realize how hip, how well versed in the splintered musical traditions (that these various factions uphold) this person would have to be? You'd have to write a column by committee. Get real. All writers have their own tastes, their own preferences about what they see and hear. Just like you. Write your own damn column, if you think it's so easy. And quit yer bitching.
Fortunately, writing for Two Louies, l have the luxury of writing about any damn band I please. And your little snotty pointy-headed letters are merely the object of hearty belly laughs at our regular staff meetings.
Probably the most improved band of the season is the Willies. I saw them the night Willamette Week printed a short favorable review of the band, and they burned. I mentioned to them that they might not have gotten that press had they been named the Louies. They thought that was funny. Ha-ha.
What we have in the Willies is an extremely talented pop band, maybe something like Trip Shakespeare or Blue Rodeo. They are a tuneful, lyrically vibrant band. Singer/songwriter/rhythm guitarist Eric Levine provides the focus for the band. His lyrics are intelligent and well crafted; his delivery is intense and heartfelt. Behind him (or off to the side, actually) is lead guitarist S2 Carpenter.
S2 is inventive as a player, capable of firing oily grungy, overdriven salvos of six-string mayhem on one song, while offering melodic, orchestral fills on the next. S2's versatility is his strong suit. The rhythm section of bassist Jim Cobern and drummer Collin Colebank, is quite solid, totally danceable.
Check out the rockable funk of "When Donna Hit Crisis," with its catchy weird chorus. Other songs dwell with the concept of extraterrestrial attack and being hit by a car. So, the Willies are not simply poppy hipsters but odd in a Talking Heads sense, as well. They have no obvious weaknesses as a band. Levine is a dynamic, energetic performer. He's funny, quirky, but not particularly scary. Keep an eye on these guys. I think they're going somewhere.
Speaking of quirky, the Kings of Quirk, Ed and the Boats have been back on the boards again, playing packed-house gigs in every eastside club big enough to hold them. With the exception of the Bridgeport Brew Pub, the Boats flatly refuse to play on the westside: an attitude which directly runs counter to the prevailing attitudes of most bands—who would only be caught on the eastside going home to their domiciles. But the Boats have never been ones to court popular trends anyway.
Perhaps that is why chose East Ave. Tav for the location of their release of Live the Dream, their first CD. The crowded club was reeling as loose-cannon lead singer Dennis Kenney delivered his usual combination of sarcastic bombast and heartened poetics. Singer/guitarist Dan Haley and bassist Greg Newman still back Kenney up with flair and expertise, as they have for eleven years.
Drummer, and comparative new addition, Randy Givens (he's only been with them about three years now) kind of holds everything together for the band. Givens is no thrasher, but he executes the band's difficult rhythmic and stylistic left turns with grace. After all this time, the Boats are still one of the most intelligent bands in town, though they often go unnoticed by trenders and snobs.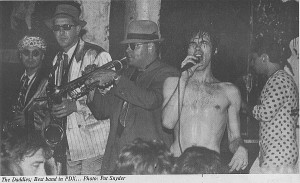 The Boats would be a great band to open for the Daddies. In August I reviewed the Daddies' Ferociously Stoned, referring to them by their old name Cherry Poppin' Daddies. They have changed their name, primarily because they are tired of having to explain it to record execs—who see dollars down the toilet when the PMRC gets a hold of a band with such a name. Anyway. they are the Daddies now. And they are the best band in Portland. Lead singer Steve Perry is a real, formidable talent as a singer and songwriter, but especially as a performer. Here is the kind of guy who can hold a crowd in his hand, twirl them around his little finger, then toss them out on to the dance floor where they will remain for the duration of the gig. In my time covering the scene, the late Bill Rancher was the only other local performer I've seen with that kind of charisma.
Perry is backed by a crack band. No weaknesses, no flaws. Simply pure entertainment. Guitarist John Fohl can play it gnarly or sweet, depending on what the particular song calls for. The rhythm section of bassist Dan Schmid and drummer Brian West is versatile, funky and enormously punchy—great for dancing, or slamming, or whatever you're in to. And the brass section of Brooks Brown, James Phillips and Dana Hietman is as tight as a zip-lock. There is no better set of horns in town.
But eventually you get back to MC Large Drink, the Daddies Daddy. Steve Perry. His songs vacillate from the sublime: "The Lifeboat Mutiny," to the lascivious "Flovilla Thatch" or "Diabolic Tastemaker," to the socially contemplative "Drunk Daddy."
And while we're on the subject of dance, you oughta hear Umoja. Umoja's claim to fame is that the Nu Shooz-meister, John Smith, plays in this band. Sorry, but he's so subsidiary to this band's authentic reggae stylings, as to be rendered a sax playing shadow. The remainder of the band is a spine tingling four-piece deeply rooted in a classic reggae milieu. Ska or a little Hip Hop seems to be about as far afield as Umoja ever gets. But what they do play is powerful and seamless.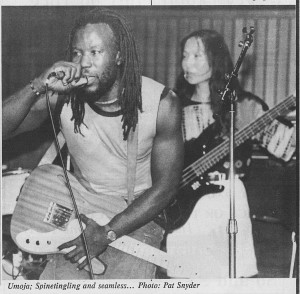 The band is driven by a very strong rhythm section, which is highlighted by the best female reggae bassist I have ever heard play. Her feel for dance, for movement is relentless—like a river cascading in syncopated waves toward a waterfall. The singer sings in an easy gait, songs of power and passion, full of conviction and earnest concern. For a city still highly wrapped up in the whole reggae movement, it would be a true shame for them to ignore Umoja. They are the real thing.
I caught Little Women on an off night at the Dakota, but was duly impressed by singer/songwriter Jerry Joseph. Through years of hard word road play all around the Rockies, Joseph has not only developed keen abilities as a chronicler of the human comedy, but he is as evocative a performer as you will find in this town. The band that supports Joseph is comprised of seasoned rock veterans, who are well aware that the rock battles are not won in a night. This band is in it for the long haul. With Jerry Joseph at the helm, Little Women seem, inexorably, destined to succeed. And speaking of seasoned veterans, Mystery Train is a dream team.
Once upon a time, Jon Koonce owned this town. He was Johnny of Johnny and the Distractions—the West Coast's answer to Springsteen, to Bob Seger. to Johnny "Cougar" Mellencamp. After a few albums on the A&M label in the early 80's, Johnny brought the Distractions home. Put them out to pasture. After that, several local bands followed for Koonce, none of which made a ripple in the local pool. But with Mystery Train (a band named after Elvis' very first single on the Sun label in '54) Koonce has assembled a unit of true all-stars. Drummer Andy Gauthier is an East Coast transplant, not particularly well known in these parts, but a stalwart player all the same.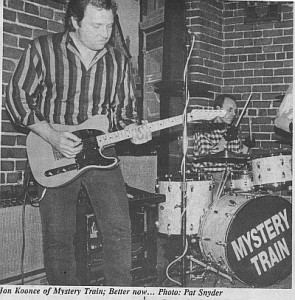 And bass player Rich Gooch stinted for seven years with QuarterFlash. Rhythm guitarist Mark Spangler was with the Distractions in the golden years, and periodically submits musical reviews via the Oregonian. So, in essence, this band has paid its dues. And they sound like it too. For they churn out an incessant, infectious brand of bar room street rock, as powerful as a shot of Everclear, as clean as a freshly polished baby moon. There's no pretense with this band, no struggle for an "image." These guys simply slug out pure rock and roll like the real pros they are.
If anything, Koonce is a better singer and songwriter than the guy who signed the record contracts. Gone are the bravado and snarl pose he affected as Johnny. What remains is a voice as bracing as whiskey, as strong as steel. The band plays nothing too complicated, no concerns for "hip" or "happening." But if you can't dance to Mystery Train, you need to take your mojo in for a check-up. This is a real rock band.