Oh, well here 'tis again, the season to be jolly—and an overt consumer, caught in the trap of buy or be bought. Of course I wish you all season's greetings, whatever that means. And I hope that all your New Year's wishes come true. You know, you could kind of kill two birds with one gift this Christmas season. You could purchase the affection of your beloved and help out a local rock band simply by acquiring some piece of locally recorded product.
Think of it. Rock bands living the lifestyle to which they would like to become accustomed, while your loved one dances merrily 'round the Christmas tree. How festive! All you need do to accomplish this Christmas miracle is to pick up a copy of your favorite local band's latest release. Curtis Salgado, the Daddies, Quarterflash, M-99, Neros Rome—you name it. They all could benefit from your benevolent yuletide cheer. So this Christmas, why not follow my advice—Don't be a yokel, buy local. And to help you locate that perfect Christmas gift for irascible old Aunt Edna, who's so hard to find gifts for, let's see what's in S.P.'s mailbag this month.
**********************************************************************************************************
The Jim Mesi Band
The Jim Mesi Band Live
Jim Mesi is what you might call a local elder statesman. As a guitarist Mesi has been riding the crest of Rainyville's musical wave for longer than most people can remember. Perhaps his most memorable stint was as guitarist for the Paul deLay band through most of the early to mid '80s. With the Jim Mesi Band, Mesi has teamed himself with another local guitar legend: Steve Bradley, to create a band that is just too West Coast to be a blues band, but too bluesy to be anything else, really. You figure it out.
"Born in Chicago" is typical blues stuff. Bradley intones the vox, sounds like Mark Knopller over at B.B. King's house for dinner. Mike Moothart delivers a fairly non-descript harp solo through the first break. But through two solos, Mesi and Bradley fairly rip the song a new fundament. Blues playing it ain't. But it's hot rock guitar playing, void of the novocaine of effects and boosters. Neither Mesi or Bradley need the help.
These guys really know how to play their instruments. Bradley's "Overnight Train" departs from the blues format, echoing instead Eddie Cochrane's "Summertime Blues." The song serves, primarily, as a point of departure from which the soloists may launch their various excursions.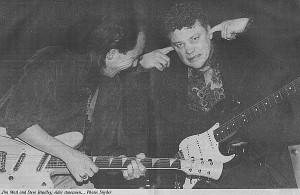 Once again Moothart gets the harp solo out of the way first. While Mike is a dedicated harmonica player, there is really very little about his playing to distinguish it from the abundant myriad of other harp players in the world. His strongest virtue would seem to be that he knows when not to play—an ability most harp players fail ever to acquire. But beyond that his solos seem to merely take up musical space and time—sort of a holding pattern while Mesi or Bradley fiddles with his amp in preparation for the next guitar salvo, which is never far away. In this case, Mesi whips through some amazing chromatic quintuplets (something of a signature for him) faster than hummingbird's wings.
"It Hurts Me Too" seems lifeless for some reason. Bradley has taken some heat for his lack of vocal prowess on this and other tunes. Hey, the guy's known as a local guitar god, not as Robert Plant for chrissake. Give him a break. Mesi manages to uncork another of his solos wherein he plays every note on the fingerboard faster than your ears can interpolate it. Who needs a vocalist?
To finish off side one, Mesi and Bradley gallop through an impressive version of the 50's instrumental  "Apache" with a lot of gusto. The rhythm section seems a little lost at times, not quite in sync with the soloists. But it's a faithful, if slightly hopped-up rendition all the same.
"Rockin' Good Time" is another Bradley tune, standard' r&b stuff, with a healthy injection of Steve's unique sense of humor. Bradley's songs always have the element of a sense of humor flowing through them—like a private joke he only reluctantly chooses to divulge. It's one of his songwriting strong points.
A kind of odd, laid-back version of "Hello Josephine ' follows. Mesi's rhythm guitar propels the tune, racing along at double time to the rest of the band. During his solo he unloads every trick in the book, quick scatting trills, whammy bar wangs, bent notes littering the musical highway like a drunk driving through a Veteran's day parade—a basic primer in guitar playing. Bradley's solo pales in comparison on this cut. He pretty much gets in and gets out again. Not a bad idea when following Mesi.
Bradley's ''I Wish She Still Did" once again features his self-deprecating sense of humor, lyrically; a jumping rhythm and some of the best ensemble work to be found on the recording. Mesi sounds like a brass section within the context of his rhythm guitar playing. Bradley uncorks a very tasty solo, fast and accurate.
To finish up the album, the band runs through a version of Santo and Johnny's classic 50's instrumental "Sleepwalk." Mesi does an impressive job of imitating the steel guitar of the original, with some fancy volume knob work and nice slides. Some creative chromatic fills dress the song up as well. A departure from the original, but one that is well chosen.
The Jim Mesi Band Live is a good primer into the sound of his rather unique blues band. They are unique in that they are not at all purists in the way they approach the realm. Mesi is a bona fide blues master, but Bradley is a rock guitarist. Mesi's approach to blues playing is jazzier, like an American Clapton. The band is not likely to win over a lot of headbangers with this recording. While serving as an excellent showcase for these two guitar wizards there is a consistent lack of energy that will bore undergrounders to tears. But if you're a blues fan and would like to hear the blues played in a rather new and unique way, then this is the recording for you.
Here Comes Everybody
Wake
Many cuts in this package have been previously reviewed. HCE released "Happy" and "Mai|bomb" last Spring as a single, and saw "Happy" included in the Worlds Apart compilation which was reviewed here last month. Despite that, this is a recording of real merit, which deserves scrutiny on its own, as much for the ambition the band displays, as for the results of the effort.
Most of you probably do not know (or care) that Here Comes Everybody are named after the main character in James Joyce's nearly unreadable masterpiece Finnegans Wake. "Hie character's actual name is Humphrey Chimpden Earwicker though he is known (through a commodious vicus of recirculation) variously as HCE——Haveth Childers Everywhere, Howth Castle and Environs and everything else  involving those initials. HCE. Here Comes Everybody.
What the band has done is to loosely set Humphrey's tale to music. No simple tasks, considering it took Joyce six-hundred and twenty-eight pages, after which the author invited you to start all over again.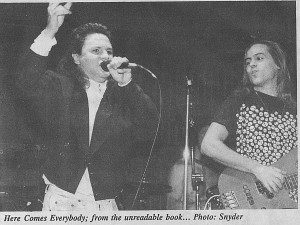 With Wake HCE uses the basic plot of the book to tie the recording together. It's not Finnegan Wake: the Musical, mind you. But it's a point of departure. Certainly such aspirations are not the work of three chord toads. As I mentioned last month, such intellectual handsprings might not be everyone's cup of meat. But for those of you with the curiosity and stamina to invest, this is a most rewarding "concept album." I'll leave it to you to review the story, I'll review the music.
"Change Your Face" is a funky little send-up, filled with sarcastic suggestions: "if you weren't so ugly, everyone would love you/And if you weren't such a dumb-ass, everyone would be your friend." Lead vocalist and songwriter Michael Jarmer sounds like David Byrne or Adrian Belew vocally with maybe a dash of XTC's Andy Partridge thrown in. Jarmer is also a world-class drummer. Though the band plays live with Sean Moultrie on drums, Jarmer did the work on this recording. And here, the drums sound like gunshots. Rene Ormae-Jarmer's idiosyncratic key solo exhibim another of the band's abundant musical strengths. She does not approach the synth like most keyboard players do. She is, instea,. very inventive, using the electronics as tools rather than crutches.
Check out her fractured toy piano intro on "She's So Complicated." sounding faintly Asian in composition, nicely balanced by moody, ethereal pads in the chorus. Former HCE guitarist Greg Kirklie uncorks a brief but effective solo in the break. And check out Rene's majestic musical architecture throughout "Happy" (reviewed in these pages last month), from rousing Bruce Hornsby open chord arpeggios through the verses to airy washes through the choruses, she gives the song an amazing sense of space and dynamics.
"Wreckage," slightly Latin in feel, features the definitive rock line:  "She's looking for a sandwich she can call her own," followed by the equally mysterious "He has been insensitive, and takes advantage of her cooking/ He's been droppin animals from tall buildings. OK, so this is probably not a tune Michael Bolton will cover any time soon.
And "History" kind of ties the whole thematic aspect of the record with the insightful line ''If you don't stop and count your roses, you could be history and if you don't stop to smell your blessings, you could be history." Like David Byrne, Michael Jarmer is adept at taking colloquial aspects of our language and turning them into rock poetry. Like a poet of sociology or something.
As I said last month, HCE are not for everyone. Their music is dense and challenging. Their lyrics are intellectual and pragmatically oblique. Certainly not everyone yearns for the outrageous and contagious spectacle that is often masqueraded as wisdom by our purveyors of current Rock music. Perhaps there are some people who would like the opportunity to think about what a band is trying to say. This, of course, is impossible if the band itself is incapable of putting a complete thought together. This is not HCE's problem. They are a thinking band. And if you enjoy thinking, and being encouraged to think—then HCE is the band for you.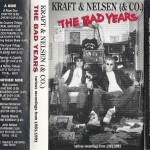 Kraft and Nelsen
The Bad Years
Maybe some of you remember the Riflebirds from a few years back. They were all the local rage, with a folk sound that was intelligent and charming. When songwriter Lee Oser pulled out of the band to go to Yale, and when his lead singing paramour Kate Lieuallen followed him, well, that was that. But all during the Riflebirds' stint, lead guitarist Kevin Kraft was laying down tracks with his buddy, John Nelsen, in his home studio. These were songs like "Drafled," "I Love My Car" and "Real Man Beer," that did not exactly fit the Riflebirds' style. So here, for your inspection are those lost songs from the lost years, as well as gems penned by songwriting genius Ric Uselton and others.
The recordings are a little rough. This wasn't done on 24 tracks or anything, but they work, all the same. "Drafted" sounds like something L.A.'s Eggplant might concoct. "I Love My Car" is a classic send-up of the Beach Boys "409″ period. "Real Man Beer" which is a phony commercial, features the unique lines "Out in the west where men are men, women are men and sheep are scared . . ." Yaaaa…hoo!
"Blood Prairie" sounds like the "Riders in the Sky" on acid in Apocalypse Now. "Anti-Hippy Type" is a Texas style piece of hull of the "Redneck Mother" variety.  Uselton's "King Emo" is charming and clever, with nice keyboard accompaniment by Ric himself. There's a message to the little fairy tale here. And Uselton's heavily Elvis Costello inspired "Conversation Cafe" is given a sad and sensitive treatment. Next there are two songs called "For me," one written by Uselton and another by Michael McDaniel of Zuzu's Petals. They are not the same song but they sort of relate to each other, I don't know how else to explain it. "Starshine" and "Walk With Me" are Nelsen tunes.
This is a unique project in that the two guys whose names grace the cover are as much back-up players and producers as they are the band of note. But what Kevin and John have done is allow many singer/songwriters to express themselves. They have given them a vehicle by which to be heard. Though the recording is uneven because there are so many cooks in the broth, it is satisfying for the same reason.
It's obvious that the participants had a good time putting the recording together, and it's a good bet that you'd have a good time listening to it. There's a lot to recommend it, even though the disclaimer on the label says "Contains no hit singles!" Maybe not, but there's a strong spirit of fun here. And speaking of the Riflebirds, the original members will be at Dublin Pub at the end of December or the beginning of January for a couple of reunion gigs. You might want to catch that too.
The Willies
The Willies
Here's the first recording released by the best new band of 1991, the Willies. Though it only contains four songs, the evidence is still quite clear that this is a band with a big future. Songwriter/singer Eric Levine is talented in both areas and is supported by a very strong band. These four songs certainly bear that out.
"Social Butterfly" is a loping sixtiesish number, with a wry outlook on a list of loves. "Ol' Kirby" kind of sounds like David Byrne singing "Mr. Bojangles." Levine too has some Byrne baggage in his trunk as well as flashes of Andy Partridge and Matt Wilson of Trip Shakespeare.
"Aliens" is a great song, fueled by Stu Carpenter's riveting lead guitar riff. This is a hit song. A love song, of sorts. if falling in love with an extraterrestrial qualifies. The lyrics are pithy and meaningful. But Carpenter's riff brings it all together, makes the song memorable. Stu's playing has had a lot of local musician's tongues hanging out. His versatility and sensitivity are unique
for someone so young. "When Donna Hit Crisis" is a fun ditty, with a strong chorus and nice harmonies. Quirky.
The Willies have a bright future, though they remain as yet, largely undiscovered locally. This situation should change in 1992. For they are far too talented to remain unnoticed for very long.
Bondo
Bondo
Metal loud, hard and fast is the theme here. Tight guitar work and good vocal harmonies dominate. "That's Love" is poppy in its sensibilities with some nice lead guitar work by Bondo hisself. "U Got a Way About U" sounds like Ozzie singing for Poison at times. A nice tempo change (or is it just a change in feel?) props up this otherwise forgettable number. "Reckless Heart" is more big beat bluster. Nice keyboard support underneath, a good breakdown, perhaps reminiscent of Blue Oyster Cult. "House Rockin"' is fairly straight ahead stuff.
Bondo is a good pop metal band. Bondo, as a vocalist does not have a real memorable voice. It's a good voice, just nondescript. Likewise the songwriting is a little predictable in a formulaic sense. But then that would seem to be definitive metal in a nutshell.