Oh the Turkey season is upon us. And as quickly as the summer has turned to winter—the local music scene has heated up like a log on a fire. This is traditionally a warm and welcome glow through what is otherwise a long, wet and dreary six months of typical Oregon darkness. New bands spring up like mushrooms in a cow pasture: some of them, like the mushrooms, are pretty damned good.
One new band for whom you might keep an open ear is actually an old band that is reforming in an effort to rekindle the embers of yesteryear. Most of you were   probably in swaddling clothes when Theatre of Sheep were kicking this  town around in the early 80's. That was a rich time for the local scene. Bands such as the Confidentials, the Odds and the Unreal Gods were bringing a new energy, fused to a new musical direction-to this one-horse shit-kicking A country-swing town.
Perhaps the most demonstratively outlandish of those new bands was Theatre of Sheep, fronted by the maniacal Roz Rezabeck and held together by guitar wizard Jimmy Haskett. Roz and Jimmy have reunited with the original Sheep rhythm section of drummer Brian Wassman and bassist Steve Koster—but not for a walk down memory lane. The band has created new material for their leap into the '90s, so don't expect some retro outfit. Their first gig is November 7th at Satyricon. And from there the sky is probably the limit. My guess is that they will be well worth catching.
**********************************************************************************************************
This unlikely project was initiated by the Act lll Theatre chain to create music to be piped into their 700 theatres. Local bands Neros Rome, Josephine Ocean, Beauty Stab, Here Comes Everybody and Alien Sun were selected to provide the material, though it's not altogether clear why Act III didn't just go with the flow and run cuts by Jesus Jones, EMF and Public Enemy. Whatever the reasoning (financial perhaps?), one has to admire their precarious decision to go with (relatively) unknown Portland bands to provide the music for people to eat popcorn by between Terminator II and ERNEST—Scared Stupid. Hey, it's worth a try.
Neros Rome comes in with four cuts, while Joe's Ocean and Beauty Stab enter three apiece. HCE and Alien Sun turn in a cut each. And Neros Rome seems to have turned a certain corner for themselves. Lead singer James Angell appears more intent than ever on attempting to define for himself his own musical turf from which to posit his somewhat indeterminate philosophy. While he still would seem to owe a rather large debt to the moaning whisper of Mr. Simple Mind (to you) Jim Kerr, the decision seems wise on Angell's part, since the Minds can't seem to buy radio airplay—and my guess would be that A&M Records has probably tried.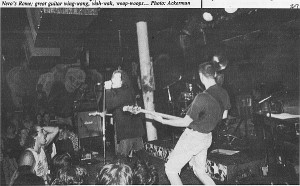 "Fell to Earth" features fine texturizing by Roman key man Kevin Cozad and guitarist Tod Morrisey and rather restrained vox on the pan of Angell. The atmospherics swirl around with volume pedal subtlety, adding a gossamer cloudlike quality to the musical skyscape. Perhaps the song is autobiographical (an Angell fallen to earth?) though such notions are truly pure conjecture. It's hard to tell what the song is about lyrically. But it's a dreamy piece and worth a listen all the same.
"She Has a Heart" hardly sounds like Neros Rome at all. It's not a great song, but it's noteworthy for the maturation demonstration by Angell. The vocal posturing for which Angell is renowned, locally anyway, is almost non-existent. Thankfully. Unfortunately, the hook-line "She has a heart like no one else" (oh really? What is she a medical snowflake? Three ventricles or what?) is really pretty lame. Still, it's good to hear James reaching for a voice of his own, even if it has nothing much to say.
"House of Love" is closer to what we might call "traditional" Neros Rome—a big beat sex romp with a crooning Angell. Some great guitar wing-wang, wah wah and woop woops by Morrisey help to propel the song.
Perhaps the most successful cut of the four "When the Faith Comes Down" is triggered by a gorgeous Cozad key filigree and some nifty bass work by Stewart Fritchman. Also, the lyric is not only comprehensible, but meaningful as well. Yikes! More songs like this one and Neros Rome could become more than mere music for sweaty sheets. There's always hope.
Josephine Ocean's contributions feature the idiosyncratic nasally growl of vocalist Rod Tucker. Tucker has an instantly memorable style that imprints everything the band does. One is forced to listen to what he has to say. The hint of a leer, the suggestion of a whine, underpin his plaintive wail. "The Path," "Change" and the, wonderful "Rain" can be heard on the band's own tape—one which might be worth picking up seeing as how they seem intent on cashing in their chips. Whatever the case, Tucker is a guy to remember. He'll be popping up again soon in another band. I'm sure. And whatever band that might be, it will benefit greatly from his vocal presence.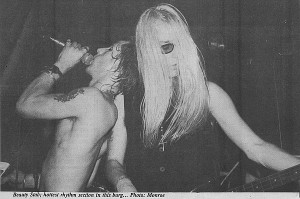 Beauty Stab probably doesn't get the kind of respect locally that they deserve. Most likely part of the- blame can be attributed to what seems like a rather cocky stage personae—something which has never hurt rock bands (elsewhere) in the past, but which does not always float well in Riverdale. Whatever the case, it cannot be disputed that they have one of the hottest rhythm sections among all the pop-like dance bands pumping out tunes in this burg. Drummer Courtney Taylor is an absolute monster who is constantly improving on a gig by gig basis. His rocket-like fills are a thing of awe. And bassist Adam Flick has a funk thumb to die for.
"Look at Me" is pretty much the BS signature tune, in support of which the band has recorded a pretty-solid video. "Love Ocean" is not their strongest song. Still vocalist Cor E. Stafford lends even their more pedestrian material a sense of power, even if he sounds like Neil Diamond on "One Hundred Years." Hey, Neil's making a comeback. Check out "Nebraska's Acorns" for further proof. Beyond that, Beauty Stab has a very effective guitarist in John Fell, a guy who actually plays with a sense of restraint. And synth guy Ed Klien plays quite well in a supportive role. Beauty Stab is a very strong band. Perhaps more consistent material and a little time is all they need.
The band Alien Sun kind of sounds like all of the above, with maybe a little more emphasis on the keyboard aspects (they have two synth players). "History" is territory littered with dithering arpeggios reminiscent of ABC (remember them?) but without a distinctive vocal approach. Not unpleasant and not bad but a little undistinguished. This band has possibilities should they find their own niche.
Here Comes Everybody's "Happy" was reviewed in these pages a few months back. Of the five this is probably the most technically proficient band, although it must be pointed out that sometimes the band's rabid intellectuality is possibly a turnoff to the dumb-as-a-dirt-clod mentality that often seems to pervade within the local scene.
Singer Michael Jarmer reminds of Adrian Belew vocally. The chorus of this song sticks in your brain like gum on the underside of a table at the downtown McDonalds, but it gets lost in the musical cerebration at times. HCE are going to release a full-length work any day now. And those of you eager for some music that is high tech, yet which has a little thoughtful gristle upon which to chew will eat up that release. Worlds Apart is an excellent sampler of local music that does not receive a lot of critical inspection in our little microcosm. The recording is of a very high quality—though they weren't, it sounds as if all the songs were recorded at the same place, at the same time, through the same effects rack. No small achievement.
Grunge heads, glue-sniffers, thrash dogs and folkies should eschew this recording like the swine flu. But those of you with an ear for highly polished architectures of pristine synth-pop will find much in Worlds Apart to like.
Having been shat on more frequently, of late, than the aforementioned cow pasture, QuarterFlash must be content to let CBS Records release this recording piecemeal across Europe, with no company support and no promotion whatsoever. What a way to earn a living! It kind of makes you want to be a school teacher or something. It's a shame, too, for this record is probably the closest that QuarterFlash has ever come to sounding like the real Marv and Rindy Ross.
"Something More" is pretty much the tried and true QF: An uptempo ballad with some nice bassmork by Sandy Wilson, some well integrated key fills by Melanie Kubik, and a couple of blistering solos by guitarist Doug Fraser and by Rindy on sax. But it is Marv's jangling acoustic guitar that tips off the new direction in which the band is heading.
This notion is borne out more thoroughly in the exquisite "Where I Stand"—which kicks off with a pretty piano figure, highly reminiscent of that on U- 2's "New Years Day." Rindy still sounds like herself here, with that creaky little break in her voice—but, hey, what's this glottal gusto and where did that come from? The faintly feminist tilt of the lyrics seems perfect for these Thomas/Hill times. But who am I to judge? Kubik throws in some highly effective background vox at the choruses.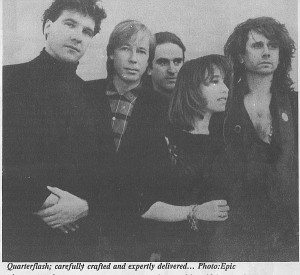 The title track is a highly charged rocker with (that's right) a rousing harmonica solo. Rindy and Melanie blend nicely vocally on the choruses, which go something like  "Umma now now now, Umma, now now now, ooh." Now who says these guys can't come up with contemporary lyrics? Greg Williams is a lit powder keg of a drummer throughout the cut.
"Is It Any Wonder" is probably in Heart territory, though not nearly so melodramatic. It's the requisite beautiful QuarterFlash ballad, and it stands with their best. It has a touching sentiment, though I'm not sure our safe-sex society has any real interest in touching sentiment anymore. "Diamond in the Rough" is another up-tempo rocker, not perhaps quite as successful as "Girl in the Wind" but certainly a worthy follow-up.
"One Less Lie" has a rocked-up rhythm guitar intro that reminds of a cross between the Eurhythmics "Would I Lie to You?" and Bad Company's "Feel Like Makin' Love." The song doesn't quite hold up to the chord movement, kind of sounds like middle period Pat Benatar, but it's solid all the same. Sort of Stonesy in the guitar solo.
"Love as a Last Resort" (what? You mean like Kah Nee Ta?) is a well constructed throwaway song, with a catchy hook of a chorus. "Without You" probably falls into the same category. Not unpleasant, but not real memorable either.  "Paint It Blue" is something of a new direction in the ballad arena for QuarterFlash, with some very pretty chromatic chord motion in the chorus and some interesting development in the verses as well. A nice change of pace. "Let Somebody Love You" follows that tack, with some exquisite fretless-like bass work by Wilson, and some Peter Gabriel inspired key phrasings by Kubik.
The problem with songwriter Marv Ross (and thus, OuarterFlash) is that the guy is a hopeless romantic. And in these oh-so-cynical times, who gives a flying flag about romance? Just give me the money, man. If these songs were directed toward a loan examiner or a stockbroker, instead of a loved one, by God they'd be at the top of the charts. Each song on this album is carefully crafted and expertly delivered. Maybe they hearken from innocent times of long ago that won't be back again. If that is so, then it is indeed all the world's loss.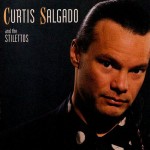 Curtis Salgado and the Stilettos
Curtis Salgado and the Stilettos
Fine production and some hot playing invest this recording with the son of charismatic r&b that made Robert Cray a household name. Witness the transformation provided Chris Miller's "More Love and Less Attitude." What was once a gator-boogie swamp thang for the Razorbacks is a slicked up citified send up for Curt and the band. Why, except for the hook line the song is barely recognizable! And it's a brand new hit all over again. It, just as Salgado says in his stupid KINK commercial—"burns butt." Check out Jeff Lorber's ballsy synth-horn pads, Jay Koder's amazingly restrained guitar work or Curtis' flaming harp solo. Look out world. It's the Blues Brothers for the '90s.
"I Must've Been Nuts" even sounds like a Cray tune, except the lyric deals with what Salgado has done to himself (on a substance abuse level) rather than (as with Cray) what he did to somebody else's girlfriend. Koder cuts loose with a snappy solo or two, certainly  in the bluesy part of the musical ballpark.
"Boppin' That Lovin' Stuff" is sort of a jazzy blues, you hear a piece of it in that same dumb commercial. Some real nice vocal work by Curtis and a Charlie Christian-like solo by Koder. But God, this is a dumb song. Jimmy Pugh throws in a cheeky organ solo in the midst of things to try to disguise the fact that this is really a jam with no real intent. And for the most part, the cut succeeds. But only for that reason.
"I Shouted Your Name" kind of wanders into a funky soul thing that is very attractive, seamlessly crafted. lt proves that Curtis is more than another blues jerk of which the yuppies in this town cannot get enough. Marlon McClain's production (along with Peter Boe) perfectly suits the tune: a welcome departure for the Stilettos away from the musically tried and true.
"Bottle of Dreams" is pretty much just Marlon on all the instruments, backing up Curtis. Reggae-tinged. What a gem this song is—touchingly real, soulfully delivered, achingly piquant. Simple, yet strikingly memorable. A classic. This song was written by label prexy Tim Blixeth and his wife Edra and is worth the price of the recording.
The other cuts are more closely aligned with the blues tradition for which Curtis and the Stilettos are so well paid to perform on the local level. While they are well honed pieces, in and of themselves, it is on the songs where Curtis departs from that format where he is most successful, proving that he is capable of much more than he demonstrates in his live performances.
This is a truly great recording, supported by some of the area's finest musicians, and it serves to prove what a bona tide talent Curtis Salgado is.