Yow! Another year. Another year is always a good sign to me, because it signifies that something new and exciting is dangling just over the horizon. There were a lot of pleasant musical surprises in 1991. The Daddies shortened their name and became one of the city's biggest draws. Bands such as Pond and Sprinkler emerged from the ashes of other well-known bands and instantly made waves in the local pool. The Willies and Madhatter sprung into the picture, making waves of their own. Meanwhile, long-time staples of the scene moved up to the next stage. Napalm Beach, the Dharma Bums and Love on Ice traded the Portland view for the greater national and world picture.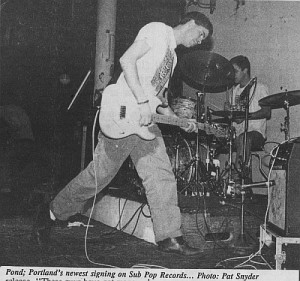 And 1991 was definitely the year to be from Seattle. Like Liverpool in the '60s—every band with long hair, a bad attitude and an occasional club gig in the Seattle area was showing up on MTV. I'm not complaining. Seattle is a helluva lot closer to Portland than Athens, Georgia or Austin, Texas or Minneapolis—-or Los Angeles and San Francisco for that matter.
But just the same, I'm proud of the Portland music scene and proud to play my small and silly part in the laughing confusion of it all.
And 1992 will bring still more changes, more surprises. Clubs will go down the tubes, clubs will spring up. Bands will spring up, bands will bite it. As quickly as Portland Underground and Ragabones and Rivercity Saloon close, there's a Bojangles and Hawthorne Pub to take its place. As soon as the Jackals or Big House go down, there are the Flapjacks or Those Powerful Pheromones or Ray to take up the slack. Nothing changes, nothing stays the same.
The demographics are shifting. The Eastside is becoming a viable musical hub. There are five music clubs (East Ave. Tav, Laurelthirst, Belmonts, Bojangles and Hawthorne Pub) and two larger venues (Melody Ballroom and Pine St. Theatre) between Burnside and Hawthorne within thirty-five blocks of downtown. And the Moosehead is just down the road. Nearly any band that plays the downtown circuit now has a play to play on the Eastside. Now, if we can just get that scene poppin' in Beaverton…
And as our little pool continues to percolate and proliferate, I will see it as a duty and an honor to inspect and attempt to describe what crawls out of the soup in my general direction.
**********************************************************************************************************
Here's a charming entry from Portland's only true Texas style R&B band. This one was recorded live at Key Largo last September—nicely captured by Tom Robinson. Six of the ten cuts on this recording are new tunes and the other four are to be found on Straight Out, which was released last year.
There's a lot of energy here, most of it emanating from guitarist/vocalist/catalyst/songwriter Monti Amundson. His hot-tubed fenderized guitar sends sparks in all directions on "Brain Grenade." Debbie Smith's fat bottomed bass acts as a ground, supported by Cory Burdens unadorned but rock solid backbeat. All the makings of a lightning storm. The Blubinos are not necessarily breaking new ground here, but they keep modifying and strengthening the ground on which they stand—perfecting their sound. If this band gets much tighter, you're gonna need a jackhammer to get them apart at the end of a show.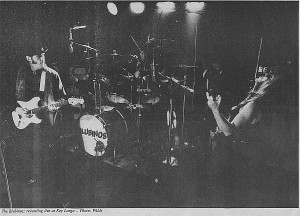 Check out the wild 6/9 chord influence of Stevie Ray Vaughan on "Not A Day Goes By" or the updated Chuck Berry movement of "Lightning Strikes." Molten. "Bad Day Rough Week" sounds a lot like "Sin No More Blues" (also included here) which, in turn, sounds an awful lot like Moon Martin's "Bad Case of Loving You." But hey, what do you want for three or four chords? Beethoven's 9th?
"Broke Down Car" and "Take a Walk" receive extended treatments here in comparison to their Straight Out versions. "Take a Walk" swings into gear with a few bars of late period Hendrix mayhem before launching into the familiar lurch of their best known tune. The version found here is dirtier, meaner, more intense than its studio counterpart.
Blubinos Live is straight ahead rock, no frills, no excuses. No quarter asked. None given. If this recording doesn't get you moving—there's a distinct possibility that you're dead.
And speaking of bands that neither ask for, nor give quarter, here's the first recording from the latest band fronted by Portland's original and quintessential leather jacket tough guy: Jon Koonce.
Well, the heyday of Johnny and the Distractions was a long, long time ago. And tough guys have a nasty habit of disappearing overnight. But before you get the notion this recording is, like, the plinkings of yer doddering granddad or something, you better get one thing straight there, Barney.  Jon Koonce is plastique in a cassette case. Turn this up on the stereo and watch your speakers explode like a 757.
Years ago Jon was a screamer. His howls and yowls sounded like a mainsail ripping in a hurricane. What Jon has learned (and displays here) is control. Check out his sublime vocal on "Tough It Out." His voice has the whiskey gruffness of John Mellencamp, and the wise, funky smoothness of Otis Redding. Yeah there's still a trace of the Boss and Bob Seger (guys to whom he was compared by Rolling Stone in the Distractions days), even the yowl—but this guy is more than a vocalist. He can really sing! Check out the equally funky "The Dividing Line" for supporting evidence.
Jon is backed by a great band. Long-time music mate Mark Spangler alternates between lead and rhythm guitar, while Rich Gooch provides his easily identifiable basswork and Andy Gautier, stalwartly versatile drums. Mystery Train' can move from the aforementioned funk feel to the bluesy "Working Two Jobs" and "Slow Burn" to the straight-ahead rock of "Working Girl" and "To the Victor Go the Spoils" without missing a beat. If anything, that's the bands' only problem: they're so versatile that they're hard to classify. One minute they call to mind Little Feat, as on "Lick My Wounds," the next moment they sound like Extreme, as on "Love Me or Let Me Fall." A&R guys at the labels (who do most of their thinking with their wallets) would fall into a delirious dither auditioning this one. Hopefully you're stronger than that. This band deserves your attention.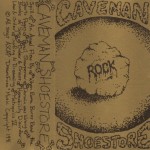 Caveman Shoestore
Caveman Shoestore
Here's another band springing from the polytonal mind of the Tonedog himself, Fred Chalenor. Anyone expecting a cakewalk hootenanny should probably give it up now and read the cereal box or something. For this is intensely dense, difficultly intellectual stuff. Fred plays guitar and bass and is backed by former Tone Dog drummer Henry Franzoni, launching into tightly compressed polyrhythmic excursions and forays.
But vocalist Elaine di Falco is the real surprise here. Her sweet voice, faintly reminiscent of Chrissie Hynde on an acid trip, lilts through "Spill"—a Schoenberg informed folk tune. For just when you think you've got a handle on the plaintive melody, off Elaine goes to the note not taken. Challenging and chilling.
Fred's basswork (it often chortles like a guitar, though only a bass is listed) is impeccable and impenetrable, often approximating Andy Summers on steroids and Jack Daniels. "When Rome Burns . . ." and "Pencil Sharpener" sound sort of like Frank Zappa's more out-there material. Accessible, for the most part,
Caveman Shoestore are not. The Tonedogs are the Monkees in comparison. Although, probably for the sake of irony, a fairly straight-ahead version of the folk tune "Banks of Spey" makes a brief appearance.
Dance to this? I think not. Unless you've got three legs and an inner ear problem. But despite the 17/8 time signatures and the polytonal harmonic constructions, this a rock record. I think that only Fred Chalenor could conceive of such a disparate juxtaposition and make it work. And, indeed, it does work.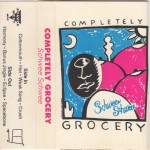 Completely Grocery
Schwee Schwee
You know, this is a real important recording. Because it's one released by a band that's in the midst of finding itself, defining itself. And that's always an exciting proposition.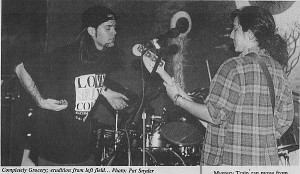 The Groceries have always been a fun hand. But at times they've sacrificed content for the sake of spectacle that is almost de rigueur in today's underground. But where once this band was sloppy, now they crunch effectively. Ted Thieman's guitar work has evolved very nicely over the past year. And the addition of Julie Avina on bass has helped the Groceries to overcome their sloppiest aspect. Jeff Cavanaugh has always been a solid drummer and his work continues to improve as well. But perhaps the biggest and most pleasant surprise are John Mitchell's vocals. There was a time when John only sang one note. It was a good note, mind you, but that was the full extent of his vocal range. Such is no longer the case. And it is precisely his improvement that marks the advances the whole band has made.
To single out specific cuts here would be a mistake. For this is a concept album to rival Tommy or Quadrophenia . Want to know what life is like in the trenches of the vast wasteland? Check out "Cotton Mouth" or "Space Bone." Songs about the improbability of maintaining a "relationship" midst the maelstrom of ensuing armageddon? "Eclipse" or "Weak Song" will do quite nicely.
Based on what I hear here, I nominate Schwee Schwee for Album of the Year 1992. Like l said, it's an important recording.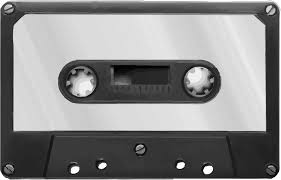 Madhatter
Down the Rabbit Hole
Madhatter received some award or other from the PMA. I doubt that the fact that their ex~manager being a mucky muck in the PMA had anything to do with this. For they are a talented bunch—if a bit anachronistic.
The key to Madhatter is monster lead vocalist J.R. Viohl. He's a throwback, to be sure, calling to mind those halcyon days of yore when Journey ruled the airwaves and Loverboy kicked yer butt. Well, thankfully, those days are gone. And this band is definitely a '90s unit—but there's a '70s shadow looming here.
"Clouds of Witness" sounds kind of like Culture Club fronted by Sammy Hagar. And "The Casual" indeed would seem to be a "safe- sex anthem, but a pretty one at that.
The supporting cast of guitarist Jerry Iona, bassist Michael Budd and drummer Bryan Henifin is fairly facile, reasonably adept. But we've been through this before. I'd really like to hear this band break some new ground. I think they're capable enough. They write good pop songs and show promise with their arrangements. But they sound as if they're beaming in from another place, another time. A year under headphones, studying the Pixies and Nirvana should do the trick.
Here's another difficult band who combine elements of Chili Pep funk-punk, be-bop jam, zen pathos, intellectual ramblings, Hendrix traces, rap trappings and Chuck Berry. No problem.
Guitarist Mark Perlson is a deft and plucky stringmeister. He's the ground floor. Drummer Pat Calahan and bassist Tchad Moore are the elevator. And Jon Coit, vocalist, is the ledge from which this perilous concoction dangles.
"Wease|" is a funky ode built around the admonition "Don't let your dick control your brain." Sound advice. "Enzian's Song" is a lyric pinched from Pynchon set to Archie and the Drells' "Tighten Up."
Whew!