Perhaps the greatest pleasure I derive from doing this rock journalist/critic thang (no it's not the ego massage, nor the  'opportunity to play God with your hard won artistic efforts) are those rare occasions when I hear a local band of outstanding merit. It thrills me, and I become a kid again.
Like the first time I saw Elvis Costello at a little converted church in Eugene back in 1978—my love for Rock 'n' Roll is instantly rekindled into an unbridled bonfire of excitement again. The latest instance of just such an event' took lace recently at Mark's Hawthorne Pub where I saw a band called Crackpots in Exile open the show for Orphan's Reason. Crackpots in Exile. Remember that name. For, without a doubt they are one of the finest local bands I have ever seen.
Together for only three months, the Crackpots are comprised of two Michigan transplants guitarist/vocalist Beth Basile and bassist extraordinaire Bill Rudolph; lead guitarist Scott Mitchell, late of Eugene's Vociferous Plankton; and drummer Ian Shadburne, who last played with the Dionysian Five.
What you've got here is a band with great brains and humor, and chops to die for. Vocalist Basile reminds one of Patti Smith — her vocals being sung and shouted simultaneously. Mitchell is a talented, understated lead guitarist. But the rhythm section is absolutely killer, check out Rudolph playing rhythm guitar on the bass, or some of is funkier stuff which he nails to the wall. Rudolph and Shadburne work extremely well together and form one of the best rhythm sections I have yet to hear in this burg.
But it is their clever songs that make them the talented act that they are. Check out "Ode to Nipsey Russell" (which is derived om Zevon's "Werewolves of London") or the clever reggae of "Bad Idea"—a song that you can (and will want to) sing along with by the end of the second verse. As far as I can tell, Crackpots in Exile have no weaknesses other than a current lack of visibility. This situation is bound to be remedied soon. The band is simply too good to be ignored. Catch them soon. They are due to play just about everywhere in the months to come.
**********************************************************************************************************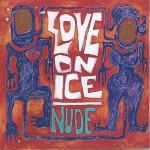 Love on Ice
Nude
Interscope Records
I'm really jazzed by this recording, and it's not just because my name appears in the credits (so do the names of everyone else in Portland). No, Love on Ice showed a lot of promise in their previous locally recorded efforts. This one, released on the lnterscope label, goes a long way toward fulfilling that promise. It's not exactly the same sound you've come to know and love. It's better.
There are no rough edges here. The Ice sound is as smooth and fiery as fine whiskey. Check out "Don't Leave Me." Yes, the comparisons to Zep and Jane's Addlction are still apt. But this band most certainly has a sound of its own. 'Goodbye" is an indication of the growth the band has undergone.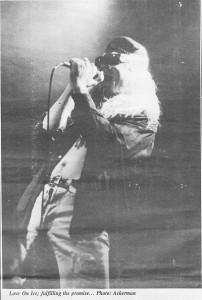 Sprightly piano work by producer Rick Parashar reinforces an already strong rhythm section. Lead vocalist Dan Krueger is evolving a voice of his own — no longer another Plant clone. ' is a good song. "Bone Dance" is a rockin' little number, closer to the LOI locals are familiar with—but hey, are those synth horn charts I hear in the background? Good God, it's Faith No More!
Parashar's piano work again livens up "Sweet Thing," adding a new dimension to the band's attack. Nice interplay between 6/8 and 4/4 time signatures. "Self in Blue" will lull you in to a sense of complacency with its laconic acoustic guitars and lazy cello (played by Dan Kreuger) and then promptly rip you a new fundament in the choruses, courtesy of Dan's glass shattering vox. Then it's back to Jellyfish like harmonies. The band shows maturity and beaucoup chops in executing this number. It's a little long, but this one will get airplay. I guarantee.
Recorded at Seattle's London Bridge Studios (where LOI recorded their earlier demos) the sound is clean and tight. Rick Parashar is to be commended for his sparkling production and innovative choices for arrangement. Love on Ice sounds like a big time act here, ready to make waves all over the world. This is one you'll want for your collection.
Definitely.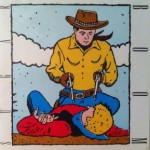 Sugarboom
"SpiralIMove"
Schizophonic Records
Here's an appealing single, pressed on yellow vinyl on the Schizophonic label (I- Killers compilation album and various  Whirlees recordings) by this sprightly Portland foursome. These two songs, while showing two distinct facets of the band, embark from a basic folk-rock point of departure.
"Move ' rocks harder than its counterpart, with Moon-like frenetic drums and a slithering descending chord progression, an arc of overdriven feedback circling overhead. Vocally, the band makes a stab at two and three-part Byrdsian harmonies—though not always successfully.

And again on "Spiral," harmonies prevail—more effectively, in this instance recalling the Three O'Clock, or Gin Blossoms or Grapes of Wrath. "Spiral" is driven by a Townshendesque acoustic guitar and a snappy snare/tom-fill combination.
But for a band that seems so desirous of incorporating harmonies into their presentation, Sugarboom takes a rather haphazard approach to their execution. The singers do not synchronize especially well, nor is their blend anywhere near seamless. Often the harmonies sound spur of the moment, and not especially rehearsed. If this was the effect they were hoping to achieve, then I'd give them a 10. Otherwise, back to the basement boys.
And there is a lack of melodic development as well, perhaps as a result of the fact at none of the members could be considered a "gifted" vocalist. But Sugarboom have their own odd charm, all the same. They succeed at creating interesting and very original chord progressions and their ensemble playing is pretty tight.
I would like to hear Sugarboom refine their sense of melody, and work much harder on their harmonies. It's quite possible that the band could turn what is now something of a liability into a sparkling attribute. All that is required is a bit of work. I think the band is up to the challenge.
Howling World
Howling World
Howling World is the latest aggregation assembled by Greg Paul, who should be remembered as the guitarist for Radio Silents and Sing Sing Sleepwalker (which became Big House which became Ray). Greg and his brother David are among the best songwriters in the city, and the brothers penned the four songs featured here. The other members of the band include Dwayne Thomas who has been bassist for such illustrious bands as Modern Problems, eccentric, and Mien Street—as well as a stalwart lighting technician in his own right. Jeff Bement, late of Big House is the drummer. And, quite recently, John Bunzow (of the Nerve) was added on guitar and vocals.
"Big Motel" (a big motel is not a big house) benefits from Brian David Willis' crisp production at Scott Parker's Dead Aunt Thelma Studios. In a cascade of images, the lyrics deal with (alternately and concurrently) child abuse, drug abuse and pollution — just another crank lab in the back bedroom of a big motel. Greg's vocals bring to mind Jim Kerr of Simple Minds as well as Adrian Belew and, perhaps, Ben Orr of the Cars. The rhythm section is punchy and seamless, the instrumental work flawless. But what this song lacks is a solid chorus with which to bring the whole production home. A couple of repeated lines (the title perhaps?) and a couple of chord turns could transform this tune from the mundane to the sublime. It's a very fine line, in this instance.
"Turn the Tide" maintains similar lyrical objectives and concerns as its predecessor, this time with a catchy chorus included. "Move Me, I'm Yours" is a scintillating ballad, reminiscent (and this is a compliment) of the Western flavored ballads of Mike Nesmith —the musician Monkee.
"Hitchhilker" sounds like Blue Rodeo doing a revamp of "Ghostriders in the Sky." Densely atmospheric with surreal organ washes provided by Thomas, "Hitchhiker" is probably the most successful of the upbeat tunes.
Howling World do not lack for finesse, nor for a command of dynamics. Also a sense of passion is deeply invested in Greg Paul's voice, expressed through the songs he and his brother write. The material here is well-written and well-executed. It is to be expected that this will be a ban capable of creating a lot of different musical moods in a live setting. There's a lot of talent here.
The Lew Jones Act
The Cherry Tree Butterfly Effect
One way of explaining Lew Jones is to think of Neil Young. I can call to mind no more prolific songwriter in this city. But, like Neil Young, about the time you think you have a handle on what it is that Lew is doing, he heads off in another direction. This recording finds Lew combining many of the more successful elements of his previous work (which includes at least twenty full length endeavors, as well as countless singles over the past twenty years). If they ever have a Portland Music Hall of Fame, he belongs in it.
Backed b his long-time drummer Dennis Elmer, erstwhile Jelly Roll Cooker Brad Rapp on guitar, and John Lindahl (at whose Fresh Tracks Studios this product was recorded) on bass, Lew has assembled a group which seems more interested in his music and in giving him the proper support, than in demonstrating their own individual abilities—a problem which has occasionally arisen for  Mr. Jones in the past.
"The Days Go By" is a pleasant, uptempo ballad, reminiscent to a certain extent of the work of John Lennon. The backwards guitar embellishments support this theory. "No Mystery to Me" is a rocking number with a point. Rapp's guitar fills, while effective, tend to crowd the vocals for space. Hey guys, there's room for everybody, lay back once in a while. "I Can Dig a Moon Dove" reminds of Harry Nilsson's "Think About Your Troubles" from The Point, kind of an exotic, tropical feel here.
"Dear John" (not Lennon) features punchy, inventive drums by Elmer, and a moody drone developed by the rest of the ensemble. Restless, desperation propels the tune. "My New Love ' echoes the jazz inflections purveyed in Talk Talk's new Laughing Stock (a record I highly recommend to the adventurous among you), and is a challenging departure for Lew. '''The Day Will Come" features a rousing "Peter Gunn"-like riff and some interesting breaks at the turnarounds.
Lew Jones proves that you can, indeed, teach an old folkie new riffs. For there is more new ground broken here on this his umpteenth recording than many musicians muster in an entire career. Not every song included on this recording could be considered a gem, but whether or not each is a hit song, each bears the mark of a songwriting craftsman.
Jamey Wood
"With You Tonight/Glad to See You're OK"

A notable recording, if for no other reason than' for the people Jamey rounded up to support him on this mission. Wood is a talented vocalist who sounds, at times, like Sky Saxxon of the 60's Seeds, other times like Roy Orbison or Chris Isaac. Backing him u on this project are guitarist Stu Carpenter and drummer Collen Colebank of the Willies and Caustic Soda's Regina LaRocca on bass. Regina's brother, James LaRocca plays guitar and wrote both tunes.
"With You Tonight" even sounds vaguely of the Seeds' classic "Pushin' Too Hard" with its gritty vocals, surging rhythm and windy background vocals.
"Glad to See You're OK" rocks harder than the flip-side, propelled by the rhythm section. Regina, especially is afforded the opportunity to confirm her musicianship in a slightly different setting than what would be considered her typical format. Meanwhile Jamey demonstrates vocal versatility — alternating between a raspy grunge voice and an amazing vibrato laden falsetto unheard since David Byron fronted Uriah Heep back in 1970.
The recording is very clean, well-mixed by Galen Hegna at Rainbow Recording.  Jamey Wood displays a lot of vocal chops, some very real talent. The songwriting and musicianship are first rate. Jeez, what more could you want?
Voodoo Dolls
Voodoo Dolls
Last month I reviewed a band called Agent X35. Inadvertently, I implied that the Agent's drummer and vocalist were current members of the Voodoo Dolls. Boy, did I ever catch hell from the Voodoo Dolls! CORRECTION: the vocalist and drummer for Agent X35 are ex-members of the Voodoo Dolls and have been in that condition "for over a year!"
I also made the mistake of mentioning that I thought the Agent's recording was ''tighter'' than the last I hard heard by the VD's — which, too, seemed to incur a modicum of the Dolls' ire. So, in this an election year, it is my duty to provide equal space to the opposing party. Thus.
Ok. So this recording is a lot tighter than the last recording by the Voodoo Dolls too. As to which band is tighter (in an effort to prevent a range war), I demur.
But this recording crushes, crunches and slams. The Voodoo Dolls are a very good band. And this is a great recording, produced by Metal Church founder Kurdt Vanderhoof.
Vocalist Matthew Wright has a deep, rich voice — slightly uncharacteristic for this genre, Bowie-like in some ways, but a voice with real star appeal, all the same. And Leslie Karlson's guitar work is fast, hard, succinct and inventive. The rhythm section of bassist Jeannine Dawson and Merrill Hale on drums is as dense as a black hole, but more inviting.
"Promised Land" recalls, instrumentally anyway (dare I say it?), Heart's ' Barracuda" though colored with more raw emotion and less pop glitz. Thank God. A dark, but memorable chorus makes of this one very successful cut. "Rails" suffers slightly from a cheesy synth-generated train whistle at the top, but rallies behind a hard charging "White Wedding"-like feel, and some nifty guitar work from Karlson. "Creeping" recalls Jimi without sacrificing au courant accoutrement.
A big tank of a number, "Destructo" lumbers incessantly toward some doom sonic horizon. Guitarist Karlson again manifests an array of nifty chops. She's a very powerful player. Drummer Hale kicks off "Big Lies" with a Bonham-esque solo. Karlson and Dawson commence in unison, at cut-time to provide a stutterinlg walk of a feel, over which Wright intones a soulful vocal.
Voodoo Dolls are an exceptionally talented band. My intent in last month's review was never to suggest otherwise. For the Dolls are as tight as a noose and just as deadly. On this recording they display no weaknesses. They are too conscious of dynamics to be considered thrash or grunge. Too thoughtful to be considered metal. Whatever they are or are not, they exhibit originality, mea culpa conviction, and a real sense of style. Surely that must mean something.
Tammany Hall
5'10" & Under
Why any band would wish to name itself after one of the more corrupt fixtures in the Democratic party during the formative years of our country is beyond me. Might as well call yourself Boss Tweed and get it over with. Then again, it's not Elvis Hitler—so who cares? It's the music that counts right? Sure.
Talented folk singer Clarence Goodman is the frontispiece here. And he's evocative as a vocalist, perceptive and insightful as a songwriter. Drummer Doug V and bassist Smitty provide adequate support. Nothing spectacular, but solid and appropriate.
Goodman reminds me, vocally, of Wayne Binitie of Stress, with a soft, melodic voice. Sometimes reminiscent of Arthur Lee of the late, great 60's band Love.
This band has real possibilities—with good songs and an effective front man. What they need most is a different name.
Storm the Park
"Gold Dust Woman"
Certainly an odd choice, to cover a tune penned by the Welsh witch herself, Stevie Nix. Not once, but twice, in two distinctly different versions. Especially since vocalist Elizabeth Baldwin's voice bears some similarities to that of the witchy woman. But Baldwin's voice more resembles that of Throwing Muses' Kristen Hersh. And the "Pale Shadow Mix" cuts a new swath through that gooey Fleetwood Mac territory, sounding more like "White Winged Dove" than "Gold Dust Woman."
My advice is for the band to come up with some distinctive original material for Ms. Baldwin to sing. For it would seem she has the potential to be a vocalist with real talent of her own to showcase. I know the '70s are making a big nostalgia-thing comeback. But this is too much. Too soon. I do like her voice though. A lot.