Orphans Reason show a lot of growth since last year's Steel Spring—with this five-song outing. As has been exhibited in their live shows, the band are in the midst of tightening and toughening their presentation. Flea Circus is an affirmation that crystallization.
"Blame" is a hard charging number, spurred on by Jamie Ewing: jagged edged guitar. He and Janet rice wail congenially, as Kirk Smith adds propulsion from the floor toms.
"Submerged" opens with a hoarse cry from Jamie, as Rob Ingram weaves a seductive bassline beneath. Migraine worms of distorted guitar screw into the framework. Soon Jamie is shouting in tongues, as Janet chants and Kirk slams his crash, like the surf against a rock. The overall effect is a wonderfully tortured blend of angst and mood.
Janet steps to the fore on "Plastic," accompanied at first, by a mystical arpeggiated guitar and lone moaning bass. As the band crashes in, the initial tension is intensified. Throwing Muses are recalled here, as in the chorus — as the band builds through the song to an abrupt climax.
"Who Wants Bread" reminds of the Femmes in its jangled fervor. A tight discordant duet between Jamie and Janet draws and repels the listener at the same time. As seems to be the case with the Orphans (a la early REM) in nearly all their tunes: the lyrics are mostly unintelligible. Various words and phrases bubble to the aural surface from time to time, but usually they remain below the surface.
"Frame of the Sun" finds Janet singing, caught amidst an effusive psychedelic swirl of rattling tom-toms and bass chords as Jamie's industrial guitar whirs in the background. Janet duets with herself at times on this tune—to good effect. But it is the arresting breakdown in the middle at serves as an emotional fulcrum for the piece.
Orphans Reason are one of the better unheralded local bands. In some ways they remind me of an updated version of early Jefferson Airplane—a swirling folky/psychedelic sort of instrumentation serves as a backdrop for very distinctive singers. Continued improvement of presentation as exhibited on Flea Circus can only bode well for Orphans Reason.
Though they play far different types of music, Madhatter and Orphans Reason have been plotting similar courses. For with Pool of Tears Madhatter shows the chops that come from slugging it out in the trenches, and the assured savvy that comes from growth and maturity as musicians.
From the first measure of the first cut "What You're After" it's instantly obvious that the band have made large strides in the studio since last year's Down the Rabbi: Hole. The sound here is ballsy, metal flaked funk—tightly executed and well recorded.
Lead singer JR Viohl has always had the voice of a real pro: smoooth as hundred year old scotch, with an equal amount of fire. Tony Lash's mix has him sounding like a rock Thor, stomping around Valhalla. And the band sounds like thundering horsemen themselves. Lyrically, the band makes intelligent sense.
Guitarist Jerry Iona plays inspired solos throughout the thirteen cuts. An obvious student of Eddie Van Halen, Jerry uncorks fiery, overdriven solos with great frequency. But check out the nice execution of the gentle riff on "Love Lost"—a well built, upbeat pop ballad. Built to last. Jerry's tasty octave hammer-ons in the solo, rousing chorus. A catchy number.
And the paean to the safe sex generation "Beyond the Casual" receives a second (it appeared on Rabbit Hole) and far more effective treatment here. This is a hit ballad—just perfect for young, budding summer love.
Madhatter have shown great improvement in the way they present themselves as a recorded band. The love and care with which they composed this project pays off with big dividends Their style, which would be located precisely between those of Loverboy and Living Color, is not immediately accessible to fans of either camp. But the EMF flavor they are adding to the stew makes for a far richer concoction. They are a band worth listening to.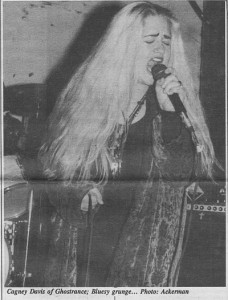 Dark and moody, Ghostrance certainly lives up to its name. Fronted by big voiced Cagney Davis, the Trancers traverse the dark underbelly of life, dredging up the submerged fears in a cauldron of bubbling angst.
"Nightrain to Valhalla" traces typical dark territory moving in half step intervals of doom "Waiting For a Sign" dwells in a similar cheerless atmosphere. Wagner has a strong voice, about a half an octave higher than that of Margo Tufo, but as capable of singing the blues.
In fact, that's what Ghostrance really is—a blues band. Though they don't use the stand blues chord progressions, that's what the music is—blues. I'm sure the band would take great issue with that assessment. But the blues is music that is sung from the heart and from soul—and though this recording is dark and forbidding, its ties to the blues are unmistakable. This comes as a revelation for me, because I never caught the connection between blues and doomy grunge before. But Cagney bridges that gap, proving she could give any blues singer in town a real run for his or her money. I'd bet on Cagney.
I know the public attention span is short, so I will remind you here that Monica Nelson as the broken glass voiced lead singer for the Obituaries. A couple of years ago she moved to New York to carve for herself a singing career. Along the way she got sidetracked the man of her dreams, and e birth of their daughter, ten months ago. But Monica has been hard at work on her career as well, and she seems ready to, as she says, "thunderousIy attack New York (and neighboring states) without letting up." Anyone familiar with Monica's approach will have to admit that it should be a withering attack indeed.
The three tunes on DVX were produced by Godfrey Diamond who produced Lou Reed's first solo album as well as records b Billy Squier and Aerosmith. So it would seem she's in good hands. And though Monica has been gone from the Portland scene or several years, she contends "Half of my belongings are still in my parents garage which makes me kind of a 'semi-local' act." But she's definitely a national act, all the same.
For what we have is Monica contained, Monica focused. Monica sure. "One Sided Thing" indicates precisely how vastly Monica has grown as a singer, as a musician, and as a human being. It's odd to hear synthesizers backing her up. But this is not at all the same Monica Nelson you remember. Think of Kate Bush, Annie Lennox, and the old Monica all rolled into one. Monica's voice is pure, strong, melodic, affective and absolutely riveting.
The power and raw emotion always contained in her voice are still there. But now she swoops and swirls, trills and dives—never faltering. "How Many Times" sounds like a Giorgio Moroder production. But it never overpowers Monica's incredible voice. It's a big time production for the big time singer many of us hoped Monica would become. Here she certainly pushes the envelope of the pop song format, but it's pop she's singing.
She wrote all the words and had a hand in the melodies. But it's plain to see that, like the Dharma Burns, Monica has grown up a lot in the past few years, coming to terms with the demons that haunted her in her younger days.
The touching ballad "I Scare Myself" exposes all the familiar vulnerability one expects to encounter with Monica. But the resolution and clarity of vision she exhibits give testament to a personal strength of conviction that most Portland audiences never got to see.
Monica Nelson does not want to come home to Portland, until she can come back as a real star. Come back Monica, you're already there.
If you can get your hands on this recording, beg, borrow or steal it. You will be shocked at how you underrated this astoundingly talented singer. Look out world, here she comes.
This is a very puzzling recording. A lot of time and money went into this effort, with decidedly mixed results. The players here are capable enough, but they don't always sound as if they are reading from the same page. In June could be compared to Group Du Jour in some ways, although they are a little tougher in the rhythm section. But there is more to writing a song than simply putting words to music, and that is where this band falls short. For, a song is the successful unification of words and music. What we have here is sung poetry over musical backing.
Guitarist David Weisel creates some interesting moods, over which vocalist Kirsten Rian sings with a Birdlike voice. That voice and the arrangements rarely gel. Rian is a good singer, but not a gifted melodist. The melody for each song is practically the same: sounding not unlike the original Star Trek series theme. Place these melodies against any backing track to U2's Boy and you kinda get the picture—sorta like Quarterflash on amphetamines.
'"Spark" probably comes the nearest to having what we might call a memorable melody, and comes closest to sounding like a completed song. Most of the rest of the songs fail for various reasons. The simple piano backing of "For You" is probably the most appropriate for Rian's folky voice. Most of the time she seems out of place.
This is not to say that the band is without talent. But their various abilities seem not to have coalesced. Intense fans of the Sugarcubes might find this an appealing outing. Jejune is more like it.
Backbone are a talented quartet Who have been touting their quirky funky bluesy stuff around for a year or two now. Led by talented young guitarist/vocalist songwriter Steve Michaelson, Backbone shade in tones comparable to Neil Gilpin's (Clevelands, et al …) various projects.
"The Way It Goes" is a funky little rag number that's as close to Bob Dylan's talking blues as it is to Marky Mark. But in that statement lie the antecedents to rap—which is a different column. Anyway  the clever rap "That's the way it goes said the politician to the masses/power to the people, just give me all your assets," gives a pretty clear indication of the direction we're goin here.
"Secret World" sounds like some of the bluesier offerings of World Party. Steve even sounds like Karl Wallinger when he's not sounding like Sly Stone or Screaming Jay Hawkins.
"Murder Rap" is like a swing version of ''House of the Rising Sun" performed by Tom Waits. And the anti-drug "Speedball" incorporates the classic stuttering bass snap/snare interplay of Sly's "Thankyoufaletinme bemicelfagin" with an hilarious rap that could pass for something off of Joe's Garage.
Backbone shows lots of chops and style. They are a young band, unknown to most. But they are very talented and certainly worthy of closer inspection.