Well, I just received a press release today that purports to bode historically in the annals of promotion, if all should come to pass. What is at issue is the upcoming release of Puddlestomp—a compilation CD sporting the likes of Hitting Birth, Completely Grocery, Sweaty Nipples, Krowd Control, Tao Jones and Drunk at Abi's, among many more. Lately, there seems to be a compilation a month in the works. And all the bands are certainly deserving of wider exposure.
What is a little different about the Puddlestomp project is that it would appear to be one of a collective or cooperative nature among the bands. The possibility of the "collaboration" of fourteen separate musical entities (and the ego baggage they all might tote along) seems witheringly quixotic.
However, according to the press release. All the proceeds from the sales of the "up to 10,000 copies" manufactured (many are targeted for distribution to the media) "will be put back into the project." The "project" other than the CD itself, is not spelled out—but the promoters (musicians Justin Stark and John Mitchell) seem to believe that such an enterprise will benefit "all musical artists in Portland and it's surrounding areas."
While I am in complete support of the socialism that musicians like to call "democracy," I've never seen such top-lofty aspirations amount to a hill of mylar. For, when you start cutting up the money/fame pie, chaos hovers like a cloud over the mundane epiphanies of Utopia.
Just the same, if all the contributing parties in the Puddlestomp project can maintain a sense of community about their product and goals—it could, indeed, be the banner work that the promoters envision. More about this next month.
**********************************************************************************************************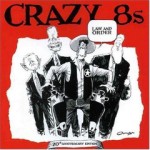 Crazy 8's
Law and Order (Reissue & Update)
Red Rum Records
"This is something," beams Marc Baker proudly, "that a band can do only if they have their own label." As manager of Crazy 8's, Marc should know. He's been around the block a time or two in his long tenure with the band. The 8's have become masters of self-promotion through their Red Rum label—thumbing their noses at record companies too timorous to chance signing the long-time favorites.
And Marc is right. This is a unique chronology of the 8's. The original release of Law and Order was in 1984. Ronald Reagan was riding toward re-election, pushing a Star Wars message to a populace still in fear of an intact, Cold War, USSR. But what makes this recording unusual is that the Crazy 8's have chosen to re-record the six tunes that appeared on the original release — from a vantage point eight years later. A different vantage point from a band that has seen its share of personnel changes (still, four originals remain), a different perspective—given all that has transpired in the ensuing years.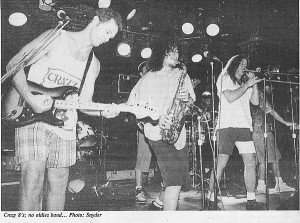 But what's crazy is that the band have released the original tracks and the newly recorded updates together on one CD. Now why would they do that, you might well  ask?  Well for one, to indicate how the band has grown over the years. The original recording was no piece of shit, mind you—it was produced by Marlon McLain at Desitrek. The cuts "Law and Order" and "Johnny Q" got a lot of college airplay. And the record got a lot of recognition from the high profile rags.
But the band has grown. Check out Todd Duncan's inspired screams on the new "Count Your Money." There's balls there where there were none before. And the horn section, led by Todd Wad and Corpus Kirkus (Tim Tubb) have become muscular and sinewy. Some of the bulk-up can be attributed to better recording techniques by Boy Dog at Dogfish, but most of it gets down to good old Corn Valley chops. And the horn section has them. But the chopmeister has to be Dique Paree (Mark Wanaka). There was a time and I remember it clearly, when he was whacka-whacka on the wah—wah and goodnight y'all. Listen to his monstrous solo on the updated "Law and Order" or his tight, jagged rhythm guitar work. The man has paid his dues.
And what remains through the eight years between the recording of the different versions contained here, is that nothing much has changed in society or politics. For these songs are just as vital and meaningful today as they were then. What has changed is the band playing them. There is an assuredness, with a touch of cynicism that can only come from playing it in the trenches. And that is the weirdest part of all. The 8s have been together long enough to actually re-release a record eight years after the fact — and they're still together! That in itself is an achievement to which most bands can only meekly aspire. This is no oldies band parodying themselves They're growing. And they're going to drag you along with them.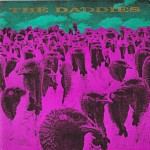 The Daddies
"The Ding Dong Daddy /Mom Was No Fat Broad"
Sonic Recollections
Can you imagine a gig with the 8s and the Daddies back to back? Rock civil war of the horny horn bands hailing from OSU and U of O. Granted both bands have long since severed their matriculatory ties, but the similarities between the two bands are certainly obvious. But where the 8s are political within the context of their lyrics, Steve Perry and the Daddies are more sociological in perspective. There are musical differences as well. Where the 8s have evolved from the Specials ska-laced sound of the early 80's, the Daddies come from a much more skewed space than that.
Check out Chris Azorr's Ellington reference on the intro to "The Ding Dong Daddy of the D Car Line." Perry (here known as Buddy Love) comes on like the new Cab Calloway—raise your hands, who knows that name? This is a sound that has descended from the hopped up dixieland of the '20's, through the wild escapades of Spike Lee, lulling at the Big Sea shining waters of the Chicago and Earth Wind and Fire before flushing out into the musical slough here in the hip old '90's. What makes Steve (Buddy) and the Daddies so special, is their apparent mastery of these inherently different styles, while adding punk, funk, slunk, skunk, spunk and Sammy Davis Jr. to the wash. The Daddies are a lesson in American music history. And a ton of fun to mosh with.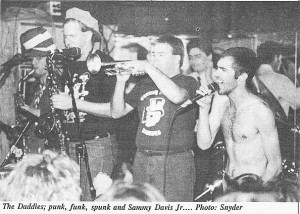 "Ding Dong Daddy" is a whirlwind account, ostensibly true, about a busy little trolley conductor in San Francisco, who, between the years of 1941 and 1953 managed to get married at least 15 times, while failing to divorce nearly that many wives. Not your average outrageous/contagious songwriting material.
"Mom Was No Fat Broad" is a funky piece of slinky hoochie coo—which details the memories of a grown-up child, recounting his mother's drug abuse: "She kept her stash on top of the fridge/I tried to flush it down the toilet one time when I was six/I still remember the fit that she pitched."
But listen to the wild Russian interlude by the horns, busted up by John Fohl's brontosaurian guitar interjections, which lead to the inevitable good natured overdose at song's end.
The Daddies don't hit you over the head with their message. But the message hits all the same. Can a life of politics be far behind for one as socially aware as the Nutty Professor Steve Perry (or his alter ego Buddy Love)? That's a question you might ask yourself sometime.
Miss May
Shake You Naked, Eat You Alive
It is my fondest wish that Portland might one day support all bands whose names have a month in them. May and June are taken. But there are ten months still available, people. How about Maybe August? Or C. Me 'N' September?
Given the subtlety of the title for this project, I did not expect a lot of sensitivity from within. To some extent, my expectations were met.  This isn't quite the hyperglossy metal band you might anticipate. A little chunkier, a little rougher around the edges. "No Perfect Pair" seems a little like Enuff Z'Nuf' territory with some of the hopped-up rhythm guitar oil of Joe  Jackson's "One More Time" from 1978. A snappy lower string riff shared between guitarists Lee Bautista and Stripe propels the tune.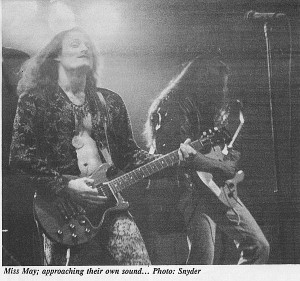 "Scars" falls in Loverboy territory. As lead vocalist, Stripe adds the characteristic soaring, aching scream that served Mike Reno so successfully for longer than many of us would care to remember. "Substance" features some nice angular ritfing, but fails to stray far from familiar turf.
"Gotta Get Up" sports a beefy  Tull/Mountain riff that works well.  Some inspired guitar work raises this cut above the others by a rung or two. "EGA" has a bit of Zep swagger to it. And "Kathryne's Calling" is like U—2 meeting Kansas somewhere over God's Green Earth, you go figure. But I kind of like the cut, though I'm not prepared to say why.
Miss May is approaching a sound of their own. It's a sound that could work for them and it lies somewhere between "Gotta Get Up" and "Kathryne's Calling." It they can find something remotely new or interesting to say, lyrically, I will one day commend the band to you.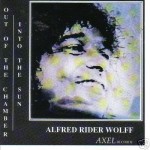 Alfred Rider Wolff
Out of the Chamber, Into the Sun
Axel Records
A fine, moody piece of orchestral etherics from the one-time keyboardist for Billy Rancher and the Unreal Gods. Of late Alf has been playing the cabaret circuit, and he displays both influences equally. The haunting, repetitive honk that echoes through "Sapphire Blue" owes as much to "My Girlfriends Drawers" as anything on Windham Hill. And it's a sense of humor that saves this from being music to sleep by. Obviously influenced by DeBussy and Gershwin, as well as the cadre of New Age composers who so rapidly glutted the drone market, Alf walks a fine line between the two.
For his part, Rider-Wolff is substantially more melodic in approach than most of these one-note Johnnies, calling to mind Shadowfax or Mannheim Steamroller. Other pieces freeflow in cascading streams in a style like Keith Jarrett. Still others roll by like soundtracks for unfilmed movies.
Alf's orchestration, which usually consists of a piano setting in the lead, supplemented with cellos or small quartets, is austere and uncluttered. Though he is often fond of harp-like arpeggios.
"The Dancer" is a pretty piece, combining elements of the left hand of "Moonlight Sonata" while overlaying Shadowfaxxy drama in the leaping figures of the right hand. "You" is kind of Kitaro-ish with maybe a little Harpo and Chico Marx thrown in. The orchestral sections bubble up to give definition and depth when the arpeggiation begins to desert the melody.
This is the most satisfying "New Age" recording I have yet to receive from a local artist—certainly on a par with the Windham Hill lot, though more adventuresome and virtuosic than most. And it's the perfect remedy on those days when Smashing Pumpkins or P.I.L. just ain't doin' it.
********************************************************************************************
Beating the Odds
An Interview With Duane Jarvis:
What do John Prine, Dwight Yoakum and the Divinyls have in common? Guitarist Duane Jarvis.  Baby-faced Duane Jarvis was the linchpin in a band called the Odds, a band which helped to usher the Brave New Wave into Portland in the early 80's. Duane and his  brother drummer Kevin shared in making a success of the Odds. From that band. Kevin went on to play with Johnny and the Distractions while Duane joined Map of France.
In I984, Duane married well-known local artist/photographer Annie Celsi. Shortly thereafter the two of them migrated to LA. to seek fame and fortune. As might be expected, this did not occur overnight.
"It was really hard at first," Duane explains. "I did the usual number. I answered a lot of classified ads, met a lot of people. I met Marvin Etzioni right after he split from Lone Justice. We did a lot of recording together through '86 & '87 and I played guitar with Marvin in his band Long Tall Marvin. John Prine's manager kind of looked after our band."
Along about this time Kevin emerged on the local Portland scene, playing drums with the highly successful Riflebirds. Not coincidentally, Marvin Etzioni produced and co-wrote some of the songs on the Rifiebirds' final recording; Lee and Kate Oser (Rifiebirds' singing/songwriting core) retreating from the music business to pursue scholastic careers at Yale.
"It was around this time," Duane continues, "Marvin and I were finishing up a project, and Nigel Harrison—the ex-bass player for Blondie, put me in touch with the Divinyls. They were looking for a guitar player to go out on tour with them."
"Well I got that gig. The Divinyls are like the Stones of Australia. I'd never been there. Now I've been there six times. It's a lot different scene down there. There's no star status stuff. People treat you for who you are, not what you are. But it's funny. I remember opening for the Divinyls with Map of France, back in '83 or '84 — it never occurred to me that one day l would be playing with them. I played with them in '88 and '89. ln '89 things got quiet with the Divinyls. I started looking around the LA. scene, aiming more at the singer/songwriter sort of thing where l could add more of my personality to the music. With the Divinyls, l was strictly a hired gun. Mark (McEntee—guitarist and co-songwriter with Christine Amphlett) does all the guitars on the records. My parts were pretty well laid out for me."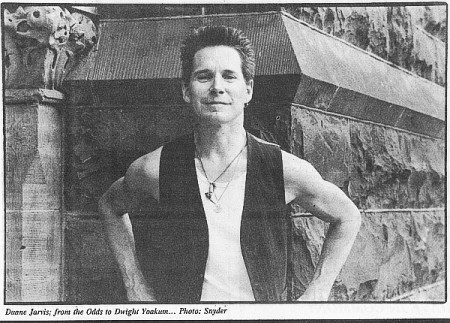 Drummer Kevin Jarvis played with Long Tall Marvin after the Rifiebirds broke up. Duane and Kevin also recorded DJ 's Front Porch and are likely to pair again at the end of the year, recording with Long Tall Marvin. But Kevin has stayed busy as well, working first with Steve Winn, and more recently with John Wesley Hardin. "So anyway" Duane proceeds, "in '89 I sort of fell into recording with Rosie Flores and Lucinda Williams. Rosie's album is doing really well. It's on HlTone Records. I wrote one song on it 'Sold On You.' And I'll appear on the video for the recording. It's in medium rotation on CMT. We're going on tour to Europe in June. Rosie is better known in Europe right now.
"And I was working on a project with Lucinda Williams when Pete Anderson, Dwight Yoakum's producer, asked if I'd like to go on the road with Dwight. I said sure."
"We toured the U.S. and Canada for several months. And did a pay per view thing with TNN. We did a Dennis Miller Show and Hot Country Nights. Do you get that here? I haven't played Portland in five years. We did an Odds reunion back in '87. But coming here with John Prine is the lirst time since. I did some demos with John about two years ago. We worked on a lot of the songs that are on his new album. But none of the versions I played on made it through to the final product."
"A couple of months ago John asked if I'd come out on the road with him and we've been at it ever since. We'll be off most of June and July but there are a few club dates in California at the end of July. After June in Europe with Rosie Flores, and the remaining stuff with John, l'll have to see. I like working with Rosie. I think she's gonna be a big star. And we'll see what Lucinda has planned."
It's a busy and full life for Duane Jarvis. He left the Portland scene eight years ago seeking a career in the music business. And through a lot of hard work and dedication he has succeeded in doing so. And while he has yet to become a household name himself, he has certainly played with a long and impressive list of household names and names to be. Surely the years to come will find many prominent recordings on which his name will appear.
Can a local musician uproot and find success in the dog-eat- dog world of the LA. scene? Well, in a dog-eat-dog world, it's a good idea to eat the dog—if you know what I mean. And Duane Jarvis is one of those rare local musicians who's beaten the odds, eating the dog in LA.