Hey, I think I'm the first to mention that this is the 25th Anniversary of the Summer of Love. You remember that don't you? Well you should. That was the Summer most of you were conceived. Rimshot. Thank you, thank you… No, but seriously folks, have you ever stopped to think about all that we owe to the Summer of Love? Genetically, I'm sure that you remember going to San Francisco and wearing flowers in your hair and all that. Drugs were legal then. And everybody used to hang out with the Grateful Dead and Ken Kesey down on Haight and Ashbury Streets and talk about peace and that we could change the world and love each other in perfect harmony just like the Coke commercials said. But then your grandparents freaked out at all this and went and elected Nixon President in 1968. And the whole damn world has been sliding downhill ever since. So that was the Summer of Love.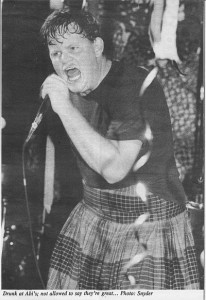 But Now is Now. And I keep telling myself that so I'll remember. And what's happening right now is that I'm a little bummed. No, not about the Summer of Love thing, it really wasn't all it was cracked up to be anyway. Real hot and humid.
No, remember last month how I told you all about that Puddlestomp compilation'? Well, one of the project coordinators, musician Justin Stark just laid a copy of it on me, but get this: they don '1 want me to review it till next month. I'd like to be able to tell you what a great package it is. But I can't. I'd like to be able to point out stalwart performances by Drunk at Abi's and Ed and the Boats, a change  of direction for Sugarboom, exciting  new bands such as Hazel, Heatmiser, Tao Jones and Nimitz Freeway. Last Pariahs. Nicole Campbel — wow! Magic moments from Big Daddy Meatstraw. I'd like to tell you. But I can't. My hands are tied.
**********************************************************************************************************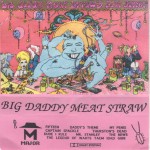 Big Daddy Meatstraw
Last Supper
But I can do the next best thing. I'll review other products by three of the bands on the Puddlestomp compilation. See, there's a way around everything. In this case it's Big Daddy Meatstraw, devotee of the Divine Meatstraw —who would seem to be a venerable and happy shade of blue sort of chap. But he sounds a lot like Frank Zappa to me.
Out of respect I will not review the first song here, because, you know. But check out the sideways reggae of "Daddy's Theme" and the pretty jittery delivery of the Meatstraw mantra. This song probably clears up any questions you might have about the name of this band. As guitarist Seth Perry (ex-Oily Blood guy) told me "Uh, we noticed the first side of the recording seemed a little phallic."
Yeah, I guess so Seth, between the previous song and the next "Captain Spackle" I'd say we've got a phallic thing going. You bet. The militant march of "Captain Spackle" drives drummer Keith Bornzin, as he explores himself — in a purely religious sense mind you: apparently achieving some sort of Rapture.
Then, singer Vinnie Las Vegas takes a turn with the direct, git-down Dixieland of "My Penis." Well it's his penis he's talking about, that's just the name of the song. "Excuse me sir…Dude I Rule," a Perry composition, is kind of Ozzie meets Bill and Ted for an Adventure. There might be another penis joke in here. But maybe it's just a sock. "Mr. Stanley" sounds pretty sinister, though I didn't listen real close, because I didn't want to get scared.
"The Legend of Warts Taem Idad Gibb" is a perfectly Zappa- esque pastiche surrounding the death of Andy Gibb — due to a tropical disese he contracted from Victoria Principal: and the sinister connection between Gibb and his brothers (I can't bring myself to mention the name of their hand). But I don't want to give away the story. Gibbs' Garage would seem pretty close, though.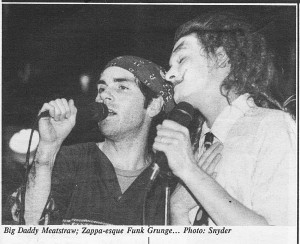 Finally, the hysterically funny, and on the money, "The News" puts the entire recording into indubitable perspective: it's a very clever, "concept album." This recording is so cool it's totally frozen.
No, it's definitely not the Summer of Love, Toto, but Big Daddy Meatstraw have commemorated. and updated, one of the shining moments of that weird era—The Mothers of lnvention's We 're Only In It For The Money. I never thought anyone would do that, or even think about doing it. This band loves their Divine Daddy Meatstraw and they're going to tell the world. Attorneys, set your watches
Ed & the Boats
Nobody Laughs
This two-song "cassingle" indicates continued evolution for the alma mates. Here we find the band in a socially contemplative mood.
The rich imagery of "Numbers Have No Sense of Humour" is underpinned by a strong message; as Dennis Kenny intones a mellow soul tune dedicated to a planet that's at the point of cracking up.
ln contrast to the mood of its counterpart. "Church of Fantasy," though just as socially conscious, is more like the Who's "I Can See For Miles." Guitarist Dan Haley cuts loose with a couple of searing solos, while Kenny conducts research into the decline and fall of the American Dream in 3:32 flat. Bingo.
People often ask, "what are Ed and the Boats like?" I tell them that the band is very friendly, but that Ed is hard to get to know. Then I say, "If Elvis Costello fronted XTC, but they all grew up in Wisconsin and listened to Frank Zappa, and old Motown tunes, and watched the Brady Bunch—you'd probably get Ed and the Boats."
This difficult and challenging three-piece, with challenging lead vocalist Leah Welch, weave hypnotic strands of complex rhythmic and harmonic intricacy into delightful webs of poetic majesty. Though Tao Jones is certainly not the band for the pop monkeys among you, their intelligent machinations yield a rich harvest for the more adventurous.
Think of Nina Hagen fronting The Mahavishnu Orchestra, or Kate Bush channeling King Crimson. No, you won't mosh to these folks unless one leg is two inches shorter than the other. These guys go through more time changes than a Concorde en route to Barcelona. No, not for the faint of musical Heart these Tao Jones. Even the Name of the band is a mystical koan—observing the kinetic interplay of earthly everyman, bound to chaos: as by ticker tape at the stock exchange, against the calming assurance of The Way. How yin and yang. There's method to this madness. An opera that transpires on the moon.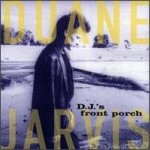 Duane Jarvis
DJ 's Front Porch
Last month I interviewed Duane Jarvis, charting his course through the LA music scene—where he found himself playing guitar, backing up the likes of Dwight Yoakum and John Prine, DJ 's Front Porch reflects the influence of both.
Backed simply, with bass, acoustic guitar and bass; and brother Kevin on drums, Duane achieves a balance between a country style and that of someone like John Wesley Harding, with maybe Kinks, Stones and Van Morrison acting as a fulcrum. "Dove in the Snow" captures those influences in a unique configuration.
Likewise, "House of Stone" sounds like Mick Jagger doing a country send up. Truly, the songwriting here is not all that different from the work Duane did with the Odds—way back when, but here he is more laid back, more mature and direct, and maybe just a little weary.
"She's Like a Drink" is kind of a tipsy little tune, though it sounds like musical 12-Step Recovery Program for the Love Addicted. Clean, sober, celibate, and depressed as hell.
"Darlinghurst Road" is a rockier tune, kind of a John Mellencamp feel. Punchy. Duane Jarvis isn't going to burn you up with DJ 's Front Porch. This more like a sunny drive down. a familiar country road.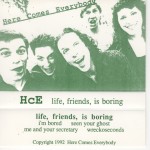 Here Comes Everybody
Life, Friends, is Boring
HCE seem to release a recording every couple of months or so, always of very high musical and technical quality. Plurabellian, the seemingly endless flow of their creative juices.
Singer/songwriter Michael Jarmer always seems to have something on his mind, generally a disconcerting cloud. "I'm Bore" is not the song you wanna pop on the  Walkman when you're ready for that ski run from the top of Mount Hood. But hey, someone had to put boredom into a musical context, I guess the torch was passed to Michael. Here, the kind of chipper musical setting belies the sentiments extolled; but why quibble? Though, truly, if I were bored, I wouldn't want to listen to a song about how boring this guy's life is—jeez, hand me the razor blade. And, if I wasn't bored, why in the world would I wanna dial in this guy's distress? I'm still upset about Vinnie Las Vegas' penis. Bad choice for a song topic there, Michael. Maybe a song about infomercials. They're probably the reason you're bored.
"Seen Your Ghost" displays a slightly uplifted outlook, though essentially misanthropic in a Steely Dan kind of way. The ensemble work is exemplary in its execution. Always flawless. But, sometimes, under the precise scrutiny of Michael's thematic microscope, the settings seem nearly as clinical and sterile as a genetic research lab. Even a potential love song like "Me and Your Secretary" is reduced to a venomous diatribe regarding the comparative size of the brains and genitals of said girlfriend/secretary's employer. There's a satisfactory "take this job and shove it" plot here, it's just that the tenor is so downright mean-spirited.