Well, finally, I get to review this great compilation. The official release date has been set for September 11th at Melody Ballroom and I urge all of you music lovers out there to give this effort all your support. For this is a recording that has been released by musicians not business people. And it serves to benefit musicians rather than business people. And maybe we all need to take a long look at that.
But all of that would be meaningless if not for the fact that this is a very good showcase of bands, that largely have not met with the widespread acclaim one might associate with bands involved in a project of this nature. And that's one of the reasons why it's such a cool thing. The bands found here are not Portland's best known bands, but each is a very good act in its own right—serving as an excellent barometer for the overall quality of music to be found in the Portland scene.
The Last Pariahs are a good young band, whose rhythm section also works with Big Daddy Meatstraw. Their song "All the Best" is limned with raw energy—the focus of which sounds related to. though not in imitation of Fred Cole and Dead Moon, with maybe with overtones of Nirvana and Sister Double Happiness. I've never heard of Nicole Campbell before, but there is no doubt about her talent. Strumming an acoustic guitar, Nicole Campbell sounds like Nancy Griffiths or Joni Mitchell without an attitude. Someone get this woman a back-up band.
Sugarboom is a band in the midst of a change. A couple months ago I gave them credit for being a band with a lot of possibilities—some, perhaps, unrealized. "Plug" finds the band moving in a Pondish direction that is extremely satisfying. Chunky bar chords, a schizy feel and detached vox, and agitated guitar figures mark this cut as a real keeper.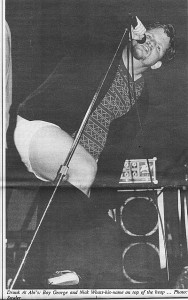 "Stranger Than Time" is the perfect soul vehicle for JR Pella and Drunk at Abi's. I hear Boy George and Simply Red's Mick whatsisnarne in JR's voice and maybe the Black Crowes in the musical arrangement. Drunk at Abi's belong at the top local band heap. They have a lot going for them.
"Fifteen" is the cut I didn't review in last month's Big Daddy Meatstraw tract. This is an important clue to the esotericism of the Big Daddy clan. Attitudinal signposts are rife. Probably the line "Don't panic/we're not satanic" done in the finest Ozzy/Zappa fashion serves as a focus. Although the cow-mutilation scene should not be played for children under the age of thirteen without parental consent.
Hitting Birth contributes "Same 18" with industrial vigor, taking up where Big Daddy Meatstraw left off. Here we have intense jungle percussion overlain with atmospheric "woo" vocals, sounds of a dog getting hit by a car, some jet like noises, some occasional scratchin'—just yer typical Hitting Birth fun time. We may not understand, but we can always mosh.
And Justin Stark sounds like Lou Reed getting together with Robyn Hitchcock for tea. Supported by a swaggering rhythm section and an effective little guitar figure, the sinister quality of' the lyrics is artfully disguised. "Eye Never," Ed and the Boats' submission, fairly roars with industrial thrust. Dan Haley's nervous, fidgety guitar figure serves as counterpoint to Dennis Kenny's wry lyrical observations. Significant solo by Dan in the middle resolving in a Doorsy breakdown — overrun by the jets of commerce in the end. I think the song is about God.
Hazel is an outstanding band that has cuts on both this and the upcoming l-5 Killers ll compilation. "Calliope" shows a Dino Jr. reference here and there. A rousing beat propels this tune, offset by a plaintive vocal, while a jagged guitar rumbles underneath. More please.
Détente's "Modern Times" is a perfect little gem of a tune: drum machine-like beat, easy acoustic guitar, sparse bass, and a dancing key figure serve to support Harris McCrae's idiosyncratic (but ultimately satisfying) vocal. Like Johnny Nash's "I Can See Clearly Now" or "Give Me Just a Little More Time" by Chairmen of the Board, every once in a long while there comes along some weird song that you just can't get out of your head. This is one of those songs.
"Any Lynn" serves as a good introduction to the oddly charming territory of Nimitz Freeway, who is Nimitz Freeway again after being named a couple of other things in the interim. Beachboyish Bachian harmonies hold this oddly satisfying little pop song together. Jesus and Mary Chain?
Tao Jones are probably one of the most challengingly difficult bands on the scene to day. Their songs are rooted in English folk music, but you'd never know it. Fronted by Leah Welch, a powerful, emotive female vocalist, the band hinges on the frantically synchronized interplay between the guitar and bass. Combined with this fusion — a network of polyrhythmic drums. Art band? Yes. Boring? Never. Here, "Nothing's Changed" serves as an excellent primer to this school of Taoism.
I've reviewed Completely Grocery's "Cottonmouth" in a previous issue. But the word on the street is that CG's former guitarist Ted Thiemann has found God and is avoiding all of us, in His stead, the band have two new guitarists and should be out in the clubs real soon.  Heatmiser is a straight ahead rock band with big muddy guitars, Replacements-like vocals on "Mightier Than You," a short, raucous romp.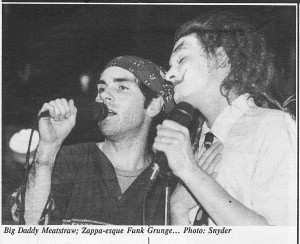 Justin Stark and John Mitchell (of Completely Grocery) are to be commended for the time and effort they have committed to making puddleSTOMP happen. It would seem that bands involved aren't really concerned with making a lot of money with the project. It is much more a matter of the heart, coupled with the desire to see some quality unheralded bands receive the exposure they deserve. Justin and John represent a lot of what is good about the local music community. And it is just such a grassroots "musicians for music" approach that will always receive my unflagging support.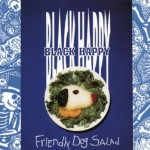 Black Happy
Friendly Dog Salad
Like Little Women, Black Happy are truly a Band of the West. Originally from Idaho this eight piece (with horns) unit migrated to the Coast a year or so ago, and has been touring between Seattle and San Francisco ever since.
Around Portland, we are used to the funky horn bands—the 8's, the Daddies (oh, by the way, they are back to being the Cherry Poppin' Daddies). This band is not a funk band. This band does not have its roots in the Chicago/Tower of Power school of brass. What's here is far more sparse, looser. Grungier in all respects. "Garlic" is about as funky as this band gets.
But check out the fiery "Basically Wrong" this is no beer swilling frat band. These guys swill something else and it does set them apart as a horn band. "Black Radio" sounds like Jim Morrison fronting the Clash with the Tijuana Brass and the Specials backing them up. And the country twang of "The New One" rings of the Dharma Bums. Black Happy is a band to watch for as they play more frequently around Portland.
You want a challenging band? Check out this amazing three-piece whose roots spring from Seattle. What we have here is an impeccable rhythm section who used to play gigs by themselves just bass and drums.
When they were joined by Skerik, an amazing atmospheric sax monster, the band was complete: sans guitar, sans vocals. With Sad Happy, you miss neither. These guys can seriously rock with a funky virtuosity rarely paralleled. Check out Paul Hinklin's basswork on "Wendy's Pumpkin"—what you end up with is a sound not unlike that of guitar monster Joe Satriani, only with Skerik's sax replacing Joe's guitar, with an absolutely virtuosic rhythm section. "D-Lab" crunches in a scary kinda way, as bass and sax do a doomy duet. Hinklin lobs mortar blobs of bottom end, riveting things to the core. Break into a windy little reggae thing and look out y'all. With Evan Schiller's drums wired to sample sounds (not unlike the highly acclaimed New York band Same Bennett and Chunk) the band adds drum triggered keyboard sounds where no keyboard exists on "Everyone Thinks."
This band is no Spyra Gyra. They will pin yer ears back with herds of lumbering bass lines and great wailing elephants of sax whines. Never do they become boring or predictable. Instead with Depth Charge, Sad Happy leave you wanting more. This is a great, unique band. Fans of Pink Floyd, King Crimson and Hitting Birth will love this recording, which was produced by Drew Canullette at Dogfish.
The Waiting
The Waiting
The Waiting mark the return to the scene of Rod Tucker, who was the vocalist and songwriter in Josephine Ocean, a band that broke up just as they were coming into wider acclaim locally. Rod formed the Waiting in January of this year and this recording was made shortly thereafter. About six weeks ago Rod was working at a fish processing factory in Alaska and lost his right index finger in an unfortunate accident.
Rod has bounced back with a lot of guts and enthusiasm, not letting his injury slow in the least his commitment to music. With this band, Rod's familiar full, rich nasal whine is backed by a crack four-piece band which includes keyboards.
"Desire" takes up right about where Josephine Ocean left off when they contributed to the Worlds Apart compilation of last year. Bold, striding musical arrangements back Rod's evocative voice. Here the bound the band Stress. "So Real" is maybe in Smiths territory with overtones of ABC—a funky groove, supplanted effectively with some cool guitar work. "The View" sounds like Morrissey too. "The Doors" is a funky piece of World Beat with a very cool sparse arrangement and nice touches from each member of the band.
The Waiting is an accomplished group. Rod Tucker's presence serves to elevate them to the possibility of greatness. Sometime on the boards of the local venues should infuse the band with a little spontaneity and fire — which is a little lacking due to the care the band took in arranging and producing the recording. But I'd say The Waiting are definitely a band who will be worth the waiting.
Bop Girl Goes Calypso
Bop Girl Goes Calypso
This band has improved about 9000% in the last year or so. Wow. Check out the edgy grind of "Heir Apparent." Lisa Miller's big, booming vocals drive the tune like a dirty pick-up down a dusty, rocky road. Backing vocals by Toni Stamps and Becky Giger give the band a B-52's feel in that respect. Meanwhile David Ward rips out a torrid guitar solo in the middle.
"Manson Eyes" is a greasy rumble of a tune with Stamps in the lead vocal slot. Another rousing solo by Ward nails this tune to the floor. "Groovy Thing" is closer to the thrash that Lisa's brother Ian plays in Mule—Stamps in the lead vocal, while "Shake the Dealer" reflects the folk/blues roots purveyed by Lisa's other brother Chris Miller — of Razorbacks fame.
The Bop Girls have a lot of raw appeal and fire and show strong abilities as songwriters and performers. They are deserving of wider attention.
Jamie Hayes Band
Zen in Three
This is a very classy production, which sounds closer to Little Women than you might expect by looking at these guys. Hayes hails from Chicago and is a great singer and songwriter. Here, he is backed by some long time local stalwarts: John Mazzacco, Scott Boyd and Marty Higgins. "Woman in the Row" has intimate impact, not unlike the work of Mark Knopfler's songs.
The material is well-crafted, like Bruce Hornsby with Southside Johnny's soul. There's not a clinker in the bunch. This isn't cutting edge stuff. But fans of Curtis Salgado or the Blubinos or Little Women will find a lot to like in Jamie Hayes. "Cupids Arrows" is a warm, beautiful little ballad with great tasty production maybe reminiscent of Peter Holsapple. The funky reggae of "Yippie Yippie Yayo" reminds of Garland Jelferies or World Party. "lt's Happening" sounds like Elvis singing one of his tenderest Costello ballads.
Don't be fooled by the lounge look of this band, there's a lot more soul and insight than you might expect by looking at them. Zen in Three is a good recording.
Jamie Hayes is a great talent.