Now William
Now William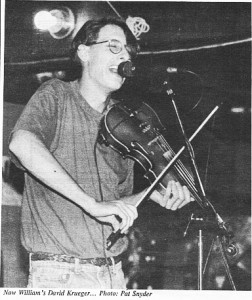 Here's a Eugene-based band that has met witlh more critical acclaim in Seattle than they have closer to home. This disc was one of the few local entries to make the Top Twenty of Seattle's Rocket. The reason why such a thing could occur is readily apparent. They are an original sounding band. Beginning with an unusual line-up of musicians — the usual drums and (fretless, here) bass foundation serve as support to Max Striplin's acoustic guitar and David Krueger's violin and mandolin. The sound is rooted in English and American folk musics. but adds Rock elements which give the band an original edge. Check out bassist Charlie McClain's raspy vocals on the initial cut, "Blue." It's a hoedown of a tune, but McC|ain's energetic delivery elevates the piece front yer clogging type of turf. But the skittering shuffle of a heat is closer to Zydeco than many might care to believe. Perhaps some hybrid Rock/Zydeco, if you will.
But the next cut, "Sleep," borrows a page from Camper Van Beethoven, picking up where they left olf with their rendition of "Pictures of Matchstick Men" — though Now William easily surpasses the Campers in intensity. Or give "Irish Jig" a listen: it's neither lrish nor a true jig. But who gives a rip? iI's a rousing send-up all the same. Krueger delivers some arresting digitally delayed violin layers that add depth and texture to the hard-edged "Gypsy Distinction," which is actually closer to being a jig. At least until it resolves into a tribal chant through the second half of the song. McClain's whooping falsetto adds a ghostly atmosphere to a haunting piece. The majestic. pastoral folk of "lnflo" serves as an example of where Now William's strengths are. Think of REM with a violin player. Think of a Windham Hill recording with something other than boredom to purvey. "lnflo" covers a lot of musical territory without the benefit of any discernible vocal. No mean achievement. "Understanding Problems" is packed with pathos and passion, while remaining easily accessible to the average Rock listener.
Just when you think you have it figured out where Now William are taking you in a song, they change gears and take you somewhere else. Thrashers will find this stuff appalling. But those among you who enjoy adventurous folk with a message and a conscience will, like me, love Now William.
Quality Pie are a very engaging four-piece funk/rap unit who are beginning to make a name for themselves in the local melting pot. Fronted by long-time local bar wars veteran, the lovely Lance Miller, QP are dedicated to the proposition that every good boy deserves fun and a great big slice of Quality Pie. I, personally, have seen the lovely Lance do more with a couple of power tools and some user friendly vegetables (which would leave the PMRC gagging) than most bands can muster with a whole gig's worth of poses and postures.
But none of that is on this recording. What you get are eight fun packed cuts aimed at entertaining and amusing the listener. What a novel concept! The tracks are uniformly delivered from a slightly bent (corrupt?) perspective. Derek Jensen's heavily distorted guitar drives "Hunnerd Per," a romantic little ditty regarding the meeting of "a little blond at Satyricon" whose '°sheer girth moved the earth/That girl's a hunnerd per." Make of it what you will. The rest of the story leads one to believe that the rest of the encounter was equally as earth moving of an experience — culminating in a romantic interlude at Hung Far Low.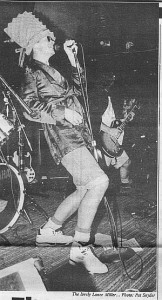 "Chicken Truck" has a certain inexplicable Aerosmith quality about it—while, apparently being an episodic update of the previous song's romantic encounter: tragically interrupted by "this chicken truck spread across the highway." Bummer. Bassist Toki Wolf provides the stuttering funk drive here. "Betty" recalls in some skewed way, Steppenwolf's "Born to Be Wild." Don't ask me why or how.
And "Scumwad" sounds like a funkified version of Donovan's invaluable "Season of the Witch," though the message here is different, but equally redoubtable. Jensen and Wolf combine to form the riff foundation for "Skunkweed," a charming ditty about you know what, and where all the money goes: up in smoke. And, of course, Toki's charming ballad, "Quality Pie," is more than a commercial—why, it's a way of life! And is that the Mary Tyler Moore Show theme song I hear in there as well? Gee, I hope so.
Just like their namesake, Quality Pie serves up large portions of whatever it is that they do so well. The gourmands among you may sniff and snort, but hey—it's very filling stuff.
If Kasey Kasem had a Top Ten countdown for earnest rock bands, surely Sons of Cain would be number one. Solid gold. This eleven-song outing is so earnest it makes U-2 seem like the Cheap Trick. Don't get me wrong, I admire the fact that a band has ideals and scruples—however anachronistic that may seem, but  sometimes the Sons of Cain are so unrelentingly poignant that they approach total joylessness.
This is a beautifully recorded project, nicely mixed by Brian David Willis at Scott Parker's Dead Aunt Thelma Studios. But there are times when lead singer Daniel Harvey is so busy over-emoting that he seems to forget what he is singing about. Check out the brief song, "After the Storm," for an example. God only knows what he's getting so damned worked up about. Or "Coyote's Cry." Daniel's whispered anguished cries are certainly evocative—but I'm not sure of what. If only Bono had been born in Sweet Home, he'd sound just like this. But check out Josh Bogle's guitar playing here and everywhere else. It's hot. It burns.
Most of the songs on Cry tend toward ballad tempos, which do not help the plodding nature of the lyrics. When they do break out of the doldrums, as on "Blue Healer" or "Picture in My Pocket," the Sons are vastly more interesting. "Blue Healer" suffers from a chorus whose melody sounds identical to the Who s "Who Are You," but other than that it's a good song.
But "Picture in My Pocket" is a song where all the elements come together for the Sons. Harvey drops his actor's cap long enough to simply sing the song. And Kevin Laurilla's fat, skipping basslines help propel the tune. Airplay for this cut seems entirely possible—on some college station somewhere. But even here, the lyrical rap in the middle is quite derivative of David Byrne's "Flowers" from Talking Heads' Naked. I'm not convinced that the concept that "that mall there used to be an apple orchard" wasn't better handled by Joni Mitchell with "Big Yellow Taxi." Be that as it may. "Picture in My Pocket" is a strong song.
But the remake of "For What It's Worth" adds little to the original. And the arrogance expressed in "Old Man" far overshadows the touching sentiment the band was probably hoping to express.
Cry is a serious recording, set down by serious young men for very serious reasons. But seriously guys, lighten up. Even Jesus had a sense of humor, fer chrissakes.
Heatmiser, one of the fifteen bands showcased on the puddleSTOMP compilation, spares no heat here with this rousing, six-song set. From the churning mangle of the opening to "Lowlife" to the final frenetic close of "Mightier Than You," this band burns on jet fuel. The rhythm section of drummer Tony Lash and bassist Brandt Peterson truly smoke. And guitarist vocalists Neil Gust and Elliot Smith have taken their Kurt Cobain lessons, yes, it's true. "Lowlife" certifies that.
Meanwhile, "Just a Little Prick" may be the most successful tribute to onanism since Elvis C.'s "Mystery Dance." Still, the affecting mess of "Dirt" is what this band is all about: a thick sludge of bass and guitars, wherefrom up bubble little melodic explosions. A killer sound, maybe slightly derivative, but no less engaging. Energy arcing and sparking in all directions. Such is the case too with "Mightier Than You," which just rips from start to finish.
Heatmiser is re-entering the local scene alter a summer-long hiatus. It's going to be a long, cold winter, let's hope Heatmiser doesn't keep the fire all to themselves.
The word has been out on the street about these guys for the past couple of months. And deservedly so. Eugene's Jolly Mon are a wild wailing three-piece. for which this live-from-the-boombox recording does absolutely no justice.
The eleven songs included here only help serve to acquaint you with the material. In no way do they prepare you for the live show you'd see today. Think of Primus with Jimi Hendrix playing lead guitar, doing Pink Floyd songs at hyperspeed, with all this Sandinista period Clash-dub stuff filtering in over the top. This is not to say you shouldn't try to acquire this recording. The first cut "Tolusa" should give you a pretty good idea of where Jolly Mon are coming from. Oh, forget that little reggae intro. Check out the mayhemic rage that befalls these dudes once they kick in to overdrive. Yeow!  
Bassist Carey Rich and drummer Greg Eklund approach meltdown about every two minutes, while guitarist Karl Becker maintains the supersonic edge. "Here We Are" shows a different side of the Jolly guys, but no less arresting. Sludgy dub mire of sheer pleasure.
If you haven't caught Jolly Mon live yet, you're missing one of the most important new bands to crash land on the local scene in a long time. Catch them immediately, before they spontaneously combust.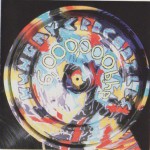 Hungry Crocodiles
6,000,000 Horsepower
The Hungry Crocs are one mean assed, good-humored funk/rap unit from the northern nether regions. And they can rip. "Smoke 'Em If You Got 'Em" should bring that home instantly. With its serious riff, funky rhythm section, and totally pertinent lyrics, this is a college party anthem if ever there was one. While "Crocodile Law" is full of bluster, bravado and butt shaking funk. "Posse on Rick's Street" is a hysterical party number that gets into some serious rap shit that's nothing if not legitimate.  "Flashlight" shows the band knows how to grunge with a ska feel—no doubt a must see in live shows. And ''12 Gauge Soul," a funky soul send-up, is a certifiable hit.
Hungry Crocodiles are another band whose name may be new to you, but don't let that stop you from catching their show the next time they're in your neighborhood There is no doubt that these guys know how to line it up and get the party started. It's a fact that after one time through their set, you'll be singing along with them from thereafter. When you're not dancing.
Shades of the ingenuous Jonathan Richman and Meat Puppets shine through Evil Twin Brother, a clunky, chunky three-piece lately arrived from Eugene.
Vocally, guitarist/singer Brian Everett couldn't carry a sack of potatoes, much less a tune. But that never held the aforementioned bands up, so why the Evil Twins? They write engaging garagey pop-songs like "Hate Song" that stick in your brain long after the auto-stop has done its duty. And Brian sounds better, in memory's ear anyway.
"Bloody Mary" sounds like a Young Fresh Fellows cut with the classic rock couplet: "She was young, she was tender/I stuck her head into a blender." Perhaps the hit here is "Why Can't I Be Your Pill?" which seems to jam about fifteen hooks together at once in the chorus. Crowded as that may seem, this weird song about the potentiality of some kind of love addiction, works surprisingly well.
Heaviosity? Doubtful. Cool potential? Limited. Cute factor? Decidedly low. So why is it I find myself liking Evil Twin Brother so much? Maybe it's for just those same reasons.