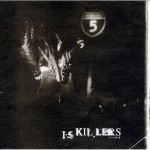 Various Artists
I-5 Killers ll
Schizophonic Records
What a piece of work this compilation is. Coming on the heels of the recently released puddleSTOMP collection (and representing several of the same bands) I-5 Killers II serves as the perfect companion disc — accurately surveying the widely varied musical spheres that comprise the universe that is the "Portland Sound" (or more accurately: the "Willamette Valley Sound" — ranging from Portland to Eugene).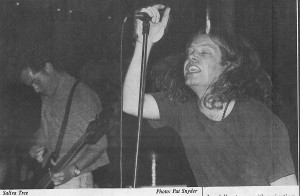 The seventeen bands showcased here stylistically span the spectrum from folky to grunge, funky to thrash. There are the frontline acts—Sprinkler, M-99, Cherry Poppin' Daddies; heirs to the throne—Hazel, Drunk at Abi's, Saliva Tree, Dose; the novel—Roger Nusic; and the tried and true—Killing Field, Flapjacks, Dead Moon, Hitting Birth; with some wild surprises in between—Spinanes, Void, Sugarboom, Diggs. Truly, there's not a weak cut to be found here, and the strongest are definitely world class.
Sprinkler leads off the outing with the punchy "Karen Black:" predictable, but satisfying in a Sprinkler kind of way: non sequitur meets angst for a thrash mode skate date. Dose follows, registering an early knockout with "Evil Boweevil," an overdriven, guitar-laden journey into cathartic torment. The twin guitar/vocal work of R. Callison and Chris Ross is highly commendable, specifically the middle section, which echoes the finer aspects of Thin White Rope. Hazel counters with the frenetic introspection of "Shiva." Guitarist/vocalist Peter Krebs measures out the strings of a relationship in plaintive wails of ambivalence and bewilderment. The band fuses raw emotion with nervous energy, harnessed by a naked thread of naive disclosure—the results: treasure. Unique and unsullied, as yet by the business of music.
Saliva Tree tosses "Shaved Clean" into the soup. Guitarist Andrew J. Stone leads the charge with stallions of power chords as vocalist Todd Grey rides a golden chariot that Jim Morrison once drove around the block a time or two. The Spinanes contribute the wonderful "Messy Shitty." a pretty tune delivered in haunting harmony by Rebecca Gates. Reminiscent of the Lemonheads or the Judybats, the Spinanes sound is rooted in folk rock and as soothing as the shade of an oak tree. Roger Nusic interjects with the strange "Bring Me a Star," a tune which recalls the work of the Incredible John Davis. I suggest that Roger consider forming the power duo of the Millennium with Incredible John immediately upon his release from Federal Prison, which should be in a couple of years. Roger is a gifted rock violinist, which is a compliment — since I've never heard one before, Jerry Goodman aside. Stefan Grapelli with Hendrix sensibilities. Very odd.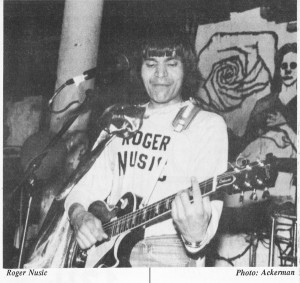 Marble Orchard contributes "The Rise," 3 suitable thrash warm-up for the fevered fervor that is M-99's "Medicine." Rob Landoll sets the mood with a wailing scream on guitar as a hoarse, frazzled Heidi Hellbender (this is a live gem culled from a performance in Germany in April) details the depths of her fiery blither. Landoll returns with a riveting overdose of a solo, fed back, thrown-up, strangled and laid out cold on a stone slab, wham! Hitting Birth's "Hallelujah" continues with the band's trend toward a slightly more accessible fusion of their tribal/industrial funk sludge — successfully, if not definitively. Sugarboom enters in with the smarmy yet charming "Heartbreaker," which combines chunky chords with effectively out of tune vocals, and is highlighted by a fine string of guitar solos in the middle.
With "Clearer and Clearer," Drunk at Abi's sustains the momentum they have created for themselves, carrying out a hard edged chunk of funk granite. Vocalist J.R. Pella continues to exhibit star quality, while the band neatly fuses elements as diametrically opposed as Stevie Wonder, Culture Club, Foreigner, James Brown and Bad Company. Flapjacks with "Sick Bitch" and Dead Moon with "Goin' South" provide what is expected of them: with the usual panache and audacity, hopped up roots rock, stripped down and raging.
The Diggs chime in with the hard driving "Headmush," which is propelled by the guitar work of Phil Washington and Tim Knight, fairly straightforward rock in the Replacements vein. And Void is positively scary with their Techno/Industrial/Sludge entry "Obstructed." Unrelentingly hideous, meticulously monstrous, technically perfect, great bulging brown bowels of sound, throbbing like acid cramps. Sublime in its ugliness.
Sweetly, and poignant as usual, Killing Field contributes the predictably memorable confection "When is Now." If vocalist Michael Stanford gets any more tortured, he may dissolve into a pool of warm goo. But there is a sort of college-educated sense of suffering about the proceedings, loosely akin to REM, perhaps.
Finally, the Cherry Poppin' Daddies bring the project home with one of their hottest new songs, "Nobody's Friend." While recorded with the old line-up, featuring John Fohl and Steve Perry (here cast as Bud E. Love) on guitars — the sound reflects Perry's desire to move away from the constrictions of the "horn sound" for which the band is renowned, without deserting that configuration altogether. For though Fohl has departed, this more guitar oriented sound has remained in the mix. Here the sound is dense chords, fueled by mewling clusters of bent notes. Perry Sings through a constricted effect that mirrors the anti-social sentiment his lyrics portray. The horns enter in backwards and upside down and launch into a crazy arabesque with mayhem before the braying guitars return.
I-5 Killers II is a magnificent catalogue of the rich diversity that thrives in this Valley of Plenty. To have two such broad based, high quality productions come to fruition within the span of just a few months, is indication enough that it is the season of bountiful harvest indeed.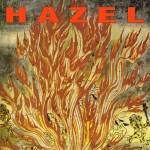 Hazel
Three-Song Demo
Cavity Search Records
Hazel, who just signed a one-album deal with Sub-Pop and are rumored for bigger things than that—are a wondrous three-piece who combine intelligent emotional lyrics with heartfelt, solid droning chords, supplemented by an effectively ingenuous rhythm section.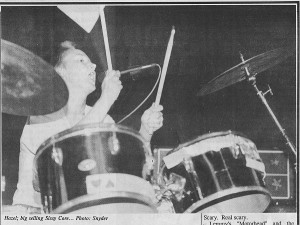 "J.Hell" feels like a cross between Dinosaur Jr. and the Replacements with cool harmonies added by drummer Jody Bleylie. Guitarist/vocalist Peter Krebs turns in a smoldering solo, while bassist Brady Smith pins down tight changes effortlessly. "Day- G10" is a galloping gait of a tune, snapped into pace by Bleylie's drums, while Krebs' melody circles around two chords dissonantly. Bleylie's harmonies with Krebs add to the band a flavor not as yet fully explored, but better savored here than on previous releases.
"Joe Louis Punchout" skips along like a stepping stone, bubbling like a brook, buoyantly churning. And like most Hazel songs, it's over too soon.
That Hazel are a band with a future is, at this point, an understatement. But they are a band that is nowhere near reaching fulfillment of the promise they display. That prospect is hopefully still a few years away. In the meantime they are one of the most plaintively rewarding bands to emerge from our teeming swamp of musicality.
Without a doubt, this disc is one of the most ambitious projects that a local band has endeavored to accomplish. Recorded on a shoestring budget at PCC's Cascade studios, this recording fairly drips with ingenuity and originality. For what Get lacks in sophisticated reinforcement is more than made up for by clever technique, using whatever is available.
Producer Matt Kosokoff deserves most of the credit for this. In all the years I've been doing this review thing I don't recall ever hearing a local "producer" actually infuse a band's work with his own sense of musical vision. Kosokoff has succeeded in pulling this off, without cluttering up the sense of spontaneity that the Willies purvey. This is no small achievement.
The eleven songs presented here are brilliant gems each lovingly hewn by guitarist vocalist Eric Levine (Guitarist S2 Carpenter did pen one of the tunes). Levine's musical training at the Berkeley School of Music is constantly in evidence. For he constantly takes the basic format of the Pop song and twists it around, often skewing the sensibilities. The result often finds the band sounding like XTC doing Elvis Costello songs with David Byrne handling the vocals. Neat trick.
Take the wild jangle of "Pavement," a jolting ride through Mr. Levine's neighborhood, held together by a memorable chorus and a fine solo by Carpenter. "Green Thing" courts the same territory that Andy Partridge's "Crocodile" does—jealousy. Driven by a stringy acoustic guitar and a raw edged electric guitar, the song oscillates between a crazy fox trot in the verses and a more straight ahead hard driving chorus. The bridge sounds like it could be penned by a lucid Brian Wilson—classical in texture. Carpenter's restless chicken pecking solo is nicely enhanced by highly effected, swirling background vox.
"Dave's Brain" is a sprightly number about a guy with a cracked skull, a tune that bears one of the most memorable choruses I've heard in some time. This all swings into a rather Who-like bridge and segues into an intentionally corny guitar figure. Perfect Pop. "Hit By a Car" is Carpenter's ode to easy money, replete with sound effects and a whiny little vocal that makes him sound like he means the words. This is all given a rapid thrash two- step setting, like a mad rush to the hospital or the insurance agent. A wild solo pins the tune together nicely. The double, double time at the end is frenetic and perfectly placed for that reason. "Goodbye Summertime" recycles and reinvents the chord progression to "Lady Madonna" while remaining discordant and disoriented in its own twirling world. "Social Butterfly" almost sounds like a 30's tune—although with present day sensibilities and bombast.
"Burn" is a bitter ballad, with a chorus as affecting as it is disheartening. Levine's evocative voice, not altogether unlike that of Andy Partridge, makes this tune poignant and true to the feelings expressed.  Carpenter plays the piece like a symphony on lead guitar — moving from tender, volume-pedal cries in the verses, to a stunning solo that gathers momentum as it goes. Bassist Jim Cobern provides the direction with an effective ascending figure through the chorus. "Soul Alarm" echoes the feel of "Pavement" while inviting uninvited comparisons to the Who's "Happy Jack" during the choruses. The mad ska of "True" creates viable tension: released in the pounding chorus. Drummer Collin Colebank adds playful filigrees through the verses, which help to solidify the straight-ahead quality of the choruses.
Finally, "Aliens" is highlighted by an unforgettable Carpenter guitar figure that like the Beatles' "Day Tripper" or the Stones' "Satisfaction" or Clapton's "Layla" inserts itself within your brain upon first hearing, worming its way into the subconscious—where it resides permanently. The song, of course, discusses the possibilities of alternative life forms co- existing within this world with us. I know this to be true. Alternative forms of live have lived in my house. They look human — but, and here's a tip, they have no human emotions. In Eric's case, he seems to be seeking out some big eyed, buff alien babe for potential cohabitation. Curious.
The Willies are a band that deserves to be on somebody's compilation. That they have not fully investigated the venues in town open to their type of music is probably the chief reason they aren't. For, when listing the most talented bands in town, it would be a grave oversight indeed not to include them. Their disc Get is one of the freshest recordings to come out of this burg in a long, long time.
Village Idiot would like to portray themselves as mindless hooligans, incapable of social grace, or any redeeming qualities for that matter. And this would all work quite well, if they were not to include their lyrics with this recording. For it is within the words to these mayhemic pastiches that intelligence and sensitivity come to light. That the band can play tight, seamless power funk is obvious. But if it is idiocity this band hopes to embody, these boys are barking up the wrong incestuous family tree. They make too much sense and are far too introspective to be the lamebrains that they would have you believe. Perhaps "Idiot Savant" would be more appropriate to their aims.
Merely check out the Frippish escapades of "Blemish," a tune dealing with the loneliness of being a zit. Or the mini-rock opera "Chicken Boy." Dumb, these guys are not, regardless of what they would have you think. And the frustration and anger found in "My Short Fuse" and "The Arm That Loved to Punch" would be typically misogynistic, if there were not a' sensitive inward seeing eye watching it all. There is something nearly sensitive taking place within the introspection of lines like "How I love faces to bleed/I'm a list that can't be pleased/Mounds of anger unappeased." Somehow this does not seem to be the work of a sociopath so much as the musings of a disenfranchised youth working  through his aggression.
Village Idiot wants for you to think they are pond scum with no socially redeeming values. And in a live format they may be able to pull off this masquerade. When I have seen them in the past, I was unsure whether the band actually knew how to play — or if they even had the desire to learn. But what is in evidence here is that these guys have been sandbagging, playing dumb, so they won't have to live up to your expectations of them. It almost worked guys. It almost worked.