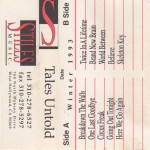 Tales Untold
Tales Untold
Stiles Music
This somewhat unheralded band has been getting a lot major label sniffage: Epic, BMG and RCA have been seen circling the hydrant a time or two. With the addition of former Blubinos drummer, Cory Burden, the Tales have toughened up their sound and lent the band an air of maturity. This is a band deserving of more attention.
"World Between" features the Bowiesque vocalizations of Nathan Khyber, who also pens the lyrics. Khyber has one of those voices that breaks on the lower edges in a crooning moan. Don Schwarz's melodic bass work moves in tandem with Wayne Thompson's keys across a gorgeous chord progression through the verses. Schwarz, who was an interim bassist in Killing Field has assembled a band whose sound somewhat resembles its antecedent. But where the Fields' sound could be characterized as REMish perhaps, Tales Untold have more of a World Party-like European flavor. It is certain that the Tales know how to concoct a catchy pop tune, for "World Between" has more hooks than a thrice caught steelhead.
"Certain Circles" finds Khyber cooing McCartney-like in one of the sincerest Beatle tributes l've heard since Jellyfish. Replete with sterling stylized 3-part harmonies and a scintilating slide guitar solo by Keith Sommers, this song fairly reeks of Abbey Road, but it's all so well done that it really doesn't matter. Fans of Seattle's Posies would love this cut especially.
Keyboardist Thompson continues in the McCartney motif on "Believe," invoking via the piano, half a dozen or more of Paul's greatest hits. These references, in lesser bands would seem immodestly derivative. But these songs cover more distinct territory lyrically. And Khyber's versatility lends each tune a refined clarity of nature that is quite sophisticated by local standards. The bridge to this song is simply haunting, to say the least.
"When l Was Young" combines a faintly "She's So Heavy" riff with a feel reminiscent of 70's obscuros Crack the Sky. But this time the influence is Lennon's all the same. Elements of Freddie Mercury and Bowie creep in as well. Sommers contributes a Brian May/Clapton/Harrison like solo, quite effortlessly it would seem.
"War Stories" gives a clue to where Khyber and the band are coming from in the line "Rooftop dreams of avarice/and soapbox schemes of tales untold/a violent turn to all of this/on soapbox schemes of tales untold." This song ranges evocatively through territory that lesser bands tum to hopeless mushy goo. For in Nathan Khyber Untold Tales have a vocalist to match the poetic lyrics and vice versa.
Tales Untold will certainly not appeal to the slncerely thrash/grungcrs among you. But fans of Killing Field and Neros Rome will definitely find something special in this band—for Tales Untold is miles beyond the competition. Miles beyond.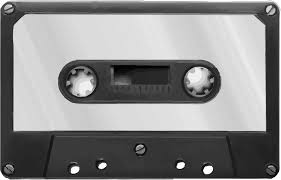 Bombshack
Fall Down
Self-Produced
Now I got in trouble the last time I started reviewing one of this band's antecedents while contrasting it with a previous band that still existed at the time. Let's see if I can make this clearer while not offending the various members of incarnations past, present and future, of Bombshack or its ancestors and relatives.
But I'm pretty sure Colly and Roland used to be in a band called X35 (which is sex backwards if the type-face is right) and Colly (and maybe other members, I'm not certain) was in the Voodoo Dolls once upon a time. As of this writing Voodoo Dolls may or may not still be a viable configuration: it's not for me to say.
Anyway, what you have here is Bombshack. And they present ten songs, six of which were recorded at Jon Lindahl's Fresh Tracks, while the other four were recorded live in the Bombshack basement.
On the studio side of this recording, the lead song is "FKT" which opens with Roland's warm guitar 'n' filagree and Colly's sea chanty keys. Slowly the song evolves from a ballad to an uptempo rocker that hinges on Roland's overdriven guitar. As Roland demonstrated with X35, he is an inventive and emotional player. This cut gives rise to the notion that Roland has been putting in a lot of extra hours improving his craft. His playing is crisp and solid. Colly's vocal is laid back and boyish in tone, displaying a jagged piece of his own anguished angst.
Likewise. "Little Bit" begins mildly. Roland plays clipped chords while Colly wails briefly on a harmonica. The song swings into a classic rock riff mode—sounding like any number of 70's rockers. Aerosmith's "Walk This Way" would be foremost among them. Big, crunching power chords propel "Uptown Crazee". Roland's fills in the turnarounds are noteworthy as well—alternating between biting single note runs and chiming grunge evocations.  "Winter" begins with a setting of acoustic guitars and melodic, single note key line. The song slowly builds in intensity, resolving in a nice guitar solo. "Piggy-Go-Getter" is more illustrative of the grunge metal roots in this band's basement. Lyrically, it's the old "cop car in the rear view mirror" saga There's a full-bodied crunch to this tune that satisfies deeply.
The live side of the recording has a lot more of the energy one associates with the members of this band. "Ship 0′ Madness" rocks nicely. Roland's manic guitarwork, Colly's simple yet effective keys, and bassist Jeff's hard driving bass propel the tune. "Good Thang" has a dark droning quality and ethereal vocals to match. "Love Power" is a wah-wah infused piece of  psychedelia. Drummer Lenny gets to prove his chops on this one. "Hello Jimi" is an incomplete, unfinished version of "Little Wing"—the inclusion of which I know not why.
Bombshack's Fall Down is an uneven piece of work. The studio recordings lack energy and the live in the basement stuff seems somewhat unfocused—though both show occasional flashes of brilliance. The rhythm section often lacks punch. I would like to see Bombshack spend more time in the studio. So that they might bring to their studio recordings the energy found in their live endeavors. In turn, if they could reign-in their exuberance with a measure of the control they exhibit in the studio, their live performance would benefit. This is a band with possibilities if they can bring them into cohesive focus.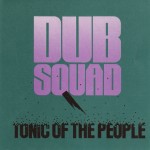 Dub Squad
Tonic of the People
Self-Produced
This recording is a year old, but deserves renewed inspection if only for the fact that five songs contained here will be featured in an upcoming film release Danger Sign—which was filmed in and around the Portland area, and stars Marlee Matlin, D.B. Sweeny, and Martin Sheen. Dub Squad also makes numerous cameo appearances within the film. Squad lead singer Alan Alexander lll seemed to think that the band would not be releasing any new recordings until the status of a possible soundtrack album is resolved.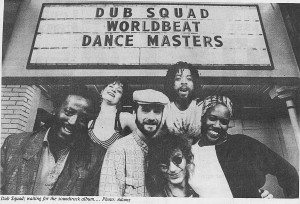 The five songs featured in the film represent a good cross-section of what Dub Squad does with the other six songs included on Tonic of the People, "Free" is a chunky calypso/reggae tune, featuring Alexander's dusky lead vocal and strong support harmonies from keyboardists Karen Searcy and Mary Sue Tobin. Stalwart performances abound on this cut. Jim Daniels' loping bassline expertly matches Brian Davis' syncopated drumwork. Searcy and Tobin give each other plenty of space between keyboards—playing in this case, marimba-like figures.
"Don't Cry Shinobu" is closer to Marley-like reggae, with its insistent percussion interplay with the whacka whacking rhythm guitar. An infectious vocal call and response in the verses propels the tune. "The island" is more African in feel. Tricky back- ground vocals by Searcy and Tobin in the turnarounds and flute solo by Alexander are among the highlights. There are times when Alexander's vocals approach a certain Jamaican patois and others where he sounds like Stevie Wonder doing Lionel Ritchie. He has a very smooth delivery.
"When Love Won't Do" features Tobin on the sax intro, before the song swings into an "I Shot the Sheriff" feel. Karen Searcy's lead vocal, which varies between a Tom Tom Club rap in the verses to tight harmonies in the chorus, lends a pleasant departure from Alexander's slightly more mellow stylings. And "Theresa" features more gorgeous harmonies beneath Alexander's rich baritone—on a song that adds elements of Latin to the reggae melange.
There are no rough edges to Dub Squad. Their sound is smooth and rich, which makes them logical choices for a mainstream movie soundtrack. Tonic of the People serves as an excellent primer to what this band is capable of doing. And that's plenty!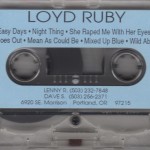 Loyd Ruby
Loyd Ruby
Self-Produced
Loyd Ruby is the latest incarnation of Lenny Rancher, another reggae fanatic, to say the least. But this re- cording we hear Lenny moving away from those roots—at least somewhat.
Especially on the first three songs, which find Lenny with a new voice, and some brilliant new expressions on the guitar. "Easy Days" features jagged guitars and Denny's gritty voice—expressing his reaction to the ecological and human states of the world. His solo in the middle is as articulate and wrenching as any I've heard recorded in this town. The mellow chorus only serves to offset the blistering quality of the verses.
And "Night Thing" reminds of the eighth note surf beat that made a star of his brother Billy. The charisma is a genetic thing in this family. It's the Stones meet Bowie over at Van Hal- en's house with Billy Idol as host. Deep this song ain't, but it's as catchy as a fly strip. The same is true of "She Raped Me With Her Eyes" which makes no literal sense whatsoever, but the hook is so infectious and Lenny sounds so damn earnest that he could say "She washed me with the dishes" and make it sound provocative. He punctuates the piece with a tasty slide solo. David Stricker's basswork is spot on throughout.
The remaining three songs reflect Lenny's reggae preoccupation of the past ten years—incorporating the horn section that backed him in Lip to Lip. The best of these songs is "My Heart Goes Out" with its funky rhythm guitar and sparse arrangement. Here again Lenny uncorks a line series of solos: first a plucky thin strung solo ala Knopfler; and finally a delightful pass on acoustic guitar—which bums like hot lead. Lenny Rancher and David Stricker have arrived at a new sound with Loyd Ruby—a sound that more fully employs the versatile talents that these two veteran musicians have at their fingertips. A resource such as this should not be squandered.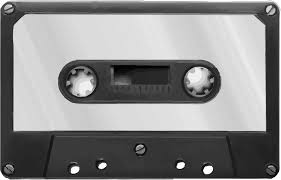 Frankie Machine
Artists and Models
Self-Produced
The Black Crowes are the point of departure for this three-piece—plus vocalist—outfit. "Kick Me Cindy" combines a Smithsian guitar figure by Kenneth Coleman with Mr. Machine's offhanded vocals, into a rather scrumptious concoction. "Blue and Bloody" is a tasty number, maybe a little ldolesque in nature. This song circles around the pocket without ever hitting it square. But it has its positive qualities. "Smile' is a tune whose melody line follows the strictures of the chords, perhaps to its detriment. Some attempt at providing a little variety in the melodic lines would enhance the qualities of a not entirely forgettable song.