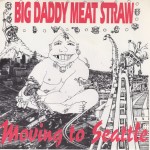 Big Daddy Meatstraw
Moving to Seattle
Major Records
The Church of the Divine Meatstraw has issued another fabulous communiqué, this time in the form of a deliciously sacrilegious three song EP. The two primary cuts—"Sub-City" and "Suck All the Way to the Bank" help to further the desultory maya, which Big Daddy has chosen to benignly bestow upon his loyal constituents. "Sub-City" is a dirt clod lobbed in the direction of our great and successful sister city to the north: uh, Seattle. And it's readily apparent that Big Daddy Meatstraw are just as in awe over the wondrous Emerald city as are we peons.
Lead talker and Frank Zappa clone, edgy Robin Banks delivers the liturgy with only huge traces of sarcasm and cynicism: "Moving to Seattle/gonna be famous/gotta get signed to SubPop/I'm Gonna make a killin'/gonna sell a million/ be a big star in Seattle/ Bigger than Nirvana/ richer than Madonna/ be the hottest thing in town/I Make a million dollars/hear the girls holler/give me Big Daddy Meatstraw."
The choruses seem to echo the grunge sound that made the city so damned cute and famous in the first place—kind of a lame Led Zep; all the while intoning those holy names which have made of everyone geniuses whether they were connected with mighty Pearl Jam or lowly Ezra Pound. Anyway, specious comments about various Seattle bands are muttered just above the audible level-—pinpointing the egregious doings of some of the best known. "Sub-City" takes aim at the city it supposedly seeks to praise—a farce, dig? You know what a farce is, don't you? Like, "music that will deafen/Get us signed to Geffen/stabbing Sub-Pop in the back (like Nirvana)."
And in a chivalrous attempt to tell you of the true meaning of the Big Daddy Logos, the band contributes "Suck All the Way to the Bank," a squirrelly funk thang which propounds: "Do the right thing/call home/And tell your friends we suck/do the right thing/call home/ And tell your friends Big Daddy sucks/We suck/ All the way to the bank." Such unabashed candor would seem unheralded—deserving of a big round of applause, were it not untrue. For, musically, Big Daddy is fueled by a muscular rhythm section, comprised of Jeff Nelson on drums and the ineffable Slim 'Tissue on bass. And guitarist Seth Perry supports with ballsy, state-of-the-art sturm und drang. The production, handled by Poison Idea's Thee Slayer Hippy, is top notch—deriving a solid wall of sarcastic grunge and cheeky funk.
Finally, "Heavy Debbie" is the third and last cut, and perhaps not up to Big Daddy's usually very high puerile and prurient standards. In this respect, the song could be considered a throwaway.
Big Daddy Meastraw mock and rock simultaneously. Not an easy feat. It is only fitting that the object of their derision (Seattle) would hold the band in high esteem. Moving to Seattle has already entered the Seattle Rocket's Top 20. There is no doubt that a recording exhibiting the brains and an acerbic sense of humor would seem to be anomalously novel to the flannel/ grunge crowd.
Such a fact is not lost on Big Daddy Meatstraw, who urge their fans to write them at a PO Box. For those unable to write, they provide a telephone hotline number. Logically, they (probably rightly) assume that many in their legion of followers cannot read either—which would explain why the band doesn't publish a newsletter or a bible or something.
For those of you who are able to think, drink, mosh and converse—all at the same time, you'll enjoy Big Daddy Meatstraw. Maybe the rest of you should think about moving to Seattle yourselves. I really don't think Big Daddy is going to be making the move. See, that's the joke.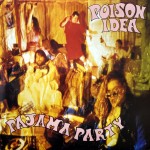 Poison Idea
Pajama Party
Tim/Kerr Records
And talk about rock with a jaundiced eye, check out this collection of outtakes and reissues released by Portland's biggest and best known trash unit. What makes of this re- cording something very special is that Poison ldea have chosen to give us twelve cover tunes (some clearly far afield for these masters of the chainsaw effect).
Their rendition of MC5's "Kick Out the Jams" is torrid, hectic and surprisingly close to the original.  Lead singer Jerry A's voice is in fine form here, sounding not unlike a concrete saw approaching 3,000 rpm.
Likewise, the band come on like the Anti-GoGos with their version of "We Got the Beat". It is truly arnazing that P.I. could render such a piece of fluff into some sort of Storm Trooper anthem, while remaining unabashedly loyal to the lightweight original. Check out Thee Slayer Hippy's faithful tom-tom dance and the readily identifiable bass line—here contributed by the elusive Mondo (Myrtle Tickner is the band's regular bassist. He plays on most of the rest of the cuts.) Anyway, somewhere between Pig Champion's carbide guitar riffing and Jerry A's uncanny impersonation of Belinda Carlisle on, oh, say like 5,000 micrograms of some very mean ass acid—somewhere in there all hell breaks loose. But even  some airhead from Bellevue could  tell you what song they're playing.
Scary. Real scary.
Lemmy's "Motorhead" and the Dead Boys' "Famethrower Love" are handled almost reverentially. Yet never do Poison Idea become lost beneath the weight of their material. Instead, they are able to maintain a signature sound throughout—lending each tune a bit of their own genius, while retaining the original threads. That's not an easy thing to do. And it's what differentiates these guys from a thrash lounge band. Gee, think of that!
Lloyd Price's fifties nugget "Lawdy Miss Clawdy" sounds uncannily like the original, yet ingenuously fresh and renewed. In lesser hands, this could have easily reverted into David Lee Rothian disaster. But, thankfully, no. And "Jailhouse Rock" sounds like Elvis wailing from the seventh toilet of Hell, fronting the Sex Pistols. Pig's solo in the middle is a thing of rare, exotic beauty, like an avalanche or a volcanic eruption. John Entwistle's "Doctor. Doctor" rocks tres beaucoup, and sounds more like the Stones on a caffeine rush than the Who. But hey—who gives a shit? It hits hard all the same.
"Up Front" taken from the Greg SageTribute compilation, rocks ferociously, while maintaining a tremendous sense of dynamics and evocative ethos. Jimmy Cliffs "The Harder They Come" deserts reggae for a more conventional two and four frontal attack—perhaps the most adventurous take of the lot.  Obviously, Pajama Party is a creation of love. Poison Idea are more than mere musicians. Clearly. they are music fans as well. Each track contained here bears the mark of being interpreted lovingly by a great rock band. If there is any sarcasm here, even in wincingly mundane tripe like "We Got the Beat"—it is very subtle sarcasm indeed. Poison Idea transform each song into their own work. That is an achievement of the highest order for any group of musicians. That's a real band.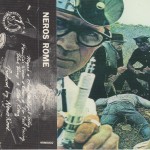 Neros Rome
Neros Rome
Horsehead McGuire Records
As I told Nero's guitarist Tod Morrisey the other day, I'm many things, but I'm not a hypocrite. In my "journalistic" career, I have regularly trashed Neros Rome, sometimes perhaps deservedly so. But with the release of Neros Rome, I have to admit that I must eat any prior derogations.
For this is truly a monumental recording. Here is a band in total control within the studio format, mature enough as musicians to execute their various parts with clan and imagination, restrained yet impassioned. utterly cohesive.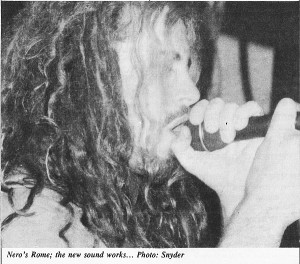 And what a sumptuous recording this is. Recorded at Musicon Studios with board-God Tony Lash at the controls. Nero's Rome create a gorgeous aural atmosphere—which is articulately sustained throughout.
From Morrisey's first sustained guitar blast, through Steve Christianson's syncopated backbeat—with snare accents on 9 and 15, to James Angell's drowsy, Morrison informed intonations. "Myrrh" lingers in a smoky, lilting world where moaning guitars swirl like humming birds and butterflies. And check out Christianson's inspired snare thwacking through the choruses, hammering the beat like a sixteen-penny nail into exotic hardwood. It's as if the Doors were jamming with the latest incarnation of Talk Talk. Ethereal brocades of hemp and gold.
"Flood" roars in on Morrisey's howling lead and bassist Stewart Fritchman's jangling highly effected acoustic guitar. Angell croons over it acting almost like another instrument in the mix. "Royal Jelly" combines a rich acoustic with twangy electric guitars, harkenlng a lazy mood. Again, Christianson applies subtle punctuation from the kit having assimilated both Stewart Copeland and John Bonham into his stylistic repertoire.
Angell's vocal breaks the silence on "Familiar Woman," framed by Morrisey's arpeggiated guitar flourishes. A cheshire-cat cello appears and fades, whining in the background. A very simple and pretty song. Frittchman strangles the bass to kick off "Omen" as Morrisey squirts gasoline feedback on the choking funky flames. Angell's voice. overtly effected, stretches across the framework like a high tension wire, tight enough to snap. "Ten Feet Facing" swings on Morrisey's Hendrixy, phasedout, schizophrenic riffing, fulcrummed on Fritchman's big butt bass. Suddenly they hit the stop button. Shift to a Zeppy acoustic setting, for "Blue Blimp," Tod interjecting volume knob ghosts and fretful, mourning whales.
"Steel Room" is propelled by Fritchman's inventive hammered bass motif. Christianson fires staccato snare shots into the melodic darkness while Morrisey chides like an oncoming police siren. Angell's voice turns in psychedelic cartwheels through the mix. The chorus hits like a huge tarball, sticking on the walls, the furniture, everything. Nero Rome is arguably the finest recording every created in Portland. It has "sign us" written all over it. Fans of the band will either love it or hate it because the old Neros is nowhere to be found here. This is a recording of integrity and majesty, the likes of which any band would be fortunate to attain.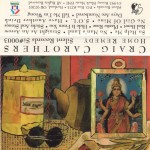 Craig Carothers
Home Remedy
Silent Records
Craig Carothers is the closest we'll ever come to having someone like Lindsey Buckingham in our city. Not unlike Buckingham's recent Out of the Cradle, Craig's Home Remedy oozes a commitment to the crafts of songwriting and song production.
All the musical gears mesh into intricate clockworks of sound. Elements of Bruce Cockburn's work sift into the mechanism adding a gritty starkness to the presentation. Craig's a songwriter from the old school. He writes songs with verses and choruses, simple observations of human interaction delivered objectively if somewhat obscurely. There is a certain clinical sterility to the procedure, as if he were detailing the plot of an old movie, or telling the story second hand. At times this squeezes the blood out of songs whose melodies are often richly evocative and emotional in nature. This detachment would seem to be at distinct odds with the subject matter.
And then there's Craig's voice. If the PMA were worth its salt, they'd pony up the cash to get those nodes removed. He sounds like he's got a little piece of plastic caught in the folds of his larynx. I keep wanting to clear my throat, ahem, cough cough. If he had a choice in the matter, Craig obviously would sing some songs crusty and others smooth. But there ain't no smooth in this vocal transmission. Sometimes the gravel sounds like an unnecessary affectation. But I don't think that's the case.
Still, all this aside, if you like well-written, well-delivered folk-pop songs of a contemplative nature, then you'd be hard pressed to find anyone who's better at the craft than Craig Carothers. Unless you know Lindsey Buckingham.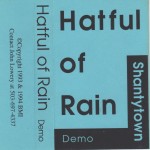 Hatful of Rain
Hatful of Rain
Self-Produced
Bands of other colors will make it, members of the sissy core for one. But I predict that when the rock 'zines start trying to think up definitive names for the "Portland Sound," the acoustic-folk sound that is rapidly emerging in the scene will have to be taken into consideration. Bands like the Crackpots, the Willies, Orphans Reason, Tales Untold, Pop Theology, the new Neros Rome, Sons of Cain—among countless others are great examples of that sound.
Hatful of Rain are a new band, perhaps a little more full of promise than polish at this point. But they have an original approach, which embodies the hip folk sound for which this city will soon become famous. Bandleader. John Lowery writes the songs, plays acoustic guitar and does much of the singing. His voice could fairly be compared to that of early Michael Stipe.
On the jangly, spirited "Another Silent Sunday" Lowery sounds not unlike Jeremy Wilson back in the Perfect Circle days; while lead guitarist Alan Mekel interjects some Jerry Garcia influenced punctuation. At the chorus, Lowery is joined by co-vocalist Julie Nunez. Many might recall Julie from her days as keyboardist with Surf Cowboys or as a vocalist with Evil Picklehead. Together, their harmonies remind of Janet and Jamie in Orphans Reason or Robert and Gina in Pop Theology.
Julie takes the lead vocals on the ballad "That's the Way It Ought to Be" recalling both Kate Pierson of the B-52's and Ronnie Spector of the '50s Ronettes—simultaneously. Mekel contributes many fine fills and a very nice solo across the descending chro- matic chord digression. "Depth of the World" finds Lowery and Nunez singing in call and response fashion, weaving interlocking vocal patterns, over a laidback rhythm provided by bassist Ed Hogan and drummer Scott Crabtree.
Hatful of Rain need some time on the boards, time to find out what works and what doesn't, and space to hone their chops. But they are a band with potential and possibilities. if they are willing to commit to the effort necessary to become a good band.
The Lansing
The Lansings
Self-Released
Good–time Linda Ronstadt influenced 70's country-rock stuff, deftly recorded and performed. Probably closer to country than anything that exists in the rock arena these days. Slightly anachronistic. Therefore, read possible KINK airplay. "On the Radio" features Kate Brady Lansing on vocals backed by some big local names from the 70's and early 80's: John Lansing, LaRue Todd and Sparky Spangler, to name of few. Lyrically, this song is, well, pretty predictable. Musically, it's crackerjack. Kate has a good voice that I swear I've heard singing in local commercials. Maybe I'm wrong—but she could do the job all the same. Smooth, well-trained delivery. "Still Making Memories" is pure country cornpone. John Lansing handles the vocals, sounding a lot like Don McLean. And "Wet Blankets on the Fire" is a flat pickin' hoedown of a tune. Pleasant. Guaranteed not to offend.
The Lansings is not rock and is not current country. It sounds exactly like the music of some of the top local bands of the late '70s: Triggers' Revenge, Hurrmann Burrmann, Hank Rasco, and Lone Coyote Club, etc. If only Euphoria were still open, with that old mechanical bull ride . . .
Door Number Three
Door Number Three
Self-Released
Ringing in with vocal harmonies that only three relatives could provide, Door Number Three chime in with a folky sound that has a touch of the Dead in its make-up. Headed by the De Broux boys: Brian and Steve on guitars and vox, and Rick on keys and vox—"Guazapa" cycles a descending chromatic riff across an energetic rhythmic structure. Fine three-part harmonies hold the chorus together.
"The Man in the Burlap Sack" is Deady with a touch of Marshall Tucker, but kind of dumb lyrically. "Dreams I Borrow" is probably the most successful of this ilk with a lively tempo and some nice organ fills along the way. "Like to Know You" adds a Mexicali flavor to the proceedings, sounding like Brewer and Shipley doing Cat Stevens' "Wild World."
Like the better-known Renegade Saints, Door Number Three harken to the days when love was free and drugs were not a whole lot more expensive. Those days, of course, are long gone, but if you slip on your best tie-dye t-shirt, your sandals and love beads, why it's almost like being there. Almost.
Furniture
Unbridled Fashion
Self-Released
Oh, it's been five or six years now anyway. Dan Reed was at the top of the local heap. And in those days there were many successors to Dandy Dan's throne. This town was littered with high-tech Euro-disco dance bands. One of the most popular was a band called RIA (which I believe stood for Rhinos in Arbitration). Well the lead singer for RIA was one Steve Hale. And guess what? The same Steve Hale has resurfaced to sing the songs of keyboardist John Curtis. The result—Furniture.