I'd like to get something straight right off. It's a very simple matter, when one is availed of the "power" of the printed word, to lob tiny grenades in all directions—feeling perfectly justified  at every turn. Little ego games and furtive battles ensue. And though I have engaged in my own various skirmishes from time to time, that's not the reason I'm here.
No, the reason I'm here is that I love music. I don't love leather jackets, Doc Martens, tattoos, longjohns, flannel shirts or todays alternative to yesterday's alternative, money,  business or prestige (real and imagined). But music.
My earliest childhood memories surround the experience of music. I play music, write music. I've played in bands—been the leader, been the sideman. I've managed bands, advised bands, counseled bands. I've helped various clubs to keep rolling, to ensure that bands I liked could play there. I've been sat on, shat on and spat on.
But beneath it all is, underlying still, my profound love for the creative  process. I wish everyone in the world would experience the unique ecstasy that comes from the act of artistic creation. Any artist has my utmost respect, whether l like what they do or not.
And my function in these "embarassingly bad" pages is to recognize, to the best of my ability, someone else's creative efforts—not my own.
**********************************************************************************************************
Here it is, the first of what will probably be many recordings by local bands to receive close National scrutiny—whether you like it or not. And it's a sinewy ten-song collection, which exhibits many of Pond's strengths though it lacks, perhaps, some of the sleepy fire the band displays in the live performance. Not a groundbreaking recording, but workmanlike–and solid, if somewhat stolid at times. Careful, maybe a little tentative, yet forceful and evocative all the same.
Produced by Jonathan Auer, of the Posies, for SubPop, Pond is a thick, rich recording—at least as far as Char- lie Campbell's guitar and Chris Brady's bass are concerned. Dave Triebwasser's drums are a different story.
"Young Splendor" kicks off the proceedings on Charlie's agitated hammering of the 4th in A, while a feedback driven wail soars over all. Cool, retro-Byrdsy vocal harmonies move between the octave and the third. A snippet of ostensibly backwards guitar punctuates the first solo break. Triebwasser pushes the two/ four snare accents with intense kick/ tom triplets while Brady works between the root and the fifth. Charlie's second solo is a snarling, roiling piece of fission.
"Perfect Four" is Nirvanaesque and Swervedriverish, with a vocal melody that's seemingly derived from listening to records backwards. Dave again pushes the beat, this time with paradiddles on the snare between the two/four accents. Triebwasser's playing maligned elsewhere for reliance on some mystical "fifth beat," is actually quite appropriate for the music presented—though perhaps a little oversimplified. But the sound of his kit in the mix is pretty miserable—sounding sludgy, yet thin and tinny and mostly buried, except for the kick, which has no real tone but hits like a heartpunch; and the incessantly hissing cymbals, which eat up a lot of the guitars' high end.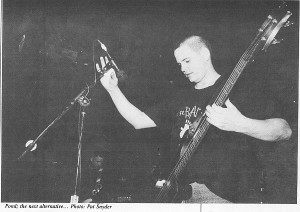 "Gone" is drony prototypical grunge. Jagged guitar bursts—chugging along like some old modal train down a three-string track. There's a kick accent on one in this tune that could be construed as that elusive "fifth beat" I suppose. "Agatha" is hard driving raga rock with an infectious, incoherent chorus. Here, Charlie drives the modal G, flattening the fifth for a Jimmy Pagey middle Eastern arabesque. Chris gets a solo on the break, strangling out a muffled echo of Charlie's riff. Charlie enters stage right with a very good rendition of a backwards solo, before evolving back to the marching bagpipes of layered guitars, a quick tag and out.
"Tree" suffers from a very weird drum mix, which would seem to place the band beneath Dave's floor tom. The ghostly vocal is almost as loud as the kick. A fairly uninspired cut. "Wheel," one of many potential singles, is a raucous, murky, edgy number with a twirling riff that sounds like boiling water rapidly spiraling down the kitchen drain. Another raga piece "Wheel" drones in D as Charlie works between the third and a flatted fifth—pulling toward the A note but never quite reaching it, creating a delicious tension in the riff. This is an accessible piece of Zeptitude, with a strong chorus and some strong instrumental ensemble work throughout. Dave especially, cuts loose with an inspired tirade.
And "Gods" is an Eastern tinged tune, the riff of which finds Charlie working between a flattened second and a major third in the key of D before resolving on a G chord. The chorus is absolutely haunting, with harmonies soaring on the octave. Dave again provides stalwart syncopated fills between the snare accents. This is one of the strongest cuts.
"Foamy" presents challenging, snaky runs across Jimi bent E chords strings above the nut. Slowly additional layers of guitar and bass sludge accumulate into a magnificent muddy) edifice of chaos. One last foray of manic scale runs fall in cascading crescendos until the final hesitation and slam of John Lennon's coffin lid ("A Day in the Life"): a high speed collision with the ether.
To we the jaded brethren of the local rock "fist estate" Pond is a band we know well. Pond is a satisfying recording on all counts. The songwriting and performance are hypnotic, charmingly captivating. Oh, perhaps these are not their best, most electrifying performances—but Pond smolder and burst to flames with enough frequency to surely prove to the rest of the big world out there that this is a band of crystalized vision—certainly worthy of more than this ditch can offer. Wave bye-bye to Pond, kiddies. They're off to become a pop band now. And soon enough they'll sell a lot of records for some big corporation. And we can all rank on them for selling out. It'll be so cool. Next alternative please.
This self-produced eight-song tape is a perfect representation of what Ray sounds like live. There are a minimum of overdubs here. The mix of one song differs little from the next.
Vocalist Jack Inglis and guitarist Amiin Bestel are the chief loci in Ray. They are afforded the slick bass work of Jeff Goocher and the unbridled eccentricity of Bob Smith's drums. If you think of U-2 meeting Crowded House you'd have a satisfactory aural picture of the surroundings.
"Down the River" evokes a drowsy mood. Goocher initiates the sequence with a little bass chord filigree, soon joined by Bestel's chiming guitar. Jack enters, his sweet, smoky tenor emoting nearly to the point of emotion, approaching evocation. A strong chorus pulls this tune together with satisfying vocal harmonies supported by slashing guitar pyro.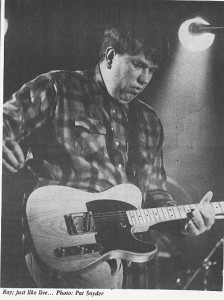 "Hang Time" is very Neil Finnish in demeanor and delivery. Goocher again provides a nice bass chord welt upon which Bestel may weave his guitar tapestries. A powerful chorus elevates this number above the rest. "Step Out of Line" features edgy guitar linearity and a verse that sounds like the chorus of the previous song. And a little like Bad Company. Eeek!
Ethereal guitar work and more Crowded Housey balladry inform "Scooby", a song that sounds a lot like "Down the River." And "Sue Me For Trying" has a lot in common with "Step Out of Line" except that instead of Bad Company, it sounds like Journey here. The repetitive nature of the themes ("down the river." "hang time." "never come down," "let it lie." "don't let go"), the arrangements. and the songs themselves. lends a mantra-like air to Duke—a very accurate re- cording of the strengths and weaknesses of Ray.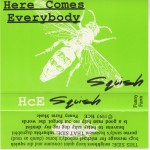 Here Comes Everybody
Squish
Funny Farm Music
Nearly rivaling the prodigious pace of prolific outpourings emanating from the old Dead Mooner himself: Fred Cole, comes another homemade volley from the Joycean socio-introspectationism of Michael Jarmer, his wife Rene Ormae, their children, Shem and Shaun, and their band: Haveth Cassettes Everywhere.
Most of the songs have a point and someplace to go. Like "Neighbors" a jazzy zydeco cinemagraphic daymare recitation of the "New Commandments."  Or "Keep Quiet…" a joyless anthem to hapless-minded, blind consumerism. A cynical commercial for sloth. "Squish" is a koto/reed flute koan to absurdity. While "Bugs" is a rocky synopsis of the road to wedded bliss and connubial parity. A distinct variation from the typical HCE production and a rousing success. Please sir. I'd like some more, please.
Or "Nobody's Home" where funky Talking Crimson Belew boy Heads fidget and squirm beneath the lens of God's jaundiced microscopic eye—toward some unperfect end, perfectly stated. Thinly-veiled snobbery and intellectual jingoism at its finest. Antisocial jocundity. But a good groove. Or the funky nothings of "Porno." A Gabriel-y mood invests "Sandy's Basement" while honkytonk piano flourishes oversweep the scene. Heads' "Once in a Lifetime" is revisited again on "Dagnabit." "Heavens to Betsy"; a string of cliche clusters and hard baked euphemisms delivered with ascerbic cynicality. "Salty Dog Rag" confirms that there will be no recording of HCE outtakes.
They're all right here. "My Dentist" is a paean to the mundanity of the American human condition, the values of the ADA and dental hygiene. "Help Me Out" is a sensitive acoustic ballad underpinned by chugging brushed drums. And "Forgot the Words" is discordant mayhem with some socially redeeming qualities. HCE are a band of highly trained musicians who deliver a polished set of technically masterful songs. What the songs mean…what their point is…l haven't the faintest idea.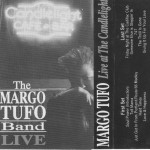 MargoTufo Band
Live at the Candlelight
Broadside Records
Here's a great live set turned in by Portland's reigning blues diva: Margo Tufo. As with many bands playing in Portland, Tufo's incomparable talent as a vocalist goes either over-looked or taken for granted. This is a shame. Because hers is a voice that should be enshrined in the Smithsonian. For, like all truly great singers, Tufo has a style, a real style, that incorporates actual singing techniques like phrasing, voice placement, and dynamics. Beyond that, God gifted her with a very rare instrument—which, over the years, she has learned to command with perfect precision.  A rare musician in a world of image uber alles and overnight success.
The set leads off with "Soul Trilogy", a funky warm up for Margo's crack back up unit; which is chanted, Drells-like, by drummer Brian Foxworth. Each of the accomplished members of the band get a shot at an extended solo, and each proves his mettle with understated artistry. Margo enters on the following tune, "Tell Mama," her smoky contralto sounding as warm and fuzzy as a favored sweater. She migrates through the funky number with facile saavy. But check out her bluesy, ballsy delivery on Tom McFarland's "Just Got in From Portland," where, following an extended trebly guitar solo by Robbie Laws, she digs in, moaning like Paul Desmond playing sax with the Dave Brubeck Quartet of the '60s. Her intonation begins at her lips and courses through her entire body, vibrating like a reed.
The proceedings segue into Bobby Troupe's 50's classic "Route 66". Tufo growls out the vocal in a nasal blues style. But her phrasing betrays a familiarity with the work of jazz-torch singer Peggy Lee as well. Ray Charles' bluesy gospel- tinged ballad. "Hard Times" fits Mar- go's voice like a glove, as does the sprightly funky soul of Al Green's "Love and Happiness." Tufo does the best impression of Al Green I've yet to hear. She pulls at her voice in the upper chest in exactly the same way as Rev. Al.
Side two features a be-boppy swang thang instrumental—"Friday Night at the Cadillac Club": a fine duet between tenor saxist Renato Caranto and altoist Ben Fowler. But catch Margo on the following cut "Someone Else Steppin' in". She utilizes every vocal trick in her bag. cajoling the words, as if each were an individual yo-yo walking the dog. "747" is a big ol' jet of an R&B tune that hints at the feel of BB King; as does the following tune, his signature song, "The Thrill is Gone." The skipping reggae of "Givin' It Up for Your Love" comes as a welcome change from the mostly blues setting of the recording—and affords Margo the opportunity to stretch out into a little different vocal direction, here sounding like Mavis Staples.
For those of you who are blues Fans, Live at the Candlelight is a must have. But for those of you who are, like myself, dubious at best about the whole genre, you will find no better purveyor of the stuff than Margo Tufo. She should be considered a state treasure.
**********************************************************************************************************
Newsy Sidebar:

Sales of Pond's Pond on SubPop are brisk at all local retail outlets, as are their various singles. Riding on the success of that recording, Sprinkler's More Boy, Less Friend and Hazel's single on the SubPop label are receiving renewed interest as well. Similarly, Hazel's single on Cavity Search is showing a lot of movement.
Neros Rome, the bands' new recording, is breaking sales records at some outlets. Major label interest in the band is at an unprecedented high. The Spinanes' single on Imp is garnering widespread enthusiasm—as is the Willies' full length CD Get.
Craig Carothers' Home Remedy remains the undisputed sales leader in the Easy Listening category. And the Cherry Poppin' Daddies' Ferociously Stoned sets the benchmark for longevity—continuing to sell well after a year and a half on the local market. Big Daddy Meatstraw's EP Moving to Seattle may well be a breakthrough recording for the band, unleashing upon an unsuspecting world, the curious dogma of the divine Big Daddy. Heaven help us all.