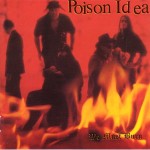 Poison idea
We Must Burn
Tim/Kerr Records
More than a promise or a vow, a warning or a prophesy — closer to a threat or a certainty, We Must Burn does more than that. It incinerates. lt vaporizes. It sears.
Poison idea fume like a tear-gas grenade.
A two-pronged guitar onslaught is detonated by Pig Champion and Mondo, incessant and relentless on cuts like "Don't Ask"'or "Hung Like a Savior": beneath the dueling guitars in the extended fade — bassist Myrtle Tickner and drummer Thee Slayer Hippy slither and coil underneath, like an undulating snake; while Jerry A. exhorts his sense of disharmony with what we might call the American way of life.
But check out the serious flame throwing action of "Endless Blockades For the Pussyfooter," a Beefheartesque slice of chainsaw thrash over which Jerry retches a litany of diabolic trash talk, until Mondo cuts in with a Randy Rhodes meets Eddie Van Hellion solo of notable distinction.
"When I Say Stop" hinges on 'Thee Slayer Hippy's manic kick- snare intro. stuttering and fibrillating like a heart injected with sulfuric acid; while Jerry directs a head banging hokey-pokey.
But if you really want to know the real soul of Poison ldea, take note of the jittery jonesy shuffle of "Jesse's Arms." Jerry's vision is bleak. stark, crystalline perfect in the poetry of its utter desolation. "Carpenter's dream, a need to be nailed! Baby's scream, a need to be held/ Dirty water, wash the sweat from my face/Loving smile and a deadly embrace. Every track leads right back to Jesse's arms." Not a pretty picture, but honest and unflinching.
And if you wanna hear something really scary, listen to the gorgeous "Religion and Politics Pt. l." You realize these guys can pretty much play whatever they want to.
We Must Burn finds Poison idea at the peak of their collective creativity, the machinery of their exposition finely tuned. In turn, the band generates widespread evidence of moving in different stylistic directions, as befitting of an evolving musical entity. This band is just hitting its stride, after all these years and recordings. Just hitting its A stride.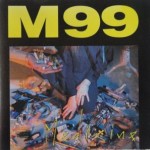 M-99
Medicine
Gift of Life Records
Another band in the midst of an evolution are M-99. Vocalist Heidi Hellbender has learned to fuse the shards of glass that are her voice into a mural of wide expression. She can still scream to raise the hair on the back of your neck, but she has learned to sing as well. In essence, the band has learned to play in concert, in support of her lead. At all turns, attention to detail is obvious.
Take for instance the cool interplay between Rob Landol on guitar and Regina La Rocca on "What's Eating Me" — working a bent note in harmony at the end of each vocal line. Or the nice turn between the two at the tag.
"Monkey's Paw" is driven by a short, but effective solo by Rob. Where, the title cut is pushed by a strong unison line between the bass and guitar. The middle section features an exciting melodic interlude from Heidi nimbly punctuated by cut time drums. A riveting tune.'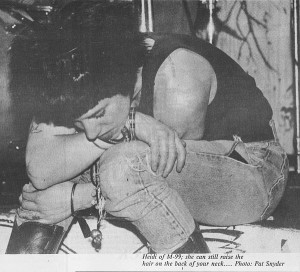 "Hearts and Daggers" comes as a pleasant change of pace. Long Justice meets Neil Young crunch. Acoustic guitar adds a percussive rush to the waves of jingle-jangle tones. Heidi cuts through with a serrated edge to the vocal. "Flood" continues in the folky feeling; echoing a little Cocteaus influence in the verses — toughening in the choruses.
And "Joy" sounds like a hit, carried by Rob's lilting arpeggios through the verses. His solo is succinct and soulful. Heidi sings in a restrained, yet powerfully resonant register, a sad ballad that rings real and true. It's a song that's buoyed by a strong, memorable chorus. "Big Empty Space" and "Black, Blue and Bleeding" are tougher, harder numbers, propelled by the intricate tandem work of Rob and Regina.
"KT" maintains a similar stance. "Sleep for Ever" moves across a jungle tom roll in the verses, solid chord chunks in the confusing chorus. "Shitfool" is the good ole "Hey Joe" riff, severely modulated effectively reconfigured into a sassy, strutting anthem. One of the many gems to be found on Medicine.  "Buried Heart" is like kerosene cocktails on the 4th of July: a brief explosion.
Medicine is a formative album for M-99. One can hear the band in the midst of redefining their music for themselves. While this lends the recording an occasional transitory air —- in no way is the raw power or distinctive quality of this great band diminished in the least.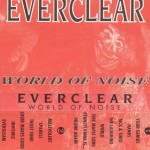 Everclear
World of Noise
Self-Produced
Here's a first recording from a relatively new band on the scene. And it's a hand full of portent and promise. Toss Bob Mould, Nirvana, Talking Heads, Big Country, Wire and Trip Shakespeare into a pot and set it to boiling; distill it and you get Everclear: the brainchild of one A.P. Alexakis.
"Your Genius Hands" chimes on a droning D note through the verses. yanked around by lurching counterpoint, a wrenching chorus a little more counterpunch and binga banga boom. "Sick & Tired" sounds like J. Macis on some really good pot and some really strong coffee — hopped up and backwards in the '90s continuum. Lightning in a shot glass. Flashing. A solo like POE wires tangling in a wind storm. "The Laughing World" is a contentious piece of pop. A Sugar Daddy struck to the upholstery of your brain.
"Malevolent" turns on a finely woven web of droning guitar and  looping bass-octave figures building to a stormy chorus and a rolling thunder fade. "Sparkle" riffs like the Mouldmaster — held together by a soaring, piercing piece of feedback.
"Trust Fund" is a syncopated, fractured rocker: raunchy and infectious; snarling and wicked. Scorching swamp rock. Yeow! "lnvisible" treads trashier turf, built on a ballsy guitar riff and punchy rhythm section. A savage chorus and a skittering, sideways-sliding sole; a cop car in the rain. And "Evergleam" presents itself in more predictable form, straight-ahead and straight forward.
World of Noise is an auspicious debut for a talented new band in the trenches. Everclear is certainly deserving of your undivided attention. And given any opportunity, they'll probably get it too.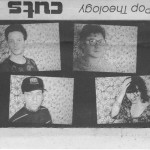 Pop Theology
"Cuts/Tumblin' Down "
Self-Produced
And here again, this time with two separate cassingle entries, are those High Priests of Self Promotion: Pop Theology. "Cuts" is a number that will bear familiar characteristics to those who follow the band. Robert Noel intones the lyrics in a nasal voice similar in texture to that of Richard Butler or Robyn Hitchcock, over an uptempo stringy acoustic/jangly electric guitar latticework.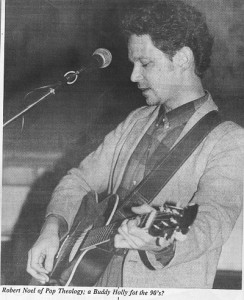 Mike Dion provides some exhilarating moments, lacing with deft precision, a lead guitar that weaves in and out of the instrumental webbery—unobtrusive, yet black widow meticulous. T-Bone Burnette and Robbie Mclntosh come to mind. The lyrics dodge and circle around logic in whimsical spirals. One of the bands' most successful live songs.
"Tumblin' Down" retains similar structural elements, this time with Gina Behrman Noel providing the led vocal. A dynamite chorus, supported by ethereal contrapuntal choirs and rapid fire riffing put this cut over the top. Fine Del Palmeresque basslines delivered by Jonathan Dreschler, and Gina's Kate Bushy vocal pirouettes, transform "Tumblin' Down" into a sumptuous sculpture of hauntingly gorgeous significance. The burst of harmony at the end of the song rings like church bells. An important recording.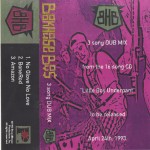 Bookhouse Boys
Three Song Dub Mix
Poundhouse Records
There is a strong (and often maligned by the press) contingent of blue-eyed rap/funk bands in this town — ranging from the reggae dosed rocket fuel of Jolly Mon to the industrial mojo of Silicone Jones, the silly disco of King Trout, the gonzo canibinol of Quality Pie. And then there's the Bookhouse Boys. The Boys unleash a Beastie brand of bandifesto, typified — not immodestly —— by the bails out (as it were) sexual anthem of the 90's and beyond: "No Glove, No Love," detailing, indelicately, the latex of our lives.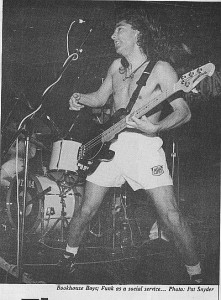 "Bone Rod" is erected on the tumescent pluckings of a bony bassline, upon which the drums and guitar ensemble in tangent. Suddenly the vocals swell up in a "Cool Jerk" doo wop, before degenerating into abject social commentary of the excursion, charting the dark waters of one of the worlds' last untamed rivers. Or, these guys are hopelessly obsessed with some tall woman. It's a toss up. Whatever the case, they seem real excited to tell y'all about it.
It's not like they're attempting to present some masters' thesis in Sociology (or Political Correctitude for that matter) or anything. But standing upon the precedent set forth by Jerry Lee Lewis' "Great Balls of Fire" and the Troggs' "Wild Things," I will defend to the dearth a Man's right to be as dumb as he wants to be.
The Bookhouse Boys assert themselves with righteous aplomb and rock solid deliverance, a message that is sure to reach the lowest common denominator with a resounding biff. Watch for their full-length CD Little Boy Underpants next month.
Haymaker
Haymaker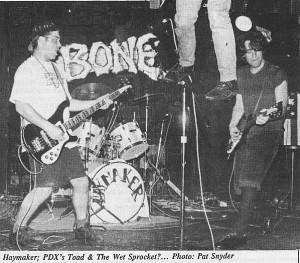 Self-Produced
Guns & Roses comes to mind. Black Crowes too. A little less nasty. A little less boisterous. The ideas are there. Solos run too long with nothing vital to express. Vocals, stylized drawl and all, bear a certain charisma.
**********************************************************************************************************
Attractive Newsy Sidebar:
The Dough Flow (?)
Big buzz around town is that Pond on Sub Pop has sold respectable (but not astounding) 30,000 copies worldwide in the first 60 days of release. Where's David Geffen when you need him? Nero's Rome had its biggest sales month in April. Both Big Daddy Meatstraw recordings (the cassette Last Supper and the Ep Movin' to Seattle) have been difficult to keep in stock: owing to the Divine Daddy's significant teen following. Ah youth! Caveman Shoestore's new release is moving well, as is the Greg Sage tribute. Elaine Summers' So Law is proving to be a consistent favorite.
Ms. Summers has made quite a name for herself among local musicians since moving to Portland from LA. a little over six months ago. Recent gigs around the city have found Elaine being accompanied by members of Little Women at one show, members of Love on Ice at another. She's definitely a major talent, with a stunningly evocative voice, doesn't matter who's backing her up— and you can bet that every musician who hears her wants to.
New releases by Napalm Beach, Poison Idea, Everclear, and M-99 are on the shelves; as are Heatmiser's CD on Frontier and the Whirlees CD on Schizophonic. The Whirlees recording is the biggest project thus far undertaken by Mike and Vaughn at Schizophonic.
Dan Sause at Locals Only turned me on to this guy Dean T. Fletcher who does high quality live recordings of various bands' gigs—thus having a new release out every couple of weeks or so. The recording I have of the Pariahs at the X-Ray 4-10-93 is solid, clean and hot. Nice Mike King Cover and groovy pro graphics make of these nifty little packages indeed. Go Dean go.
Is Tim/Kerr Records about to become the definitive alternative label pioneering the Portland sound? Time will tell. But if they don't have their finger on the pulse of the local scene, it's a dead horse.