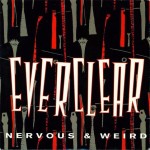 Everclear
"Nervous & Weird"/ "Electra Made Me Blind"
Tim/Kerr Records
Everclear are an aptly named band. Their sound is pure, potent and highly volatile — an intoxicating blend of grunge and emotional sophistication. This hard wrought piece of vinyl provides indelible proof of the band's numerous strengths. Most of these strengths reside within frontman Art Alexakis. Art knows his way around the structure of a pop song. But along with this awareness of the architecture of pop, Alexakis fuses poetry of raw emotion against mythopoeic imagery to create songs which seem instantly familiar, yet distinctly fresh and new in perspective.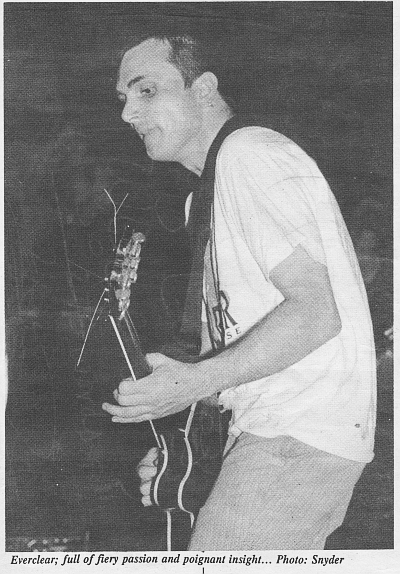 Take, for instance, "Nervous &  Weird." Pushing an E—C-G-B/ E—C- G-A chord progression over a standard Nirvana-like feel, Alexakis constructs an Euripidesian/Ovidian vision whereby the swift Roman messenger boy, Mercury, vows to "splinter out of myself" to honor "A blind Electra in drag/ So cool and so lame." Alexakis elevates his material above the mundane inanities of, say, Kurt Cobain — etching a unique mythos that is both astutely probing, yet universal in its sentiment. Something of a stunning achievement, I'd say.
In "Electra Made Me Blind," Alexakis continues to follow a loose thread of myth, portraying himself as Orestes, determined to "follow the western wind/down I go/ and pack up my shiny things and go," succumbing to the vengeful whims of his sister, Electra — realizing "living isn't a simple thing/ no one said it's supposed to be." Musically, the melody is traced against an A7- A9 progression in the verses, before sliding into a hard crunching chorus of A-F-E-A flat. Alexakis is an evocative vocalist. And drummer Scott Cuthbert and bassist Craig Montoya provide supple support for Art's visionary excursions. But those visions belong to Art Alexakis along — full of fiery passion and poignant insight; as meaningful as they are memorable. Ever clear.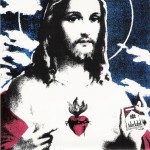 Adickdid
"All-American Girl"/ "Colombus"
Imp Records
Adickdid are sort of a "solar" power-trio whom bring to their music an attitude found in other Grrrl bands like L-7 and Hole, with shades of PJ. Harvey hanging overhead. But at the same time, their sound recalls that of those ingenuous dilettanti, the Shaggs, whose curious opus "My Dog Foot Foot" remains one of the paramount oddities of the 70's.
Probably as a display of anti- pop solidarity, guitarist/vocalist Kaia Wilson and bassist Sara Shelton patently refuse to tune their instruments. This is especially annoying throughout the ballad-like first half of "All-American Girl." It's really quite a cool song. Wilson provides ajangly guitar figure in the intro, that recalls Neil Young, of all people. The vocal melody is hauntingly pretty and amazingly similar to that of Delores O'Riordan on the Cranberries' "Still Can't …" — considering that the two songs were probably recorded at about the same time, many thousands of miles apart from one another. Maybe these things really do just hover in the air, waiting for us to pluck them out… Anyway, Wilson sings in a girlish, angelic voice through the first half of the song before suddenly turning a corner and ripping into the third verse. This tune has discernible hit potential, though it's not fully realized on this recording.
Appropriately enough, "Colombus" borrows the drum heat from Peter Gabriel's "lntruder" before launching into the direct attack of the body of the song: "Colombus, Colombus fuck you/ Colombus, Colombus. Bastard! Colombus Colombus . Asshole." In what could be considered a somewhat non-establishment portrait of the man who "discovered" our continent—pillaged its resources and decimated the native population, Wilson demands retribution from the perpetrator: "Come over here and suck my big dick" (an anomaly left to the reader to ponder privately), delivered not so much with rage, as ugly bitchiness. Kinda scary. Adickdid have a lot of potential, similar to that of Delores O'Riordan
on the Cranberries' "Still Can't …" — considering that the two songs were probably recorded at about the same time, many thousands of miles apart from one another. Maybe these things really do just hover in the air waiting for us to pluck them out.
Adickdid have a lot of potential. The band displays a knack for catchy hooks and melodic figures — and forthright  discourse. Now If they'd just pick up a guitar tuner.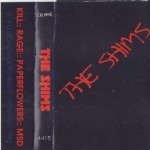 The Shims
The Shims
Crime Records
Wow. Here's a band with a real future in front of it. IN fact, the only problem I can foresee for the Shims is that they are almost too  good. Too fluid. Too proficient. For within the ever-widening, indefinite boundaries of "alternative," adherents of the minimalism and basic mediocrity associated with the form will find the Shims much too slick and, well, good to respect; whereas any industry type to hear even ten seconds of the Shims would be falling all over themselves within the ever-widening, indefinite boundaries of "alternative," adherents of the minimalism and basic mediocrity associated with the form will find the Shims much too slick and, well, good to respect; whereas any industry type to hear even ten seconds of the Shims would be falling all over themselves to try to get 15% of the band. You bet.
How, you may want to know, could such a situation be possible? Tammy Mclnroy. Diminutive in stature, Tammy has an exquisitely huge voice — a voice with a hoarse, breaking quality that's drenched in cigarettes and tears. Hers is a voice that is imbued with raw emotionality, yet tempered by a tremendous sense of depth, dimensionality and dynamics. Tammy Mclnroy is a real singer. She knows how to use her voice like an instrument — how to make it cry and wail and coo and soar — like a great guitarist or sax player. Tammy doesn't just have true talent, she has a genuine gift. Without a doubt, she is the finest singer I have ever heard in the Portland rock scene. She has the tools and she knows how and when to use them.
Oh, check out "Kill," for starters. Moderate tempo. Moody, masochistic lyrics. Stark. Bleak. Violent. Coming in somewhere between Bonnie Tyler, Pat Benatar  and Divinyls' Christina Amphlett, Tammy slashes through, carving her Own path—anguished, distraught Moaning softly just before she screams. Excellent production values abound within the cut. Well styled guitar passages and strong bass/percussion work enhance the dark, foreboding mood. A disturbingly compelling piece of work
"Rage" is molten lead flying at very high velocity. Mclnroy's voice cuts through like AK—47 bfire on Bosnian streets. An imaginative arrangement augments the fractured landscape of "MSD." Subdued at first, slowly building to a sustained rush, periodically punctuated by a gunshot snare. And when Tammy sings "my head hurts and my body achesl Its the madness I pretend to hide," each word hits you in the gut like a sack of nickels. An exciting, Hendrix flavored guitar solo distinguishes itself in the break.
And the light touch with which the band approaches "Paper Flowers" is admirable. They could have just as easily done a doom and grunge number on it, instead opting for a slightly more funky setting that is perfectly appropriate for the tenor of the song.
The Shims have good material, perhaps lacking an over-the-top, killer hit. If, in the next year the band concentrates on its writing, perfecting a craft for which they show a great deal of aptitude — I predict mega-big things for them. They've got everything it takes to make it.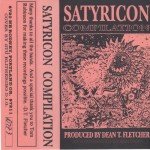 Various Artists
Satyricon Compilation (Produced by Dean T. Fletcher)
A Satyricon Production
A few months back I mentioned Dean T. Fletcher's interesting (and abundant in number) series of recordings made live at the X- Ray. All very limited edition type stuff, but as naked and real as you can get.  Here is a similar sampler, this time taken from the board at Satyricon. Live recordings of many of Portland's better known alternative bands, including Dead Moon, Flap Jacks, Everclear, Monde La Bella and Saliva Tree, among others.
What you get is a very clean, balanced recording that drips with energy. But beyond that you've got an excellent document of a thriving  live scene and the bands that  populate it. A frozen slice of time: April 1993. Cool.
Check out the gasoline spewing, fire breathing onslaught of Dead Moon's raucous chestnut "Parchment Farm." With a typical Satyricon crowd heckling and yammering in the background, the band launches into the song with the force of a rocket. Fred's piss curdling vocal shreds the air, while Andrew and Toody hammer away underneath like carpenters of destruction.
Anzio Bridgehead follows with a noisy, explosive piece of instrumental mayhem entitled "Swipe" that's guaranteed to act as a diagnostic for anything wrong with your stereo speakers. Floppy woofer? This cut will find it. Sloppy mid-range? This cut will fry it. Bugskull contribute a dreamy cut in "Disclaimer," with Pondish, backwardsish sounding vox and drony, hypnotic guitars. A tour de guitar solo near the end is highly effective.
Everclear's "lnvisible" cuts like a laser. Jagged-clean. Propelled by a Jurassic rhythm section and scorching guitar work, the cut sears through space as if there is no solid dense enough to impede it, no gravity strong enough to rein it in. The squirrely ska of Civilization's "Dog Days" reminds of very early XTC and perhaps faintly of English Beat: engaging and dance inducing.
And the fractured 50's doo-wop of the Worried Guys' "Who've You Been Loving?" sends side one out with just the right message about Club Satyricon: any kind of music can, and will, be played there. And as often as not it will sound as if it belongs there. Just try that at any other club.
Saliva Tree kicks off side two with "Cradle," a smokey, smoldering cut that never quite flames to fire, though it goes on longer than an Anacordes 'fish factory fire. Monde La Bella's  "Exquisite Corpse" breathes with more animation than the cut does on their studio recording. Carrie White's gothic, wuthering vocals seems to capture one of the more intriguing aspects of Satyricon: its dungeon/medieval bedlam characteristics.
And the Flapjacks' "Down on 6th Street" is a genuine tribute to the club in question, though my journalistic quest for accuracy forces me to add that Satyricon is located on 6th Avenue. Streets in Portland run East and West. Avenues run North and South. In fact this very point is broached in the pre-tune monologue and blithely blown off with ''I know it's 6th avenue, but I never graduated from high school so I don't care." It is just this type of laissez-faire ennui that is undermining the very foundation of the streets and avenues upon which our fair cowtown was founded. Well, that and a disintegrating sewer system. But…oh never mind.
Anyway what the pancakes, uh, I mean Flapjacks render is a hopped up jalopy of a hot rodded rockabilly tune that sums up its sentiments in the final line "fucked up and nowhere to go…The Satyricon."  Meanwhile, their "Lurking" is a strutting little nocturne that hearkens to the Stray Cats. Hip as a '56  Chevy Nomad. "Walk, Don't Run" with a real bad attitude. More like "Stalk, Don't Run."
Once again Dean T. Fletcher has captured not only the bands he presents in his compilations, he deftly manages to capture the atmosphere and mood of the clubs where he records them. It's the next best thing to being there.