An Overview of the Underground
Well, we're two-thirds of the way through the "Year of Portland." Now might be as good a time a any to assess what damage our fair hamlet has inflicted on the rest of the musical world. Does this town have the chops to set all of Popular Music on fire; or are we just another flash in the pearl case? Perhaps we can ferret forth an answer from the available information that we have on the subject.
What is required, first and foremost, for a scene to thrive, is vibrant club action. Portland's local live music landscape, while far from flourishing, still sustains a successful handful of clubs who sponsor original music. And still the number continues to grow.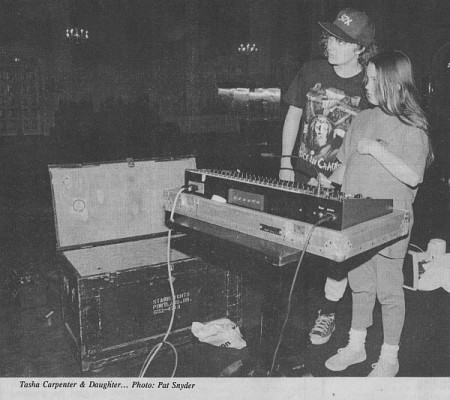 Tasha Carpenter had nearly converted the Bone and even Eli's into viable alternative clubs, while acting as the promoter and technical director. However, the curse of that building drove Tasha out last month — leaving in question the fate of both clubs.
In January of '92, I first noted that the Eastside was becoming the musical hub of Portland. In the time hence, the Eastside scene has continued to grow. The Laurelthirst has been the first to capitalize upon the notion, proclaiming themselves as purveyors of the "Eastside sound." While there truly is not such a thing, if there were, I would call it Dinge — a cleaner alternative to Grunge. And it's true that on the Eastside, an acoustic guitar is sort of a mandatory piece of equipment; whereas Downtown it would probably get you Iaughed at.
The fledgling braintrust at Belmont's Inn launched an ill-conceived satellite in the Aladdin Theatre; karmically doomed by the theater's prior incarnation as eight-year home to "Deep Throat." As appropriate as the alliance might seem (ilk of a kind, bind), the venture quickly failed.
More promising is the broadening empire of Mark and Cindy Meek. After successfully turning a hopeless eyesore dive, the Missouri Tavern (referred to as the 'Misery' by locals) at 35th and Hawthorne into the successful Mark's Hawthorne Pub, the Meek's recently opened the Mt. Tabor Pub—an entertainment complex whose possibilities seem unlimited. The club features separate room for video games, a large hall for music, a pool room — with a 40-seat large-screen ampitheatre and a I00-seat theatre for movies. Can a Music Video Festival be far behind?
The Mt. Tabor pub is booked and promoted by Jeff Haigerty. Haigerty openly admits the club lacks an identity as yet, and that the music room is less than ideal, acoustically. But with upcoming acoustic improvements and a little time: to lend the club a lived-in look and a sense of personality, the Mt. Tabor Pub should prosper.
But, in order to succeed in Portland, you still have to take your act downtown. For all his real or imagined faults, Tony Demicoli still offers, in Key Largo, a club where a band can play original music to an appreciative audience.
And the X-Ray Cafe stands as a bastion against the tyranny of ignorance and conformity, providing for underagers of all ages the best alternative acts this city has to offer. Beyond that, Ben and Tres afford regulars an atmosphere of free expression that is not to be found elsewhere.
Still, Satyricon reigns over the underground. if your band is going to make it — you must play Satyricon. No chain-link cyclone fence moat can keep the world out of Satyricon nor vice versa. The club stands as the chief conduit to bigger things. If you can't hack the hurdles that Satyricon signifies, you'll never make it in the dog-eat-dog world of rock.
Beyond that level, two larger rooms — one on either side of the river, function as medium-size venues, where moderate-draw national acts play with the most popular of our own. Both the Roseland and La Luna have sprung from the ashes of former incarnations to rise again to prominence.
La Luna, specifically, has gone through more lives than Shirley Maclaine. Last year at this time, it was Rock Candy, a spurious brainchild hatched by great minds of the important North: Rock Candy, Seattle. Under clouds of suspicion and general ignorance, Rock Candy blew into town, ostensibly to take it by storm. Upon realizing that Portland bows at the feet of no one, Rock Candy promptly retreated back to Sugar Mountain. Since then, Mike Quinn and Monqui have shaped La Luna into another Eastside venue with multiple entertainment possibilities — while booking a diverse blend of shows that is as consistent as it is varied. So the club scene is far from rampant, but it could be considered healthy, given that it is constantly in a state of fluxion. In that regard, "health" is a transitorily subjective condition.
But, for this "Year of Portland" thing to succeed (and who's to say '94 or '95 might be the year), the scene has a need for local independent labels. Tim/Kerr Records. Schizophonic Records and Rainforest Records seem best positioned to fulfill the requirement. All three labels seem much stronger and more in-tune than they were a year ago.
Over the past year, Tim/Kerr Records has released several well-produced, nicely packaged recordings of a caliber and quality comparable to recordings released by similar labels in other major cities.
Schizophonic Records in Salem just released two, and is set to come out with a third recording, in a series of compilations which contains work by some of the valley's best bands. Be on the lookout for I-5 Killers lll.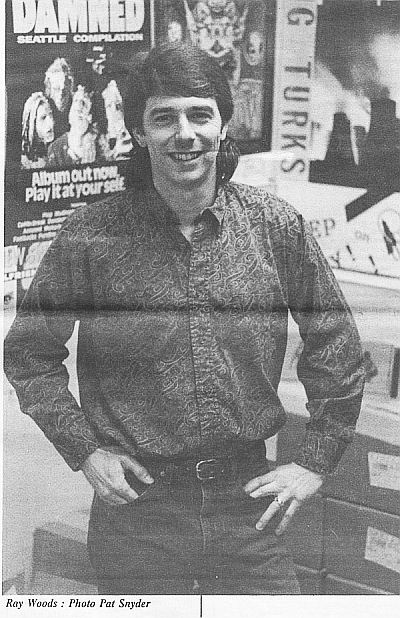 Ray Woods and Rainforest Records arrived at the game a little late to contend, early on. But Ray has a solid background in both personal discipline and music business mechanics — affording us the expectation of good things from his label. Or more New Bad Things perhaps.
And we have a strong network of retail outlets to market the product. Locals Only has managed to stay solvent for quite awhile now — selling local recordings exclusively. Music Millennium always has been and always will be the recording musician's best friend. So we can establish that there is a stable local market for recordings by local artists.
And there are plenty of quality recording studios in town — any one of which is capable of producing a "marketable" recording. We even have several duplication services available in town. In fact, Northwestern Inc. is now offering services for limited quantity (like, say, five) runs of cd's: further enabling the little guy to produce a product that is virtually indistinguishable from that of the big boys.
Finally, if any of this is to get off the ground, what's required most are bands; exciting, original bands. A year ago bands like Sprinkler, the Dharma Bums, Napalm Beach and Poison Idea were commanding the choice gigs. Today none of those bands are to be heard.
Who's still around? Dead Moon, of course. Pond — in absentia. Hazel. Heatmiser, the Daddies, the Whirlees, Big Daddy Meatstraw, M-99, Neros Rome, Drunk at Abi's and the Flapjacks. And a bunch more I can't think of.
And rising up from the ranks are underexposed bands such as Everclear and New Bad Things, Sage and Sone, the Crackpots and the Willies, the Tree Frogs, the Shims, Monde La Bella, Tao Jones, Caveman Shoestore, Rotor, Adickdid and Bubba. And always Ed & the Boats.
Artists are moving here all the time. Elaine Summers has set the city on its ear since moving here from LA. Hell, Billy K. is moving back again, again. Bands you haven't heard of yet, like the Charms — up from L.A. and the Shivers, from Minneapolis (originally Austin) are in the process of moving in.
Major label deals for Neros Rome, Tales Untold and Sweaty Nipples have yet to come to fruition. The field is wide open. Bands have recombined. The
Oblivion Seekers are a case in point. And former Bum Jeremy Wilson is purported to have a new band, ostensibly named Pilot (it should be noted that Seafood Mama raided a band called Pilot to form Quarterflash in 1979 — not the same Pilot). Jeremy reports label sniffage already, and promises that the new band will blow fans away—with a new, more melodic approach. Look for a rash of gigs through the month of September.
So does Portland have the chops to go major? Yes. Always has. Always will. Portland was a mega-music microcosm when all Seattle had going was Heart; and grunge was something you pulled out of a clogged sink drain. This city's music scene has always been diverse, eclectic and entirely free of influence from the outside world. Does the outside world care? Oh, maybe not quite yet, but it will. Because there is a Portland Sound. It's not the "Eastside Sound" and it's definitely not grunge. It's an original sound — quirky, idiosyncratic, quixotic and indefinable. It's the sound of one hand clapping. It's a favorite old t-shirt. For lack of a better word, let's call it dingy. It's the sound of Dinge. Grungy, but clean. A closet full of noise. It's always the "Year of Portland." lt always will be.