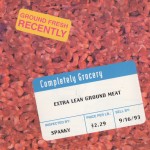 Completely Grocery
Spanky
Pravda West Music
Spanky will surprise a lot of people who are only vaguely familiar with the history and oeuvre of Completely Grocery. It's been less than two years since the release of their popular Schwee Schwee. But in that time guitarist Ted Thieman took a hike and was replaced by rhythm guitarist Mike Tomasovic and lead guitarist Marc Cole. What this exchange amounts to is that Completely Grocery can now rock when they want to.
This is evident from the start. Listen to the thrilling moods the guitars create between the verse and chorus on "Crystal." John Mitchell's evocative vocals balance on the brittle figure Tomasovic creates in the verses. Then Cole kicks in and the mood turns dark and dingy. Some fine rhythmic turns in the break and chorus are supplemented by Julie Avina's solid basswork and drummer Jeff Cavanaugh's deftly understated enhancements.
"C'mon" is an upbeat number with so many clever twists and turns, its hard to keep up. Mitchell sings a charming ditty about a fantasy lover moving into an apartment down the hall. John has improved immeasurably as a singer, sounding here not unlike Matthew Sweet. A perky solo and a memorable chorus make of this cut a real hit.
"Party Hat" features a droning atmosphere and tight ensemble work—driven by Cavanaugh's drums. It's safe to say that Jeff is one of the most underrated drummers in town. His choice fills, adroit support, and perfect time are the Grocers' biggest asset. "Find Out" is a jittery dance number reminiscent of the Connells or the Gin Blossoms. The countrified jangle of "Please" serves as a fine transitional tune.
And "In My Dreams" is a funky gothic piece that could almost be the Waterboys. Blue House" is a two-step goose stepping jig that skirts, only narrowly, abject mayhem.
For those who recall the funky Completely Grocery of yore. "Mike" will surely ring a bell. A hip 70's groove in the verses is coolly augmented by a skillful disco diversion in the turnarounds and some fairly martial percussive interludes. And talk about smart cover tune selection: an obscure Mood Paint (way pre-Pond Charlie Campbell) tune, "Get What You Want" is done with loving grace. The addition of an acoustic guitar here adds a folky feel to a poppy piece.
With Spanky, Completely Grocery demonstrates intelligent versatility. expertgcraftsmanship and stylistic sophistication that certainly places them among the best alternative bands in town. This is a recording of deep subtlety and rich nuance that should garner the band wide ranging favor.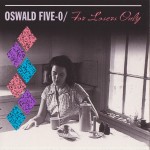 Oswald Five-O
For Losers Only
Elemental Records
This Eugene three-piece is almost two bands in one, and rarely do the twain meet. Each hand has its own specific appeal. But because of this schism, Oswald Five-O seem a bit uneven at times.
Robert, Nick and Diane comprise the band. I've never seem 'em live so I couldn't tell you who plays what instrument. And they don't say. I know when Diane sings, because here is (I assume) the female voice.
And it's my suspicion that Diane writes and sings her songs while one of the guys writes and sings his songs. An equitable arrangement to be sure. But the mood swings can be like a blood sugar rush from hell.
His songs (Robert and/or Nick) tend toward Paul Westerberg fronting Husker Du. "Marie Celeste" and "The Reach" are the least successful, sounding like little more than rants with chords. But "Alfie" works, using a similar up-tempo motif, though the vocals are not shouted as much. And "Preyed Upon" is better yet, with a strong chorus and decent harmonies. "Idiot" is more Westerbergish gruff wail over a cool Monkees' chord progression. But here, as in many other places, the harmonics seem like a sloppy afterthought. "Perfect World" is the best performance among the "His" songs, with fewer vocal affectations and best ensemble musicianship he receives. This is far more of a developed piece, with an extended tension-inducing mood intro which slowly acquires focus, before evolving into a riveting, drone of a riff that packs a knockout of an uppercut.
The band plays much better behind Diane. I am at a loss to explain why. But they are generally tighter and more inventive behind her songs. The guitar parts, especially, seems more thought out. Her songs show more variety in construction and melody. That could be one reason.
"On the Table" highlights Diane's engaging voice, a husky contralto, which floats over a fairly straight ahead pop tune, with a catchy chorus and well wrought guitar figures. "Conviction" begins with an absorbing bass line in 12/8. Diane sings a pretty folk song for a verse before the band launches into electric crunch. Here, as is often the case, the back-up vocals are in unison — adding a textural edge but little more.
The cover, "My Head Hurts." finds Diane emitting a powerfull , chilly dilfidence. A hot guitar soio and seamless ensemble worlt distinguish this traclt. "Unfair" charges hard through the verses in 12/8 before easing into the 4/4 bridges. Diane voices a mature melody line with heartfelt conviction. Significant guitarwork enhances with colorful distinction.
Infectious guitar/bass hooks, big enough to land a Coho propel "Premium" — a number that never quite gets where it wants to go, musically; though Diane's vocal is pretty and the lyrics are interesting. And "Poison" is sort of a psycho'd out version of "Will The Circle Be Unbroken," with inventive guitar figures laid out over a vibrant rhythm.
With For Losers Only, Oswald Five-O prove that they can be winners. If they will work at better integrating the two polar aspects of the male/female songs and voices — something not easily achieved; if the band will view their material with more objectivity, discarding the more pedestrian songs; and if the band will work hard to improve harmonies and back-up vocals: I can assure them of a promising future for their music.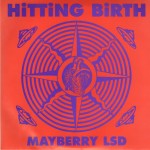 Hitting Birth
"Halleluja/Mayberry LSD"
Self Produced
This pretty piece of hot orange vinyl finds our Heroes of the Industrial Wasteland treading some new ground, while following the familiar chaos of their own peculiar musical path.
"Hallelujah" is a dirgy chunk of dinge, layered with thick guitars and murkey atmospherics. Underpinned by David Parks' frenetic, industrial strength jungle drums, guitarist/vocalist Daniel Riddle slides in from another dimension — his voice skewed and mutated by heavy effects. As time goes by, Daniel cranks up the intensity. It's hard to  say for certain, but the lyric would seem to allude to a distinct calumny Daniel feels towards organized religion in general, and middle-American, white bread Christianity specifically. It's a little hard to catch Daniel's complete drift, what with all the ethereal angels and bulldozers swirling around in the mix. But he seems mighty worked up about it.
"Mayberry LSD" begins with acid etched steel drum samples clanging. Jolly guitar chords ensue as Riddle chants a spacy ode to the lure of dumb adolescence. An invitation to escape the cell of the mundane world. Sounds swirly whirly around, aided in part by a hypnotic horn chart added by co~producer Drew Canulette.
In some ways, this record typifies the mainstreaming of Hitting Birth. While these songs are still wild and weird in a way consistent with the band liturgy, the mainstream is that they are songs at all. This was once a band of unending tone poems and theatre prose. That's been supplanted by a more accessible sound, modified to appeal to lower denominators. It's still an adventurous sound, but I miss the Hitting Birth of prime numbers.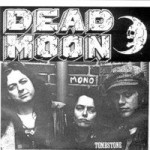 Dead Moon
"Day After Day/ It's Okay"
Tombstone Records
Another distorted hunka monophonic flaming vinyl from the ceaseless lathe of Fred Cole. And like so many of its predecessors, this record is a schoolbook example of what a single is supposed to sound like.
Fred turns in an anthem for the A side. "Day After Day," fueled by a simple, but cleverly turned guitar run and Toody Cole's effective bass work, is a paean to the losers and rebels of "the broken generation," who are "lined up in the trenches/holding higher ground." Andrew Loomis' surfy approach on the drums lends the otherwise dreary  mood a certain whimsy. But no one is better at writing these kinds of songs than Fred. And the high-pitched howl of his voice is the perfect vehicle upon which to transport his message. '
The flip side, "lt's O.K." is an unusual entry for Dead Moon, in that it is very personal and devoid of any graveyard or battlefield imagery. Over a four-chord progression, Fred (with Toody in the choruses) sings about losing someone dear, a runaway child perhaps, in an honest and forthright manner. It's a poignant plea for forgiveness and healing.
Such a highly uncharacteristic stance for Dead Moon marks a point of change and growth for one of Portland's longest standing musical families. What becomes readily apparent here is that family is very important to Fred and Toody Cole.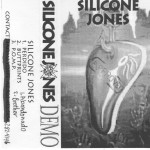 Silicone Jones
Silicone Jones Live
Self-Produced
Here's a well-recorded slice of one of Portland's funkier musical pizzas. Four songs captured last May at scenic Eli's. Lance Miller's fine mix helps to illuminate this promising bands' many strong points.
J.C. Connell is the Silicone focal/vocal point. His unabashed good-natured lasciviousness is balanced by a curious civic-social concern. And it's all laid out in his smart rap on "Cannibal." Sparse, but solid support keeps the track in line.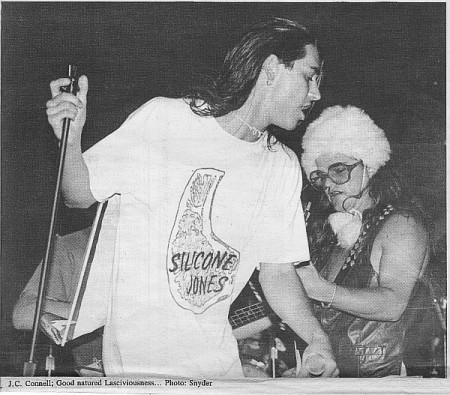 "Want" is a speeded-up version of "Inna Gadda Da Vida" as if performed by Alice in Chains. A Zappa-esque machine-gun guitar solo interrupts J.C.'s tirade against conformity, if only briefly. "Fuck" is rooted in a whacked out "Frankenstein" riff. J.C. interjects a hopped-up rap about the band and, apparently, its critics; before asking the musical question: "What the fuck do you know?"
But the really cool track here is the bi-lingual, trash- talking rap of "Perdido," with the classic chorus "donde estas?" J.C. raps real fine in Spanish — relaying a, perhaps, autobiographical tale about growing up the hard way. A nifty descending chromatic line echoes between the bass and guitar in the verses – resembling, somewhat, the Stones during their "Miss You" period. Silicone
Jones distinguish themselves as a strong live act. Their arrangements are tight, compact and free of excess. They move effortlessly between styles, while sticking to what they do best: hyperfunk. And they do all this with plenty of balls and a minimum of bullshit.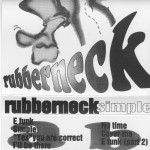 Rubberneck
Simple
Funky Feel Productions
Spearheaded by Pablo Ojeda's roiling thumb-snapping bass and Ricardo Ojeda's slick guitar and vocals, newcomers to the scene Rubberneck would seem destined for big things. Big horn sounds, ala the Daddies or Black Happy, meld with a variety of styles which range from funk to sludge.
"E Funk" is a petty bass/horn section showcase which gets the balls rolling in the right direction. While "Simple" stretches out.  Mellow through the verses, sustained by Brian Ward's organ chart and muted horns; the choruses rock nicely. Ricardo's sure and supple voice is a major asset.
As is every member of the band. Check out drummer James Travers' stuttering intro to "Yes, You Are Correct" or the wild horn runs led by alto saxist Francie Kirk. But the time the vocal enters, the production has slid sideways — sounding as if the whole works had swung slightly out of orbit. Cool. A sudden halt, slur and into "I'll Be There," which is simply (?) more of the same.
"No Time" swings through soul flavored funk with a challenging arrangement and strong harmonies. Kirk kicks in a shimmering sax solo, alluding to Kenny G.'s soprano work — though Francie displays more personality and heart. Ward turns in a burbling organ solo, notable as much for what he doesn't play as for what he does.
Saving the best for last, Rubberneck lets out all the stops on "Cover Me." Swirling saxes from hell boil around Pablo's thumping bass, Travers matching him lick for chop on the high hat and snare. Ricardo nails a staccato riff while supplying a short but stalwart vocal.
Rubberneck is a band of great sophistication. No weak links here. A set of tasty jams interspersed with pleasant. if not entirely memorable songs. Rubberneck is a band with a lot of promise through an abundance of talent.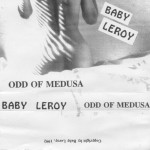 Baby Leroy
Odd of Medusa
Self-Produced
Shades of Laurie Anderson, Suzanne Vega, Leonard Cohen and Johnette Napolitano invest the lyrical and vocal styles of Linda Grimm. In a cool and detached low monotone, Linda details, with a poet's eye, the skewed and often poignant elements of her world. Expertly supported by guitarist/bassist Brad Rapp and  drummer Dennis Elmer, Linda is afforded a fine palette from which to paint her grim vivid visions.
"Busboy"is a Latin laced blues jam about a boy and his bra, which  features a sweet, spacy guitar solo  from Rapp. And fans of Debbie.  Iyall will love the title cut, a pouty little ditty that coils and curls like a snake "I'm an accident waiting for a wrong turn/ On your highway's non-destination/ make love to your telephone I'm the belly dancer in your daddy's pie." Oh yeah.
Or check out the wild Captain Beefheart bee-bop of "Smoking Gun," a mod little morality play about interpersonal relationships. While "Pass in the Light" is closer to a folky piece — drowsily hypnotic in its rhythm and cadence.
Certainly this recording will be an experiment for some. But for those of you looking for someone who actually has something to say and a unique and original way of saying it, then you won't be disappointed by Linda Grimm and Baby Leroy.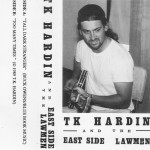 T.K. Hardin and the Eastside Lawmen
"Tall Dark Stranger/Too Many Times"
Self-Produced
Backed by Hazel's Brady Smith on bass, Walkin' After Midnight's Mitch Gilbert on pedal steel and Justin Stark on drums, singer/guitarist Hardin offers us one of Buck Owens' finest tunes as well as an original number.
The Owens cut "Tall Dark Stranger" is given a hard, tough treatment, softened only by Gilbert's pedal steel. Hardin's vocal is highly stylized, maybe a little Bob Weirish; but well controlled — maybe reminiscent of Chris Isaac in that respect. This is an oddball cut. It's not a country feel, though a country sound. Hardin's not a country singer but he has some of the same devices: the hoarse break on the high end and croon on the low.
"Too Many Times" is a mean, percolating, eight-to—the-bar number that slithers and spits like a cornered rattler. Drums, bass and the lower guitar strings drive the song with steel wire tension.
T.K. Hardin has come up with kind of a new sound, now that country has become the new pop. Perhaps, like Social Distortion and our own beloved Dead Moon, a new category should be created for T.K. Hardin. Outlaw rock. It could happen. It happened before. Why not now?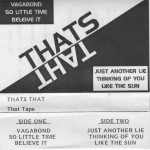 That's That
That Tape
Self-Produced
Anachronistic as all get out, but intriguingly melodic and thoughtfully assembled, That's That present an elegant piece in "Vagabond." Deft  acoustic guitars carry and vocals and harmonies, reminding faintly of the Doobie Brothers' "I Cheat the Hangman." Similarly, "So Little Time" bears some resemblance to "Without Love."
"Believe It" is a tender prayer of a tuner that brings to mind the better aspects of Grapes of Wrath. ,"Just Another Lie" is a little Little Featish and perhaps too soft around the edges to fully get its point across. "Thinking of You" is a pretty, instrumental piece that moves in nice directions. Chris Roberts exhibits an evocative flair on the keyboards. "Like the Sun" bears strong comparison to the simple rocking of Matthew Sweet, with a straight-ahead arrangement that is instantly familiar.
While That's That don't break much new ground with That Tape they travel the ground they're on with enough elan to prove themselves to be faithful pilgrims.