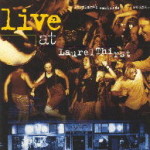 Various Artists
Live At the Laurelthirst
Laurelthirst Records
Quite an undertaking for a local tavern — 15 acts recorded live over a two-week span. And more than anyone, engineer Vern Smith deserves credit for producing a clean, balanced palette from which the varied line-ups (single acts and duos to full bands) can paint their individual musical pictures.
The variety and scope of this production is commendable, but several of the performances seem emotionally flat. Part of this may be attributable to the Folk realm from whence most of the material emanates, and part to the ubiquitously mutant nature of what could be called the Laurelthirst "house band" — comprised of Dan Haley on mandolin and Randy Givens on drums, members of Ed and the Boats; Tim Acott on bass and Neil Gilpin on violin. These players show up on between four and seven of the fifteen cuts presented. And while all of them are more than capable as musicians, their presence lends the material an amiable sameness that seems a little repetitive for a compilation.
That complaint aside there are many nuggets to be mined here. Ed  and the Boats' "Spell It Out" is a jaunty funk rap in which vocalist Dennis Kenny details the many nefarious misdeeds of the (spell it out) CIA. Boatman Dan Haley turns in a particularly inspired mandolin solo on Billy Kennedy's "Sweet Inspiration." Billy unleashes a couple of his madcap adept guitar solos on an otherwise trance inducing cut: with typically sarcastic lyrics.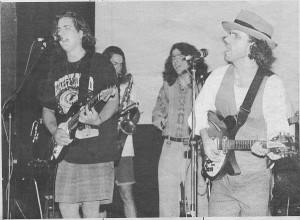 Big Blue Marble are charming with "Just Say When." an uncomplicated duet between Sattie Clark and Tristi Ford that might resemble something the Indigo Girls would do. And the Treel'rogs' "Hello" is friendly and harmless.
The high point of the outing comes with the Crackpots and "Righteous Sista." Vocalist Beth Basile hoarsely belts out her specialized talkin' rhythm 'n' blues rap over a Doorsy groove set up by bassist Bill Rudolph and drummer Johnny Lambert. Mike Metzner twangs through the first guitar solo. And Bobby Soxx hrings the sucka home with a fiery run of licks that sets Mr. Soxx far apart from 99% of the guitarists in the modern world. Yer talkin' real tone. Yer talkin' clarity and dexterity and that's for a real rarity.
Dangerous Household objects follow with "Sex Police." showing promise yet. fully. to arrive at fruition. Whereas Barbecue Orchestras rendition of "Hesitation Blues" features fruit left late on the vine to sweeten with age. Turtle VanDemarr lulls a soft baritone vocal over Fritz Richmond's highly percussive washtuh bass. while Spud Siegel contributes a mighty mandolin interjection.
And as for fruit left perhaps too long on the vine, you've got Baby Gramps with Popeye sings the Charlie Manson Songbook on "Back Swamp Potioner" —a song with a few non sequiturs and a lot of voogum jibberish in between. Captain Beetheart adrift in a rowboat on the bayou, circa l96l. Eeek!
Local wag and noted music aficionado Jonathan "I Got The Music In Me" Nicholas has elevated McKinley to the station of Angel. And her "Dorothy" is a very pretty tune, which she accompanies smartly on the bass, while Steve Hale adds guitar. She's very talented. But after the snit fit she indelicately threw at a recent gig at which I was in attendance. I can assure you that- McKinley may be a mountain but she ain't no angel.
Live at the Laurelthirst is an admirable project. beautifully packaged and vmrth every penny of the asking price. As to their aspirations to represent Portland's elusive "Eastside sound," this is but – the tip of the iceberg. The "Eastside' sound" was born long ago and has undergone many permutations in the interim. It can not be confined to a place or a hand. It's a |ifestyle. Live at the Laurelthirst is one unique aspect of that lifestyle; as each of the many music clubs on the Eastside provide, featuring many bands that do not play at the Laurelthirst.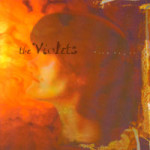 The Violets
Wild Place
Schizophonic Records
You know, it seems like every time you turn around there's another great band blooming in the city that time forgot. Wherever do they all come from'? It truly boggles the mind.
The Violets aren't yer conventional Portland rock band—whatever that is. They tend away from typical Grunge or Funk or Folk, toward a singular Pop sound that features well-crafted arrangements of neatly constructed songs—which have verses and choruses and actual hooks. Now there's a thought. But. by way of the aforementioned. I'm quick to point out that these guys are probably doomed locally. They should just sign a contract with Atlantic or Capitol and get it over with.
The Violets' many strengths are readily apparent on the initial track "Say Goodbye." Guitarists Scott and Cisco (in keeping with the vogue toward anonymity — none of the Violets sport surnames) create the mood with a jagged descending riff, as bassist Chuck and drummer Matt lead the charge. Lisa. the vocalist. delivers a powerful verse before floating away on a cloud of a chorus that strangely recalls the Beatles. Whiplash slide guitars taunt through the solo, till back to the chorus and a refresher verse. A few Annie Lennox-like "a-hey-yays" and there you have a nifty little hit pop song. Think of the American Divinyls.
"You're So Fine" continues the feel, delineated succinctly—chiming guitars and punchy rhythm section. Lisa breaks out all the chops on the torch ballad "Secrets." "Cause of Faith" is a countrified send-up that feels of Roseanne Cash: crackling vocals over bright-beam guitars.
"Giving You Today" is the perfect follow-up single to "Say Goodbye" or vice versa. They're both strong songs. Similar. "Wild Place," a moody heartbeat ballad. hinges on Lisa's breaking vocals balanced upon a rivetingly surly guitar solo. "Lucky One" sails upon sweeping slide guitar glissandos, as Lisa takes it over the top.
And the choice of Neil Young's "Don't Let It Bring You Down" is as apt as it-is unique. For without straying far from the original context, Lisa and the Violets find new life in the old crazy horse. The Violets prove themselves to be a tight. well-polished Pop hand with a future as big as the sky and bright as the sun. Whether anyone in Portland ever gets behind them is hard to say. Stranger things have happened.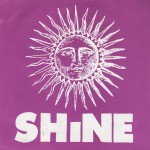 Shine
"Ghostdancer/Sunday Afternoon"
Rainforest Records
All the lonely rock bands. Where do they all come from? Shine oscillates between sloppy sublimity and good-natured banality, while contemplating fuzzy Zeppish mumho dogma such as "Whatcha trying to say?/ I've just got to be a child of man/ what you do to me." Seems logical.
Nathan Reynolds has the Vedder-croon thang in his pocket and guitarist Don Linder summons some original ideas. Shine are a good hand. But they sound a lot like a lot of other local bands who sound like bands that have either made it by now—or not.
And it's not for me to say, but I‑ will anyway. Hey local grunge‑ bands. The wave already hit. Think in different categories. It's time to wear a skinny tie under that flannel shirt. Doe Marten's with pointed toes. Wouldn't that be cool? Of the lesser and greater among‑ all the local bands who do this sort of thing, Shine light somewhere in between.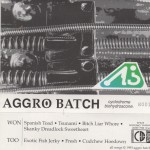 Aggro Batch
Cyclodromc Biohydroscone
Elemental Records
Well now, here's a pleasant surprise. A few months back I kind of slagged Salem's Aggro Batch for their contribution to the Northwest Ungrunge compilation. That tune, "Cudchew Hoedown," when taken out of context, seems needlessly dumb. The Johnny Cash meets Primus execution seems weird for the sake of being weird. But when heard in conjunction with the six songs that precede it on Cyclodrome…  Aggro Batch's full intentions become, uh, well more clear perhaps less murky is closer). And they are a weird bunch it's true, but in their own quirky way they make total sense. There's a skewed continuity here. I wouldn't call it a concept, but it's a thought.
Drummer Jason Schmidt and bassist E. Todd Keeney demonstrate their abundant chops early on with  "Spanish Toad setting up a funky motif with enough roller-coaster twists and turns to keep the trip exciting. John Hughes contributes a brief Hendrix inspired guitar solo before swinging into what we'll refer to as the Kermit section, and out with some impeccably tight jamming.
"'Tsunami" gives a clue to the Aggro approach. Deep at heart, the boys are story tellers — like troubadours of old, brought up to date with huge doses of caffeine and adrenalin; riding in on four hundred horses burning high octane rocket fuel. The love song "Bitch Liar Whore," a merciless storm troop two-step, seems to be indicating some agitation over unrequited affections. "Skanky Dreadlock Sweetheart" threatens to break free from its noodlyaloodly Marleyness, before fully unloading a dense fusillade of mayhem—which resolves into a "Surfer Girl" segue of great oddness.
"Exotic Fish Jerky" is an instrumental foray highlighted by Keeney's incredible finger-poppin', thumb-plucking bass lines. Reminiscent of Anthrax in construction, the piece is greatly enhanced by Hughes' angular, jazz-tinged guitar solo. "Fresh" swings in strange time, percolating incessantly, with the inevitable precision of a massive coronary.
Which leads back to "Cudchew  What Aggro Batch have done with Cyclodrome…  is to fuse many disparate musical styles with their own protolithic roto-funk. They are a fun bunch of solid musicians with more chops than a lumberjack's ax.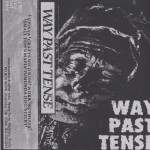 Way Past Tense
Way Past Tense
Self-Produced
Way Past Tense tread turf that's similar to Aggro Batch territory—which underscores some of WPT's limitations, while demonstrating their strengths as well.
"Crazy's Wild Ride" benefits from sterling ensemble work between guitarists Pete and Dave (that surname-phobia thing again) and Brian the bassist. Chip the drummer seems capable enough, though he tends to follow the action rather than pushing it. A clever riff propels "Work," where there seems to be no ostensible lead vocal: merely heavily chanted background voices. "Ruthless" succeeds at creating a tiny maelstrom of chaos around a fairly traditional structure, whereas "Small Town Mafia" takes the opposite approach—though with equal aplomb.
"Fumunda Dog" moves through several modes with valorous brevity. "Sticky" runs on too long, though it contains the telling couplet "I don't want to possess you/ I just want to undress you." Now there's a 90's attitude!
Way Past Tense have a lot going for them, but they are not quite ripe just yet. Though the play well and often play well together, they lack a consistent pocket from which to pitch their musical propositions. A year or two in the trenches, with some concentration on cohesiveness and vocals, and Way Past Tense might find the future perfect.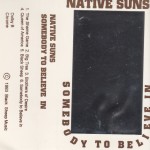 Native Suns
Somebody to Believe In
Black Sheep Music
Raise your hands now, how many of you recognize the name Steve Smith? Well, yes, I guess it is sort of a recognizable name. Well the Steve Smith I know has been kicking around Portland for many years, playing in several different bands, garnering little acclaim.
So, it's mostly unknown that Steve is a gifted vocalist, a great guitarist and a talented songwriter. Mostly unknown, but not completely unnoticed. For when Little Women broke up, Steve inherited the components of a dandy back-up band. And when Native Suns started playing around town together, they caught the attention of John Smith of Nu Shooz — who ended up producing the six songs found here.
"The Shame Game" moves smartly between Funk and Reggae. Louis "Bambam" Butts Jr. provides the punch with a sparse, fat bassline—which melds syncopated percussion with churning keyboards. over which Steve sings in a full, rich voice. "Big Tree" follows suit. Steve adds a soaring bluesy guitar solo. then counters with a more extended jazz flavored excursion for good measure.
A soulful blues sound invests "Brothers of Desire" with a funky piquance not unlike that of Rev. Al Green or Stevie Wonder. "Queen of America" calls to mind Garland Jeffreys' brand of New York style Reggae. A strong chorus renders the song instantly memorable. "Black Sheep" bubbles under a nervous flicking guitar figure, protesting gently, with subtle lyrics, the values (or lack thereof) of American society. The title tune combines a Stevie Wonderish melody with a Billy Preston-like lyrical outlook to send the project off on an optimistic note.