People come and go in the world of popular music, some are only around for an Andy Warhol moment or two, others rocket to fame and mega-stardom. But there are some who sort of carve out a modest career in music. They have a few days in the spotlight, years of obscurity, a spotlight. Obscurity.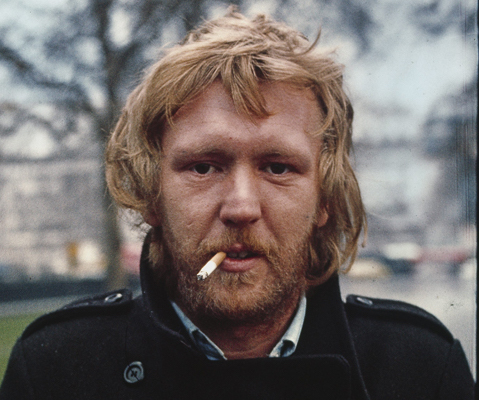 I only bring this morbid subject up in the first place because Harry Nilsson died last month. Some might recall Nilsson as the guy who wrote and sang that sappy "Best Friend" song for Eddie's Father. Others might remember him for entreating John Lennon to join him in wearing a kotex on his head at the Troubador—promptly getting the two of them booted from the nightclub, in an infamous debauch.
There were the hit songs of the '70's. A couple of albums that sold well and back to obscurity. And he died. And there was no mention of his passing in any local rag. That's sad. Are we so conditioned to the flavor of the month that it's become impossible to remember last month's flavor?
Careers in music are mercurial roller-coasters of promise and disappointment. At best. It's not sad that Harry Nilsson fell into obscurity. Artists and musicians do that. And it's not sad that he died. Artists and musicians do that too. But no mention was made of the event. Not a word. And to me that seems real sad.
**********************************************************************************************************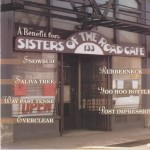 Various Artists
A Benefit For Sisters of the Road Cafe
Self-Produced
Here's a rowdy sampler recorded one night last summer at Mt. Tabor Pub & Theatre. Dean Fletcher, who has rapidly acquired a name for himself with similar recordings from X-Ray and Satyricon, engineers another honest and faithful piece of work here.
And there's enough variety here to keep the casual listener involved. Enough quality to please the fan.
Rubberneck contributes a tasty horn-infested funk (hang with "JR's Jam." All the members stretch out with well-defined solos, whilef vocalist guitarist Ricardo Ojeda purrs and yowls in between. "Barney" showcases Rubberneck's muscular rhythm section and avant horn injections. Ricardo runs off a solo that is equal parts Hendrix and Satriani.
With "Third Shelf," Chris Newman and Snobud are captured in all their pristine dejection. This tune, culled from Green Thing, is propelled by Newman's surging drone guitar, punctuated by flickering filigree hammers.
A positively wicked triple-time ensemble interlude and a scintilatingly majestic solo. "Dick in the Dirt" is a long-time Bud nugget given a power surf treatment here.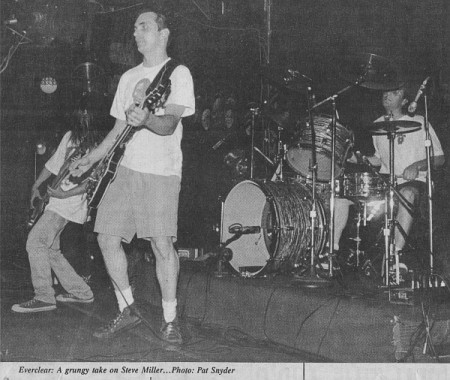 Hanging on Craig Montoya's rubbery brocade of a bassline, Everclear's "Malevolent" (a song which can be found on their World of Noise release) follows Art Alexakis' country twangy vocals and jagged guitar through an energetic romp. Their grungy take on Steve Miller's melon "The Joker" is simply a wry excursion in cynicality
Saliva Tree turns in a rousing rocker with, "Poor Wilbur," a REMish seorcher with some of the coolest lame harmonica since Bob Dylan. "Dung" is thicker, denser — a swirling litany of smoke and spark.
Challenging ensemble work and stylistic guitar textures stand out in the three tunes presented by Way Past Tense. "Hit Me," an extended funky jam with a catchy jab of a punchline, works well. "Chili Bowl" hits harder — though more of a chant than a rap. And "Upinya" hits harder still.
Post-Impression shows possibility with the loose but memorable "I Just Want to Be Friends." Sort of like the Dead meeting early Police. I don't know if the world's ready for that yet. And Yoo Hoo Bottler's "Springs and Sprongs" goes one step farther, combining elements of Zappa and Incredible String Band with a dollop of Jonathan Richman. I know the world's not ready for that. But kind of charming in its own way.
Which adds up to thirteen cuts by seven hands and 48 minutes of incisive local music on a well-produced recording—the proceeds of which go for a very good cause. Well worth the price, I'd say.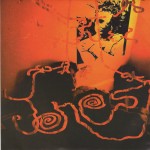 Tao Jones
"Made Me Feel Like Aretha Franklin/Gone"
Elemental Records
A parting single from a band that probably never got the attention they deserved for their uncompromising approach to the popular song. Combining disparate elements such as Crimson/Belew musical settings over which Leah Welch lay Cocteau O'Connor vocals. the Tao were the way in their way.
Side one is more unbridled, side two more subdued — but both are prime examples of their craft. Guitar and bass interweave in intricate braids while polyrhythmic drums surge beneath. Leah wanders the highlands and hinterlands of melody, dallying and exploring, but never getting lost.  It always seems like a shame to lose a quality band, but the prospects seem good that we haven't heard the last from the individual members of Tao Jones.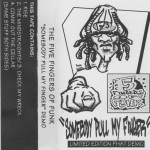 The Five Fingers of Funk
Four From the Cellar/Somebody Pull My Finger
Self- Produced
Anyone who is as yet still unfamiliar with this raging hip hop/funk band is missing one of the great musical experiences to be found in town. Fronted by rapper Pete Ho, whose tag is Pete Miser — and who exhibits the qualities of being an actual genius (a word I've never used before in these pages), like Chili Peppers, but with cool blue horns and real words. What a concept! And "Check My Wreck" finds Pete at his triplet-paradiddle, rhythmic peak.
The Five Fingers of Funk are a band with which to be reckoned. Their addictively adept blend of hip hop, dub and funk is energetic, timely, informed and positive in outlook. A good time with a good vibe and a refreshing change in this world of darkness in which we dwell.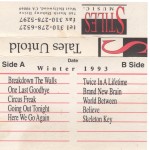 Tales Untold
Tales Untold
Stiles Music
And while we're on the subject of intelligent music played by a thoughtful band, let's consider Tales Untold. This demo is a precursor to their full length CD due out at the end of this month.
At a time when the grum gloom of grunge dominates the "alternative" market, Tales Untold bravely tred the road less traveled — sophisticated pop. Where most bands these days play second hand Zep with a little funk or Ozzie or BOC thrown in for shading, Tales Untold have assimilated completely the styles of the Beatles, Badfinger, Bowie, Queen, Cheap Trick, Supertramp, the Raspberries, Elvis Costello and Duran Duran, to name a few — forging a formidable style of their own which is as catchy as it is unique.
Hearing them at a recent show only confirmed for me that this is an amazing band, certainly of the magnitude Jellyfish or the Posies. "Breakdown the Walls" which refers indirectly to Badfinger's "No Matter What" is pure pop confection, as is the ballad "World Between," a tune that calls to mind Crash Test Dummies' "God Shuffied His Feet." Nathan l(hyber's haunting croon modulates neatly through a gorgeous melody. His mercurial falsetto on "Twice in a Lifetime" is simply regal. And bassist Don Schwarz's tuba work on the Bowie-esque "Circus Freak"  adds an authentic flavor to the waltzing soup created by Wayne Thompson's whirling synth-lines and Keith Sommers' swirling guitar, while Nathan provides the meat, sorting out an identity crisis.
But the soul of this band lies in "Brand New Brain." Thomas Dolby meets John Lennon in a frenzied hoot, running through more changes than Madonna's wardrobe. A vibrant piece of pop shenanigans. Yeah, in a world of darkness one must move toward the light. A simple moth is drawn to light, I wonder why aren't we? But if we were attracted to light, we would endlessly circle Tales Untold. For they are a source of light of the highest magnitude.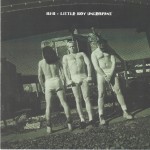 Bookhouse Boys
Little Boy Underpant
Poundhouse Productions
With songs like "No Glove, No Love," "Bonerod," the touching "Cock in My Hand," "So Young, So Big," the ravaging "Hard On" and the wistful "I Wish I Was Gay," it's erroneous to think of Bookhouse Boys as sophomoric. Freshmanic is more like it.
For they are to the adolescent pre-occupation with sex organs what Snobud are to the adolescent pre—occupation with drugs. This is a concept album. The concept being sex, wiih time out for "Hot Black Coffee" and a toke off the pipe of DC ex-Mayor "Marion, Berry."  But the pure puerile hormone' meter reads 10cc, and the Boys sweat it out in furious funk — a  party of swollen fun exploding in pulsing goo. Eeeehaw!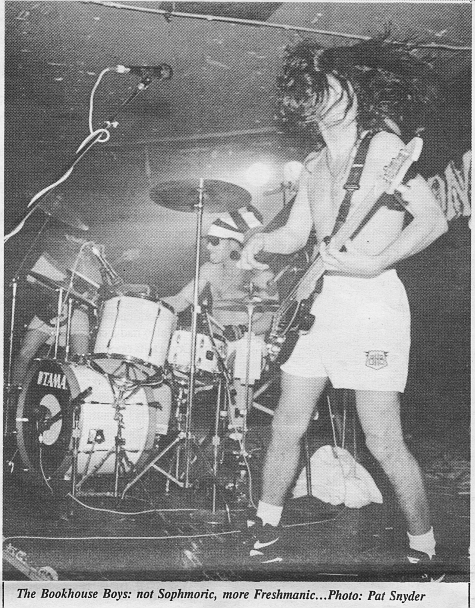 What you get is some tightly crafted industrial funk. And actually "Bonerod" is more about the' adolescent and less about the organ' but hey who's keeping score'? Bassist Toki WoIf's heavy thumbed funk on the bass is the propellant.
"Brad" is a highly personalized account of how and why they donlt like some poor shnook. But pretty funny. Stormtrooper thrash sets the  mood. A sarcastic sense of humor can be found barely under the surface of every cut. "Mexican Shower" with its odd premise and the sympathetic "Marion Berry"  (where the Boys manage to rhyme Judge Clarence Thomas with "sex in  the office") probably best exemplify  this propensity. Whereas the country pone ditties "Cock in My Hand"  and "Spandex" rely upon a more  mundane colloquy ("Spandex is a  privilege/ It's not a right"). And "I  Wish I Was Gay" is a soulful piece  of dinge, with occasional psychotic interludes. It's actually kind of pretty.
I guess what the Bookhouse Boys really have going here is a record with 16 tracks that aim to offend' everyone of the PC persuasion at one point or another. And while this guarantees the band not much hope of "Airplay" any time soon. they will be the Gods of Junior High boys' locker rooms for years to come.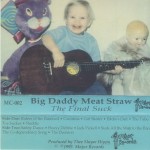 Big Daddy Meatstraw
The Final Suck
Major Records
Likewise, sarcasm is an important' aspect of Big Daddy Meatstraw's schtick. And it's in keen evidence on this farewell package from a band that's decent enough to quit before they become tedious. I wish more' bands would adopt this Jordanian credo.
Here the lads range from the savage hideous beast of rock of "Riders of the Damned" to the whiny bitchkrieg of "Countess" to the curiously exact recreation of Men Without Hats' one-hit wonder "Safety Dance." If you're looking for a message here. Good luck. I think the message is that there is no message.
The recording is impeccably clean and powerful owing to Thee Slayer Hippy's production. Seth Perry's guitar work is exemplary throughout, as are the chops of the rhythm section: bassist Slim Tissue and drummers Jefferson Phillips and Phil Nelson. Vocalists Robin Banks and Vinnie Las Vegas alternate between' Zappa-esque discourse and' clown-from-hell hijinx. But it is by' this precise aspect that the band» never becomes totally predictable. I  mean, "Safety Dance" for godsake."
So, it's a slim catalogue Big Daddy leaves behind: two cassettes and a 45 (included on this cassette). But now we have all those cool reunion gigs to look forward to.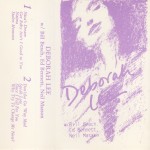 Deborah Lee
Deborah Lee
Self-Produced
Once upon a time there was a term for singers like Deborah Lee. Torch singer. Billie Holliday was sometimes a torch singer. Lena Horne too. Jane Froman and Edith Piaf were renowned torch singers. But the one that really caught the American imagination of the 50's was Julie London, a sultry bombshell with a duskily detached alto, wailing winsome as a saxophone. Deborah has captured and mastered that sound, while giving the eight familiar standards found here a nuance and coloration that is distinctively unique.