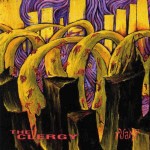 The Clergy
Ruami
Broken Records
It's not easy to pigeonhole the Clergy or their music. Just as one prepares to dismiss them as another monotonal thrash band (albeit a good one), throwing out cuts like "Oatmeal," "Earthmarker" and "Purity," hang with this recording long enough, you find out that there's a lot more to it.
I try to steer clear of "philosophical" content when approaching a review. In my mind, music becomes too territorial, too esoteric. But it's true that the dogma to which the Clergy subscribe would seem anomalous to their choice of musical vehicle by which to demonstrate it. But hey, they said Buddha charmed princes and thieves alike. And my house is not built of safety glass thank you. I won't launch rocks.
Whatever the case, "Treehouse" and "Free My Skin" depart from the format enough to produce memorable 4-chord phrases that rock along nicely. "Hey Mono" runs somewhere in between there and well-informed garage metal.
Vocalist Christi Simonatti is forceful yet versatile at all turns, sounding a lot like Patti Smith on "Won't You Agree," but with a big, breaking voice — over a track that isiprobably as "pop" as this band gets. And not without merit. Guitarist Leon Goodenough and bassist Jim Swanson work well at creating separate moods for each song. Drummer Randy Simonatti, while proficient enough, sometimes paints himself into rhythmic corners from which he is not easily extricated.
But the band puts it all together on "Do What I Don't." While Randy provides quiet samba-like drums, Swanson intones lazy rubber chords on the bass. In an interesting juxtaposition of elements, Goodenough adds a single note bassline on the guitar. Sounding more like Sinead than Exene, Christi inspects the paradoxical quandaries of conscience versus intention. Goodenough weaves a whining vibrato solo first and then twists through a second. Dynamically the band moves from a whisper to a scream, executing both with surgical precision.
The Clergy demonstrate potential not fully realized with Ruami. For the sense of nuance and dynamic demonstrated on many cuts is, still, too often undercut by material that has the dynamics of a brick and a melody range of a note and a half. Still, the tracks that work, work very well and there are enough of them to render the recording desirable.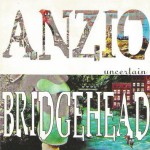 Anzio Bridgehead
Uncertain
Elemental Records
Tight, unflinching ensemble work, with a sense for atmospherics and space — Anzio Bridgehead display a propensity for finely crafted jams which swoop and soar with serious intensity. If not for one Icarian flaw, the band could certainly fly to the sun.
Guitarist Brian A. Smith seems boundless in his capacity to elicit an exciting array of tones and effects from his instrument. And drummers Luke Norton and Trevor Raab deftly interact with bassist Joe Wickstrom. Check out the tangled interplay of A the lead track, "My Method" or the challenging false start of "Stained Glass Box," the stuttering grind of "One Thousand Years," the industrial brawl of "Swipe."
But the waxen drone of off-key vocals tethers Anzio to Earth. Sometimes they are passable. "I Can't Say" almost works vocally, do "Sunday" and "Good Until Gone." But compared to these guys, Jonathan Richman could front The Dead Milkmen and still sound like Pavarotti. The instrumentals "Eurydice" and "Orpheus" serve to strengthen this impression. For, without the sonic impediment of vocals, these pieces are as great condors riding electrical clouds of black thunder and dancing, digitally delayed raindrops.
Their vocals, in a lesser band, would probably be acceptable. The band works hard to make them amiable. But with a voice of the caliber of a Bono or a Plant; a Greg Dulli or even a Billy Corgan fronting them, Anzio Bridgehead would have a singer to match their instrumental prowess
After their initial singer and songwriter — Syd Barrett – flew away, for a long, time, Pink Floyd were mostly an instrumental orchestra of the highest order. It was many years until Roger Watters emerged as a vocalist. Until they can find a singer, or a voice amongst themselves to carry the weight, Anzio Bridgehead would be wise to follow that lead.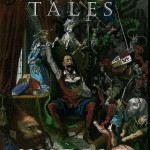 Tales Untold
Tales Untold
Stiles Music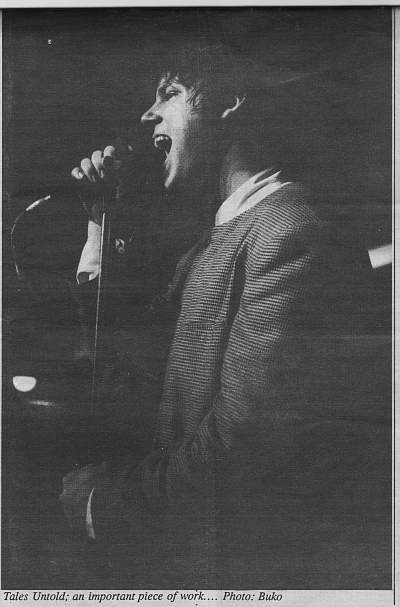 I've been kicking around Rainyville for 14 years doing this: whatever this is I do. For no particular reason, other than the fact that I've stuck around, I've been given the opportunity to hear most of the great local bands of the "New Era." I saw Billy Rancher and the Unreal Gods throughout their heyday and was (and remain) convinced that Billy had real star-quality of a universal kind. In the seven years since Billy dial, I've seen a lot of acts come and go. And some came near, at times, to achieving Billy's level of stage charisma. But none did.
Until I saw Tales Untold. Here's a band with charisma, brains, chops and tremendous rock savvy. Last month I previewed this eleven-song disc. And rather than re-cover that ground, I will simply say that this is a beautiful package. From the meticulously gorgeous hand-colored Doré litho on the covers to the stark photo on the back of the case. Totally pro.
But, more importantly, each song here is a real gem. Nathan Khyber sings his clever, witty lyrics with a great deal of artistry. He has such a marvelously fluid voice that he can range from a low croon to a goosey falsetto in one great sweep. His lyrics generally engage the inextricable dubiety of interpersonal relationships with a poet's gift for nuance and allusion, while maintaining a persistently honest perspective. Romantic, sometimes even sentimental — but never cloyingly so.
And what a band! Drummer Sean Moultrie and Bassist/Tuba-bearer Don Schwarz navigate time changes and crazy stops and starts with solid precision. Wayne Thompson adds well-conceived texture to the arrangements with synth parts which range from piano to strings. And guitarist Keith Sommers demonstrates licks aplenty.
The band executes their material with panache and an uncanny sense of color and subtlety. This offers to them a palette far more rich than that of most 90's bands. They are able to tint and shade every song, lending each its own distinction — as if each were a little four—minute pop symphony. The craftwork woven into the melodies matches the adroit sophistication of the lyrics. A band without flaws.
Tales Untold are not hip. They are not surfing the latest wave of trends. They are the logical descendants of 100 years of popular songs, 40 years of rock and roll, 30 years of Beatles. 20 years of Bowie, Elvis Costello, XTC and the past five years of alternative music. The new alternative to alternative. One terrific band. One great recording. An important piece of work.
International Anthem
The Green Sign
Self-Produced
Harmlessly charming. Fun and Funny. Ubiquitously unpredictable. Peripatetically eclectic. International Anthem are nothing if not all this.
Cool trumpet and slick harmonica add a unique quality to the funky "Rocking Chair," a track that recalls the Flock. "Life and Decisions" starts out kind of WeiryDeady until the trumpet comes in; at which point the band swings into a trendy Love Jones kind of thing. Mark Berney gives the band a lot from just a single trumpet, adding a zesty flavor to the stew.
Guitarist and primary songwriter Ryan Rocchini, no doubt, has a weird record collection. His songs swing in mood from the blues of "Rattlesnakes" to nifty headbangers like the exciting "Ode to Authority" and the galloping anthem "Paranoia;" from the Dead meets Irish jig of "The Blood of Ten Chiefs" to the Dead meets Latino reggae of "Going Insane Too." The guy's all over the map.
And then there are the two epics "No Answer" and "Soul Oasis." "No Answer" starts off sounding like an out-take from Tommy for a while, segue to a quirky, 60's-like breakdown, an odd song segment and finally to a wacked out hornjam thang. "Soul Oasis" begins like a grunge version of "Octopus' Garden," which gives way to tribal swamp rhythm that echoes that found on an earlier cut, "Blue Room;" into a contemplative section before doing a solo-jam thang.
International Anthem do not exactly break new ground. But they rake the old ground into interesting shapes and contours that look new from certain angles. And why quibble? This is fun stuff.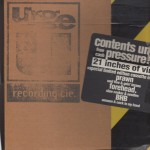 Prawn, Forehead, Bookhouse Boys
Contents Under PressureUrge Recording Sampler
Urge Recordings
Here's a three single sampler with packaging that's so cool it's a shame to open it. But if one is to hear what a monster band Prawn is, one must open it.
Prawn blends the fat bass of Melvin Brannon III with Hendrixian funk guitar riffs, and vocals that call to mind Lenny Kravitz. "Soul Free" combines an extended guitar solo with heavy bottom rifiing in a satisfying way. Living Color prove to be the influence for the energetic "Goin' Insane."
Forehead combines Cobain-like vocals with a dense guitar onslaught along the lines of Swervedriver, with positive results on "Slow Cooker." Twin guitar bubble and boil in the controlled chaos of the solo. The band demonstrates a forthright ability to rock on "Needles," a tuneless piece of Gothic sludge — as dark as nightshade berries, and as menacing.
BHB come along just in time to lighten the mood with two tracks taken from their concept album, Little Boy Underpant, reviewed in these pages just last month. And, obviously, what "Amazon" doesn't accomplish "Cock in My Hand" does — whatever that may be. With a fine stable of bands, a sophisticated eye for promotion and some practical business smarts to boot, Urge honcho Russell Ziecker shows a lot of class with this package. A collector's item, to be sure.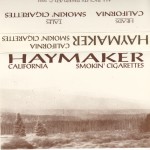 Haymaker
"California"/ "Smokin' Cigarettes"
Self-Produced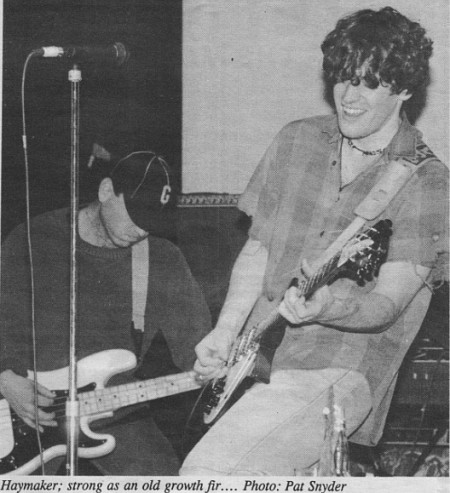 One of the most improved bands I've heard around lately is Haymaker. This cassingle demonstrates succinctly how far the  band has come. Over a cool shuffle rhythm and a Neil Youngish riff on "California," Songwriter Steve Lockwood dings in a clear, yet reedy voice that's amiable and accessible in a way not unlike Jeremy Wilson. A conversational delivery.
"Smokin' Cigarettes" rolls hard, propelled by Mark Dybvig's striding bass and Kevin Jerde's jagged lead guitar phrasings — a putfing freight train of a song, an 18-wheeler on the highway of life.
Haymaker creates a sound of their own, clean and clear as a mountain stream, sturdy and strong as an old growth Doug fir. Deservedly, they are a band on the way up.
Kaitlyn ni Donovan
Cannibal Spirit
Self-Produced
What a pleasure it is to hear a new artist of abundant talent produce a work of such stunning significance. Kaitlyn constructs a tiny piquant opuses of great grandeur.
With just a discordant guitar for accompaniment, Kaitlyn sings with a hypnotic soprano on "Solitude." Ethereal harmonies and a solitary violin line blow through like a howling East wind, icily pristine. A sad and compelling track. "Until Hereafter" gives rise to a comparison to Sarah McLachlan or the Cocteau Twins: subtle melodic hooks worm their way into the subconscious to be recalled sometimes later like the phantom kiss of an angel.
Dramatic flourishes invest "Uncle Fester" with a threatningly understated sense of foreboding, while continuing to display Kaitlyn's special gift for exotic melody. "The Place" features soothing harmonies in a heavenly atmosphere. She again adds a freely ranging violin line as a sunny ornament.
"Free" flows as sweetly as the sweetest of Kate Bush's songs, simple guitar and accordion sing  along beneath. And "Overgrown Graveyard" is another showcase for the soothing quality of her phrasing, the elegance of her upper register, the divinity of her sense of harmony.
In dedication to the memory of Sue Hill, the young artist who was slain last summer after leaving her job as a dancer, Kaitlyn ni Donovan contemplates the darkest elements of humankind—the Cannibal Spirit, with honesty and sensitivity, passion and compassion — reassuring in its candor, splendid in its majestic simplicity. Gorgeous. Inspired. Thoughtful and thought-provoking.
**********************************************************************************************************
Letter of the Month
A sincere thank you for taking the time to review Caryl Mack's Smoke 'n' Mirrors.
I would like to officially apologize to SP Clarke on behalf of the entire Smoke 'n' Mirrors production team. I'm sure Caryl really didn't mean to confuse you. Women can be so darn confusing sometimes—I know, I live with one. They lead diverse, complex lives. We made the mistake of encouraging her to interpret that complexity, and let each song and story stand on its own. I pray we never do that again. I'm so ashamed.
Next time as producers and co-writers we'll encourage Caryl to ignore those beautiful and poignant stories of life, and make an album that SP can understand. Maybe something more vanilla and corporate that can be pigeon-holed into a disco, rap, country, "alternative," or heavy metal cubbyhole. We'll suggest to Caryl that she tone it down a little for SP. To hell with the song.
That way a simple guy like SP can down a Budweiser, watch a fishing show, and write reviews at the same time. But I still can't figure out why radio has had her album in hevy rotation for 12 straight weeks, and other reviewers have raved about her work. Judging from the incredible response, at least the audience seems to get through the "complexity" somehow. Maybe it's a woman thing. Or maybe it's an audience of schizophrenics that enjoy Robin Williams.
And Caryl, you've got to stop beating up on poor SP Clarke–you're a girl!!! And for heaven's sake readers, please don't buy the new Carly Mack Smoke 'n' Mirrors album. We don't want to encourage her.
Sincerely,
Scott Parker
Co-Producer/Songwriter
**********************************************************************************************************
An Open Letter to the Oregon Music Coalition
Ahem. In my capacity as long-standing paid observer of, andimpartial objective critic to, the local rock community and its body of original music bands. I have taken it upon myself to avail you of a list of prospective players for "Bud's Ball."
I have seen all of these bands perform and can recommend them each and all as among the best original music groups our city has to offer. In addition, without qualification, every band listed has product available where local music is sold. I have done reviews of their material in the past year. While this list is neither exclusive nor inclusive, I hope it will serve as a foundation for one that is more comprehensive.
Aggrobatch
Big Blue Marble
Caveman Shoestore
Cherry Poppin' Daddies
Crackpots
Completely Grocery
Crazy 8's
Dead Moon
Pete Droge
Drunk at Abi's
Everclear
Falls Road
Five Fingers of Funk
Flapjacks
Gravelpit
Haymaker
Hazel
Heatmiser
Hitting Birth
Jolly Mon
Lew Jones
Love On Ice
Lloyd Ruby
McKinley
New 'Band Things
Oswald 5-0
Pilot
Pond
Pop Theology
Prawn
Rainworms
Rubberneck
Renegade Saints
Shims
Shivers
Snobud & the Flower People
Spinanes
Elaine Summers
Sweaty Nipples
Tales Untold
Treefrogs
30.06
Violets
Willies
I hope that you will give each of these bands special attention when selecting the final line-up for, what I consider to be, the most important showcase the local musical community has. You have my support.
Best Wishes,
SP Clarke