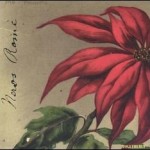 Neros Rome
Togetherly
Lazy Bones Recordings
With this supreme follow-up to last year's breakthrough release, Neros Rome, the band has demonstrated the power and consistency necessary to finally achieve the success they had somehow seemed destined to squander. On Togetherly, Neros Rome fused a new conviction of insight, with the musical sensibility they have always shown—to forge a hard, honest and emotionally accessible sound: original, intelligent and trenchant.
A sense of maturation and hard-won wisdom invade the lyrics of vocalist James Angell. Gone are his shameless paeans to the horizontal hokey-pokey, replaced by themes as wide-ranging as AIDS, pot growing, insanity, frustration, love, bisexuality, child abuse. Combining smoky mysticality with a poet's sensitivity for nuance.
James and his longtime bandmates, bassist Stewart Fritchman and guitarist Tod Morrisey, have assimilated all the various styles with which they have experimented in the past, to create a potent and forceful ensemble capable of fashioning rich textural moods of great intensity.
Songs such as "We Play Girlfriends," "Open Secret" and "I'm Your Dad" are familiar as bearing a specific Neros quality. But gone is the overgrown swagger and flash that linked the band to influences such as INXS and Simple Minds, now streamlined into a tough, gritty sludge akin to Smashing Pumpkins, Nirvana and Dinosaur, Jr. with touches of Frank Black and Afghan Whigs stirred in. They contrast that bluster with piquant mood pieces such as the odd "Smoother," indelible "Togetherly" and the pensive "Japanese Train;" demonstrating a connection to the pop/jazz of Talk Talk that first appeared in the work of Neros on their previous recording.
The hit of the set is probably "Sodium Light," which combines slashing guitar/bass rhythms with Angell's rowdy reading of lyrics encoded with knowledge that only the green could fully comprehend.
But it is the touching, wistful whisper of "Sunshineface Girl," a wandering syncopated ballad that hits the hardest. With the sumptuous lyric: "She got it from the man she had/She wants to live so bad/Says nobody understands/ and of course they don't/ We laid out under the trees/Looked up at the clear blue sky/She said I don't want to die/I just started to figure out how to live/She's my sunshine girl/ She talks about her mom/And she worries how she'll make it when she's gone." It's a short song, but sweet and very sad, flavored with flourishes of muted trumpet by guest Eric Matthews. "Shucking the Baby" features a strong chorus with effective harmonies, in a dingy lullaby that echoes a pumpkins-ish tone and feel. And "Frauck X" is a whimsical Kinks-meets the-Pixies kind of thing, which affords Tod Morrisey space for several terrific guitar solos.
With Togetherly, Neros Rome have proven themselves to be an enduring band blessed of the stylistic versatility and impact of delivery that few of their local brethren can supply. They deserve to be heard by the rest of the world.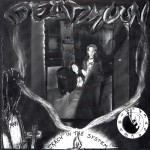 Dead Moon
Crack in the System
Tombstone Records
Fred Cole, the Grandfather of Grunge (see elsewhere in this issue) and his trusty band of Moonies: wife Toody on bass and Andrew Loomis on drums, turn in yet another feisty set of stripped-down swamp sludge.
"Poor Born" struts smartly over Andrew's hammering beat with Fred and Toody contributing a roiling riff, Fred yowling above the din an anthem demarking his long and tortured road to here: summing up his outlook "I'm pissed off, pissed off, pissed off/It's just the way I am."
Barnburner "The Cast Will Change" features Toody on vocals, her girlish voice uttering the same hard-bitten, anti-imperialist dictum as her mate. "Two Fell Away" hinges on Toody's bass-thrumming like bony fingers on the spine of the tune. Fred contributed a wailing vocal and a gnarled burl of a guitar solo.
"Killing Me" is classic Dead Moon. Doomy, minor-key. two-chord dirge: naked as a hundred-watt bulb in an unfurnished flophouse room—loaded with angst and despair. For this band, it doesn't get any better than this.  Over a raunchy. stuttering lead figure. Fred rants against the Power structure of a society that subverts the little man-and he offers a rally-cry to the downtrodden "Break some rules, be a force." Whereas Fred sounds like a very young Bruce Springsteen on the ballsy "The Dead Line;" scatting a hootchy vocal, reeking of whiskey and testosterone, recounting a tale of yer average Dead Moon gig from the standpoint of the band. Effectively Fred details the mayhem that a hand must endure simply to perform.
And the band furnish a fresh take on Dylan's "The Times They Are a Changing," blasting through the thirty- year-old anthem from another era with characteristic aplomb.
I guess it's safe to say that Fred and Toody Cole, that Dead Moon will never change. Their loose and riotous approach to the pop song format offers energy and conviction as a trade-off for gloss and precision. It's always worked for them before. It's still working.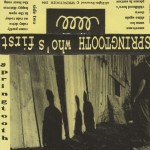 Springtooth
Springtooth
Self- Produced
It's not entirely clear how available these cuts are, but ex-Dharma Bum guitarist Eric Lovre's new band Springtooth warrants mention all the same. With Barry McAlpine joining Eric on bass and John Studer on drums, the Springtooth sound is a little heavier than that of the Bums. "America" features Lovre on vocals, and rings with the clear and clean guitar for which he was renowned in the Bums. Vocally Eric can hold his own, sounding a little like Soul Asylum's David Pirner at times. McAlpine handles the vocal duties on ''In the Open." singing with emotion and strength; while the ensemble cook over a hopped-up Neil Young sort of riff. Drummer Studer cooks, his big-beat kit snapping and thumping like a mainsail in a typhoon. Lovre singes the airwaves with a succinct and searing solo.
Lovre returns to sing "Paper Fuse," a snarling-toothed rocker with a soft center. Lovre has power as a vocalist, though his pitch is occasionally some- what suspect. A little time in the trenches (and possibly some instruction) should assure Eric success in that regard.
For a band only recently formed, Springtooth are very tight and show a lot of potential for growth and development. Their bright, keening sound is sure to win many fans.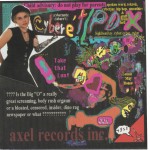 Various Artists
Cyberét PDX
Axel Records
A circus for the ears, a cabaret in plastic, a Fellini flick in a tiny case. Cyberét PDX provides music from acts as diverse as Anal Solvent, Soul Rhythm Soldiers, Caveman Shoestore and Daniel Mensch, while traversing to less familiar turf with poetry of Katherine Dunn and Steven Spyrit. And other lesser knowns are given equal time in this unique approach to a compilation.
Katherine Dunn's stunning "Ca Ca Boo Cycle" displays a careful architecture of wry sarcasm and jaded insight- the squalid saga of a greedy, gorging king. Dunn's stirring use of language and gift for invention and image lend her cynical monotone a sense of menace and horror.
Anal Solvent's drowsy rap "Van Allen Belts" creates a languorous mood, while contemplating the limitations of contemporary society. And talk about creating moods, Hassenpfeffer's Botielus tours the boundaries of popular song, erecting a tiny constellation of lyrics within a galaxy of sounds and textures that is the exciting piece "The Choice." A scintillating chorus binds the random elements that circulate through into one unified, stupendous work. Well done. Alf Rider Wolff treads similar turf with "Live and Let Live."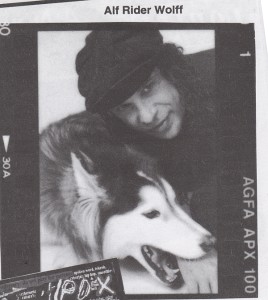 Soul Rhythm Soldiers' "Bass Black Soul Attack" gives an indication why they are at the top of the local Hip Hop heap. Rider Wolff's "Utterly Uniks" combines elements of Schopenhauer, Cage and Satriani in a minute and a half of mayhem. Janie Axident's "Bourgeoisie Baby" recalls the best and worst things about Missing Persons.
Shirley Sanders' husky and dusky contralto is unique and compelling on her song "Follow Your Dream." A duet between Shirley and Elaine Summers, or McKinley, would be too much to hope for, I suppose. But it's a thought. The slick jazz arrangement of Rider Wolff's "Only, Only One" features appearances by Ron Steen on drums and Glen Moore on bass and the winsome vocals of Beth LaLeigh. The tune serves as a stylish departure in the context of the rest of the compilation: guitar, percussion and voice into a rich pastiche of ambient orchestration.
Duoglides' Jo Haemer combines her stellar classical guitar work with Jim Cuomo's virtuosic manipulation of the domra and Glidophoe (whatever they are) Steven Spyrit's "Temple of the Orgasm" integrates equal parts of evangelistic fervor and Firesign Theatre sacrilege into a paranoid diatribe for and against the benefits of getting off.
"De Men" is a strange sonic installation sprung from the demented dross of Daniel Menches' subconscious. Fans of Lennon's Two Virgins and Life with the Lions take note. Caveman Shoestore present the utterly stalwart and challenging "The Hugest Hopper," a tribute to ex-Soft Machine bassist Hugh Hopper and an excursion into technical wizardry of the highest order.
Axel Unbehaun and Ali Rider Wolff are due commendation for assembling a compilation full of intelligent variety and exemplary execution on their Axel Records label. There is something on this recording for just about anyone.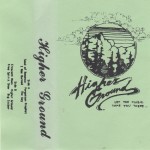 Higher Ground
Higher Ground
Self-Produced
Higher Ground have been making huge waves in the five or six clubs that comprise the Eastside scene, with the feel-good Deady acoustic-flavored folk. This eight-song debut is a fair appraisal of their talents and strengths.
Allen Glickenhaus' adept violin and mandolin work lend color and spice to David Kronenberg's acoustic guitar and vocals on "Seed of Romance." "Forgotten Prophet" perpetuates the vibe with a blusey-edged breakdown that show- cases some fine ensemble interplay and the bands' propensity for dynamics. "l was Burned" calls to mind Uncle Tupelo. "The Key" recalls the Dead's "Friend of the Devil," suffering not at all from the comparison.
"Crescent Moon" relies on strong vocal harmonies and an energetic rhythm section to propel the tune. "Higher Ground" follows with similar propensities. The tricky 12/8 time signature and Bach-like bassline of "Free Spirit Show" sustain a sense of drama and urgency to a memorable song.
As one of the key components in the burgeoning folk movement that is developing on the Eastside, Higher Ground present thoughtful, friendly music that lingers in the senses like a bottle of fine dry white wine.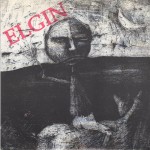 Elgin
"George and the Pearl/Eastern Grouse"
Grinning Idiot Records
Elgin is a Eugene-based three-piece that features bassist Charlie McClain and guitarist Max Striplin from the now-defunct Now William. They play a smart brand of rock that worms its way into the unconscious brain with relentless vigor.
"George and Pearl" develops slowly in 12/8, before erupting in a violent crescendo, turning in constructed circles of guitar and bass interplay. The snappy fox-trot of "Eastern Grouse" threatens to turn ugly several times, before working itself into an odd groove that serves as the foundation for even weirder vocals.
Elgin won't be for everyone. Their idiosyncrasies will prove too foreboding for the musically faint of heart. But for those who are among the adventurous of spirit there is much here upon which to chew.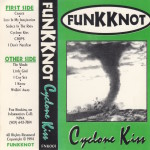 FunkKnot
Cyclone Kiss
Self-Produced
Several slabs of tightly constructed funk grace this nicely packaged recording from one of Mistyviile's rising young bands. Here's a three-piece unit that has no difficulty filling up the some space with choice licks.
Solid vocals and seamless harmonies are the hallmark on "Crazee" as on all the cuts. Guitarist Brian Copeland and bassist Scott Blaylock (all three members sing) fashion times. And very hip. Check out the quick Bill Withers reference on "Lost in My Imagination."
Some of the material is a little weak. The title tune doesn't really go anywhere. And the ballad "Solace in the Rain' sucks. But the good-natured rap of "CHIPS" is well tendered, with nice '70s flourishes abounding. Similarly "I Don't Need 'Em' and "The Shade" stylistically recall Sly Stone and Parliament. And "Little Girl' fits in nicely with the lounge-cool thing that is currently very hot in LA.
As a ballad, "I Can See' works far better, hinting at a '60s Classics IV kind of thing. Copeland contributes a well-hewn solo on guitar. And ''I Know' incorporates a variety of styles to moderate success.
But as a funk hand, FunkKnot show real promise, dispensing a cool form of the genre in a way that sparks with originality. If they will bring the quality of their material up to the standards they display with their musicianship, I can assure for them a bright future.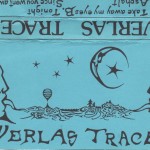 Verlas Trace
Verlas Trace
Self-Produced
Three brothers, a cousin and a Russian expatriate are the cntx of this interesting new band who hearken to other sensitive bands like U-2, Tears for Fears and C.S. Angels. Crritarist Dennis Leontyev establishes dense layer; of guitar which act in conjunction with Pete Rassmussen's keys and reeds and the very subtle rhythtn section of Woody Rassmussen of bass and John Rassmussen on drums, to serve as a wash of distinctive coloration of ethereal hues. Cousin and Vocalist Blair rides the surface of these musical clouds.
"Take Away My Eyes' thunders in a heartbeat pulse, an hypnotic fog of lightning and tears. Leontyev's discretely defined guitar tones murmur in recurring wordless syllables the introduction to "Asphalt" as Blair enters for a soliloquy empowered by impassioned restraint.
Leontyev is a guitarist of special note, with a characteristic flair for the instrument that is shaped definitively by his heritage—having only moved to the U.S. in '89. His melodic sense is unerring and singular. And he even displays some ability to rock on "Tonight."
Dennis' roots are more clearly heard in the plaintive chord movements of "Since You Went Away." The Rassmussen brothers deserve praise for their disciplined support. Verlas Trace could do well at Laurelthirst, East Ave., and Mark's Hawthorne Pub. Their appealing brand of European folk music is a confluential assemblage of pleasing effect, and is meritous of closer scrutiny.
********************************************************************************************************
 Fifteen Years of Two Louies: A New Format
This issue marks the beginning of a new Two Loules format. The new logo, cover and standing heads were designed by Kim Roadruck—who also designed the last TL format change in March of 1983…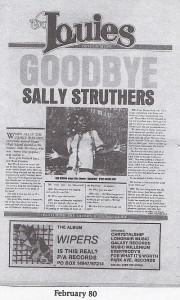 December 79—Two Louies begins publication. "Paydirt" a Penny Allen film, with Buck Munger prominently featured, makes the cover.
January 80—Pierre Ouellette (who played in Paul Revere and the Raiders and Don & The Goodtimes) writes of Rock Survivors in Oregon. Himself included.
February 80—Ren Woods get a deal with CBS Records and a lead in "The Jerk". Jeff Lorber moves to LA. Mike Jaye interviews Klmbo Smith in Hollywood.
March 80—TL publishes an unautho- ized cheesecake picture of  Johnny Koonce on the cover—drawing Jon's ire and Willamette Week's fire: They call us a "rag". We have arrived.
May/June 80—Mark Spangler profiles Curtis Salgado's plight . Model for Belushi's Blues Brother and he still can't get no respect.
August 80 —Kurt Olsen follows up with "Brothers  in Blues," highlighting Robert Cray's regional success.
January 81—Otis P. Otis interviews Greg Sage. Sage discusses the new Wipers' album, a video with Mike Lastra and his admiration for the work of Chris Newman (then of the Untouchables). Buko joins TL as photographer.
July 81—Kurt Olsen catalogues Billy Rancher's emergence on to the scene with the Unreal Gods, with insights into the bands' preparations for their fabulously successful debut gigs.
August 81—Gary Aker captures the debut of Chris Newman's new band Napalm Beach – proclaiming him "Jimi with Bowie overtones." September 81- Aker pens one of his most celebrated tirades with "Sequel to What?"— A classic hatchet job, the reverberations of which lasted for years. The opening salvo in a long-standing feud between the Louies and the Sequel/Bob Ancheta KGON empire.
September 82—Michael Adelsheim, while reviewing the work of Fred Cole and the Rats,  remarks " Well I for one salute this change of direction, not being a lover grunge for grunge's sake," coining the term long before it became a fashion trend and life-style.
November 82—Buck Munger discovers Billy Kennedy playing at the Saturday Market and proclaims him a star.
January 83—Isaac gives Gary Aker a public spanking in print, after Gary portrays Isaac as a corporate puppeteer, pulling the strings on a number of bands. A whinefest of the highest order.
December 83—Michael Burgess hangs out with the mastermind behind D'anse Combeau, Jon Newton. and comes away impressed.
January 84—S.P. Clarke begins his TL career with an interview with Quarterflash's sound technician. Michael Burgess hangs out with Billy Rancher and comes away scared. Buko promoted to Heavy Metal Editor and begins "Metal Munchies."
March 84—S.P. Analyzes the handwriting of local musicians and notices a serious health problem in the abdomen of a then healthy Billy Rancher. Cort Fernald reports on Eugene's Art Maggots—a group of slacker graffiti artists.
May 84—Michael Burgess hangs out with Billy K. and comes away determined to get out of Rock&Roll.
June 84—Carl Hanni digs deep into the Miracle Workers with a two—part study.
January 85—S.P. finds Ed & the Boats, and later joins them.
February 85—S.P. advocates lo-tech gonzo home recording as a means to create band demos and product—is subsequently hammered by the local equipment dealers. In great detail. lrv Canfield covers the debut of the Dan Reed Network.
April 85—Canfield uncovers the Jackals.
June 85—Pat Snyder joins the TL editorial staff, dragging fledgling Marty Hughley with her.
July 85—SP determines that Bruce Springsteen has ripped-off Billy Rancher's act and explains how.
January 86—TL previews S.P.'s feature on the local scene for the "Portland Spotlight" issue of Billboard.
April 86 —TL reviews the meteoric rise of Nu Shooz on their way to the top of the charts.
May 86 — We interview the Rlflebirds, dislodging Brady Bunch influences.
August 86—TL spends a day out on the Summer sunlit Columbia, fishing for sturgeon with Billy Gibbons of ZZ Top.
October 86—S.P. joins Ed and the Boats and begins an 18 month TL journal that eventually incurs the wrath of Dave Corboy of the Jackals; and conducts Billy Rancher's final interview with the press.
November 86—Fred Cole joins the TL staff with "Great Lies of Local Rock & Roll." Bart Day begins his tenure as the TL "Legal Ease."
November 87—We review the first gigs of the Dharma Burns and gives a big thumbs up—telling Jeremy to calm down.
April 88—After witnessing first hand the Fire Marshal hassling George Touhouliotis at Satyrlcon: S.P. concludes that the city wants the club out of that locale and predicts eventual trouble.
May 89—TL attends the first NAMA convention in Seattle and comes away with mixed feelings.
April 90—SP. spots the Daddies and calls them the Crazy 8's of the '90s .
May 90—Riot at Satyricon. The real truth emerges.
June 90—TL focuses on Love On Ice with a positive forecast.
January 92—S.P. proclaims the Eastside the future hub of the future music scene.
June 93—Michael Allen Harrison joins long list of Rock Alstars to grace the TL cover in uniform.
October 93– TL bathes alone at Blue Lake Park at the ill-conceived Phantasmagoria boondoggle.
December 94– TL celebrates its 15th anniversary.
********************************************************************************************************
The Tragedy of Sheilagh Conroy
I first met Sheilagh Conroy about three years ago.  At the time, Sheilagh Was designing the menus at Belmont's Inn and doing other artwork for the club, scrapping for every penny—having been recently separated from her husband Bob.
Sheilagh was known in many circles as the creator of Bob the Weather Cat, whose pictures were seen frequently on KATU-2 weather foecasts. Sheilagh took great pride in crafting a unique outfit for each of Bob's regular television appearances.
Foremost among Sheilagh's many qualities was her smile. Like that of at Cheshire cat, her wide upturned grin seemed to contain more teeth than her mouth could hold. They spilled across her face with highly contagious glee. And encasing that constantly beaming mug was a Sphinxian mass of angular brillo hair that never moved with even the slightest of vibrations, despite the fact that she had the metabolism of a hummingbird.
She bemoaned the fracturing of her family—that her two young children were suffering over the separation of their parents. She had rented a small house, only two blocks away on Belmont. She didn't drive, so she didn't have far at all to walk. But, best of all, the house had a fenced back yard where her son and daughter could safely play. Sheilagh always saw the best in things.
She spoke of what she hoped to do as an artist. She wanted to have shows, envisioned the installations she would construct.
Sheilagh Conroy was a vibrant, vivacious, intelligent, talented charming and very kind woman who was senselessly murdered March 21st in the prime of her life.  Sources differ as to whether Sheilagh was killed at the front door of Belmont's or in the kitchen. Either way, the front door was reportedly locked when her body was discovered. The killer either left by the emergency exit at the rear of the club; the door that exits into the rear alley from the kitchen—or had a key, in order to lock the front door on the way out of the club.
An unnamed second woman was questioned by the police upon their arrival to the scene, then promptly disappeared and has not been heard from since. She will be greatly missed by those who knew her.