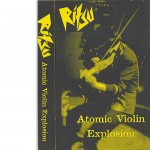 Atomic Violin Experiment— Ritsu
Self- Produced
Hold on to your hats folks. Ms. Ritsu Katsumata has lately arrived on the scene to blow you all away. She does something new and different. Electric violin like you've never heard it before. Those of you who may have soured on the notion of an amplified violin in a rock context— a seemingly oxymoronic concept,to be sure, would do well to give Ritsu a listen.
Her violin is a custom-made job that more resembles the neck of a Fender guitar, which she would appear to be playing from the wrong end. It may look a little strange, but the sound sound she wrings from those four strings is more akin to Jimi Hendrix than Papa John Creach. She plays through a stack of Marshall amplifiers. And the  pyrotechnic bombast which she generates arises from technique rather than a whammy-bar— although one can't be certain that she isn't using a whammy-bar upon the odd contraption from which she elicits such an amazing array of sounds. She uses Jimi's "Star Spangled Banner" as a stepping-off point.
Ritsu was trained from childhood as a classical violinist. She was a soloist with the Philadelphia Orchestra by age eleven. But, after nearly twenty years spent toiling her craft and only months before entering the masters program at the illustrious Julliard School of Music in New York, she made the choice to take a hard left. She and her husband migrated to Portland, where Ritsu could better explore her interests in forms of music outside the realm of the classics.
Notwithstanding her placement (and eventual disqualification) as a finalist in a Jimi Hendrix guitar wank competition at last Summer's Bumbershoot, she demonstrates that she has done more than learned to create elephant sounds on her instrument. Ritsu has obviously spent as much time listening to Hendrix as  iolin like you've never heardaying from the wrong end. It mightpoint.r nearly twenty years spent hon, studying and Page Paganini. Therein lies her unique.
Check out her impressive take on the bluesy " Floor." She doesn't sound so much like Jimi as Duane Allman on Derek and the Dominoes' "Layla." Swooping and soaring like a drunken sparrow, Ritsu executes spectacular speed runs with deft aplomb.
"Mofo" allows Ritsu to showcase both her intricate fingerwork and clever chordwork. Small wonder she was disqualified from the guitar wank-off. She can educe attack and tonal variation with a bow at which any plectrum happy plucker can only marvel. Her rendition of Zep's "Rock 'n' Roll" is out of this world from the Chuck Berryish intro to the screaming verses. From there she segues into the surf classic "Pipeline" without missing a step— her virtuosity swirling like the East wind up the gorge.
The more experimental aspects of "Gato Negro" surpass any sound a guitar could ever produce. Ritsu fully comprehends the violin as a rock instrument, understands possibilities in the instrument that no one else has ever displayed. And hey, haven't you been asking yerself lately "whatever happened to wah-wah violin?"? Well Ritsu provides the answer you might not have been looking for with the strange first half of "Goin' South." From there she courts the realm of "Orange Blossom Special" (though "Orange Blotter Special" would seem infinitely more appropriate here).
Ritsu Katsumata can jam with the best of them, as this recording makes perfectly clear. Her talent is monsterous. All that she lacks are more complex ideas in the areas of chord structure and melodic development. Currently she seems to be intent on establishing herself as a credible guitar player, emulating popular rock guitar cliché with formidble ease. But endless solos, no matter what instrument they are played upon,ut endless solos, no matter which soon become tiresome. Wanking is wanking wherever you find it. Ritsu seems capable enough to find a way to develop her abundant talent to a higher and more precise degree.
Still, you've never heard anything like this. There is nothing that she need prove to anyone. This is completely different, totally unrivaled.
Dig It— Twig
Self-Produced
Twig emerge into the fray with a pedigree all their own. Singer/songwriter Gina Noëll whetted her chops with Napoleon's Mistress and Pop Theology. Guitarist Kennedy Payne was a founding member of Killing Field; and keyboardist Wayne Thompson is in Tales Untold. Together, with the rhythm section of Jerry Swanson and Mark Raney (and a host of guest stars), they author a lovely, restrained sound— perhaps a little like an American version of Cocteau Twins or an English Aimee Mann: ethereal pop.
Payne's layered electric guitars form the foundation for "Strange Secrets," as Gina whispers celestially through the verses before seizing upon the memorable chorus.
"Selling The Moon" could be an Aimee Mann tune, Gina's girlish delivery adding the definitive naiveté to the mood.
Another strong chorus and a well thought out bridge mark "Trip To Feign" as a keeper. "When You Say" is another charming number, propelled by Payne's murky acoustic guitar and Gina's tender vocals. "Vesuvius At Dawn" maintains the atmosphere, subtly recalling the early days of the Pretenders and Blondie.
Thompson contributes a gospel tinged piano to the ballad "Apology"— a fairly straight ahead piece, nicely rendered. A laid back martial beat marches behind the simple guitar arrangement on "Fallen Seed," a pretty song, that never quite takes off; holding to the strict framework throughout.
So grows the tree, as they say. This Twig seems supple and strong, with a lush blush of new growth sprouting in all directions. What is lacking here is raw emotion— the action seems entirely premediated; at times over-wrought. This can often be attributed to basement-itis, a malady that can befall a young band who have spent a lot of time rehearsing parts in an environment devoid of audience interaction. but that's overcome easily enough.
It seems likely that a few gigs will breathe passion into these well written songs. This recording serves as a nice introduction to Twig, but it certainly isn't the last word on how they may sound in a month or two.
Self-Produced
Here is a very new band with a lot going for them. Sounding a little like Weezer or Better Than Ezra, this trio of young musicians combines catchy melodies with thoughtful lyrics to craft memorable alterna-songs that could easily fit onto most college radio playlists.
"What's The Big Idea" is a good case in point. It's a song whose roots are in the turf of Buddy Holly. But like Weezer, Thistle transforms those musical ideas into something that sounds very contemporary and fresh. Vocalist/guitarist Dave Curtis has an endearing voice, a touch of irony skirts the edges of his delivery. His guitar solo echoes Holley's "Words Of Love" in it's ringing simplicity.
"Sanctum" takes a different tack, skittering along like a possum down an alleyway. Curtis fires off the libretto in a stacatto fashion, while drummer Dusty Hayes and bassist Kelly Simmons provide a modified ska rhythm underneath the verses. The simple chorus "Oh my my Heaven/Oh my my Eden/Oh my my sanctum/Someday," sung in homey three-part harmony, is as powerful as they come. This song has "hit" written all over it. Irresistable.
"Toys" moves back toward the affable, with a wacky sensibility: "Gotta grow up/Gotta grow up/Gotta grow up/But I wanna be a Toys 'r' Us kid." Curtis turns in a fine guitar solo in the middle, as Simmons' bass bubbles beneath.
Another interesting mindset invests the lyric of "Forever In Blue Jeans"— "Money talks/But it can't sing and dance/And it can't walk." Curtis approaches the vocal in a Lou Reed croak. A harmless, quirky number. "Mean The Moons" utilizes an unique metaphor to give the uncomplicated love song a special quality.
Bleak and bleary, "Six Years" offers enough homespun introspection to prevent the cut from becoming morose or self-pitying. "I don't want to know/About some overnight successful clone/Oh, some rich kids just inherit what they own." An upbeat change of pace follows with the fat and sassy "Tried And True," a blustery hopscotch down a hardslate musical surface. Short and punchy.
Thistle impress on many levels. Their few live shows prove they are not mere studio drones. , Thistle are a that While not all of their material is of the highest calibur, those tunes that shine through portend great things for this fledgling convocation. They would seem to have a bright future ahead of them.
The Trance Plants— The Trance Plants
Self-Produced
The Trance Plants are another vibrant young band. Their line up includes a drummer and two percussionists as well as a sax/flute player and the usual guitar and bass combo. The infuse elements of acid jazz, ska and hip hop and other World musics, living up to their name in the process.
Recalling the Specials, "Terwilliger Curves" is an extended jam between the saxist Kevin and Geoff the guitarist, while drummer Matthew and pecussionists Chris and Brian percolate underneath with Scott's rubbery bass. "Trancendancelism" is nifty piece of Reggae rap, woven around Kevin's lonesome sax theme.
Further skankiness abounds on the funky "U.S. Princess." Kevin and Geoff duet nicely in the break, before Kevin launches into a hot, jazzy extended solo— calling to mind Paul Desmond in his Brubeck Quartet prime. "George The Butcher" blends bluesy flavors to the ska gumbo, while keeping the energy level at a fever pitch. "Bed Of Roses" adds a certain Irish jiggish quality to the mix with great success. Geoff swings into tasty funk riffage during the solo section, while Kevin wails and the drums cook in a rhythmic trance BailissReeves Siroka rLantaff Gallo , Taylorin
. That same  funky feel floats through the Plants' version of Burning Spear's "Tell Me What Love Can Do For You."
Geoff and Kevin contribute another crisp duet to "My Father's Hand," a tune where the percussion holds the main focus. "The Earth's Alive" moves into a latin feel, where Geoff contributes a  hip hop and other World musics;icely in the break, before Bailiss            Reeves and Bailisscool vocal, reminiscent of Donald Fagen in Steely Dan's Countdown To Ectstacy  period and War in the "Spill The Wine," "Lowrider" years;" with a little Talking Heads. This track has a familiarity about it that distinguishes it among the other songs in the set.
"Rise Up" interweaves Middle Eastern melodic themes with African rhythms for another winning combination. Bailiss' "Bolero" references in the sax solo commingle like smoke and dust around the hypnotic fire of the percussion. Another strong duet between Reeves cello-toned guitar and the coiled cobra of Bailiss' sax.
The Trance Plants take Reggae and Ska into many original areas of exploration, in a world tour of nuance and coloration. But wherever they choose to make port, they remain at all times irresistably and unrelentingly danceable.in at all times
Shrubbery— Shrubbery
Self-Produced
Yet another example of the endlessly recombinant nature of the local scene, Shrubbery features Roland Klasen on lead guitar. Roland last surfaced in a stint with Bombshack awhile back thrown in . He is joined by drummer Chris Bond, who backed lead vocalist Tina Purdy in Naked Lunch. Tina has carved a name for herself singing with Lunch, The Pheremones, Little Green Truck and the Oblivion Seekers, as well as guest appearances with numerous other bands around town.
While diminutive in stature, nonetheless, Purdy is blessed with a very big voice, which she has learned to reign in over the years. She's all over the rattlesnake shake of "Weather Song." As Klasen unfurls a dark filligreed riff over Jim Barber's ungulating bass line, Tina belts out the lyric with unabashed verve. Roland contributes a sizzling solo in the middle before resolving into the signature theme.
"Sometimes" is a blues tinged number which allows Tina indulge the ragged edges of her powerfully supple voice. Klasen adds a smoldering guitar line to the hard charging "Nothing Simple" as Tina erupts through the molten chorus— strong chord turn in the chorus   where a  strong chord turn melds with a volatile rhythm for the most engaging effort of the three offered here.
Shrubbery a hard hitting, no frills approach, which is not to demean their musicianship. They play with enough flair to lend distinction to their volatiledisplay incendiarynature; with enough restraint to give it authority. That is a successful endeavor every time.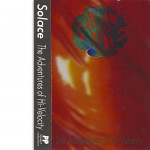 The Adventures Of Hi-Velocity— Solace
Pleasant Productions
An aptly titled production serves as a fine introduction to this talented Salem quartet. For they seem to play every song in intricate double-time. High velocity, high density, high voltage, high profile stuff all the way.
Vocalist Dave Turner leads the band through the hairpin curves of "Hole" with a tongue twisting rampage. Whereas "Stoney Stephenson" features a very cool breakdown with a stirring rendition of "Bonanza" delivered by Turner and fellow guitarist Branin Bowe in the finest twang-bar style. Bassist Everett Horvath drives the tune with plucky authority.
"Jake" works off drummer Kevin Claggett's seductive beat and Turner's savvy vocal performance. Solace are nothing  if not a cohesive and well-drilled unit. Check out the swanky swing of "Johnny II" for further evidence. Turner's vocal approach is smooth and assured, yet evocatively passionate at the same time- like equal parts Billy Joel and Eddie Vedder. Yikes!
Riding on the churning guitars of Turner and Bowe,"You Meant"  bursts with energy, as Claggett jacks up the beat at every turn. "Wide" moves like early Zep, as the guitarists nail the "Peter Gunn" figure while Claggett interjects the Bonhamesque cut-time syncopated drums. Always an appealing blend.  Horvath's stringy bass tone provides the framework for "Get Up," a tune that could almost pass for a Gravelpit composition.
"Take A Shot" changes gears with Claggett's stuttering beat and the funky Doobie double time guitars forming the foundation for an otherwise laid back cut. Working off the chord progression of the Monkees' "Valerie," "Waste" comes off with a certain timeless quality fluttering around it. "I Don't Mind"  would seem to be a retrograde inversion of the previous number, the chord progression seeming to be an upside d own and backwards reading of its predecessor. In a jackbooted sprint, "Swell" flesh the project out with a rousing finish.
Solace offer well-crafted rock that, while a bit derivative, sticks to the ribs and gets into the blood. As such, they rate as being among the better purveyors of the style— and well worth your closer scrutiny.
Plaid Across America— Plaid Pantry Project
Self-Produced
Andy Pribal is a refreshingly novel individual, who give his mind free rein among the twenty songs in this opus. Pribal is best known as the drummer in Forehead. But here he plays all the instruments, laying them down via the pristine medium of the 4-track. And he does a helluva job at it too,
Check out "Goodbye Captain" a big beat rocker with a dirty little guitar riff; churning like an oil rig in the Texas sun. Andy displays an ascerbic wit on "Theme For 'Friends'" investigating the non-significance of the beings who populate the reality of
America's favorite bunch of cute, vapid young people. "Cold Baby Tender Bear" has a certain loveable quality about it, with it's squirrely jaunty lyrics and slightly psycho guitars. "Someone To Speak" spins on a groaning guitar motif that worms into the mind's ear, gnawing relentlessly.
Andy's faithful rendering of Trip Shakespeare's "The Crane" bespeaks deep stylistic roots. The mocking doom of " Plaid Kills Grunge Deader" is a clear indication his his clear and abiding disrespect for all fashion trends and corporate campaigns in consumerism. "Schleppin Makes Baby" is a slippery configuration; slyly sliding though a sordid tale of cold deeds and warm hormones.
It would seem that "Sally's Note" is a direct transcription of a hostile roomate's invective cavils—  which Andy cedes wryly and succinctly. "Shout It Out Now" makes deft use of a capoed acoustic guitar and occasional brooding electric guitar, sketching out a brief dispairing interlude.
Andy goes a little overboard with the pitch control on "Great Guitarist" before straightening out into an ascerbic tirade. "Battlestar G." is a stalwart instrumental effort, showcasing Pribal's emerging abilities as a guitarist and creator of opaque soundtrack material.
Andy Pribal demonstates a lot of creativity in his Plaid Pantry Project— more than one will typically encounter with undertakings of a far higher magnitude. While twenty songs is too many to digest in a single  sitting, half of the count are unquestionably meritous of repeated audition.unquestionably meritous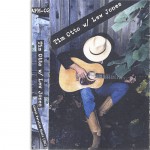 Tim Otto W/ Lew Jones— Tim Otto With Lew Jones
Almost Paradise Productions
A devious sense of humor lurks in the country steeped tunes of Tim Otto. Here the seven songs are given a sprightly acoustic treatments with Tim on the vocals, acoustic guitar and occasional harmonica; ably supported by Lew Jones on mandolin and electric guitar. The result is an enjoyable journey through the hinterlands of Otto's powers of observation.
"Just Like Hank" skips on Tim's acoustic guitar and Lew's bracing mandolin phrases, while pondering the pratfalls and profundities that life sometimes bequeathes to the vigilant. Like wise, "Bury Me In My Car" reflects the wit of Jerry Jeff Walker, Kris Kristoferson and John Prine in its prosaic certitude.
An allegorical narrative of two misguided souls (Kurt and Courtney perhaps) endows "The King And The Princess" with an austere perspective, which only barely falls short of outright cynicality. "Noble Effort" mirrors Townes Van Zandt lyrically and ELP's "Lucky Man;" neatly embellished by Jones' understated electric guitar.
While the energy level here is not likely to set the world on fire, the repetoire is wrought with simplicity and honesty: two virtues only infrequently seen in our world of the overt and the grandiose. Tim Otto has achieved a rare feat that should not go unnoticed.