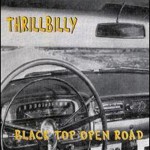 Black Top Open Road-Thrillbilly
Self-Produced
The long awaited, definitive full-length recording by Thrillbilly is finally hitting the streets. Since the band has been pounding the pines around town for four years or so, it's been a long wait indeed. And for fans of this no nonsense rock quintet, the thirteen songs presented here will seem worth the delay.
Most of the material is uptempo, country-folk flavored, straight forward stuff; no frills, no filigree. A jangly hoedown with a message; although the Billy boys throw in a few changes of pace to keep the set interesting. Lead singer J. Bowman is a writer of simple songs, borne of a lifeworn wisdom, that is tattered at the edges, but strong at the core.indeed. And for fans of this no-ne of a lifeworn wisdom, that are
From hardscrabble rockers such as ""62 Merc," "Warm Up" and "I Feel Gone" to chiming, REM flavored tunes— "My Wild 9th," "Drunk On Sunday," "Windows" and "All About You," Thrillbilly carve out a crisp, rich sound. It's comprised of equal parts: rockabilly, folk, John Prine/Jerry Jeff Walker-style country, and flat-out, roadhouse rock. As such, this is a potent combination; but oftentimes difficult to capture in the recording studio.
Such is not the case with Thrillbilly.  Bowman's insight into the human condition, and skill at setting those observations into words, help to draw focus to his singing voice— which, while somewhat nondescript, still evinces comparisons to Jerry Jeff and Prine, and even Leonard Cohen. It's Bowman's intense humanity that draws the listener into the tale he has to tell.
"American Sex" charges hard, on Mark Dybvig's jagged guitar and Doug Lindstrom's more frangibly textured guitar; while the rhythm section of drummer Tom Killman and bassist Davey Hall hold down the beat. Bowman  wryly states: "Yeah I don't got  no gold card/ though it's a good personality trait/ It ain't me you're looking for/ I can't afford the daily rate," as Dybvig launches into a well executed solo.
The boys' take on Kal Tanner's "El Dorado" nicely illustrates the band's rockabilly side. But "Pieces" sounds more like Richard Butler and the Psychedelic Furs than any band on this side of the Atlantic.
Still, the heart of this band lies in rousing numbers like the raucous, harmonica driven "My Wild 9th" and classic, Stipe-like rocker, "Watchin' USA."pe-like rocker, "Watchin' USA." And for a true clue as to the roots of J. Bowman and his rowdy mates, one need look no further than into the Haggardesque live rendition of "Multnomah County Jail," wherein J. opines: "Well the cops that worked me over were Portland's fines/ They had a rhythm as they cracked me with their nightsticks/ I wasn't looking for trouble, but trouble looks for me/ And the DA's a reincarnate of Mussolini."
While Thrillbilly are not likely to garner any acclaim for overt subtly, they parcel out their hubris with large dollops of good humor and tight ensemble work. The general effect is to give the impression that they are effortless in their unbridled exuberance, yet of a tighter rein as to their musical arrangements. For this reason, Black Top Open Road  stands out as a solid studio recording of a tumultuous live band.
Broken Records/Burnside Records
The Tree Frogs have honed their chops over the past several years, primarily through the time honored method of gigging all over God's green earth as often as is humanly possible. The result is that the band has transformed itself from just another Grateful Dead-like tadpole jam band into a full fledged leaper— a real jumping frog.
They have sharpened their presentation immeasurably. Each of the ten songs presented here has its own unique contours, its own exquisite sheen. Masterfully engineered by Todd Norton at Falcon Studios, these well crafted, well executed songs stand as true testaments to the effort the Treefrogs have dedicated to the fine art of giving a composition what it needs. No more, no less.
The Tree Frogs have mastered a deceptively simple zen principle, and one of the primary tenets of modern music: less is more. For in a band comprised of two lead vocalists who play guitar, a backing vocalist who plays electric piano, harmonica and percussion, a backing vocalist who plays sax, flute and percussion and a bass player and drummer— why the possibilities for musical chaos are seemingly endless! And the Treefrogs, no doubt explored many of those avenues on the way to the path of true wisdom.
That the band is bequeathed of two strong, yet decidedly different songwriters, only furthers to enhance their diversity. Rhythm guitarist John Henry Bourke tends to supply the more upbeat numbers, typically endowed of  funk, gospel, or soul tinged roots that seem to come by way of the Grateful Dead. Check out the feel of "USA" and "Shine A Light." The funkier stuff shows up on "Love Train" and "Tear Down The House."
Lead Guitarist provides the moody aspect to the material. The bittersweet chord progression of "Surrender" brings to mind the early Gin Blossoms until the bridge, where Rob Matthews interjects a jazzy
Fred Stephenson  sax interlude. He returns later for a higher energy solo, before the song resolves into the scuttling rhythm that drives the verses and choruses. Finally, a flute section, contributed by Matthews to initiate the extended fade, leads the number in a different direction, resolving in a romping interplay between the guitars.
Based on a similar three chord movement, Stephenson's "Love So Lonely" sounds even more like Gin Blossoms, with maybe a touch of Counting Crows layered in, for good measure. Over ringing guitars and Jeff Haigerty's thick block chords on the piano, Stephenson sings with a matter of fact forlorness. Matthews steps forward with an airy flute solo in the middle; then Haigerty joins the fray, adding a tasty harmonica foray, before the vocals return for the finale. Here, as everywhere else, seamless harmonies meld with the lead to form thick, aural custard. Yum.
These songs are much too long. Averaging seven and a half minutes, each tune exhibits the characteristics that make of it a favorite at all those live gigs. But for the average home listener, addled by Attention Deficit Disorder, these numbers would seem to ramble a bit.
That being the only complaint, the Treefrogs have done quite well for themselves. For there's not a dropped beat or a missed note. The music is tight and spot on, the grooves are wide enough to drive a hay baler through— and the songs themselves are compelling enough to invite something more than casual scrutiny. Not bad, I'd say.
Self-Produced
Fresh from a triumphant return to his stomping grounds in Austin, Texas; and a well-received spot at SXSW, singer/guitarist Jeff Groves and his trusty rhythm section of bassist Donald Corey and drummer Todd Bishop are releasing this ten song compilation, to better familiarize Portland with the Raging Woodies powerful sound.
There's several re-takes of Woodies' favorites and three new songs here, for those among you already familiar with Groves' knack for a memorable song and an unforgettable delivery. However, for the uninitiated, this recording would seem to be the perfect primer.several new versions
"Lily White Boy" is a hot remake, showcasing Jeff's move from amplified acoustic guitar to Telecaster as his main axe. The switch has toughened considerably the already quite aggressive intrinsic Woodies' sound.
There are, Woodies' sound; propelled to a substantial degree by Bishop's unerring ability to pummel his drums relentlessly, when the situation calls for it.
A new track, "No Protest Song," rides upon Grove's dilligent flatpicking on acoustic guitar and Bishop's head-snapping snare shots; while Corey directs the movement with a walking, skipping bassline. Jeff's voice bears many smoky, whiskey drenched characteristics in common with masters such as Bob Segar and Bruce Springsteen— capable of plaintive, dusty weariness on a ballad, or of blistering paint on a rock number. This cut navigates both sides, as it evolves into a hard slamming gunfight by tune's end. Here Jeff gives a bit of an Elvis Costello feel to the vocal lines Check out Todd's surreal drum fills in the turn arounds. Incredibly intense.
Another new production, "Green & Orange/ Hallelujah," showcases Corey's chops on bass in the intro, allowing him space for an extended solo, as Jeff arpeggiates hypnotically underneath. Slowly a swampy, slide guitar driven alligator stomp becomes the "Hallelujah" section. Cool guitar filigrees and slamming chords dance around Bishop's manic drums— offset by his delicate handling of the softer passages. Todd rates as among the elite of Portland's rock drummers. Just remember, the two d's in Todd stand for dynamics.
"Happy" is given a wobbly, Tom Waits-like treatment through the intro, which neatly builds to a powerful Bruce-ish chorus. Jeff proves himself to be one of the great vocalists Portland has seen in sometime, with a stylistic tour de force drenched in raw emotion and heart wrenching pathos. Whew!
It seems odd, that after a year trudging the trenches in Mudville, that the Raging Woodies haven't gotten more attention from local music lovers. They are a band who more than live up to their name. Their music is positively engorged with the red blood of rock and roll; erect with the muscle of power trio firepower. Wow! An American tradition, like Mom's apple pie. A standard by which to hoist the banner of rock and roll.
Swallow Hard Records
Loud Sistah are led by two tough, smart, street-wise young women who can run the gamut from slutty street rap to quoting Eliot's "Lovesong Of J. Alfred Prufrock." Indeed, I guess those are American dreams— or the dreams of a sizable segment of the American public. But that's beside the point . Or is it?
Mary Sue Tobin and Karen Searcy, along with Sax/Keyboardist Melanie Kubik paid their dues with a long stint in Dub Squad (Kubik has also since guested with Quarterflash, among others). Here Tobin and Searcy allow themselves free rein to give expression to their deepest thoughts. And deep they are.
Karen sings in a pure, soulful style on "Crazy Mary," while Mary Sue and Melanie provide the slick back-up vox. Mary Sue breaks on through with the Acid Jazz rap solo on "Go Low." Eddie Esparza's clever, stuttering drum pattern nicely augments Tobin's glib, staccato jive, while a glittering piano solo lights the middle break.
"Weekend Rasta" makes a statement toward token activism, and phony idealism, as Karen sweetly purrs across the sly reggae rhythm. Tobin and Kubik combine for a tasty sax break, as bassist Will Esau Moye pulls down the syncopated bottom end.
A faint sax rendition of  "The Star Spangled Banner" serves as the intro to the title song. Further on, echoes of "The Sailors' Hornpipe" swells up in the chorus with "Hey, Hey are you gonna do that." A scintillatingly seductive number, threaded together with an insistent unison line by the bass and piano."Do What You Can Do" is a gospel flavored number in which Karen takes the lead, as sweet harmonies hang at her shoulders. Guitarist Ryan Waters steps forward with a well placed solo, before the chorus rewturns for a final circle.  Mary Sue's wild piece of funk, "S.L.A.V.E.," outlines clearly, for all interested parties her manifesto; railing against stereotypes in the music business, as well as in society in general. Waters cuts loose with a searing solo, while the piano follows with a little Peter Gunn like riff.
Loud Sistah combine elements of all the aforementioned with latin, jamaican, african and middle eastern flavors to add spice to their intelligent polemic. Searcy and Tobin are the perfect vocal foils: each sounding fiercely feminine and slightly dangerous in her own special way. This is one tight band with a varied, eclectic sound. They are funny and fun, pretty and witty and wise. A heady mix, to be sure.
Self-Produced
Phineas Gage are a very promising young, four-piece band, fronted by talented guitarists Jody Garner and Heather Savoy. Both Jody and Heather write keenly perceptive, sensitive songs that cut directly to the American experience in the waning years of the millenium.
Jody's power chord fable "Chez Disco" calls to mind Debbie Harry fronting The Breeders. Ben Brown's glossy bass lines meld with Tim Reese's sparse but punchy drums to form the backdrop beneath Garner and Savoy's loping guitars.
With the chunky "Sergeant," Heather lends her soft soprano, recalling Juliana Hatfield, while Brown romps beneath her marching guitar figure. Savoy, a comparitive guitar novice, shows great flair and creativity in her solo. "Marie" waltzes madly in 12/8 time, spiraling in a Lush atmosphere, as Heather intones  a poignant tale about the constraints humans place upon themselves. A stalwart performance of a challenging arrangement gives rise to marvel at the sheer possibilities this band drips from every measure, every note.
"Crazyhead" is Jody's contribution to the œurvre  of totteringly dissheveled musical literature, which began with Syd Barrett and Wild Man Fisher; a tradition valiantly upheld by Patti Smith and Marianne Faithful, while begetting a rich spawn in Beck and Kurt Cobain. Her faint vibrato curls around certain vowels before the guitars explode to overwhelm her completely.
Heather flowers like heaven in the beautiful sad ballad "How The Story Goes."Her wistfully pretty voice courts a soaring melody in the verses with childlike ease, while turning defiant on the Cranberry sour chorus. Tender guitars bathe the scene in golden light, as Ben's bass dances across the glistening surface. A fine presentation of a great song.
Sounding a bit like Poe or No Doubt, Jody counters with the biting cynicism of "Mean Spirited," an aptly titled piece of spleen that maintains a sense of humor by way of her whimsically facetious delivery. Ben and Tim provide the slithering sidewinder motivation to Heather's reptilian rocker "Same Song." Phineas Gage could give Veruca Salt or Elastica a run for their money with this number. Very tight. Very hot.
Jody's "Tomboy" mirrors her penchant for daffy verses and ubertrooper choruses, the profound sarcasm of which is deftly augmented by her and Heather's simple, but effective guitar parts.
There are a handful of bands in this town, toiling in relative obscurity, who could quite easily make that "overnight" jump to a major label ( or a major independent label anyway). Phineas Gage are at the top of any short list. Jody Garner and Heather Savoy and their imaginative rhythm section, create discerningly apt songs, full of life and intelligence. While they are young, and not yet altogether comfortable with the rigors of live performance, their auspicious artistic abilities will surely see them through in very short order.
AudioQuest Music
When you talk about paying yer dues, playing the blues fer a city full of bohos, Lloyd Jones could tell you a thing or two about the life of a gigging musician. He's been there for twenty five years now. And Jones' struggle just goes to show, that if you hang with it long enough, something good might come your way, eventually.
This is an unusual recording for several reasons.  Produced on the AudioQuest label, a fledgling offshoot of a leading audio accessories manufacturer based in San Clemente, California— producer Joe Harley was introduced to Jones' singularily crystalline style in faraway Bora Bora while on a scuba-diving vacation. It's a small world after all.
And the set was recorded live to a custom modified two-track analog recorder at 30ips. In lesser hands, such a project could easily turn into a disaster of  jittery jibberish. With Lloyd, it's butter, pure butter.
Backed by percussion, drums, bass, keys and a four-piece horn section, Jones churns and burns through nine originals and a trio of covers, furnishing clear evidence of his mastery as a songwriter, his prowess as a guitarist and his pure gift as a singer.
From the gospel flavor of "I Broke My Baby's Heart" to the hopping r&b of "No More Crying," from the horn laden soul of  "Can't Get You Off My Mind" to the Delta pluck of Sleepy John Estes' "Drop Down Mama," Lloyd touches all the bases in a homerun for the distance. The imperative of a live recording gives an edge to the performance seldom heard in recordings of the past forty years.nothing but             From the gospel inflectionscategorical imperative inherent in Lloyd proves himself up to the challenge. That he sounds like his idols— Joe Tex, Otis Redding, Wilson Pickett and a host of blues guitarists for which I am not qualified to compare him, is only the surface of the legitimacy of Jones' artistry. For, at times, he sounds like Mel Tormé singing the blues; or, more accurately perhaps, like a blues Mel Tormé— which maybe the highest compliment that can be paid to any vocalist.
This is nothing if not a fitting showcase for one of Portland's musical greats. That there is even a remote chance that he may attain even a modicum of national or world aclaim, bespeaks his unflailing dilligence and dedication to a musical form that rises and falls from public favor, but refuses to die. Long live Lloyd Jones. Long live the blues.
Dancing In The Kitchen–  Kate Power
Artichoke Music
An impeccably pristine production sets off Power's spine tinglingly rich contralto over simple and sparse, folk arrangements. Coloration comes not in battalions, but in the simple call of a penny whistle in "Walkalong," or a moaning pedal steel on "Kitchen Waltz," in the wail of a harmonica on "If I Found My Love," or in the cry of a solitary fiddle on "Nova Scotia" and "Sweet Air"
Mandolin by Spud Siegal, pedal steel by Harley James, upright bass by Dan Schulte and back up guitars and harmony vocals by Steve Einhorn and Aidan Brennan, all serve to embellish Kate's simple but well hewn songs and her unadorned, but evocative vocal approach.
The world is full of singer/songwriters, who dream of fame and fortune until the dream dries up like an old maple leaf and blows away on the autumn wind. But there are a few for whom we would wish perpetual spring, constant renewal, so that their music too would always remain fresh and new. Such a wish would be well spent on Kate Power. For despite the passage of time, her muse remains strong, her vision clear.etdiligentDsic. But that's beside the point.