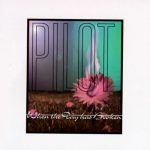 When The Day Has Broken– Pilot
Tim Kerr Records
It's been a rough year for Pilot. This time last year, the band was sorting through contract offers, settling on a deal with Elektra. The future seemed bright. Things looked rosy. But after it had been recorded, Elektra passed on Pilot's finished product. There is probably nothing harder than that sort of outright rejection. It is not entirely clear, but one would presume that this is the project in question.
And with that in mind, one would have to conclude that Elektra made the right decision. It's not that the musicians don't play well. They execute their parts with precision. And it's a well recorded work (Mark Gunther at Seattle's Egg Studios). It sounds real pro.
No, the problems go much deeper here. For one thing, the songwriting isn't particularly inspired. And many of the arrangements seem wildly misguided, witness the obliteration of a fairly decent three minute rock song in the nine minute extravaganza "Zoom." Other songs  seem merely to suffer from "phoned-in-part" syndrome, sounding stilted and overdubbed. There are only a couple of songs that seem even remotely radio friendlyÑ other than occasional three in the morning, late night slots. One wonders what went wrong.
Or maybe it's bias. For there is no doubt that having a familiarity with the previous work of singer/songwriter Jeremy Wilson; his extended tenure with the fabulously successful Dharma Bums, would give rise to (perhaps) unreasonable expectations. But there is no song here worthy of a Dharma Bums recording. Only "No Separation" seems to spark with any real fire. A few, "Cheers, Disappear," and "Crazy Sleeper," glint faintly.  But the rest of the material seems to sink from it's own tangled struggle to sustain such unnecessary weight.
"Cloud Covered Figure Eight" serves as a good example. Jeremy's simple (too simple maybe) two-chord progression on chiming folk-flavored guitar, gives way to Patrick Gundran's full bore lead guitar thrashing through the turnaround, which serves as a chorus. Gundran's searing solo would be much better placed in some other song. This song lacks a real chorus. It goes nowhere.
"Belong" showcases an annoying vocal habit Jeremy has acquired–that of hoarsely goosing the melody line on every third word, in apparent attempt to wring pathos from a fairly mundane lyric. This is a mistake. The song rocks with some intensity, as if the band are reading off the same page anyway, as is true on "Cheers, Disappears," a tune which bears a distinct Afghan Whigs flavor. Gundran's droning guitar pushes the rhythm in tandem with Ric Johnston's lively bass. Jeremy's relatively straight delivery lends the song passion.
"Asunder Various" is simple enough, but again lacks a chorus. A chorus is an important song aspect. It elucidates the lyrical theme of a song, while being the melodic crux as well. Without a chorus, a song often founders on the beach of redundancy. Such is true of "Asunder Various."
Gundran's single-handed production "Distant Star" illustrates the disparate nature of the two central figures in Pilot. For, where Jeremy's songs are typically country/folk in construction, Gundran opts for the Alan Parsons approach in this song. A demo for some other project?
The one hit is "No Separation," reminiscent of Live (and the Dharma Bums of course). Here the divers musical elements within the band seem best integrated. But that is the high point. And the rest of the set bogs down from there.
It sometimes happens in bands (on all rungs upon the ladder of success) that the members stop listening to one another, stop contributing to a cohesive band sound, to concentrate on individual minutia. Inexplicably, that seems to have happened to Pilot. Too many songs presented here are mere fragments, unfinished and extended into song length with ingenuous wankery.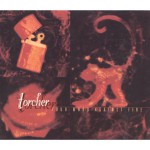 Your Word Against Fire-Torcher
Tim Kerr Records
Those coming to this recording with an attitude of expectation derived from the sound Torcher purveyed on last year's "The Beautiful Sounds Of…" will be surprised at the change in direction the band sometimes undertakes. In place of the limpid guitars and sympathetic drum work of Bay area hired guns Michael Belfer and Michael Urbano, bassist/vocalist /songwriter Paula Keyth has built her songs around her band–guitarist Kevin Friedman and drummer Christopher Douglas. The result is often a marked musical departure from the band's previous incarnation.
There's an upside and a downside to this. The upside is that the material is infused with more musical power and dramatic impact. The downside is that Paula's insubstantial vocal instrument sometimes tends to become somewhat opaque in the mix.
Which is a shame. Keyth writes intelligent, emotionally charged poetry, whose melodies tend for the most part, to follow the bass line. Her girlish voice has much in common with contemporaries such as Juliana Hatfield, Kristen Hersh, and Poe, among countless others. But her introspective and forthright lyrics set her apart from the babydoll contingent.
Check out the gray drabness of "Cake And Champagne": "Drinking just champagne/eating just cake/Isn't love great/sleep away the day." Friedman contributes an appropriately jagged solo adding to the discorporated atmosphere. "Underwater" begins in the depths of an eddied pool, before bubbling to the surface in the transitional sections, where Paula's voice is consumed by Friedman's monstrous guitars.
Similarly, Friedman's discordant guitar drives "It's Not Dangerous," though less successfully than the previous track. It is in these instances that the focus seems to drift from Keyth's vocalÑ which would seem to be at cross purposes with her intent.
"Losing You" is a beautiful illustration of a gentler approach to the arrangement. While the component parts remain consistent, Friedman's distorted guitar is kept in the background of the mix, which allows Douglas' subtly clever drumwork and Paula's evocative vocal room to be discerned. "Holloman" is a winner for exactly the same reasons. Though a tougher tune, Keyth is up to the vocal challenge, recalling Patti Smith.
"Give Me" is the pick of the set. Nicely developed, with sympathetic arpegiated electric guitar and Friedman's deft mellotron figures, the song benefits from the careful attention to detail the band exhibits. Friedman's slippery slide guitar reappears on the odd "Weightless," where Keyth's dreamlike lyrics invoke an aura of lazy fear and shadowy perception.
Another keeper is "Lost In Heaven," a tune that returns to the layered sound of Torcher's previous album. Friedman's ethereal guitars swallow Paula in a diaphanous cloud of noise. "Wasted" reverts to the harder edged sound, a sound which distracts from vocals. The guitars are too distorted. The crackling overdrive takes up too much valuable sonic territory, and is best reserved for solos.
That's the central problem on the heavier material. It's not what he plays, but the tone of Friedman's guitar that causes the most problem. Paula Keyth's beautiful ballads need to be balanced with tougher material. And she is capable of making herself heard. But her voice cannot compete with an onslaught of pink noise. A cleaner guitar tone is all some of these songs need.
But all the same, this is a more than credible effort by a quickly improving band.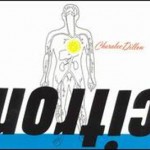 Citron-Cheralee Dillon
Glitterhouse Records
Cheralee's second full-length cd for the German Glitterhouse label, finds her defining her artistic territory, developing a wide array of musical resources and vocal techniques. Her style now seems mature and assured. Distinct.
The years have not diminished Dillon's mischievous penchant for the naughty potty mouth. But here there seems to be some point other than the obvious shock value in the close inspection the human abdomen receives in songs such as "Masturbation Trick," "Belly Button," "Come To Me," and "Little Yellow Lemon."
"Masturbation Trick" showcases Cheralee's quirky voice, in a conversational piece that remains elusive enough to draw the listener into the tale, vague enough tell the listener nothing. She balances an arpegiating electric and acoustic guitar on the verses of "Sinking Peter," before she is joined in the chorus by Jim Smith's desolate cello and some balalaika-like mandolin overdubs.A harrowing piece of audio veritŽ.
She showcases a burgeoning talent on the electric guitar with "Oh Rodin," while reaffirming her idiosyncratic vocal approach as something more than a novelty. "Separation" utilizes an effect on the vocal that calls to mind Johnette Napolitano, while widening Dillon's spectrum of expression with a bluesy trip down the bi-polar highwayÑ "If there was a magic pill she'd take it/Just give her a glass with some cold water in it/ Just so long as it's easy to swallow… As long as the blue team is winning/As long as it's going her way/So long as this is the last inning/It's a game she plays."
That strange blues sentiment informs "Ruby" as well, as Neil Gilpin and Billy Kennedy add sleepy pedal steel and lazy slide guitar to the drowsy, down home feel of the tune. "Little Yellow Lemon" and "Swallow" differ in small ways from the single Cheralee released on Rainforest Records last year, but are essentially the same.
"Belly Button" is a twisted tale that makes no literal sense, unweaving in that conversational manner Cheralee has secured, but evokes a certain horrific imagery all the same. "Come To Me" is especially weird, with solitary childlike organ accompaniment and peculiar lyric.
Charlie Zumo's moody accordion adorns the forlorn landscape of "Tropical Island," while classy pedal steel dresses up the catchy country song "Las Vegas" to round out the set.
Cheralee Dillon is an acquired taste, to be sure. Her directly evocative voice can be intimidating in its unmitigated sense of intimacy, but her strange imagination and sense of humor lend each number a special quality that is nowhere else to be found in all of the world.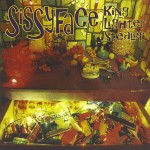 King Lighter Stealer– Sissyface
Cravedog Records
This talented power trio wrestles a thick, succinct sound from their instrumentsÑ akin, perhaps, to Smashing Pumpkins in tenor, tone and texture. Lara Ghelerber's challenging basslines work in counterpoint to Nicolas Columbo's torrid guitar work and Rachel Blumberg's agile kitwork.
This all melds together quickly on the opening cut, "Rocketship," as Lara's distorted bass walks against Columbo's wall of guitars. Blumberg's half-time drums add a decided tension to the musical framework. Mostly, the track serves as a vehicle for Nicolas' extended solos.
Conversely, the aptly titled "Bite Me" is a full-throttle romp–guitars slashing and burning, bass throbbing and churning, drums thrashing and crashing. The vocals are totally buried by the onslaught, by design. "Sammy Must Get Down" is a hard charging number in 6/8, that rides Ghelerber's intricate bassline: whose tone and intonation call to mind Yes' Chris Squire. A well executed foray.
"Samba" chugs along on Rachel's snappy surf-beat and Columbo's memorable riffage. Here, it is not at all surprising to learn that Jeff Blanston had a hand in the mixdown, for the similarity to the work of Gern Blanston is undeniable. The intro to "Hate" presents something of a departure. Blumberg and Ghelerber share an acerbic duet, while Nicolas unleashes another fusillade behind them. "Muscle Car" sounds like the B-52s on acid, or a variation thereof. A relentless surfbeat and four-chord masterplan lend this tune instant familiarity.
The vocals in "Babyhead" are submerged in the mix, nearly to the point of being subliminal in nature. But soon enough they give way to Lara's chunky bass fills and Nicolas' ever-inventive guitar musings. "Head" rips a hole through the sonic tissue via Columbo's incredible guitar pyrotechnics. If I were a betting man, I'd be putting money on this track as the one to receive airplay. The vocals are nearly audible. They extend beyond the midway point of the cut. And they are distinctly memorable, such as they are.
"Ejector" is a classy follow-up. And surprise of surprises! The vocals are up in the mix. And guess what? They sound real cool. This brings into question all that went before. I would have liked to have heard more vocals on "Head " too.
Apparently this is an artistic decision on the band's part, but one they are encouraged to dispatch posthaste. For the vocals add a specific dimension that no amount of flashy instrumentation can conjure. But whatever their choice may be, Sissyface are a very accomplished band. Each member shines, individually and as part of the ensemble. Nicolas Columbo and Lara Ghelerber combine to form a formidable guitar section, while Rachel Blumberg provides energetic backup without being schizophrenic.
And while the mix on this project is uneven, the musicianship is of such a high caliber that the listener's interest never wanes. One would wish for a less self-conscious approach for such an overtly inventive band, but their talent cannot, for a moment, be denied.
Svelt bear an amazing audible resemblance to Skiploader in their textural development of a thick guitar sound. Surely Tony Lash's presence as producer and engineer has nothing to do with this.
Owing to Svelt's arcane desire for utter and complete anonymity, the players here remain unidentified. However, fourteen colorful Oregon landmarks are nicely laid out in the cd centerfold.
"Very Real" could easily be Skiploader, we have no means to verify who the hell these people are. However "If I Had A Clue" sounds enough not like Skiploader to dispel any unwarranted suspicions. The snarling guitar riff of "Shrunken Head" propels the tune as the bass uncoils like a cobra from a rattan basket. It's a hit, whoever it is.
"My Fool My Friend" brings to mind Self, Imperial Drag or The Grays, in a decided declination from the previous three songs. A molten river of guitar feedback carries "Perfecto" through the verses before giving way to crisp clarity in the choruses. "Understated" is exactly that, but not so "Regular Eight" which returns to a heavier soundÑ featuring some exemplary guitar interludes along the way.
Maintaining the mood, "Over Ripe" dances on a catchy two-chord riff that owes a bit to Green Day . "Not My Type" jumps with a fast flicking guitar figure and some far-out studio wizardry noises that distract as much as enhance.
The Skiploader influence returns, full-fledged on "Tobor." The intonation of the guitars is exact and just as infectious. The vocal approach differs in palpable ways. Whatever, it's another strong cut.
Don't misunderstand, Svelt are no Skiploader clone. These guys stand tall on their own collective feet. And their similarities are all for the best, embodying a richly contoured sound that is original and forceful. This recording places Svelt among an ever-expanding stable of top-notch bands who are plying their craft within the Willamette Valley.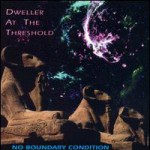 No Boundary Condition-Dweller At The Threshold
Eurock
A well recorded piece of ambient music and hypnotic sounds that incorporate elements, in pastoral passages, reminiscent of Tangerine Dream or Kitaro. The more techno elements draw from Steve Reich, Terry Riley  and Klaus Schulze, among others.
The extended title piece hinges upon randomly shifting arpeggios melded with string-like pads that dance like the Northern Lights; particularly during the third movement, entitled "Over A Fractal Landscape," which bears more than a passing resemblance to the work of the nutty Estonian composer Arvo PŠrt.
"Silent Watcher Of Dark Matter" (expect titles as dense as the work in this musical realm) cycles a revolving wheel of gathering sonic particles around a thick, droning cloud of om-ing material. This seguŽs into "The Revealing Spiral," whose point seems to escape me from a musical perspective. Fortunately, the jolly old "Arc Of Gravity" holds everything in place until we reach "The Ceiling Of Suspended Memories," where, ostensibly, we shed this universe of matter to vibrate in frequencies of chiming light and fluttering shakuhachi winds.
"Passage To Light" actually bypasses the de riguer  drone for something very akin to a chord progression. However, no threat of an actual melody ever invades the meticulously woven web of sound.
A distinct tabla-like rhythmic pulse is developed via the sample and hold properties of the synth on "Nebulous Portal." Meanwhile, our friend the drone holds down the bottom like a relentless digereedoo.
It's entirely unclear how one sets about the task of critiquing the work of Dweller At The Threshold. They certainly seem to have an expansive palette of sounds with which to create an array of textures. And that, after all, would seem to be the point: to take the listener on a sonic voyage across the borders of time and space. Still, one can't help but pine for an occasional melodic theme upon which to direct a more precise attention. For without the occasional melody, this projectÑ like most Ambient music, seems most appropriate when attempting to induce sleep.