Caroline Records
Heatmiser make a big splash with their major-independent label debut, laying out eleven masterfully hewn songs, each crafted down to the last detail— while proving themselves to be one of the great Portland bands in the process. That they succeed so effortlessly at giving each number appropriate attention magnifies the wonderfully simple majesty in their charming approach to Pop music.
There are no throwaway cuts here. From the pretty ballads, such as the haunting "Plainclothes Man," the mysterious "The Fix Is In" and the moody "You Gotta Move," to the chunkier "Low-Flying Jets," "Eagle Eye" and "Cruel Reminder," each track bears the mark of artists' critical ears and probing intelligent minds. That they are so adept at coloration and an understated musical finesse, avails this collection with flavors that recall the best aspects of the Beatles and the Who, while hearkening to the detached splendor of the Smiths and New Order at the same time.
Guitarists, Singer/songwriters Neil Gust and Elliott Smith share a mutual world view to such an extent that their songs seem nearly interchangeable. Only Smith's nasal Lennon-like delivery can be occasionally differentiated from Gust's more clipped cadence. The recent addition of the ubiquitous Sam Coomes (Quasi, Jr. High, et al), lends Heatmiser drummer extraordinaire Tony Lash smooth bass accompaniment, while interjecting sparse, infrequent keyboard flourishes along the way.
"Get Lucky" inaugurates the voyage with what might be considered to be the representative Heatmiser sound. Over a haltingly syncopated beat and a bed of rumbling guitars, the song unfolds— a sordid tale of intrigue and deceit.
A sense of paranoid foreboding hangs like smoke over "Plainclothes Man." Plaintive acoustic guitars in the verses relinquish the foreground to jangling country flavored electric guitars and crashing drums in the choruses.
The whipsmart crack of Lash's snare and the snapping flair of the acoustic guitars opening "Low-Flying Jets," call to mind Van Halen's "Finish What You Started," oddly enough. But that's not a knock. Heatmiser move in a direction more attuned to XTC, rocking behind Lash's rock solid beat and the indifferent drone of the vocals.
Gust's George Harrison inflected slide guitar introduces "Rest My Head Against The Wall," as Smith gasps the vocal— another wary account of social discomfort amidst personal desolation. "The Fix Is In" explores an Eastern mode, overlaying gorgeously rich harmonies and a humming, buzzing synth line with a cynically sweet lyric.
"Eagle Eye" might be the hit of the set. That's a tough call. But the insistent, frenetic beat and a clever lyric, "Coming like a moss/ Just got off the bus/Don't know how to act, how to look anonymous," make of this number a Who-like send-up of the highest order. Similarly, Lash's throbbing tom and kick drive "Cruel Reminder" with a wicked beat, while thrashing acoustic guitars shimmer imperially and a melodica flavored synthline choruses underneath.
"You Gotta Move" jostles upon a clockwork chord movement through the verses before turning thick and dark in the turnarounds. Gust's "Blue Highway" twists upon a series of increasingly complex chord progressions and some very tough guitar solos in between.
There are no missteps here. Heatmiser have crafted a fine pastiche of memorable songs and thoughtful arrangements into an elegant tapestry. Their keen sensibilities are given free rein in this well-recorded, well-executed effort. National recognition and public acclaim seem imminent. The question that arises is: can the bands anti-social nature cope with the success? Stay tuned for updates. This album ensures that their predicament will be an ongoing story.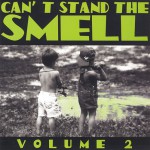 Can't Stand The Smell Volume 2— Various Artists
Cravedog Records
Twenty-five bands get the call, most of them well-known locally, in this second Cravedog sampler. The Jimmies, Heavy Johnson Trio, Apt. 3G, Oswald 5-0, Scribble, Sissyface, Nervous Christians, Richmond Fontaine, The Delinquents and Kpants are representative of the strong line-up contained on this compilation. A more thorough catalogue of the local "Alternative" scene has yet to be assembled.
The Jimmies kick things off with a rousing take on "Will You Go With Me." Crunchy, whining guitars sludge beneath an angry vocal line, creating two minutes of thundering gloom. Next, dirtclodfight take a different tack, lazily ambling into "Enduring You," before breaking loose, somewhat, in the chorus. The Heavy Johnson Trio contribute 'Sluggo," an odd number that seem to combine equal parts of White Zombie and the Troggs.
With "Tex Ritter," Apt. 3-G get things really heated up. Fat guitars zoom stratospheric while the lyrics float above: "Life can be a burden/It can really get you down/You're not going anywhere/But through all the cavalcade of crap there is one thing I know/I can always get the hell away from here." After a series of splendidly executed twists, turns and jolting halts and starts, the band end with not a bang but a whimper. Wow! A very cool cut.
Changing gears with an acoustic two-step, "Foot Wall," Fernando prove themselves to be a capable folk-tinged outfit, with a propensity for strong harmonies and a charismatic, if somewhat sloppy sound. Dangerous Bob's "Sun" finds the vocalist ululating through a bull-horn for a while, mostly as a prop vehicle, leading to some fairly exemplary team-playing of a grungey, Northwest  imbued, power-chord foray.
Standing out is Oswald 5-0's "Lost And Found," a song culled from their album Serenade. Sounding kinda like a snotty, punked up Human League, they rage through their cut with tight bravado. Similarly, The Harlots stand apart with their well-developed arrangement of "He's A Villain," a Stonesy romp that sets the band apart from many of their peers on this collection. Scribble's "Fuckchops," manages to capture the band's power, in a thick, murky soup of sonic mayhem.
Little Sue, late of the Crackpots, registers with a galloping folk tune "Passing Train." Over a traditional, minor-key chord progression, Sue strums the acoustic as  she intones the lyrics, accompanied by chugging drums, bass, electric guitar, harp and violin. Sue vocalizes with a lot of character, lending the song intimacy and pathos which lesser singers could not so deftly provide. In a similar way, Jim Boyer's highly authentic sounding rag, "Whenever You Call Me," sounds as if it were culled from a Huddie Ledbetter field recording.
Sissyface contribute an angsty piece of chaos on "Samba,", as arresting as it is confusing. Meanwhile, Nervous Christians' good natured approach to anomie is more than evident on "Just Won't Do," an uptempo rocker with Chuck Berry at its roots. Along the same lines, The Delinquents "Shoot To Kill" begins like a pretty standard rock tune before jettisoning into overdrive on the choruses. Lyrically, it's a pretty pathetic (though honestly portrayed) story of a day in the life of a junkie.
Naked Violence, Black Jack and The Weaklings all contribute hardhitting, jack-booted, goose-step two-steps. The Weaklings' "Done Deal" stands apart for its clever delivery and occasional stylistic changes of pace. Hot shit. Eight-Foot Tender's "Jesus Truck" and Richmond Fontaine's "Whirlpool" were reviewed recently in these pages. Both tracks are certainly worthy of placement on this compilation, especially "Whirlpool" which is a moving piece of a work by  a band which, at this point, has more talent than chops.
The vocalist on Aint's  "A Muscle The Size Of A Heart" has a register that brings to mind Nico or Marianne Faithful or maybe Liz Phair, if you can imagine one of them fronting Hole or the Breeders, then you'd have a grasp of the sonic turf. Stink counter with the power-chord thrasher "Green;" while the inimitable Kpants close out the set with the very strange "Don't Do The Spider," sounding almost as if the backing tracks and the vocals were recorded at two separate locations simultaneously.
With twenty five tracks included, you really can't go wrong with this sampler. It is a great catalogue of the state of Portland music in the mid-90s, for better or worse. That so many musical styles are represented here, speaks well for the diversity, not only in the local musical community, but at Cravedog as well. That variety of styles has always served the Portland music biz quite well, and remains our strongest asset.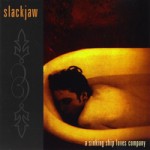 A Sinking Ship Loves Company— Slackjaw
Figurehead Records
            Here's an adventurous outing from this intelligently skillful four-piece, nicely executed, well-recorded and thoughtfully produced. Vocalist/guitarist Eric Schopmeyer's lyrics scan almost like diary entries or letters sent to a close friend, such as on "Bored," for example:
"Watch the fish swim round the bowl/ reach my hand in, try to touch them but I just get wet/and I think I'm getting bored/haven't been outside at all today/and I don't wanna go, but the pepsi's all gone flat and there's nothing on t.v./and I'm stuck here in this town/this is the worst summer I've ever had/I haven't missed you in a while, though nothing's come to take your place and nothing probably will/I wish I had someone that I could love or hate/or something else to feel when all my friends have jobs/I wish I had a job, cause all the money's run out/there's not enough to drink and there's too much time to think."
That same conversational quality to the lyrics runs through each of the fifteen songs presented here. The band, James Henley on drums, Robert on bass and David Defray on lead guitar develop fairly conventional frameworks for the material, perhaps calling to mind the melancholia of J. Macis and Dinosaur Jr. But Eric's delivery, while maintaining Macis' ponderous sense of yearning and desolation, is measured out in long breaths; cramming as many words into each breath and phrase as he possibly can. Such an approach detracts from any melody that might be present in the onslaught of syllables.
Still, many songs are quite affecting. "Lump Of Coal," with a winning hookline— "Things can always get much worse/ I can turn a blessing to a curse/I can turn a diamond to a lump of coal," is a hit. Over jangled droning guitar and a melodic bassline, the band sound faintly like very early U-2. And "Terri Garr" bears a lot in common with the Gin Blossoms' "Keli Richards": a fan letter from a potential stalker.
And "Angel" is another keeper. Over Schopmeyer's high chiming guitar, Devery lays a melodic lower-string guitar line. Behind Bartleson's growling bass and Hewley's hard-driving drums, Eric drawls the vocals in a nasal tone. A smart chorus and memorable imagery lodge this number securely in the memory banks.
"Radio" beams in on a wavelength of quiet noise and feedback overtones before zeroing in on a dark, glum atmosphere. Bewley's strong harmonies add to the signal in the choruses— a broadcast of despondency via the interpersonal relationship. "Cut And Dry" starts off like an outtake from Jethro Tull's Aqualung. Acoustic guitar laden powerchords motor the propulsion as the ensemble joins in, whereupon previous similarities end; dissolving into a frenetic disclosure of venom: "I heard the harsh words that you said/and I guess half of them are true/the other half I'd say are definitely more suited for you."
The aforementioned "Bored" begins with a fine solo from Devery, before transmuting into a song that could easily be mistaken as the Cure doing a Replacements song. Now there's  an interesting combination. Devery's re-entry at the end of the song really hits the spot.
The opus "!0:05" is truly unusual, taking nearly six minutes to break from it's eerie lethargy into a convulsive Janovian project, before fading into a starling piece for chamber orchestra. Perhaps more ambitious than successful on this track, Slackjaw are to be commended for their desire to break free of the shackles of Pop music. And Schopmeyer's wry commentary on the ever popular "secret track" hidden after ten minutes of silence, says just about everything there is to say on the subject: "It took me two and a half minutes to write this song/ That's why we made it such a hassle for you to hear it.
Slackjaw have not perhaps reached the pinnacle of their particular peak,  one which a  critic has deemed "post-Pop, post-Grunge, emo-moody corps."  Be that as it may, their niche may be rather narrowly defined; but as such, they have a lot to offer fans of alternative modes of Pop expression.
Wignet Music
            Nicole Campbell made her local debut several years ago as a solo folk-singer, making a name for herself as an adept songwriter and graceful singer; before promptly dropping from sight. She has recently reappeared, with her band Ivan's Wish, seemingly picking up where she left off.
And this is a powerful place. For with her folk roots still deeply entrenched, she has branched out into  a musical space where her powerfully evocative voice is allowed to stretch its lithe limbs. One need only check out the first track, "Excuse Me." Over an insistent 6/8 rhythm structure, provided by drummer Eric Kaster and bassist Thomas Barth, and a ferris wheel of guitars sent spinning by Greg Windell, Nicole, like flashfire, consumes the atmosphere of the song with her beautiful vocal instrument. Alanis Morrisette has nothing on Nicole.
Nicole's no clone, mind you. She stands tall on her own musical ground. Her folky roots show through even more operatic numbers, such as "Digging Deep" with its Valkerie-like chorus; or the Eastern-influenced "Come To Me."
But Nicole shines best in the waltzes. It seems that in that rhythm her phrasing is most effortless. "Phoenix Fire" is another fine example of that quality. Over Barth's bubbling bass and Windell's crashing guitar, Nicole wails as if her soul is breaking. "Sleeping Things" maintains the mood, a drowsy counterpart.
The edgy "Blinder" gives Nicole the opportunity to explore a harder sound, more akin to Johnette Napolitano perhaps than Joan Baez. Nicole proves herself to be more than up to the challenge, registering a movingly forceful vocal. And "Star" has more in common with Peter Gabriel than Nanci Griffith. Here again, Nicole distinguishes herself with a stalwart performance, a showcase for her magnificent voice.
The material, while always interesting and well-arranged, and certainly great by most bands'  standards, does not match the high expectations Nicole sets with her vocals. This is something of a dilemma, but there is no doubt that Nicole Campbell deserves the very best. She's going somewhere.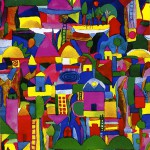 Apple River Diaries— Lew Jones
New Weave Records
            Jones logs in with his bazillionth local recording, all of which seem to have drawn their share of critical praise or spleen. One thing is sure, Lew Jones rarely elicits no response at all. Here, Jones has enlisted the eclectic production assistance of young Andrew Walsh.
Jones writes simple songs that sometimes wander in eccentric orbits, but rarely are they without gravity. "Altitude" is a good example. Over acoustic guitar and mandolin, low register piano strings Jones imparts his message of universal brotherhood and peace— underscored by his pessimism and doubt. "Time Rushes By" receives a ghostly treatment. Jones' double tracked vocals hover as a distant flute calls like a train whistle in the fog, while slide guitars  seem to stretch the space into other dimensions.
The jaunty Beatlesque "Soldiers Of Love" contains one of Jones' typical expressions of goodwill: "Soldiers of love, soldiers of life/ Live in a world through the hate and the strife/Salt of the earth, so what is it worth/ to lay down your love, lay down your life."
But Lew's strength has always been in the Irish flavored ballad of which 'Talked To A Flower" stands as one of his best. Closer to Jazz, "Railroad Tracks" highlights another of Jones' strengths— his versatility as a songwriter. Unflinching in his originality, unwavering in his stubborn desire to remain that way. For this reason, Lew doesn't fit easily into a pigeonhole. Check out the gorgeous Cocteau Twins flavored cotton candy of "Great Big Nothing," where Jones adds schizophrenic guitar-synth strings, sounding as if three radio stations are tuned in at once on the receiver.
"Once A Sweet Time" has that same three stations at once motif going for it— a technique created by Charles Ives and exploited by Prince to some success. In Lew's hands, the sound is two steps away from bedlam, but one step away from sublimity. "Days O' Providence" heads in an opposite direction: just a single voice and two acoustic guitars.
No one can ever accuse Lew Jones of being static. Over the years of his long career he has managed to come up with fresh approaches to the creation of the homely folk song, dressing them up in all forms of raiment; making them new again— the patron saint of all singer/songwriters.