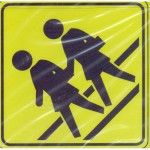 Middle Of The Road— Plaid Pantry Project
Catnip Records
Andy Pribhol, who pretty much is Plaid Pantry Project, and who is therefore in line for some kind of corporate litigation somewhere along the line, is one talented cat. As drummer for the band Forehead he has garnered for himself some modest acclaim. But it seems apparent from this rollicking set of sixteen tunes that Andy's fortunes lie in quarrying the goldmine of his own abundantly versatile talents.
Seven of the tunes here have been re-recorded from last year's freshman entry Plaids Across America. As before, Andy plays all the instruments and performs all the vocals— with just a few exceptions. What is instantly noticeable with this year's model is the leap in craftsmanship Pribhol has made. Where Andy's attention would sometimes seem to wander in the previous effort, here he seems focused and completely to the point.
And what is becoming more consistent throughout his work, is Andy's intelligence and wry sense of humor. Rarely does he miss an opportunity to offer a sly piece of sarcasm or to interject some acerbically witty observation. These attributes combined with his unerring knack for a hook make of Andy and his Project an act to follow in the year 1997.
Of the seven new songs presented in this manifesto, "I Can't Help, Sorry" is most certainly the hit of the bunch. Over a simple, but well-executed chord progression, Andy hits the musical nail on the head. Another pick is the clever "Like You?" with its memorable chorus and driving guitar phrasings. "I Could've Told You" calls to mind They Might Be Giants— with a bolder, full-band sound, in its wisecracking attitude. "Skeezer From Vancouver" drips with acid rancor: "Just a creepy little skeezer/from the other side of the river/They say it crawled out of Washougal/I'm sure it came from Vancouver."
All the remakes from the four-track days of Plaids Across America  benefit from the upgrade. Given a competent studio situation, Andy proves himself capable of generating a big sound. Steve Wilkinson from Gravelpit helps to beef up the chunky chorus of "Goodbye Captain." "Someone To Speak" rocks hard, with a tough beat and rugged guitar sound.
"Tender Gator" sounds like the Presidents using a full complement of ten strings on guitar and bass, ripping off a Smashing Pumpkins riff. An endearing number. The more straight ahead treatment of the smart rocker "Hangin' Out At Reed," aided and abetted by some fine work by drummer Alex Russell and guitarist Bryan Ronshaugen, gives the cut a brawny silhouette.
Two other tunes were actually culled from what is, no doubt, Andy's extensive library of home four-track productions. "In My Way" is a snide and moody diatribe with twelve-string acoustic guitar accompaniment. "NW 23rd"  is an hilarious little ditty and a warped commentary on the social customs in that very hip and fashionable part of the city.
Andy Pribhol is one special fellow, availed of an unique blend of raillery and acumen; with an above average musical aptitude. His capacity to create catchy riffs and memorable songs, typically playing drums, bass and guitar with remarkable facility, marks him as one of the more obvious up-and-coming talents in our musical community. The next hurdle for Andy will be to translate his multitracked productions into a band on the live stage. But for a guy of Pribhol's capabilities, it should be a walk in the park.
Self-Produced
It was only last October when we first met Red Footed Genius in these pages, uncovering the talents of Sean Haffner— a multifaceted singer, prolific songwriter and guitarist. The Genius' Hydraulic  showcased the band as they sounded before migrating to Portland by way of Southern Oregon. Now Haffner is back with an all new band and eleven new songs.
The new band is an improvement upon its predecessor, slightly harder edged, but still falling stylistically somewhere between The Rembrandts at the poppier end and Toad The Wet Sprocket and Matthew Sweet at the more introspective end. Tight harmonies by lead guitarist Aaron Santigian blend succinctly with Haffner's plaintive nasal vocal delivery. Their guitars combine to form a close—knit weave of jangly threads spun through thick sonic strands.
Lyrically, Haffner seems to dwell upon the more depressing aspects of interpersonal relationships— bearing a distinct affinity with Sweet and Toad's Glenn Phillips in that regard. His erudition of the human dilemma is often eloquent, though occasionally obscure and generally morose in context. But the best of the material glows with a homespun quality, a weary wisdom based upon the ineffable certitude of humankind's ineluctable modality.
Their finest songs capture the elusive piquancy of life's darker moments. "Silence Speaks" dances on arpeggiated guitar chimes, while a Leslie effected guitar provides the solo lines. Haffner sounds like Glenn Phillips vocally, as Tom Simonson's bass skips in time to Bill Keeling's hard-hitting drum salvos.
Santigian's "Goodbye" sounds a bit like Toad doing a Matthew Sweet song. A fluttering cello hovers above the carillon call of the guitars' chromatic progression, over a cut-tempo beat. Very nice. Haffner counters with three well-wrought pieces of pathos. "Dachau" unwinds across a whipsmart rhythm, as a telegraphic guitar riff broadcasts across a desolate expanse of sonic prairie. "Diluted" is a slow march punctuated by Santigian's crying clarion guitar solos.
"Ogre" twists upon entwining whining guitars and Keeling's tom-driven propulsion. A gorgeous chorus makes of this cut the hit of the hit of the set. Toad or Sweet would do well to have such a number to bolster their waning visibilities. Tight harmonies between Haffner and Santigian elevate "Bunkers," as well as most of the other songs.
Red Footed Genius are a very good band, with all the equipment necessary to succeed. Sean Haffner seems to generate two or three exceptionally crafted songs per outing— enough to maintain potential airplay through the life of an album. The rest of the material is of unquestionably high caliber. The lyrics often veer toward the inchoate: superficially poetic in construction, but ultimately vague and even sometimes bordering on incoherent.
This is a shame. Because RFG are a band on the verge of greatness, with tremendous musical passion; though, perhaps, not so much to say lyrically. Perhaps Haffner would do well to look at the works of other poets to find a true source for his own poetic pretensions. Shakespeare, Emily Dickenson, W.B. Yeats, Dylan Thomas, Philip Larkin, and countless others could provide rich compost for his fertile artistic landscape. For it's one thing to say something, it's quite another to have something to say.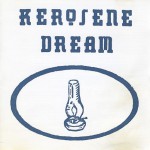 Kerosene Dream— Kerosene Dream
Self-Produced
Kerosene Dream is the latest incarnation for singer/songwriter, guitarist Dave Coey, whose claim to fame lay in his years spent with the enormously popular Renegade Saints. Here, Dave comes from a more laid back, unplugged position, sharing vocals with Bart Ferguson and lead guitarist Benjamin Sturgill to form a pleasing trio with familiar country/folk roots at its heart. Their songs, while hardly breaking new musical ground are still fine examples of the craft, all the same.
The Premise is simple through the seven songs presented here, two acoustic guitars, with occasional electric guitar and harmonica embellishments, backing a lead vocal with two-part and occasional three-part harmonies. Coey and Ferguson alternate the lead vocal duties— Ferguson the possessor of a fairly rich baritone, while Coey tends slightly more toward the uvular ululations of Kenny Loggins or Danny O'Keefe.
Ferguson's "Welfare Hotel" is fairly standard fare, but catchy in the three-part harmony of the chorus. Three-parts wrap sensuously around Coey's beautiful "Phoenix," a song that could easily be mistaken for the work of Pure Prairie League, Firefall or Loggins and Messina.
Ferguson takes the lead on "Style," which is essentially a country rewrite of the Beatles' "Norweigan Wood," Sturgis' slide guitar and Ferguson's harmonica substituting for the original sitar lines. Coey's "Old Sparky" recalls Old And In The Way or the New Riders Of The Purple Sage, in the midnight moonlight rollin' down the mountain goin' fast fast fast. Almost timeless.
The band falters with their lukewarm rendition of Johnny Cash's "Ring Of Fire." They play it too straight for the song to work as a sendup, and with not enough vocal smoke and brimstone for it to succeed as a straight version. Coey's gospel tinged "Good Religion" returns the band to safer waters.  "Kerosene Dream" finds Ferguson and Coey trading lead vocals álà the Everly Brothers over catchy acoustic guitar chord progressions. Elegantly simple.
What Kerosene Dream do best is to stay within the boundaries of the musical format they have chosen: that of the equivalent of a fireside acoustic jam. That the musicians involved have logged some chops unequivocally elevates the proceedings above the mundane. These guys know what they're doing. What they play is simple music with simple aims and no bluster whatsoever; and at that, they are quite good.
Sharp Hall Records
Here's a thoughtful new band with an unique and original sound, and a very bright future, who will doubtless be making big waves on the local front in 1997. Lyricist and lead vocalist Hamilton Sims creates a solid philosophical stance via rich imagery and a warm, affable singing style which compares well to that of Michael Stipe— without sounding imitative.
However, the key ingredient in the band's sound is an instrument whose presence seems anathema to yer basic guitar oriented Grunge band concept. But Monica Arce's flute is still the key. That she uses it in uncharacteristic ways, often sounding like a warm guitar overtone or a melotron is an element that has yet to be fused to the tenets of Rock and Roll. Flute in a rock tune is about as common as a bassoon or a hurdy gurdy, but for that very reason, Arce is able to create unusual sounds or combinations of sounds that meld surprisingly well with the overdriven guitars of Carlos Marcelin and Edwin Paroissien.
All of the above comes into play within the first track, "No Stars," which starts out inauspiciously enough. As the guitars spar with a little riff, Sims intones the astute words: "As much as I admire the earthbound sky/I've severed ties with the celestial/Once wondered all the lights above my head/And I used to want to be them." At that point the song erupts into a reasonable facsimile of Faith No More's "What Is It?" for about eight bars, before resuming the original pastoral feel. "Now I just gaze at the floor/There are no stars anymore." Arce's flute consistently adds color and texture to the various passages without becoming superfluous filigree. Easier said than done.
"The Heimlich Maneuver" develops slowly, building tension to the point of violent eruption. Sims controls the action with a brilliant vocal delivery that owes as much to Jack Bruce (bassist/vocalist for Cream) as to Layne Staley of Alice In Chains. Jethro Tull is called to mind by Arce's flutework on "Spawn," as guitarists Marcelin and Paroissien rage with splendid precision.
The best part about "Dan's Nose, Part II" is the fantastic rave-up jam that serves as the concluding minutes of the cut. Saving the best for last perhaps, "Turtle Boy" seems to sum up Silkenseed's peculiar strengths. A comfortable groove is set up between the guitars, bassist Geraldine Fischer and Arce, as Sims masterfully articulates his decisions and revisions, which a minute will reverse. A subtle wah-wah theme gives way as Paroissien's blustery guitar drives the fiery chorus. Monica's flute arcs across the overtones of the guitars, creating an organ like effect that adds substantiation to the thick guitar sludge.
My guess is that the road to success will be a rocky one for Silkenseed. Their sound, while immediately accessible, rapidly swerves in musical directions that might be a tad challenging for the average listener. Therefore people will either love or hate the band, with little indifference between. But they are a band who stretch the constricting limitations of the 90's popsong format, without deserting it altogether; interjecting sounds and techniques that are a new and odd combination. Theirs is a sound in its formative stages, but infused with a starling ingenuousness that heralds the music of the next millennium.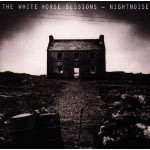 The White Horse Sessions— Nightnoise
Windham Hill Records
The White Horse Sessions  is the eighth Windham Hill Recording for Nightnoise, a quartet whose roots are planted in Portland, if transplanted from Ireland. Anyone familiar with the local Irish music community in the past twenty years would recognize the names Triona Ni Dhomhnaill and Micheál O' Domhnaill as those of Gods enshrined in the pantheon; who populate the myths and legends of countless local pubs of days gone by.
Quietly, and without much local fanfare or brouhaha, the pair have gone about constructing careers with New Age pioneers Windham Hill. Joined by flute virtuoso Brian Dunning and fiddler Johnny Cunningham, they combine to create an Irish stew that seems comprised of equal parts Shadowfax and the Chieftains. Recorded before a live audience at White Horse Studios in Portland, the environment allows the players to show off their well-honed chops.
Triona, Johnny and Brian deftly whip through the crazy octuplet jiggery of Dunning's "Silky Flanks" with flawless accuracy. Triona's piano merges seamlessly with Cunningham's fiddle as Dunning bubbles over the top with watery flute. As Micheál holds down the fort on acoustic guitar, Triona retreats to Enya-like orchestral synth sounds as Cunningham trades solos with Dunning's haunting pennywhistle themes before the ensemble return to the original rondo and an abrupt close.
Triona's "Jig Of Sorts" manipulates aspects of Dave Brubeck's classic "Blue Rondo A La Turk" with traditional themes and open chord phrasing more closely associated with the realm of New Age, over a breakneck 6/8 time signature. Dunning's "Do We" is another example of simply stellar interplay between flute, fiddle and piano— the three instruments congealing into one roiling calliope of tone, before digressing toward a more pastoral sequence.
The players lend Van Morrison's "Moondance" an orchestral feel through the intro before leaping into the madcap jig that becomes the body of the song. A stirringly uncommon presentation of an enduring chestnut. Triona's "At The Races" achieves a certain grandeur, cross-pollinating big city chord work with the percolating flute and fiddle.
Of the slower material, Cunningham's mournful "Night In The Land" fully captures the sad qualities of an Irish lullaby— his moaning fiddle intoning the achingly pretty melody.
The band falls short when Triona takes over the vocal mic on "Shadow Of Time" and "Heartwood." While both songs are very nicely constructed and Triona has a pleasant enough voice, the pieces seem out of place in context to the rest of the material, as if culled from some obscure off-Broadway musical.
For what Nightnoise excels at is the curious interplay they weave between contemporary New Age and traditional Irish musics. When they stick to that format, they succeed thrillingly. When they stray into other realms they seem weighed down by their own virtuosic musicianship, mere bubbles in the bog. Theirs is a narrow niche, to be sure, but it is theirs and theirs alone.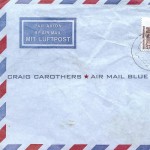 Air Mail Blue— Craig Carothers
Silent Records
What are we gonna do with Craig Carothers? The guy's been kicking around Portland forever. Along with Gary Ogan he is probably among the best songwriters that the city has ever known. Both of them have a knack for writing poignant, very literate acoustic guitar-flavored compositions of the highest order.
Theirs is the realm inhabited by the likes of Bruce Cockburn, Dan Hill and Dan Fogelberg. It belongs to another time, which only the KINK radio stations of the world acknowledge. Most people who listen to the KINKs of the world spend their disposable income on Home Theatre Systems and orthodontia for the kids; tune-ups for the Beamer. They don't concern themselves with the craftsmanship of talented singer/songwriters anymore. That belongs to a time long ago and far away.
Craig submits ten new tunes here, all constructed with exemplary skill and attention to detail. "Air Mail Blue" is a moody samba which dangles on Jeroan Van Aichen's dark piano tones and Tim Ellis' subdued guitar phrasings, as Craig puzzles the mysteries of long distance love with a dusky, breathy baritone drenched in bathos. Sort of like Richard Thompson without the visceral desperation he imparts to his material.
"You Won't Even Say Goodbye" could be the work of Bruce Hornsby— Van Aichen emulating Hornsby's arpeggiated gospel-flavored piano mannerisms. "Angels Never Fall In Love" is a somber ballad that might work best playing on a country station. Ron Stephens' pedal steel inflections and Ellis' laid back Spanish guitar solo lend credence to that line of thought. "All Over Me" has a certain Jerry Jeff Walker quality, as well.
"Scarlet Letters" has characteristics in common with Kenny Rogers' "Ruby." In this scenario our hero's paramour has left a lipstick message on the bathroom mirror to the effect of sayonara. Ellis' beautiful e-bow solo and an evocative chorus make this the keeper track of the set. A misguided venture into funky reggae turf, "You Need A Hero," probably succeeds the least.
All the songs are well-written and expertly performed. What has always been lacking in Craig's work is a sense of passion. When he should be boiling over, Carothers simmers. When he should be raging, Craig contemplates. His staid and repressed delivery often stultifies his message, compressing real emotions into caricatures of themselves: "Here I am feeling sad. That's me getting taken for another ride in a relationship. Here's one of me when I'm real, real down."
It's almost as if he is using his words and music to distance himself from his feelings; as if by transferring them to some other medium he is exorcising himself of his demons. But what his material is demanding from him is catharsis, some involvement with his own songs on a personal level. Until Craig Carothers makes that leap of faith, he may never be the best interpreter of his own, very personal material.
Burnside Records
Here's another recording from one of Portland's premier guitarists, his first since releasing Acoustic Blues Trio  on Burnside Records in the Spring of 1995. As on his previous album, Robb continues to explore his blues roots, presenting material by greats such as Mose Allison, Muddy Waters, Son House, Willie Dixon and Mississippi John Hurt; as well as writing or co-writing six other tunes on the record. He is joined by Curtis Salgado on harmonica for Dixon's "I Want To Be Loved." Salgado cuts loose with an inspired wah-like in the middle solo middle. Robb contributes a searing slide solo on acoustic guitar, ending in a fiery duet with Curtis. Bassist Albert Reda furnishes the vocal stylings, while completing the rhythm section with drummer Jeff Minnieweather on this and several other tracks.
Maria Muldar provides a stirring vocal to John Hurt's "Louis Collins," a tune that remains as contemporary and timely today as the day it was written. Skip Parente lends violin, Paul Chasman guitar and Brad Price bouzouki to a swingingly slick version of Mose Allison's "Stop This World;" wherein Terry unleashes a fierce solo on his acoustic guitar. Eddie Clearwater tosses in a solo to match Robb's own stinging fretwork on "Wait For Me Baby."
Other tracks of note are the jaunty "Nummer Rag/Take A Look At That Baby" which Robb co-wrote with acoustic guitar legend John Fahey, and showcases Terry's fingerpicking ability. Similarly, "Buck Dance II"  highlights Terry's rendition of a technique known as Cotton picking.
"Darkest Road I'm Told" allows Terry to stretch out dobro-style on the National Steel guitar, while alluding to Robert Johnson's "Crossroads" along the way. "Till The End Of Time" echoes John D. Loudermilk, early Bob Dylan and JJ Cale in its lazy delivery.
Terry Robb is doing his best to preserve several musical traditions, while investing something of himself into the process. With this, his second album dedicated to the multitudinous blues roots of the fast-distancing past, Robb is beginning a tradition of his own that will hopefully continue for some time to come.