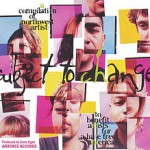 Subject To Change— Artists For A Hate Free America
Airforce Records
Nineteen artists contribute to twenty separate cuts on this recording, the proceeds from the sale of which are to benefit the organization Artists For A Hate Free America— "a non-profit organization dedicated to countering bigotry, homophobia, racism, violence and censorship in American politics and public life."
Most of the acts involved in the project hale from the Portland scene, some of National prominence, some well-known in the local scene, with a few newcomers thrown in for spice. Above and beyond that, a lot of love and care went into the preparation of this undertaking. From the mastering to the sequencing of the songs, everything is first rate.
And there's some collector's items among the other high-quality tracks, including a compelling acoustic version of Everclear's "Heroin Girl," a live version of Pete Droge's "Sunspot Stop Watch" and Gus Van Sant's  "Mama Can"t Walk." Several other selections, Super Deluxe's "Smile," Floater's "American Theatric," Pilot's "Babble," Carmina Piranha"s "Underwear," the Five Fingers Of Funk's "Get Up & Get Dissed" and Hungry Mob's "Energy," are top-notch pieces of work that make this a must-have commodity for connoisseur of local product.
Poet Alyssa Burrows offers "Big Boys And Bruisers," a poem directed at the macho men in our world, as an introit to the ceremony. Sweaty Nipples follows with the savage "We Don't Want It," viscous diatribe against an unspecified adversary of untrustworthy character. Subsequently, the Dandy Warhols appear with "Not Your Bottle," taken from their Tim/Kerr album
Cool Nutz' "Hate On Mine" delves into the misunderstandings that arise when ego and pride enter into the picture: "Mental masturbation/brings every observation/from the nickel slick entry of vocal penetration;" with an intelligent rap set to sparse accompaniment.Wrap set to sparse accompaniment, interpersonal lick entry of vocal penetration.Carmina Piranha provide one of the delights of the set with "Underwear," a taut, well-developed number, which combines flamenco guitar and castinets with hard-edged guitar and a strong vocal with stunning results.
Everclear's submission, what appears to be an acoustic demo of "Heroin Girl," while not filled with the urgency of the hit single, offers a different, perhaps more endearing side of Art Alexakis— given that the song deals with the dysfunction of drug addiction and co-dependence. The Daylights' "From The Inside" is lifted from their new release Vehicle. The Seattle band Truly's piece of sludge, "Hot Summer 1991," combines grungy guitars with ethereal synth strings into a thick, tasty, psychedelic stew. Very nice.
Eric Matthews' haunting "Lips, Nails and Screws" utilizes a subtly simple arrangement to create a claustrophobic atmosphere, clearly demonstrating a superior talent in the songwriters' craft. There are no surprises in Pete Droge's live take on "Sunspot Stop Watch," lots of ringing D and G chords, and Pete's soulful drawling vocal— as comfortable as an old coat.
"Get Up & Get Dissed," the 5 Fingers Of Funk's entry, gives full evidence of Pete Miser's genius gift for the rhyme and the rap: "Mess around and life is gonna be tragic like Magic Johnson/Make you take shots like Charles Bronson." Alyssa Burrows follows with another poem speaking to desolate anomie and ultimate miscommunication, our entitlement as members in the fraternity of Humankind. The Jimmies' "Cheap" gives indication of consistent improvement for the band, here with a song that might be mistaken as one of the Refreshments', except that it rocks a lot harder. Piranha"s "Underwear," the 5″ gives indication of continued song which,except for the fact that it rocks a lot harder, might be mistaken for ditties.
A primitively evocative drum beat opens Floater's "American Theatric," as a percussive vocal chant leads into the body of the song: a lively, horrific trip. Using a rock show as its point of departure, the band decends into a murky hell of swirling guitars and tense, constrained bass lines. Pilot's "Babble" continues the sonic mood, an intense jungle beat dominating the intro, before dropping into 12/8 in the verses. Jeremy Wilson's lazily laconic vocals are supported by a bed of droning guitars, exploding in the rousing chorus into simple splendor.
Super Deluxe, doing their very best Posies impersonation, give us the wonderful "Smile." Over rumbling guitars, a boyish vocal bubbles up, giving way to pretty Beatlesque harmonies in the chorus. Hungry Mob's "Energy" sizzles with it. Backwards guitar and a careening stand-up bass serve as the intro, leading to a funky bassline that serves as a backdrop for the smart rap that ensues.
Village Idiot prove that they have lost none of their bluster with the funny, sarcastic "Wither,"a diatribe against the elderly: "Off to the morgue with the grandma/Off to the morgue witht the grandpa/ No respect for your elders/Who's gonna clean your diapers?" An interesting sentiment of age bias on a recording dedicated to non-discrimination. Gus Van Sant's "Mama Can't Walk," which appears to deal with similar subject matter: "the plight of the aged," is downright bizarre, but winsome in its own weird and arcane way.
This is a top-flight collection of music from a wide assortment of bands and musical styles. There is very little in the way of filler contained within the package. The cuts are uniformly attractive unto themselves in regards to their high production values and quality of performances. A welcome addition to anyone's musical library— and ultimately, for a good cause.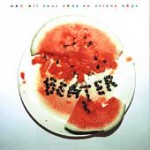 May All Your Days Be Circus Days— Beater
Self-Produced
Beater is the work of Eric Flagel and Todd Chatalas, who performed around Rainville for a number of years as Folk You. Folk You were a cleverly conceived acoustic Folk duo specializing  a cleverly conceived acoustic fin uniquely humorous sendups of mostly metal standards, like "Ballroom Blitz" and things like that. Their sense of humor is not diminished with this 12 song submission; though in this incarnation the pair contribute their own material for treatment.
Here they are joined by Gravelpit bassist Johnny Huck, who gigged with Chatalas in the Eugene-based band The Corps in the late 80s, and former Dan Reed Network drummer Dan Pred. Together the band combine to sound sort of like the Rembrandts with a sense of humor, or an American version of Crowded House with a sense of humor.ded House with a sense of humor— which in both cases, stylistically reverts back to the Beatles.
The project is listener-friendly, to say the least. Chatalas and Flegel have logged many years plying their craft. And they throw out rich harmonies in assorted styles with a slick facility beyond the ken of the majority of their bretheren in the local music community. Though perhaps not the most sincere of lyrics are still intelligently pithy and full of the snide cynicism that made Folk You popular.s not the most lyrically sincere, theysongs, full of the same snide, cynical mirthying their craft. They tossand adept guitar work, an assortment, are
A funky guitar riff kicks off "Things And Stuff," as the band struts its' collective chops across a song about a young girl's guiling duplicity in her quest for material gain. "Even Jesus" combines chunky acoustic guitar with Huck's thick bass to form the groove behind an updated version of T-Rex' "Bang A Gong;" with a decidedly more downcast world view: "Got a low market value with an underused intellect/ It's a personal crisis in the world of the malcontent."
A short piece featuring the Longview Middle School orchestra serves as a prelude to "Happy Go Lucky."s a prelude to "Happy Go Lucky," a peppy little ditty that aptly lives up to its moniker. Kevin Burke's Irish flavored fiddle interlude in the bridge lends the song an odd quality, reminiscent of the Beatles.
"Sister" could easily be mistaken for the work of the late, great Harry Nilsson in the early 70s. Over a chortling, country-tinged electric guitar figure and skipping drum rhythm, the boys deliver ng drum rhythm, the boys weavea strangely skewed tale. "Somebody is flying off to France on a big jet plane/ Somebody is flying off to France, I do not know her name/ My sister's going to Italy, who gives a shit about France?/ And if she makes it down to Venice, the venison will dance…/ Hey she's gonna eat lots of pizza (cliche) I know/She's gonna eat spaghetti too (cliche number two)/ And top it off with a capuccino."
The comparison to the Rembrandts is born out on "Hello Hello," a snappy number with crisp guitars and supple harmonies. e "Moonpie" and "Love Dog" are distinctly strange in content, while embodying all the aforementioned characteristics. "Love Dog" is a catchy chunk of funk served up with a little hip hop rap.
"Type-A Getaway" is the hit of the litter, with an addictive chord progression and an agressive delivery that distances the tune from its predecessors. It's a dirty story, about a dirty man— "Mickey wasn't happy with himself so he took it out on us/ 'Cause he wasn't afraid of being a dic-tionary of ideas/ And pumping on adrenaline, Mickey systematically tortured all his good friends… daily."g A daffy tour de force.
And the comparison to Crowded House is fulfilled with "Living With Regrets," another keeper, that finds seamless harmonies gliding over a classic progression with fiery results. Crowded House is fulfilled in
The Beater display a knack for writing memorably peculiar songs and performing them with economy and good taste. While lacking much of an emotional connection to the material, Flegal and Chatalas maintain an acerbic stance, which serves them well in their affable misanthropy. While not cutting any new musical            songs— ground, the band are so adept at what they do that fans of any of the bands to whom they are compared, would find in them many redeemable qualities.
Self-Produced
Up until quite recently, Jody Garner and Heather Savoy were performing under the name Phineas Gage. That was until it was discovered that there was another band in the Seattle area who had been performing for several years under that very name. It's odd to think that there could be more than one band in the universe (let alone the Northwest) named after an obscure individual who lost all sense of moral proprietyin the late 19th century  after inadvertantly having a railroad spike lodge in his brain via his eyeball. But there you go.
And, as things of this sort go, perhaps it was a fortuitous turn of events. The name Phineas Gage never quite fit. Jody and Heather pen introspectively wry tunes along the lines of Veruca Salt, Elastica, Belly or ,Veruca Salt, Elastica, Belly, Juliana Hatfield or Lush. Joy Pop Turbo sounds like a much more accurate appraisal of their music. The recent addition of new bassist Pete Ficht and drummer Steve Hess complete the transformation.
What remains in tact are Jody and Heather's unerring flair for writing catchy, heartfelt and literate pop songs, four examples of which appear here. Jody's "Borrowed Day" bounces on her choppy rhythm guitar figure, while Heather's guitar drones underneath. Jody's charmingly girlish voice innocently intones a moodily philosophical poem. That same voice turns a bit sarcastic on "Margaret, " a tougher cut— a challenging chord progression charges across the turnarounds against the gentler waltz of the verses.both women capably negotiate , charging across the choruse Those choruses ethereally lodges themselves in the brain of the listener, hanging on the repeated phrase "It happens."
Heather's "Jupiter" builds from a lilting acoustic guitar progression into a memorable track. Her own childlike voice, closely resembling that of Juliana Hatfield, imbues the lyrics with a sense of innocence and ingenuousness, while imparting a certain wisdom to the words at the same time. Likewise, her well-placed solo speaks of a mind eager to play notes that the fingers have yet to find. She does not play wrong notes mind you. But you can hear that she conceives of parts she can not, as yet, fully execute. Time is on her side in that department.
"Down By The Bodega" skitters on a jagged riff, both guitars telegraphing their messages across a skin tight beat. The unison vocals lend JPT a sound comparable to the Ronettes' (as performed in the 90's). "Girl-group" all the way.
And that's what Joy Pop Turbo have going for them. They write and play music created from a distinct perspective— delivered articulately; infused with passion and wit. Individually, and as a team, Heather and Jody continue to improve and expand upon their considerable gifts as songwriters, singers and musicians. There is every reason to expect that their renown will grow expotentially in prop[ortion to their growth as artists. They both show great promise and aptitude.show great promise and aptitude: and the means for fulfillment.will grow expotentially in prop,increase of that aim.
Love Nancy Sugar— Love Nancy Sugar
Self-Produced
Gina Noëll has an indomitable spirit. Not one year has gone by in the last ten or so, where Gina hasn't been singing in a band. First it was Napoleon's Mistress in the mid-80s, Pop Theology in the early 90s, then Twig and now Love Nancy Sugar. In that time, her abilities as a singer and songwriter have grown, as have her convictions to keep doing what she's doing.
And what she does is craft savvy pop tunes along the lines of Aimee Mann, if "Strange Secrets" is any indication. Wayne Thompson, former keyboardist for Tales Untold and Kennedy Payne an original member of Killing Field, lend stately, laid back guitars, faintly reminiscent of Neil Young's tone on his early classic "Down By The River." Gina sings with an evocative voice, at times calling to mind Rindy Ross of Quarterflash fame.
"Room 8" features Eric Lien on guitar and Greg Smith on keys, members of the current LNS line up, with the ubiquitous Mr. Thompson sitting in on drums. Gina hovers ethereally above these goings on, cryptically alluding to Gram Parsons' suicide (he was found dead in Room 8 of the hotel where he killed himself).sons' suicide (he was found A haunting song.
Payne adds a nice guitar solo to "Terrifying Real," Gina's wistful voice plaintively whispering the melody. "Every Single Time" churns with a certain urgency. Gina again swings into her Mannly mode, with touches of Chrissie Hynde (the mother of the genre) permeating the milieu.
Hynde comes to mind on the ballad "Stay." Over a standard I-vi-IV-V chord progression, Gina gives the song a David Lynchish treatment— slightly melodramatic, slightly gothic, slightly off-kilter. Cool. "Selling The Moon" could easily pass for an Aimee Mann outtake, with many similar properties: a memorable chorus the most prominent among them.
Gina Noëll has the tools to succeed— a good voice, solid material and strong production values. What's missing here is an over-the-top, sure-fire, bona fide hit. While all the songs are of consistently high quality, no one tune stands out above the others. Writing a hit song is unpredictable at best, impossible otherwise, but is well within Gina's scope as an experienced musician. One hit song makes the rest of these songs hits too. It's just that easy, fast as you can say Alannis Morrisette; but so difficult to achieve.
Airforce Records
A rough and tumble quartet, the Daylights— Scottie, Baker, Lee and Steve, somewhat resemble Bad Religion or maybe Green Day without the phony Cockney accents. Theirs is a straight ahead, punk-flavored sound, with enough stylistic flourishes to keep the set interesting
hes to keep the set interesting, enough chops of their own to keep from sounding too derrivative.
"Match" is a good example. Over a sprightly acoustic 12-string intro, Baker rips into the song with a scorching electric guitar. Scottie chimes in with a familiar sounding vocal line (oddly enough, given the circumstances, possibly partially lifted from Billy Joel), before oscillating into a chorus of note and Baker's well-placed solo.
Following similar guidlines, "The Lame" builds through the verses, creating tension with the staccato rhythm guitars, before exploding in the choruses, Steve's snare cracking like gunfire. "From The Inside" storms across a double-time two-step, hosed down by Baker's psychedelic lead guitar. "The 16th Minute" contains that same tubular guitar sound, toying with a country feel before cranking into overdrive in the second half of the tune.
Baker contributes another exemplary riff to "Talking Bombs," a mewling siren wail which adds warmth to the cold, jagged rhythm guitars twirling at the sonic periphery of the mix. Scottie's classic sneering, muttering, venomous vocal makes of this cut the hit of the bunch.
Something of a stylistic departure, "Id" features fine interplay between Baker's guitar and Lee's bass, widening the bands reach with an intricately wrought sound more akin to Afghan Whigs or Smashing Pumpkins.
The hard hitting strut of "Falling" is distinguished by a clever chorus, certainly comparable to Bad Religion's best work. Once again, a top-notch track with a strong hook. Baker takes over on "Vaxeen" with another infectious riff, this time a hammer-on job worthy of Eddie Van Halen's most dextrous outpourings.
The Daylights display keen musicianship, and an array of influences that prevent them from being imitative or predictable. Their sound is clean, muscular, and dynamic. Scottie's vocals might lapse into occasional anonymity, but Baker's guitar work is always impeccable. singularly And d, they are a band well worth checking out.
Voodoo Tuna— Voodoo Tuna
Self-Produced
Salem's Voodoo Tuna combine savvy musicianship with clever, intelligent lyrics to create a dynamic hybrid form of Metal— sophisticated and lighter-handed than most, yet struttingly tough when they want to be.
Check out the twisted "House That Jack Built" nursery rhyme that is "Perhaps She'll Die." Jason Leinenbach's guitar alternates between jazz phrasings in the verses and Sabbath-like thickness in the choruses, while the strangely mysterious Turhan Bey details the story about an old woman who swallows a succession of creatures to catch the creature she previously swalloed. Interesting.
The equally mysterious Tibi Boutocan kicks off "Little Boy" with a chuckling bass run as Ryk Hoffert delivers a syncopated backbeat. Bey launches into a Zappa-esque tale about child abuse and the resultant negative social attributes acquired by the subject "bad little boy," under those circumstances. A strangely forceful tune. "Egyptian Baby" circulates around Hoffert's seductive Eastern flavored drumwork and Leinenbach's pentatonic guitar figures, as Bey adds further Zappa inflected vocals, strong with harmonies in the choruses.
"Show Me The Way" stutters upon Boutocan's bassline as Leinenbach strings along in unison. Bey paraphrases the 30s ballad "Show Me The Way To Go Home" before lapsing into a harrowing tale of desolation and fear. Bey's fluid vocal instrument exhibits superior control and dexterity, oscillating with viscous  facility between impassioned operatic passages and gruffer rock segments. "Krispies" finds schizophrenic fodder in a bowl of ceral, resulting in a tale of gathering tension and violence.
Voodoo Tuna add something new to the Metal field with a sense of humor and a stylistic attitude that allows them to depart from the format long enough to be effectively original within the narrow genre they have elected to exploit. How the notoriously confining community of Metalheads will take to this new breed of Rawk remains to be seen. But Voodoo Tuna seem up to the musical challenge with chops a-plenty and bon mots galore.