Cravedog Records
Here's an engaging ensemble whom explore an eclectic sound wherein jangly acoustic guitar melds with sonorous violin; and soulful, impassioned male vocals are occasionally joined with equally soulfully impassioned female vocals. It's a sound not unlike what might be described as It's A Beautiful Day for the 90s.
[Now here's a little tip for all you labels and bands and other musicians who submit your recordings to people such as me, who will judge and criticize your creative endeavors within some faceless public forum such as this: you are wrong if you believe your skillfully crafted promotional materials— which are comprised of lengthy bios of each member of the band; brief synopses and overviews of every song contained upon your recording; lyric sheets, stickers, magnets, and other priceless memorabilia, will ever reach its intended recipient with the entirety of its contents in tact.
That is to say, your submission may be mistakenly opened and picked over before it ever reaches its eventual destination. Sad as it may be, it is reality. Furthermore if, in your haste to find the aforementioned public forum for your product, you neglect to include any information about the band or the music within the recorded package itself, with a J-card or a paper insert of some sort, you are sorely limiting underpaid monkies, you are sorely limiting the already of its contents inlong a diminished capacities of hacks such as myself to write about your music in any sort of personalized manner. You become guitarists, vocalists, etc. You lose your identity, which I would think is antithetical to your original intentions in entering the Muzic Bizness in the first place. If you crave anonynimity, get into data entry.
Such is the case with the recording submitted by Fernando. The cassette tape I received has the names of of the songs on the label. That's it. (I understand that in my capacity as an emissary of the printed word, that I should be out there lurking in the clubs on a nightly basis with pen and pad and tape recorder in hand, taking down the names of the likely suspects— but hey, I'm a busy guy).
I don't know who any of these people are, playing this very interesting music.]
"Exodus" unwinds slowly, acoustic guitar and electric guitar are buoyed above a smart drum beat. The vocalist, who shows no grunge pretensions whatsoever, instead recalls Marty Balin in his early Jefferson Airplane incarnation, or even moreso Tom Rapp who once headed a 60s ArtRock band called Pearls Before Swine— a craggy, slightly tormented voice uttering eloquently tortured syllables of loss and frustration. It's not that the sound is retro so much as the fact that no one has sung this way in 25 years. The violin enters at the chorus to duet sweetly with the electric guitar. And when the female vocals join in at the second chorus, a sense of real passion is attained.
"Drunkard's Lament" could easily pass for the country excursions of Mike Nesmith (the only talented Monkee), Fernando slipping the style on like an old Levi jacket. Graveyard maintains the country feel, the guitarist lays out some tasty pedal-steel flavored slide guitar licks. And when the vocalist sings "Stand your ground my friend," it is not a plea so much as a call to arms.
The mournful, Celtic-flavored ballad "Rain" benefits from sweet, Scarlett Rivera (Bob Dylan's Rolling Thunder Period) and vocals that combine elements of several other great folksingers: John Prine, Louden Wainwright III and John Mellancamp. inspired violin work and vocals whichen Wainwright III and John Melle Whoever this guy is, the vocalist for Fernando can stand right along next to issary of the printed word,, I just don't have time. guitar, a sense of real emotional fire""tingedcan stand tall next to his better-known peers.
Maintaining a freewheeling musical approach, "Battallion Of Angels" is a Bluegrass flavored gospel hoedown, with banjo and violin chiming in over bass, drums and guitar. Conversely, "Heaven" is a bluesy snake of a tune, slithering sleekly down some back alley, recalling slightly the Doors in the laid-back menace Fernando evoke. A searing electric guitar solo and Beatle-esque background vocals add to the stylistic melange. A very cool song.
"Watchtower" unwinds sullenly, picking up steam through the stellar guitar solo, but ultimately depressing as hell. "Perfect Picture" recalls the apocalyptic prophesy of early-Dylan, infusing various literary symbols with simple folk chord progressions on singular acoustic guitar. Naked and dangerous. "Yeah man likes to kill/ It's only a cautious observation."
"Parking Lot Blues" develops incrementally from a dirge to a brawl, picking up a perfectly placed blues harp along the way. One of Fernando's chief strengths are their unerringly savvy choices of instruments and presentation from song to song, giving each piece precisely the instrumentation for which it calls.gly savvy choices of instrumentationong to song;the arrangement
"Execute" is a little biblical parable about moral corruption in the backyards and bedrooms of Middle America. "The Wedding" is uncanny in its resemblance to the work of local unsung genius Dan Haley. The traditional folk romp, "9 Foot Wall," replete with droning banjo, zipping harmonica and a tandem violin, maybe the hit of the set. It's hard to tell. All the songs are expertly written and played.
Fernando exhibit all the qualities that make for a hit band. First of all they have good songs. Secondly, they present a lot of musical variety into their arrangements, preventing these simple folk tunes from sinking under the weight of their own somber lyrical stance. Finally, the vocalist (and ostensibly the main songwriter) delivers his message with a tremendous sense of urgency and sincerity, qualities we haven't seen around here since the early days of the Dharma Bums. displayand versatility in their presentationty. These are
Whatever the case, Fernando are not riding the crest of the current musical wave. Instead they are poised, ready to catch the next one.
Synaptic Traffic
Musically schizophrenic and doubtlessly too smart for their own damn good, Petal deliver a headspinning slurry of styles. Most of the time they are incredibly successful at what they attempt. Occasionally they are not.
They are not right off the bat with "True" and "Impure," where an heavy-metal guitar onslaught provided by the very capable Ken Barton overpowers the less puissant, but otherwise highly engaging voice of Jessie Spiegel. Among her very real vocal talents, singing metal songs are not among Jessie's strengths. But when Barton retires his ego, opting for the relentless riff of "Elegy," the band finds a groove in which Spiegel's pleasant voice might flourish.
Inflections of Chrissie Hynde and Rindy Ross color Jessie's delivery as drummer Rob Griner maintains a tom-heavy syncopation beneath Barton's whining riff., Stevie Nixon "Elegy,"  beneath Barton's twBarton contributes acoustic guitars to Mark Wyman"s chorused bass on "Waxing Pathetic," where Jessie sounds almost like Karen Carpenter, intoning: "And the victims dance the dance of nascent grief/Blissing past the shores of disbelief/Unencumbered by the sprawl/Where on earth's ther wherewithal?/To exorcize the right to force it down."the sprawl/Where on earth's the Oh, I'm thinking there's a Humanities major among the members of Petal. Still it's a pretty song, even if it requires a college education to comprehend.
The fiery "Heart's Four Chambers" is the hit of the package though Jessie might stray too close to Chrissie Hynde in the turnarounds. Griner's solid drumming through the bridge and solo helps to propel the song, as Barton launches a well-placed volly of guitar rockets in the solo as well. The frenetic "Left-Hand Lane" allows Spiegel to recite with abstract gusto Griner's punningly abstruse Joycean wordplay— "Know what I mean?/I mean it's high time the nice guy finishes first/And I'll be ruthless to prove it/Yes, it's the truth I have no ruth/But what's the youth in an age old system/Systematically excluding clues to include/A whole demographic of/Synaptic traffic/Cruising in the left-hand lane." Oh yeah!
Griner scores another hit (so to speak) with the elusive "Needles." Over a loping Beatlelike calypso beat, one of the guys sings a tribute to the intrinsic part that needles play in our society. "My devil needs compliance/Not a struggle, nor a fight
/And hey jude, you did not make it better/When you got under my skin/And the needle hit the groove."-little ibute to the intrinsic part which Yikes!
Spiegel handles herself well on the  Griner's intense "Bad Little Boy." Over flak-fire drums, stringy acoustic and thick electric gutiars, she is able to wrestle the spotlight from the sonic firepower behind her.  Barton's "Dear Joan" would seem to be lyrically addressing Joan Osbourne's "One Of Us."  "If God was one of us, he'd fake his way through school/Meet his friends in shopping malls, pretending he was cool/ If God was one of us, she'd have her kids too soon/Support them all with welfare checks while sleeping in 'til noon."
"WSD" cracks along smartly, while allowing each of the members a chance to stretch out stylistically, assuming a Floydian (circa Atom Heart Mother) artitude midway and out on this nine-minute opus. Barton's charming "Fishtank" combines his vocals with Spiegels's to a winning  effect on egels's to a winning  effect, over a slippery blues-based riff. A haunting track.
Barton save his finest guitar work for the last with the understated beauty he creates on the chilly, acoustic driven "Vows." As Jessie frames a es an affirmation of her intentions. Barton's efferfescent waterguitar carries the current of the song, poignant and pure.
Petal don't seem to know exactly what they want to do. Their excursions into Metalland seem the least successful. And while their penchant for wordplay and Thesaurus dueling is admirable, it borders upon pretentiousness— when they might (and sometimes do) say the same thing with less verbal inflation and more humor and heart. They do not lack for talent, nor for the capacity to be extremely successful at what they do. But the sense is that they are wrestling with themselves stylistically. And until that battle is decided, they are in musical limbo.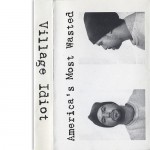 America's Most Wasted— Village Idiot
Air Force Records
This four-piece demo serves as an apt precursor to the band's full-fledged outing which is scheduled for release later this year. Here they combine pithy electronics with latter-day Beastie Boysish grooves to alight where the funk and the punk converge.
"Chickenhawk" maintains an incessant siren motif, while calling to mind Zappa meeting Trent for the best two out of three. "Party's Over" is a slinky groove  "Party's Over" is a slinky, end-of -the-night groove, that incorporates a perpetually roiling guitar and a peppery little organ fragment over a rubber=bottomed bassline.le organ fragment over a rubber- A smoky vocal line alternates with a tripped-out, slowed-down party voice to good effect.
Cruising on a swaggering guitar-riff, and a raucous, phlegm covered vocal, "Officer Down" is the Storm Trooper number of the set. Three minutes of sweat, adrenaline and testosterone. "Evasive Traction," is a skatey, polyrhythmic slalom down an oil slick. Agrressively viscous, humorously slippery.
Over the years, Village Idiot have graduated from a mind-numbing thrash band, into something slightly more profound and versatile. They remain Village Idiot Savant in my heart. Better than even they might know.
Sweet House— Sweet House
Self-Produced
Sweet House have been playing out a couple of years now and have not received the attention they deserve. Andy Burley and Andrew Martin blend to form a funky/bluesy groove over Hunter Berner's smart drumming. But the star of the show is diminutive singer/songwriter Susie Blue— who packs a whalloping voice into a tinybantam frame.
Sue's husky contralto is all over the country flavored "A Little Too Late," where her acousatic guitar combines with Burley's electric, creating a jangly bed of chiming chords. But the focus of attention is Blue's monstrous voice, effortlessly consuming the arrangement in a single breath.entire
"She's Lonely" bounces on Berner's trusty snare and stuttering kick, as Susie calls to mind Annie Lennox in her post-Eurythmics incarnation, with a touch of Maria McKee thrown in. "It Ain't About You" is a ballad with country roots, where Blue effortlessly culls emotion from a simple song. Burley nonchalantly uncoils a tasty, Mick Taylor-styled solo in the middle, adding distinctive spice.
"Oatmeal Crisis" benefits from Martin's fat bass, articulating a vigorous pattern beneath Burley's chattering riffs.neath Burley's chattering riffs and stylish solos. Sue caresses the lyrics with her rich voice while the band shuffles along with pluck And precision. The band takes a more straight-ahead approach to "Everything," Over a simple two-chord progression, Sue makes the most out of the simple foundtion she lays for herself.
The last time she was reviewed in these pages, Susie Blue was taken to task for being too over the top with her big, ballsy voice. Here she has tamed that bronco, showing control of every nuance of her delivery. The next assignment for her to tackle is her songwriting. While her songs, usually based on a simple chord progression, are well-written and honest, they generally lack satisfying development. If Sue will undertake to make her songs more interesting from a progression standpoint, she will avail her magnificent voice of a more sophisticated means for expression. Because, it's really only a matter of time before this ball of fire explodes upon the scene.
Self-Produced
Pop Theology have existed, in various forms, at various times for the past six years, serving as a songwriting vehiclce for Robert Noel and Gina Noëll (currently in Love Nancy Sugar). Before that incarnation, they shared songwriting and vocal duties in Napoleon's Mistress, securing a local band lineage that dates back to the mid-80s.that dates back to the mid-80s, persisting strong to this day.
Here we have 11 studio versions of some of PT's best songs. "The Edge" combines Mike Dion"s chunky guitars with Robert's shimmering acoustic, as Gina  coos the seductive vocals over tight background vocals. "Face Down" features Robert's own distinctive vocals, falling somewhere between Elvis Costello's throaty whine and Psychedelic Furs' Richard Butler's nasally drone. Over a familiar chord progression, the band executes the song with raunchy precision.
A syncopated stew of strident guitars and Don Lawry's jazzy drums sets the scene for "Coloring," a well-developed duet between Robert and Gina. Dion's churling guitar recalls Neil Young as does Robert's vocal segment where "Don"t Let It Bring You Down" is faintly echoed. Steve Kohl's imaginative bass solo locks the song into focus. "Hangin" Up" is Robert's peæn to frustration, a pretty, troubled tune.
"What For" sails on a catchy chorus and a sprightly arrangement, a 60s sheen shining from every corner of the song.tly arrangement, a 60s sheen gliste "So Far" is a Costellian foray into the betrayals that can befall a life; a cheesy Farfisa organ leading the charge. organ leading the charge, over which Robert provides the sneeringly biting vocals. Gina's Beatle flavored "Found" is lifted in the middle by  Kurt Nelson's marching cello. "What In The World" benefits from Lawry's propulsive drumwork and Kohl's rumbling basslines as Robert relates a song that could've been taken from the Andy Partridge songbook.
Hinging on a driving guitar figure, Gina's "Draining Sea" skitters like a ragged pair of claws— a hauntingly pretty tune, with a lilting arrangement. Robert's "Seasides" marches to a military beat, calling to mind the anthemic jigs of Big Country. Dion's bagpipe-like guitar lines add to the overall feel. Kohl's dancing bassline drives "Crush," as Gina toughens her vocal approach a bit, amidst the gathering rush of guitars. Very cool.
Pop Theology have always maintained an emphasis on songwriting. The tunes presented here do not stray from that formula. While Robert and Gina's styles seem somewhat disparate, the music they create always seems to commingle nicely. This aspect is greatly enhanced by the solid musicians whose services provide expert backup support. This is a fine effort from some very talented musicians.