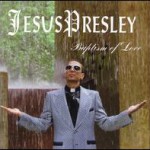 Baptism Of Love— Jesus Presley
Burning Nun
For two years, Jesus Presley have been tearing up the local club scene with their hybrid form of rock, a sound which includes but is not limited to elements of latin, jazz, r&b, blues, funk, punk, country and ambient music. Often these various musical strains are combined into a single song, giving fits to media and A&R types in their vain attempts to categorize the band.
With a core membership of nine players, including three drummers (none of whom utilize a kick drum) and two female backup singers and occasional horn sections, Jesus Presley enlisted the services of six more musicians in the making of their first studio album, Baptism Of Love. With such a handful (or three hands full, to be precise), the band wisely chose to record at Whitehorse studios, leaving the producer's chair to veteran Tim Ellis, while engineer supreme David Friedlander expertly manned the board.
The result is a production of great depth, but one that is carefully sculpted to reflect the feel of each individual song, capturing Jesus Presley's charismatic appeal. It's a big league sound all the way for a record sure to make many critics' Top Ten Of 1997 lists at year's end.
Bret Malmquist's slinky bass and sexy horns by saxman Scott Hall and trumpeter Dave Monnie lead into "Tarzan," a steamy number about jungle love. Lead singer, Reverend Tony Hughes jumps in to relate a sordid tale, over SP Clarke's rolling piano lines and the snappy percussion of drummers Jason Mockley, Matthew Siroka and Jeff Lyster. Monnie and Hall alternate hot licks around every instrumental break. It's a hit!
"Baptism Of Love" kicks off with a Memphis style horn section, with chunky piano fills and a chiming electric guitar, while Reverend Tony delivers a fiery sermon propounding the virtues of the singlehanded prayer to Onan. Pedal steel player Paul Brainard adds a country twang to the verses. Trina Berger, Nicole Campbell and Kristen McSheehy supply soulful, Motown style, three-part harmonies in the chorus and an angelic choir in the subsequent verses. Their rendition of Reverend Al Green's "Take Me To The River" in the bridge adds a gospel component to Hughes' complaints regarding the difficulties in securing love in these troubled times. Lead guitarist John Anderson contributes a searing solo in the middle break, reprising his effort at the end of the song as well. Another hit.
Reverend Tony spares no wrath for the paparazzi on "Victim." Lyster's tinkling triangle sounds like a small mind dripping tiny thoughts, Hughes' acoustic guitar grating through clenched teeth more secular , creating a claustrophobic mood. while Hughes' acoustic guitar grates, as if fearfully  The song advances into the verses behind armies of burly electric guitars and Brainard's theremin-like pedal steel flamethrower. Clarke's eerie Farfisa tones melt with the chorus into a dreamy bridge of ethereal soprano vocals and otherworldly pedal steel tones. Anderson rips through his guitar solo as if he is being electrocuted.
"Baby Can I" is a complete change of pace. Bassist Don Corey of Iron John sits in with the band on upright bass, setting up a lip curling, finger snapping Jazz groove that the drummers quickly accent with smooth, swinging finesse. Clarke and Brainard add layers of organ and pedal steel, creating a seductively foggy atmosphere for Reverend Tony's cool, restrained pitch. Hall delivers inspired sax solos in the breaks, riffing spectacularly.
The greatest mood swing occurs with the sublimely nightmarish "The Velvet." Hughes solitary acoustic guitar evolves out of thunder and rain on a windswept sea. Mysterious lights blink across the curving horizon. Ghostly ships pass through the mist. A nocturne of foreboding birds call out in the grey shadows of gathering night. Lost. The ocean wells up, crashing down upon itself with relentless force. Calm descends again, whales and porpoises dance lazily beneath the hazy moonlight. The thunder and rain return at the beginning of another cycle.
The product-oriented mentality of music industry types would never allow the vaudevillian aspects of the Beatles' Sgt. Pepper in the current marketplace. Diversity and ingenuity must now take a backseat to demographics and the bottom line. It will be a hard road for Jesus Presley too. In their case, papa may have too big a bag.
Actually, Baptism Of Love has several things in common with Sgt. Pepper. Each of the songs is an entity unto itself, yet somehow subtly connected thematically. And by the end of the album, one is hard pressed to remember exactly what has been heard. The immediate reaction is to listen to the record again, after which the process begins again. Generally, after four or five listens, the full effect starts to sink in.
Over the years Jesus Presley have proven themselves with countless memorable live shows. Because of the imposing size of the entire Jesus Presley experience, it was a good bet that they would be unable to capture their live energy in the studio. But, defying those overwhelming odds, the band has succeeded in aces. An album brimming with raucous joy and an irrepressible sense of fun.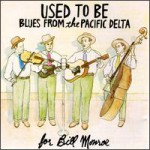 Used To Be: Blues From The Pacific Delta— Various Artists
Undercover Inc,
While very few Bob Wills and the Texas Playboys tunes are actually performed here, and many others are not even stylistically related: this loving send-off to Wills, who recently departed this earthly coil, manages to capture the spirit of the man and his music— which would seem to be the point, after all. Another aspect that the performers have in common is that most of them belong to the incestuously inbred clan of the Laurelthirst Pub. Familiar names such as Dan Haley, Pete Krebs, Kevin Richey, Neil Gilpin, Tim Acott and others, appear on several tracks, lending a certain homogenity to the procedings.
And that's probably what makes of this such a pleasurable excursion. Someone, ostensibly  producer JJ Gonson, went to great lengths to group these songs by theme and sound. The recording flows as surely as the Columbia to the Pacific. A Blues/Country/Bluegrass feel winds through all of the material, without being overt or obsequious.
Check out the thematic similarities between the Crackpots' rendition of Wills'"Used To Be" and Lisa Miller's"Trailer Park Honey." Spud Siegal and Dan Haley perform similar mandolin functions in their respective roles, though Booby Soxx' lap steel adds a slightly blusier feel to the Crackpots sound; whereas Billy K. lends a country lead guitar to Lisa's song.
Jim Boyer recalls the late Steve Goodman with his sauntering "3 Sheets To The Wind," where Haley's mandolin and stellar backup vocals meld with Neil Gilpin's slithering violin to create the mood for Boyer's recollection of a particularilty lost weekend.
The topic of alcoholism pops up (appropriately enough given the musical topography) many times during the set, but never so harrowingly delivered as on Richmond Fontain's "Blackout." Over Willy Vlautin's mournful guitar and Melinda DiCillo's haunting piano and organ, bassist Dave Harding lays out the scenario. "At a daytime party, in the Summer heat/I drank vodka and beer, as I did each day/That's how I was back then and how I still am to this day." His perpetual condition leads our hero to take his infant child out into a field in the Summer sun; whereupon he blacks out, waking to find a horrible sight, which leads to a telling realization: "Alcohol does not chase me, for it's me who chases it/It does not crave me/For it's me who's still in love with it." An epic song. recollection of a particularl
Sunset Valley's take on the subject, "Drunk," seems much more in keeping with the state of denial necessary to maintain properly an alcoholic lifestyle, pondering mightily why his baby might board a bus to Northern Idaho and leave him this way.
Kevin Richey and Pete Krebs show up both individually and as members of Golden Delicious and the Prarie Dogs. Richey's craggy bass voice recalls the desolation of Townes Van Zandt (who also died recently) on his "Lamentations." With Golden Delicious, he performs a greasy little snakedance on the traditional tune "Little Sadie." A breathless series of breakdowns alternates between fiddler Marilee Hord, Krebs on guitar and Richey's strange backwards banjo. A very cool song.
Krebs' rendition of "Shady Grove" would seem to be a home recording and features some fine multi-track harmonies by Pete and Pete. And the Prarie Dogs' take on the Ukranian ditty "Hussar's Song" combines a bluegrass feel in Dan Haley's saucy mandolin with Neil Gilpin's distinctly ethnic violin stylings, calling to mind Stephane Grappelli in the process.
Miss Becky, Becky Kapell delivers a faithful version of Dolly Parton's "Jolene." Haley supplies supple vocal harmonies, while Gilpin contributes a sinuous pedal steel guitar turn. Maintaining, almost precisely, the same mood and feel, the Capitol Hillbillies follow with "Get My Way." Vocalist Steph Watson's voice is similar to Kapell's and the backing instrumentaion is similar as well.t Lynn Connover jumps in with "Rag-tag Devil," backed by Haley on mandolin, Kennedy on guitar and Krebs on snare and washboard. Lynn tackles the tune with hoarse aplomb, sounding perhaps the most Country of all the performers involved with this project.
Fernando bestows the anthologyto  a sense of gritty intensity with his impassioned "Edgar Casey Blues," a honky-tonk crawl through the depths of Hell led by the fiery specter of Fernando Viciconte. And the Belmont Street Octet present a sparkling piece of Americana with "I Have Seen It Worse." Mike Danner throws out a slinky piano solo, as Lee Rhinoehl, Johnny Ward and Miguel Maldinado supply the slick horn section. Neil Gilpin jumps in with one of his trademark pigmeat vocals, giving to the track a particular anachronistic skew.impart
Blues From The Pacific Delta  is a peculiar name for an odd project that presents, perhaps for the first time in clear relief, the growing Folk community of Portland. It succeeds, both as piece of musical arcana, an archival characterization of these fertile musical times; and as a cohesive musical project unto itself. The bands involved sound enough alike in their chosen formats and akin in their sensibilities, that it sounds like the product of one (rather large mind you) group. And that is, perhaps, its strongest virtue.cohesive quality  For in many ways, this recording could have been released at any time in the last fifty years and not seem out of place. And it will probably sound just as good fifty years from now.
Kill Rock Stars
The reigning poet of the local music scene weighs in with this twelve-song opus produced on Olympia's Kill Rock Stars label. Elliott Smith, the motivating force behind Heatmiser, explores an intimate, semi-unplugged approach in a manner where piquant, stripped down arrangements augment his exceptional songwriting craftsmanship.
Elliott's boyish voice might be compared to Matthew Sweet or Michael Penn (whatever happened to Michael Penn?) on the angelic scale, but Smith surpasses both in brains and emotional depth.And it's a certainty that he is able to play on the same field as those major leaguers. Elliott's a home run hitter.
To be sure, there is not one wasted note or syllable here, In the economy of his presentation, Smith loads each moment with incredible pathos, remarkably succinct in the precision of its aim. For this, by anyone's standards, by any measuring stick, is a hit record. There are three or four hit singles to be culled from the dozen. And of the remaining songs, not one is a throwaway. Not one strays from the context Smith creates.
The hits are not hard to find. They are as infectious as the common cold. The laid back shuffle of "Alameda" could be part of Neil Finn's Crowded House material, with a tricky little melody through the verses, giving way to a luscious chorus. Touches of organ and electric guitar color Smith's guitar and drum scenario. "Ballad Of Big Nothing" is even more stripped down than that: simply guitar and drums accompanied by sparse bass. But, as with Matthew Sweet or Neil Finn, when Smith rolls out the pretty chorus, everything else falls away.
"Pictures Of Me" adds tasty dashes of Sgt. Pepper  period Beatles— "It's Getting Better" guitar chimes, "Mr. Kite" organ, electric twelve-string runs and tight vocal harmonies, for a delightful pastiche that could play on any radio station that plays the Sweet, the Posies or even They Might Be Giants would love this cut.
Elliott's abilities to turn a phrase turn "Rose Parade" into a delightful romp— "They asked me to comedown and watch the parade/And to march down the street like a Duracell bunny/With a wink and a wave from the cavalcade/Throwing out candy that looks like money," which is a neat analogy for the local music business, if one chose to look at it that way. Melodically, the song has a lot in common with Bookends era Simon and Garfunkel or even They Might Be Giants.
Paul Simon again comes to mind on the gorgeous "Angeles," "Someone's always coming around here, trailing some new kill/Says I seen your picture on a hundred dollar bill/And what's a game of chance to you, to him is one of real skill/So glad to meet you Angeles," over a skittering acoustic guitar accompaniment. An angelic organ enter at the bridge and suspends with great wings the song to its completion. Another gem of a song.
"Cupid's Trick" spins quickly into an hypnotic chorus of great visceral strength that carries through the quieter verses. Incomparably sublime. Other songs, such as "Speed Trials," "Between The Bars," "No Name No. 5′ and "Say Yes" display  Smith's unerring genius at creating an unique song. He is a songwriter of the highest magnitude.
I can't recall ever hearing such a complete record from a local musician. Every musical turn is filled with rich detail, Elliott's gift for combining words and melody are everywhere to be found. Music that is heartfelt, endearing, witty, cynical and urbane at a single stroke.
Over the years, Portland has seen many great musicians who were destined to become National figures— Art Alexakis being the latest in that line. But of all those illustrious musicians, it seems clearly evident that Elliott Smith will one day become the greatest and most famous of them all. For in his soft-spoken, rather detached approach lies a raw power seldom seen anywhere, ever. An undeniable masterpiece.
Self-Produced
Equal parts the Incredible String Band, Richard Thompson and They Might Be Giants, this quintet shows a lot of versatility in its selection of the aural components that comprise each separate song., the Pogues Though Worthington are a Rock band at heart, their roots lie in the English Folk/Rock tradition of 60s bands like Fairport Convention, Pentangle, Steeleye Span and Renaissance— with threads of Country sewn in for good measure.
Vocalist Kurt Foster sings in a forlorn drone closely akin to predecessors such as Bert Jansch, Ralph McTell and early Richard Thompson. Behind him, guitarists Omar Ferrari and Jake Stebner and the rhythm section of Michael Williams on bass and drummer Oren Williams, provide a concise musical context, abetted on occasion by Gerrari's lap steel, Stebner's mandolin and banjo and Michael's intermittent organ embellishments.
An organ pedal tone leads the way into "Waltzing With Folly," a tune that derives it's propulsion from a curious roiling stringed instrument that sounds most like an electric dulcimer. As the bass and drums enter the scene, and the drone reaches a rousing crescendo, high string chimes ring across the musical horizon. Reminiscent, in energy, of early U2 or Big Country.
"The Girl Who Chewed Loudly" is more straight ahead and a very strong number indeed. The winning chorus hangs on a brilliant hookline. "Show me what the blind dream." But at one minute, forty-five seconds it's a tad brief boys.
Thick, murky bass, and guitar phrasings that often resemble Hendrix' "Little Wing" drive "Atrophy." Stebner's mandolin and Ferrari's  lap steel give "Underfoot Of Nothing" a different color altogether, as does Foster's tightly compressed vocal.
"Nerf Cannon" reasserts the pace, a song that sounds like Peter Murphy doing Buck Owens' "Tiger By The Tail," with elements of early U2 tossed in. Similarly, "Boise Cascade" is kind of an Irish jig Country ramble that covers a lot of musical turf in a very short period of time.
None of Worthington's songs here exceed three and a half minutes. Most are much shorter in duration. And while brevity may be the soul of wit, the inclination in rock these days is toward a somewhat lengthier (and some may say, "witless") discourse. But, though they usually employ two guitarists, neither Ferrari nor Stebner are lead guitarists. What they do, they do well, but extemporization is not among their chief skills. Worthington take their songs to a lot of places in a very short period of time. And perhaps they are wise to just do what they do and get out of the song.
Worthington are a bright new band exploring musical branches not recently plumbed in the history of Musicana— recombining diverse styles in a new and unique way. They deserve closer attention if only to determine just how many songs they must play to get through an hour set.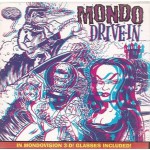 Mondo Drive-In— Various Artists
Blood Red Vinyl And Discs
The Cult of Surf once again rears its foamy head with this well-produced piece of time warpage. While there might not be a huge market for this retrograde ride in a hopped up Nomad down the long sunset highway of the perpetual beach.h, the sixteen acts contributing tracks here are certainly earnest in their attempts to recreate movie soundtrack themes via the Surf medium. How the Bay-area based conceptual accordian artist Miss Murgatroid ended up in the mix is a quandry to ponder till the next compilation come.
Certainly, given the idiom, there is a certain predictability to the arrangements. Just how many variations can you pull out of a heavily reverbed amp? But the sincerity with which the performers furnish their offerings, and the sometimes unexpected turns they confer to the familiar and unfamiliar (some of the compositions here are originals)Without a doubt movie theme context delivers enough surprises to keep the ride interesting.
Highlights include Satan's Pilgrims' unprecedented take on "The Theme From The Godfather," with a nifty tarantella interlude among the precisely executed slalom of the different guitar solos.All over a persistent Surf drum beat. The Tiki Tones depart from the ritual rhythm for "The Ghost And Mr. Chicken," which was written by Vic Mizzy who wrote the theme for "The Munsters" as well as countless other TV jingles. A well-played Farfisa duels with a tight electric guitar to an authentic end.
The Exotics' pentatonic approach to the motif of "Casbah" seperates their cut from the others the motif of "Casbah" sepa, as does the combo's judicious use of a.coustic guitar. The Boss Martians give the Rutles a run for their money with P.F. Sloan's "Hold On," copping the early Beatles right down to the minor 9th chord conclusion.
Not to be outdone by The Exotics The Insect Surfers' rendition of "Zorba The GreeK" covers all the bases from flat out bazouki to "Orange Blossom Special." The Galaxy Trio do a faithful version of Ennio Morricone's theme for "A Fistful Of Dollars," with whammied guitar sustains and military snare hits. Pop Defect's existential stance on Dudley Moore's "Bedazzled" creates a futuristic Pulp Fiction  atmosphere.
One of the more challenging tracks is The Penetrators' live take of
"Chariots Of Foam" which captures the impact of Vangelis' Academy Award winning piece while never straying from Surf ideology,ver straying from Surf ideology. Planet Seven take a spacey roller coaser in their delivery of the "Telestar" flavored "Lara's Theme" from Doctor Zhivago.
Following Pop Defect's lead The Neptunas maintain a slightly twisted worldview with their treatment of "Faster Pussycat." But the grandest, strangest movie of all was saved for last with the effulgent Miss Murgatroid. Creating an aural dreamscape similar to that of sleeping through a poor print of a 30s movie musical. With a voice that sounds like Yoko Ono doing Elizabeth Frasier filtered through heavy water, hovering over the bellowed hum of profoundly effected accordians and other devices, Miss Murgatroid authors a clockwork apparition of vaporous magnitudes. Unlike anything else in the world.
While the Surf realm can quickly become trying to the non-devotee, this compendium satisfies not only for its uniform sound quality throughout, but for the diversity the various contributors bring to the board as well. This trek never becomes a drudge or a bore, but proves instead that every surf is different, each wave. For collectors and lovers of true roots music this recording is a must.
Self-Produced
One of the founding members of the Portland Alternative scene, guitarist Arni May, leads the charge; teaming with long time guitarist of note Mark Spangler (Johnny & The Distractions, Nighthawks) and keyboardist Craig Brock to carve sinewy film music for movies unmade.
The Reggae syncopation of "Come Back Bob Marley" yields to the galaxial Satrianisms of "Golden Days Of Hope." Mark Knopfler's soundtrack work comes to mind as well, as with the luxuriously ethereal "Kitten Girl."
"Black Helicopter" kicks off with Brad Larson's funky basslines over Barry Derlago's beefy drums. Misty layers of plucky guitars and faded organ tones float around the scene, not unlike an Eric Johnson flight.White Sands Arni's Fripperesque sustain soars around Mark's harplike arpeggiated chords on "Private Heaven." "G-Spot" moves toward a funky Latin feel, aided by Wilton Merritt's deft conga work, while Spangler's Roy Buchanan colored solo gives way to a backwards cadenza worthy of Steve Morse. Very cool.
Further funk can be found on "End Times," while "Two Faces " traces a Spanish lineage. "Bloodletting" incorporates Sting and Andy Summers onto their palatte of musical coloration, with heavily choused guitars dancing over a hard driving bassline.
Spangler and May have tapped into the ambient guitar wellspring just when Eric Clapton has made his own semi-anonymous leap into the pool. The music this band plays can hold up next to anyone. With a lyricist/vocalist, they could be Steely Dan or Dire Straits. Here again their stylistic choices limit their appeal. But it's hard not to like Majestic 12. They're so good.