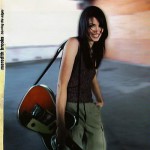 Blurring the Edges— Meredith Brooks
Capitol Records
There aren't many scenesters populating the local musical landscape who remember those halcyon days of yore, when the Portland aggregate was comprised of all sorts of different rocks. Looking back, say twelve years ago or so, one might recall such hallowed bands as Billy Rancher and the Unreal Gods, Nu Shooz, Thin Man, The Dan Reed Network, Sequel, The Rockin' Razorbacks, Mien Street and Meredith Brooks and the Angels of Mercy. Meredith Brooks? Hey, doesn't she have a song on KNRK?
Yep. Meredith Brooks.  Playing out in the local clubs. One and the same. Seemingly, it only took Meredith twelve years enduring the dead ends and cul-de-sacs (anyone remember GoGo Charlotte Caffey's brief foray with Meredith in The Fates? Didn't think so) in the LA rat race on the road to achieving overnight success. However, a perusal of the Two Louies  archives back to an article published in the issue dated October 1994, indicates that Brooks' road has been even longer than that. Much longer.
That interview, conducted by Mark Goldfarb, gives significant insight into Meredith's tenacious desire and determination to make it in the music business. At that point in her career, she had already been chasing the elusive "major label deal" for six years, having come tantalizlingly close on two or three occasions. She met with Goldfarb to promote her management agreement with Pacific Talent and J. Isaacs (who had recently engineered Quarterflash's Geffen Records contract) and the formation of her new vehicle The Angels Of Mercy.
"'I'm going for my big third round. My first round was originally in Oregon with an all-girl band named Sapphire. We got a deal and it never really happened. Then my second deal was in Europe and that didn't really pan out. And now this is the third go-around, which is hopefully going to be the one."
Her discernments regarding the music industry were decidedly telling as well. "Most musicians are not willing to take enough time outside their music to learn the business aspects. You have to be a real die-hard to survive in this business. But I don't want to believe in rip-offs. You can make your own way. This business is like Catch 22. If I had never had a deal, I don't think it would be right for me to have a manager at the level of J. Isaac. Because unless you have material or background or the credentials, then you can't get people to back you up. The catch is that no one wants to give you a deal until you've had a deal."
Whatever pronouncements one might make about her music, no one can deny Meredith Brooks' gritty resolve toward the business aspects in the Entertainment Industry. That she has survived and stands finally to make a name for herself, on her own terms, is a testament to her strength and persistence.
On the surface of Blurring The Edges  it would seem that the success of Alannis Morrisette and Sheryl Crow with their droll, street-wise approaches, opened the door for Meredith's acerbic introspections. But, more akin to Cyndi Lauper, Brooks is adept at adapting styles to her own devices. And her trump card is that Meredith is a first-rate guitarist. Every cut here crackles with her superlative chops and superb taste.
Bear in mind we're not talking about the morphed arcana of some self-taught bedroom savant, but an old pro who has been plying her craft as a musician for over twenty years now. Each track benefits from Brooks' fine attention to space and detail. Nothing is wasted. Nothing is superfluous. Except for the occasional up-front bass line or organ pad, it's just Meredith and her guitars playing against a drum machine. And generally she rips it up.
When she doesn't, as on the Lynchian "Watched You Fall" or the Aimee Mann-like "What Would Happen," she delves in darker, richer hues— the latter, especially, a delectable tour de force. "Stop" is so much like Crow (replete with Ricki Lee Jones slurs), it has no identity of its own whatsoever. It's simply too derivative. Similarly, "I Need," while a cool song, sounds too close to Morrisette's  "All I Really Want" to really stand on its own.
But the airplay friendly "Bitch" rises above its antecedents with a wry sense of humor; as does the hilarious "Birthday," a tune which may indicate that Meredith has been in LA a little too long. But fiery solos and intricate structural embroidery on guitar make of this a showcase number.
Over the shuffling rhythm of a acoustic guitar and snare, "Pollyanne" gives insight into Meredith's outlook on life, exposing a vulnerable side:"Here we go again, same old argument, you're callin' me Miss Pollyanne/You see the world as cruel,and bein' mad is cool, you think that I don't give a damn/You don't have to shout to be heard (who said dark is deep?)/You'd rather flip the bird (I'd rather show you signs of peace)/Love ain't a dying art as far as I can see/Oh, sentimental me."I can see/Oh, sentimental me/ So paint your roses black and blue/Use the fuck word, I can too/When I have nothin' else to say."
The two most infectious songs lie in the middle of the album. Meredith applies a sinewy funk guitar riff to the big biff drum beat of "Shatter." The tough chorus, right out of the Stones' songbook, is instantly memorable; the bridge a nice droning figure that supports Brooks' stylish slashing guitars,  a strutting bassline converging over a wispy organ and snappy percussion fill in a swamp flavored romp. Again, pieces of Meredith's life bubble up from the lyrics:"All I ever wanted was a view of city lights, break away from here, leave behind the quiet nights/Spend half your life trying to make a change and the other half trying to get back again." As succinct a synopsis of the rocknroll lifestyle as you're ever likely to hear.
Meredith Brooks proves herself to be a credible singer and songwriter and a guitarist of special note. She is at her weakest when she imitates the flavor of the day. She seems to be pandering to the lowest common denominator. But when she lets all of her musical roots show, she proves herself to be an endearingly approachable personality full of wry observations and tender perceptions; clearly a very complex individual. And while this effort may not be the very best that she can do, it is certainly worthy of the attention it has received thus far and deserving of inspection by anyone who appreciates the work of the aforementioned artists. She can hold her own with any of them.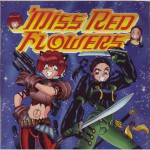 Miss Red Flowers— Miss Red Flowers
Tim/Kerr Records
Miss Red Flowers is primarily the work of songwriter Amy Kent who sings and plays guitar. She is backed by ubiquitous drummer Jessie Sperro. Amy logs in with a sound reminiscent of Rebecca Gates of The Spinanes, but more ethereal— calling to mind elements of Cocteau Twins, Lush and Dead Can Dance with her wistfully subdued delivery and melancholy pensiveness.
Amy's approach is unsophisticated but elegant  approach is unsophisticated, yet elegant; apprised of a gift for melodies, which are at once uniquely unorthodox and  hauntingly sonorous. Sperro's eerie background vocals serve almost as another instrument: something like an amorphous synthesizer patch— strangely compelling in their otherworldliness.
Standout songs include the enigmatic "Velvet," a ruefully dispairing examination of a relationship in pieces; "Ones I Like The Best," a Liz Phair flavored rocker with a catchy chorus, that explores Kent's subtle self-destructive urges; and "Satellite," an austerely mysterious number that incorporates a pulsing guitar line and atmospheric backround vocals, effected to sound like a volume pedalled guitar, with wonderful results.
"Ocean Song"  hangs on a simple two-chord progression, but underlayers of spacy guitar and vocal textures add spice to a pretty, uncomplicated melody. A Rebecca Gates sensibility invests "Her Own," but "Alien Love Song" weaves in exotic intervals in quite an original way. "Daisy" is satisfying as a fairly straight ahead Pop song with a good sense of dynamics.
Distant violins color "Abbey," another noteworthy number, while Sperro propels the tune with solid drumwork. A very cool song. Violins dance in the twilight of the extended intro on the unusually lovely "Rama." As  Amy's guitar gently saunters through a modestly sublime series of chords, she sweetly chants an hypnotic plaint. Wonderful.
Miss Red Flowers' determinedly  stripped down production values, often leave these piquant songs naked to the world. It is a testament to Amy Kent's abilities as a writer and singer that her songs generally succeed in that austere environment. One wonders what this all might sound like with just a tad more instrumentation and production, but for what it is, this is a very nice recording.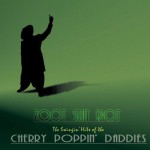 Zoot Suit Riot— Cherry Poppin' Daddies
Space Age Bachelor Pad Records
There is no justice in Rock and Roll. Perhaps that goes without saying, but it always bears repeating. There is no justice in Rock and Roll. A good case in point for that assertion lies in the fact that among the current run of "Cocktail Nation" acts to hit the bigtime: Squirrel Nut Zippers, Reel Big Fish and Royal Crown Revue, the Cherry Poppin' Daddy's are not listed. This is not right. It is not just.
Steve Perry, founder, creative mastermind and raison d'etre  for the Daddy's was copping the hopped up Swing of Cab Calloway and Louis Jordan licks, incorporating his own twisted lyrical perspective and presenting it in outrageous stage shows nearly ten years ago, in the days when Day For Night was a happenin' local nite spot. Always riding a wave of controversy, both for the contentious moniker, pruriently puerile lyrics and equally lascivious stage behavior, Steve and the Daddies continually seemed to be on the verge of ending up either with a lucrative record contract or in jail on morals charges. But it seemed that the band was destined for something big. Sooner than later.
And though there is no disputing the band's undeniable regional appeal and loyally rabid local following, the big deal has yet to happen for the Daddies, despite the fact that they are better than their competition. The band has undergone changes over the years. Steve and his right arm, brass man Dana Heitman, have replaced every other position in the band. There are seven current and sixteen former members. This collection of ten Daddies classics and four unreleased tracks is nothing if not a monument to Perry's incredible talent as a singer and Heitman's impeccable taste as a player and horn section arranger.
Beyond that, this compendium is a loving tribute dedicated to a musical tradition that has survived the 20th Century and everything popular musical tastes could do to it. That Steve Perry and the Daddies are the best proponents of that tradition playing today, anywhere, is a subjective assessment, but one that has yet to be proven wrong, given the evidence.
If you know the band at all, then your favorite Daddies' songs are here: "Ding-Dong Daddy," "Shake Your Lovemaker," Dr. Bones," "Master And Slave" "Drunk Daddy" and "Here Comes The Snake;" all celebrating Steve's dark social observations with obsessive attention to musical detail. If you're unfamiliar with the Daddies, then this package certainly serves as the initiatory primer.
Among the new additions, "Zoot Suit Riot" fits right into the repertoire, with slick sliding horns and Steve's inevitable complex wordplay, delivered via the ghost of Sammy Davis Junior. Likewise "Brown Derby Jump" is a sizzling piece of jump swing, immersed in seedy allusions and hip characterization played about as hip as it gets. "No Mercy For Swine" is something of a departure— 50s boogie woogie style rock, that works as a break from the Daddies' norm. Similarly, "Mister White Keys" and the standard "Come Back To Me" act in the same capacity. The big band arrangement on "Come Back To Me" is worthy of Vegas and Steve's uncanny take on Sammy is truly breathtaking.
The Cherry Poppin' Daddies are quite possibly the tightest ensemble this region has to offer, descending from a long line of distinguished "horn bands." They make it quite clear that at the very least they could pull down top-dollar in Tahoe or Vegas, without breaking a sweat. The question is, when is the world going to get to hear the unquestionable brilliance of Steve Perry? Tomorrow would not be too soon.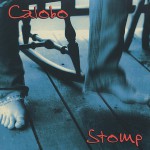 Stomp— Calobo
Padre Productions
Calobo, after finally falling from Locals Only's Top Ten, following years at the top with several recordings, has of course countered this trend with a new release— which immediately went to the number one position. And the Top Ten could do worse than to have this engaging folk rock outfit heading the list. Stomp  finds the band coming together quite nicely as a single unit, blending individual, sometimes disparate, musical backgrounds into a cohesive whole. Keyboardist Jenny Conlee especially, displays considerable chops— from Bruce Hornsby colored open chord arpeggios, to Bach counterpoint, to Gospel to Jazz phrasings, she's got them all in her bag. It is her presence that elevates the material above the run-of-the-mill.
Stylistically, the band run the gamut, from the Nightnoise informed Bluegrass of "What Is Real," to the John Prine Country of "Stitched In Wool" and "Could've Been," to the Baroque detail of "Bright Day," to the Sublime-like giddiness of "Slow Train," hey, these guys are all over the board.
Acoustic guitarist/vocalist David Andrews and acoustic guitarist/mandolinist/vocalist Caleb Klauder share the bulk of the songwriting duties. Lead guitarist Kenneth Erlick and bassist Nate Query each contribute a tune as well. Andrews' songs tend toward the Country feel, often containing a homespun tale of love and desolation. Klauder is a bit more eclectic, veering from the David Crosby-like paranoid Blues of"Like A Bird Without Feathers" and "Mood Swing Stomp," to the swingy, John Sebastian-esque "Down In My Old House."
Query's "What Is Real," an energetic romp, is highlighted by scintillating interplay between Conlee and Erlick. Over Klauder's jigging mandolin, conlee's piano and Erlick's electric guitar dance in unison, executing perilous runs with acrobatic dexterity. Vocalist Michele Van Kleef takes center stage with a vocal that calls to mind Christopher Cross on "Ride Like The Wind," with more technique. Klauder's inspired mandolin solo sets the table for Conlee's more subdued musings, before returning back to the vocal.
Conlee's marvelous Bachian intro to "Bright Day" gives way to a smart shared riff with Andrews on acoustic guitar, before leading into Klauder's Hornsby-like homilies; Van Kleef adding vibrant harmonies in the choruses.ofto the jaunty swagger of the Little Featy "Like A Bird Without Feathers,"  "Mood Swing Stomp" drifts on a jazzy lattice of piano and Brian Bucolo's splashing cymbals, sounding somewhat similar to Crosby's "Wooden Ships," until a rousing uptempo swing interlude overtakes the scene— featuring more saucy vocal harmonies by Van Kleef, before returning to the top and back again Well-placed solos all around maneuver through a choice series of musical chicanes. Top notch stuff.
Calobo's many talents are in clear relief here, as are their few shortcomings. For, while their musicianship is always stellar, their songwriting is not always so consistent.ing is not always so consistent, nor so well integrated between the songwriters. The musicians help to smooth over these jagged edges, more often than not, with truly inspired performances. But stalwart execution does not make a mundane song great any more than crummy technique can hide a hit.
To that end, both Klauder and Andrews have decent baritones, though somewhat faceless. Van Kleef, except for her few lead spots, is mostly relegated to a backup role. Three leads is too many for this band. Perhaps, if the boys were to write songs for Michele to sing, concentrating on a cohesive motif the best singer of the three, except for a couple of, they could meld together their somewhat dissimilar styles.
Still, Calobo are popular for a reason. They produce thoughtfully well-honed music with a positive message and they do a good job of it. If they can improve as songwriters and find a vocal focus for their creations, there is every reason to think they can remain atop that Top Ten Chart for many years to come.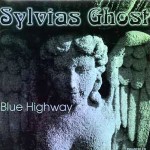 Blue Highway— Sylvias Ghost
Rainforest Records
Sylvias Ghost present their first CD as an enhanced CD-ROM package, that sets the benchmark for local productions. Together for nearly five years, the Ghosties have developed a hybrid sound comprised of Goth and Techno-Ambient strains as well as Folk and Ethnic elements.
"The Cage" takes Kenneth Bancroft's angular synth arpeggios and adds Ken Westin's jagged guitars, providing the bed for William James' vocals. An INXS infused chorus gives the tune its roots. James sounds more like Jeff Buckley on "Bury Me." Over a kaleidoscopic synth drone and tabla like guitar filigree, the time shifts effortlessly between 4/4 and 3/4 time. fronting the Cocteau Twins
The title track follows Michael Draper's funky bassline, accented by Jason Mockley's stuttering drum figures and Bancroft's moody synth pastiches as James projects a hypnotic tenor and rich falsetto across the broad sonic expanse.
Jeff Buckley's dad Tim comes to mind with the exquisitely embellished "A.L.A." a cosmic mantra of a tune. "Myth" skips on Mockley's slyly syncopated drums and the swanky nocturne of the guitars and synths provide a downtown departure from the band's more celestial leanings. "Agnus Dei" is a short piece of Gregorian chant that gives James a chance to showcase his veritable choral apptitude.
"Epidemic" is an apocalyptic piece of murky Goth that quickly trips out into profound psychedelia. "Green" could be either of the Buckleys. Flying on the wings of Bancroft's airy synth strings and Westin's gyroscopic guitar, James soars like a hawk in a warm canyon updraft. One of the best cuts. The Middle Eastern contours of "The Sleep" shift like tall dunes as James moans a whirling wind of lament.
Sylvia's Ghost sacrifice immediacy for artifice, layering dense clouds of sound against vaporous stratospheres of rhythm.  into a thick, melismatic ether. Fans of Techno/Ambient styles would do well to check them out. They are a rare breed in this neck of the backwoods.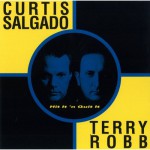 Hit It 'n Quit It— Curtis Salgado and Terry Robb
Lucky Records
Tireless Blues revivalists harpman Salgado and guitar slinger Robb come together for a smokin' set of mostly Blues covers, with a few originals thrown in to pay the bills. The territory of Muddy Waters, Elmore James and Honeyboy Edwards is familiar terrain for these two veterans. With the help of JohnMazzocco on bass and Butch Cousins (with Jeff Minnieweather taking over on a few numbers) on drums, they proceed to tear through a fiery set.
Curtis takes the vocal reins on Jimmy Rogers' "If It Ain't Me," as he and Terry set up a smooth groove, over which they carry off a plucky duet in the solo section. Edwards' "Drop Down Mama" smolders with Robb's expert slide work, not easily accomplished on an acoustic guitar; and guest Dave Stewart's skillfully apt piano accompaniment. The Salgado/Robb composition "Bitter Tears" is a sexy strut, upon which Robb slaloms on bottleneck Cousins' relentless backbeat. Curtis' soulfully funky delivery gives the tune its low, low center of gravity. A winning number.
Robb plows through the dusty voodoo cottonfields of Muddy Waters' "Still A Fool," as Curtis wails his weary incantations to the moon. James' slinky "My Kind Of Woman" is given more of an uptown treatment with Peter Boe guesting on piano and Tim Bryson on the pearly saxes in the choruses. Salgado and Robb smoke in tandem through Waters' "Too Young To Know." Cutting each other plenty of space, Curtis and Terry work through a tough duet between harp and the bottleneck slide in the solo section.
"You're So Fine" is a perfect vehicle for Curtis to cut loose with a series of solos on the harp, capturing
a tone that sounds as if it's coming from way down the hall. The boys navigate the Latin rhythms of the original tune "El Gado Rumba Azúl" as best they can, the rhythm section resigned to rather awkward clichés while Curtis sizzles in the solo. Robb uncorks an idiosyncratic solo of his own, as the whole band unwinds into a series of medley-like breakdowns.
The live track "Feeling Good" captures the energy of the band onstage.
Individually, Robb and Salgado have traced their Blues roots to their sources. With this recording, they overlay their influences into a parfait of whipped R&B and tart Blues berries. While it would probably take an historian to sort out the various threads each weaves into the musical cloth, like the true pros that they are, they allow each other the space to explore  each fiber and filament to its end. Yet Another in a long series of archival recordings that Terry Robb and Curtis Salgado have contributed to the local vault of musicana.