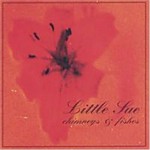 Chimneys & Fishes– Little Sue
Cravedog Records
Little Sue, Susannah Weaver, who is actually kinda tall, acquired her nickname during her tenure with the Crackpots, for reasons she would probably prefer to keep confidential at this point. Although it is interesting to note that Big Sue is shorter than Little Sue, an anomaly which will probably live forever in the annals of local mythology.
Little Sue's music is a product of the ubiquitously incestuous music scene at the Laurelthirst. Many of the usual suspects make their appearance here: Dan Haley, Mike Danner, Kevin Richey, Pete Krebs and Billy Kennedy; in addition to Crackpots' bassist Billy Rudolph and drummer Johnny Lambert. Necessity being the mother of invention, the Laurelthirst, like its predecessors the East Ave. Tav and Dublin Pub, were compelled by the dynamics of their proximity to neighboring residences to opt for the quietude of acoustic music. In the case of the Laurelthirst, it's a good stylistic fit.
And Little Sue's music, easy-going, with shades of country and bluegrass coloring folk roots falls nicely in the burgeoning Alt Country/Americana movement that is sweeping the nation like a dust devil on the lone prairie., Fans of Nanci Griffith or even Emmylou Harris would take to this good-natured pastiche— well played and seamless at every turn.
Few of the songs venture very far from a simple construction. Familiar strains flash trhough all Sue's songstion. Familiar strains flash thr; from Foster's "Camptown Ladies" on "Weber" to Haley's "dashing through the snow" mandolin reference on "It Is My Business Song."
Rudolph walks like McCartney on "Whiskey Hat," a tune that, with the aid of Marilee Hord's jaunty fiddle, has a lot in common with theto Beatles' "Don't Pass Me By" and "Why Don't We Do It In The Road:" a rollicking sensibility. "Waiting For Water," incorporates the more sonorous characteristics of Hord's violin over a plaintive tune. Rudolph and Haley add tight harmonies to the dark desolate choruses of "Bonnet," a song forlorn wisdom.
A gospel feel invests the Danner's blusey piano fills and Kennedy's slippery slide work on "Princess," as Sue adds a winsome, soulful vocal. Tight harmonies and nice train rhythm propel "When You Lie," as Boyer interjects tasty guitar fills, while Haley and Richey contribute propulsive mandolin and banjo.
"Willow Tree" is a wonderfully melancholy number, driven by Sue's direct guitar work and Haley's  dancing mandolin. A classic original folk song. The wry "Weber," is most likely a tribute to irrascible Steve Weber. At least the scenario fits.
Haley tosses in some dandy harmonica on "Passing Train," another winning song. Similar in feel to Dolly Parton's "Jolene" and Plainsong's "Raven," among several other traditional tunes, the players are given plenty of room to stretch out on well-placed solos.
Standing apart from the rest of the material, "Bad Girl" wears the same country acoutrements, but seems more Alternative in context and melody, closer to REM than Barbara Mandrell.
This is nice stuff, faithfully rendered, if a tad more mechanical than emotional. For it is rare when Sue breaks through the stylistic facade she has erected, to actually connect with her material. On those occasions when she does, the result is most rewarding. The rest of the album is certainly entertaining, there's a lot of talent involved in this project; if at times a bit faceless— given that most of the players perform as an ensemble on a gazillion other recordings emanating from that particular geographical locale (Laurelthirst).
There's not a bad song on this, Sue Weaver's fledgling solo pursuit. And from the evidence, there is every reason to believe that the best is yet to come from her. She has surrounded herself with a bevy of top-knotch musicians, who execute her songs with savvy and aplomb. The challenge remains for her to rise above the musicianship to create a viable vocal entity, embracing the lyrics as much as singing them. She gives every indication that she is capable of achieving that.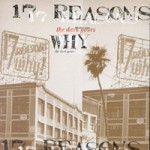 The Dark Years— 17 Reasons Why
Self-Produced
Sattie Clark, who last appeared in the folk duo Big Blue Marble, resurfaces here in a trio format, with eleven intelligent, brooding songs voiced with passion and conviction.ced with passion and conviction, sensitively produced by Steve Hale.
Hale, who last worked with McKinley, avails himself of the services of many of the members of that band (including  McKinley herself on background vocals) to flesh out Sattie's simple, heartfelt recitations.stellar n equally She, bassist Chris Nolan, drummer Brandon O'Brien and guest guitarist Kevin Hahn knock out arrangments in a style that would seem to fall somewhere between early Suzanne Vega  and latter day Juliana Hatfield.
"Look For You" kicks off the set, with O'Brien's smart, Stewart Copeland flavored snare cracking behind the rasquedos of Sattie's acoustic guitar. A catchy chorus finds Sattie sounding not unlike the Innocence Mission's Karen Peris, while McKinley provides a lovely nest of background vocals., with a touch of Jewel thrown in Very nice. Nicole Campbell steps into the backing vocal role on "Independence," wherein Hahn adds plucky Spanish guitar to Sattie's introspective lyric. "Independence is a twisted ideal/It's so American and just as unreal/And what are we free from when we can't even say to what we're connected/And independence if you really inspect is it alienation."
Over O'Brien's taut snare beat, "Intense" unwinds in a Hatfield-like manner. A stronger sense of a chorus would put this song over the top. Campbell returns to share splendid backup chores with Sattie on the pretty "Splinter." Hale throws Stevie Ray Vaughn-like gasoline on the fiery solo section with a scorchingly restrained guitar. pouron the fiery solo section with Another cool song.
Polly Jean Harvey may be the inspiration on the arrangement of "Birthday," intonations the obscure cover tune"Birthday.  A subdued dementia lurks just beneath the bluesy veneer. "The Dream Inside The Dream" bears a stylistic similarity to the work of McKinley, which is understandable, given the context. Sattie's beautiful chord progression serves as the platform upon which musical the string section is hung. another musician with a Laurelthirst connection
Josh Millman of the Mavens and Treefrog Bill Leeds join Sattie and Nicole for rousing backup vox on the powerful "Reaview Mirror." An optimistic philosophy buoys the intensity of the song, balancing perfectly between pathos and bathos.
A familiar melody threads through "Nothing Left To Talk About," (Mozartian in origin?)  instantly hooking the listener into a story Natalie Merchant might tell.,and esurfaces here in a trio format—ced with passion and conviction; the pretty "Splinter." Hahn
"White Linen" finds Sattie again backed by Marty Higgins' violin and Lori Presthus' cello on a tenderly desolate ballad that hits its mark, like an arrow throught the heart. The secret cut, a second version of "Splinter," featuring Sattie singing over a solitary, well-played piano, may be the best track of all— capturing a depth in her vocal not plumbed in the other cuts.
Not every song here is a hit, nor is that necessarily the expectation one should have. But every song sounds as if it were torn from her experience, ripped from her psyche.cal not plumbed in the other numbertorn from Sattie Clark's In that there is cohesion, making her music sound real and true.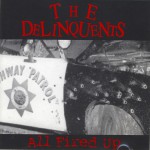 All Fired Up– The Delinquents
Cravedog Records
It's not as if the Delinquents are advancing the craft of hardcore thrash, if such a thing were even possible. But it's not likely that some punk band is going to add a synth player and gospel backup singers. The strictures of thrash are as demanding Japanese haiku. Change one aspect in the construction and it becomes something else, but not what it was intended to be.as  That being said, the Delinquents deliver pure, unadulterated thrash tunes; all moving at about 120 miles per hour, none lasting even two minutes. This is how they make fifteen songs go by in twenty-four minutes.just
But as often as possible, the band tries to throw a few curves into their arrangements. There are stabs at actual guitar solos on "Empty," a song about the dead end of alcoholism, and the country tinged "Jump The Gun," ostensibly a song about love lost; and on the anthem "Stand Your Ground."
"Toe The Line" features some nice twin lead figures before jumpstarting into the familiar jackbooted two-step. And while "All Fired Up" maybe the '90s methedrine version of "Louie Louie," "Model Citizen" definitely has its antecedents in the Kinks' (the original four-chord thrash band) "Well Respected Man."
And while rebellion against society and authority in general would be the watchword with hardcore bands, "Parents," an accurate, if unoriginal portrayal, and "Terror TV," a vicious diatribe, are particularily well-aimed.
"Lost My Head" is almost the theme from "Happy Days" speeded up and turned upside down. And the white trash anthem "Work, Breed, Die" incorporates a sludgy Death Metal riff into the goose-stepping.
The Delinquents aren't the most original band to come down the pike, But the music they play doesn't allow much room for improvisation. Still, given those strictures, the band manages to make its own indelible musical mark on most of the material, adding tuneful variations to many of the songs; preventing the album from sounding like fifteen versions of the same song.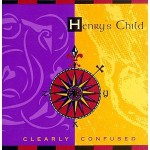 Clearly Confused— Henry's Child
Elemental Records
Musical elements of Rush, Pink Floyd and King Crimson fuse with a muddled philosophical stance, to produce an exceptionally well-executed piece of befuddlement that certainly lives up to its title. Guitarist Rich Clinton reels out a wide assortment of roiling riffs and chunky progressions, while bassist Thom Tessandori and drummer Jeff Reilly lay down a foundation of heavy grooves; all this to disguise the fact that most of what very capable vocalist A. Smith spouts is pure and absolute drivel.
It would appear that what we have here are Smith's manic depressive ruminations upon a failed relationship. However it's hard to believe there is room for anyone else in the eliptically solipsistic, self-pityingly egomaniacal sociopathy of his particular dreamworld. It's all so overwrought, it's suffocating.
Check out the drift of"Minding My Clarity." "I don't know if I'm right/But I've never been wrong/When divining my doubt or belief….I've constructed my ego/to take every blow/As long as they're all aimed at me." What a bunch of hooey.
Musically, the band is as solid as you get. And as a vocalist, Smith is quite talented. He moves through the requisite grunge growls and mannerisms with comparitive ease. And when he wants to sound derranged, well, he's got a leg up on most. But while he may kid himself with his poetic musings, the audience is mostly left out of the joke. "Clearly confused as to why/You would claim to be my friend/So sick with anger, I've denied/Any chance to speak with you again/ I will promise you anything/If you become a part of me." Wha…? Jeez, get a grip! A graduate of Greg Dulli Institute.
The album is not without its highpoints. When he's not feeling sorry for himself or thinking he's the dark lord of the underworld, Smith can get it together, such as the crisp "Simple Request," which is much more direct than most. Over Clinton's octave lines, Smith chants throught the verses, before the chorus unfolds with strong harmonies and a clear focus. Especially delicious is the "Maggie Mae" meets Led Zeppelin mandolin ending of the tune.
And jumping even farther afield, "Color Of Regret" floats across a smoky Jazz atmosphere before eventually erupting into an evocatively molten sludge segment, driven by Clinton's inventive guitar work. Smith rises to the occasion by emitting his own low glow of actual empathy.
"Trust In Me" starts out hopefully enough before degenerating into self-indulgent hogwash. And the final three tracks sink entirely under the ballast of their own specific density. "What A Pity" has the right idea, but makes no real sense, despite a lot of intense effects to try and convince otherwise. Similarily "More Ravings" defeats its own purpose with the mindset of effect over content. And the epic "Lie Before" works for a while, dancing on Clinton's Edge-y arpeggios before the onus of the lyrical opprobrium weighs down the proceedings. Clinton, Tessandori and Reilly maneuver through a series of carefully constructed digressions that display in high relief the dynamic qualities the band bring to the fore. And Smith is quite an effective vocalist, as long as you ignore what he's saying.
Maybe that's where Henry's Child have made their mistake. In printing the lyrics, they expose their most severe weakness.They would have been better off leaving as a mystery what the printed lyrics confirm. For this is a very talented band with a lot of possibility. Lyricist Smith doesn't seem stupid in the least, but overtly self-involved. The listener feels as if he's intruding, rather than identifying with emotions that everyone experiences.
Smith might take a poets approach toward his poetic thoughts, sketching his lyrics in advance and adding music, rather than attempting to fit words into preordained syllabic segments. It's not that what he does is invalid, it's merely overwrought and underdeveloped.
Henry's Child pose an unusual connundrum. They are talented enough to acquire a following. That much seems sure, maybe certain. But in order to take it to the level of which they are capable, they must put more work into the communication they are apparently wont to convey, the actual details of their anomie.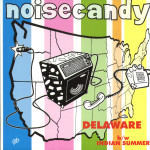 The Eight-Track Mind Of…—Noisecandy
Self-Produced-
Songwriter Pete Ficht comes to Portland by way of New Orleans, bringing with him a charming form of Power Pop that has already invited comparisons to the Jam, Teenage Fanclub and Red Kross. I'm inclined to add Steve Marriott and Small Faces. Joined by guitarist Thaddeus Dennison and drummer Steve Hess (late of Joy Pop Turbo), with occasional background vocals by Corrina Repp, Ficht creates timelessly /bassisth him a charming form of power pcontemporary pop, pithy wordplay intermixed with clever melody writing in a style that most calls to mind Portland's own beloved Casey Nova.
"James" sounds like Ziggy-period Bowie doing Double White Beatles, with a straight ahead rock beat aqnd tight high harmonies.th a straight ahead rock beat a Sounding more like a '90s band, maybe Matthew Sweet on helium singing Everclear, "Restoration" plugs along at double time, as Dennison plugs in savage fills on all the turns. Resembling
"Summer Feeling" starts off with Ficht on acoustic guitar, copping exactly the intro to George Harrison's "My Sweet Lord" (or is it America's"Sister Goldenhair"?) before breaking into a song that could easily pass for the Rutles circa A Hard Day's Rut.. "Noam Chomsky" moves closer to the midwest act Shoes, who were contemporaries of Cheap Trick, with a high energy quotient and a keen sense of a good time.
Finally, is that Gerry Rafferty doing Dylan's "Blowing In The Wind"? Naw. That Ficht covering all the bases with the "The Door." When Repp steps in, the song become Mary Hopkin, Corrina's trilling vibrato matching even Ficht's.  A wonderful, piquant little song.
Pete Ficht shows dedication to the craft of songwriting, as well as a reverence for classic pop sounds. Noisecandy are a sure vehicle for his confections, not a retro band, but certainly in touch with their pop ancestry.
Wow! Talk about'cher throwbacks, Ruckus make the '80s real again for lovers of Loverboy, Journey, Bon Jovi and early Van Halen. This quintet has it down, right down to the sleeveless t-shirts and the torn jeans. They are livin' it.
What they do, they do very well, fitting right in with the aforementioned. It's like a walk down memory lane. Vocalist Greg Paterson is backed by guitarist/keyboardist Mark Goin and lead guitarist Jim Holt; and the rhythm section of Jim Carter on bass and Ed Mesa on drums. Paterson combines Steve Perry's theatrics with David Lee Roth's husky tenor for emotive ventures into the realm of shallow interpersonal relationships and deep feelings.vaguely
"Dream" with it's wistful acoustic guitar and dreamy synthstrings setting the mood for Holt's soulful solo and Paterson's studiously heartfelt vocal— "There comes a mornin'/And the truth that darkness hides/You're not here beside me/No, no more/God it makes me realize/Whoa-wohoo/Gotta have you-oo-oo-oo-oo/You're the best I ever had/Girl if I don't have you-oo-oo/Make this good love turn to bad/Oh no." Ladies and gentleman, they don't write 'em like that anymore.            Oh no. Oh no, no, no, no.
Every among the fifteen presented is expertly crafted, hopelessly anachronistic, from the nocturne of "Too Long Gone" to the disco/acoustic strut of  "Forever Yours," It's like 1984 all over again.
Since all musical trends recylce on orbits of between seven and fifteen years, I'd say the Journey/Loverboy revival is just about due to circle in upon us. When that time comes, there is no doubt whatsoever that Ruckus will be a hit band. Every one of their songs qualify as opuses of the form.mood for Holt's soulful solo, while Paterson contributes a song  It's just that they are from some other time zone altogether.
I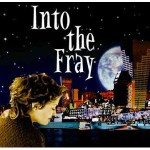 nto The Fray—Kristy Hinds
Self-Produced
Far from the mainstream, exploring a runlet all her ownKristy Hinds combines elements of Folk and Jazz to, nes elements of Folk, Rock and Jazz with erudite lyrics to create an unique style of music. This collection of recordings, made over the past five years, while being a tad uneven at points, for obvious reasons, still emphasizes Kristy's melodic inventiveness and originality and lyrical depth.
Nimble Robert Brown (aka Robert Rude), Calvin Walker and Jazz pianist Ramsey Embick shared the producers chair in helping to shape the individual songs, which range from feeling like Poe singing Dave Matthews songs to Flora Purim fronting Return To Foever doing late-period Joni Mitchell.
"Rodeo" is sort of a combination of the two, with Brown's novel lap steel contours conforming neatly with with John Sanders' doughy Wurlitzer tones. Over a groove that sounds like "Sheryl Crow meets Deodato," Kristy sings, "Turning, twisting, try and unseat me/I stick like a burr, there's no way to beat me/I was raised on the smell  of sweat and leather/Ans I'm here for the rodeo.
The ballad "Castle In The Air" nicely captures the best aspects of Kristy's wonderfully adventurous approach to melody and educated songwriting style. One thread that runs through much of her poetry is a seeming familiarity with the greasy underbelly of the big corporate beast, hence a mighty distrust of its one-track mind and vociferous appetite. "Images In A Box" crystalizes her perceptions into a nightmarish vision. Over Calvin Walker's soul flavored dance beat, Brown accents Kristy's slippery chord progression, as she scats a dark prophecy: "Every time I open up a magazine, it's the same thing/It's a message that cannot be missed, They say walk this way, hey talk this way/You should look like her, you should buy this./I don't need another smack in the brain with your slick corporate ad campaign/I don't need an image, I imagine lots of stuff for free/ And I don't really know whatever it is the current market value of a soul is worth/ But what I do know just might scare you. There's a corporate plan to rule the earth." Dave Bones' tasty trombone solo enlivens the jazzy/soul mien of Brown's precise guitar interplay with Sanders' electric piano.
"Shoot The Moon" combines  Al Criado's fat bass and drummer Carlton Jackson's perpetual superlative artistry with guitarist Michael Gargano's Reggae flavored upstroke  interaction with Peter Boe's subtle, flutey marimba synth patch. Over this dynamically spacious landscape, Kristy weaves a quzzical tale— "Strange to come across your name on a dirty yellow page. I found it at my grandmother's house/You were only 22 when that page was printed new. I imagine you had a head strong attitude./It was a Mountain States Telephone then. Annoyance calls— page 10. Covering all of Bernalillo County." Gargano's plucky solo lends the finishing gloss to a strangely compelling song.
Kristy Hinds' command of language both verbal and musical, affords her a supremely rich means for expression. For some, the melange may be too rich. And it's possible that she may get carried away at times, where more of a Rock sensibility might help to stabilize her mercurial tastes. But when she hits it right, which is more than half the time, Kristy Hinds devises some of the most complexly futuristic Pop ever conceived.