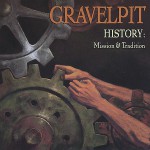 History: Mission & Tradition— Gravelpit
Schizophonic Records
              Now among the elder statesmen of the local alternative scene, Gravelpit submit their second CD to the listening public; another compendium of well-written and well-performed material. But this outing finds the band pushing its musical boundaries somewhat. Besides the fact that this is the first recording to feature the work of new Gravelpit drummer Dan McGuire, vocalist Steve Wilkinson exposes a softer vocal approach on several numbers— a satisfying departure from his customary rough-hewn style.
Still, Steve can tear it up whenever he's of a mind. But by not taking each song over the top, Steve allows guitarist Grant Cumpston and bassist Johnny Huck a richer palette by which to paint sonic pictures on musical canvas. And neither disappoint. Check out "Gnu." The melodic propulsion of Huck's sputtering bassline provides the drive to Cumpston's permutating drones. It's obviously a Gravelpit song; the components are in place. But the gentler arrangement creates a keener sense of dynamic, whereby subtlely beautiful instrumental and vocal harmonies between Huck and Cumpston are given room to breathe.
If the Dandy Warhols were to be declared the purveyors of the "Portland Sound" then Gravelpit would certainly qualify as card carrying members of the club. Both bands share a propensity for poppy drone, as on "Mistakenly". The difference lies in the fact that Dandy vocalist Courtney Taylor maintains an effetely aloof detachment where Wilkinson is more emotionally involved with his presentation. But melodically there are a lot of similarities.
"A Flat Rocker" dispels those comparisons. Perhaps Alice in Chains meets the Verve Pipe comes closer. Wilkinson alternates tough and tender vocals over Cumpston's  churning riff, turning sensitive in the chorus. Cumpston's slashing wah-enflamed solo sets the mood for the remainder of the song. Cumpston lends "Let's Go Dutch" a Smashing Pumpkins feel, while Steve anguishes emotively through a wrenching chorus. Powerful.
Huck's twisting bass motif melds with Grant's gnarled Eastern-flavored figure (álà George Harrison on the Beatles' "Dear Prudence") to drive "Criticize." Body and Soul vocalist Tarshene Watkins adds soulful back-up to Wilkinson's gritty delivery. Kelly Bell of the Shivers guests with gorgeous harmony vox on "No Exit," a number that calls to mind at times Echo And The Bunnymen and at others REM, adorned with jangly acoustic guitar and Cumpston's psychedelic phrasings, maybe reminiscent of the Butthole Surfers' "Pepper."  Cool.
Grant adds throaty guitar textures to the agitated milieu of "Out Of My Hell," as Steve turns rough and raw, especially down the home stretch. "Believe" builds off Johnny's percussive basslines and Grant's flashfire guitar lines to fuel Steve's vocal flames. "Valley" uses more Corgan/Iha-like Smashing Pumpkins guitar as a foundation for Steve's pensive musings. Very nice.
Cumpston's superlatively raunchy lick propels "Mindglök," a sassy sprint across extremely rocky terrain. Steve again lays down well-crafted vocals with edgy ruggedness. The seemingly de rigeur  "secret cut," ostensibly entitled "History: Mission & Tradition," is a sludgy little piece of sarcasm that sort of sounds like Bobcat Goldthwaite singing a Wesley Willis song. Great.
Collectively, Gravelpit have widened the scope of their aural domain, which lends this outing something of a transitional feel: as if the elements have yet to completely congeal. But the ensemble is obviously stronger for its adventures, if not always one-hundred percent successful. Their movement in the direction of dynamic coloration sets them apart from bands who only know to wield the jackhammer. It's quite clear that this very talented band is on to something a little different. It will be exciting to see where they will go with their unique sound.
Tiberius Boyd Records
Hoping to avoid the controversy which their former moniker generated, the Raging Woodies decided to change their name to Iron John— which is not some Burroughsian successor to the Steely Dan line, but the name of a folk tale hero whom shamanistic sham poet Robert Bly co-opted  to promote his Men's Movement; which inadvertently spawned drum circles, as well as many other New Age neuroses which afflict the mediocre in all walks of today's society. Despite the weighty onus of their new name, Iron John remain a powerful trio fronted by the extremely talented singer/songwriter/guitarist Jeff Groves.
In many ways, this recording serves as a fitting send-off for the Raging Woodies. Many of the songs contained on this ten song album were live (and recorded) staples for the band formerly known as… seeming to bring closure to that era for the band. But, though most of these songs have appeared on previous Raging Woodies' recordings, these are not the same versions. These renditions were recorded last November at Desitrek and reflect a new style for the band to go with the new name.
"Lily White Boy" is sparser in construction: merely Groves' chugging rhythm guitar leading bassist Don Corey and drummer Todd Bishop through their paces; a hint of R&B creeping into the arrangement. Jeff's voice, which could be best described as a cross between that of Bruce Springsteen, Graham Parker and Tom Waits, is no less craggy than in former incarnations, but more restrained; allowing Bishop and Corey more room for expression.
"The Other," a previously unreleased tune adds components of Elvis Costello and John Hiatt to the collection. Corey's galloping bassline caresses the chorus with sure, sinewy precision. Another R&B flavored number, the song cries out for an organ pad in the verses and turns. But very nice, all the same. "Seven Months Of Sundays," another new song, sounds like a 33 of Springsteen's "10th Avenue Freezeout" speeded up to 45, smarting beneath Bishop's hard-hitting drum work.
Jeff adds a fingerpicked acoustic guitar to "No Protest," changing musical directions toward more of a backporch scenario. Jeff and the band seem far more assured here than on last year's model— Corey and Bishop accenting the choruses and lead with punch and verve. Another good one. First Groves with a searing slide solo, then Corey with a percolating bass turn, liven up the intro to "Hallelujah," a swampy, Jimmy Page colored romp.
"Get Your Gun" undergoes a stripping down in this manifestation. Jeff's spare guitar, underpinned by Bishop's solid drum work, creates a bed comprised half of silence. Groves takes a more subdued tack with the vocals as well, muttering gutterally where he might once have spit out the lyrics. Corey's second solo in the middle is a thing of true awe. "Any More" could pass for a Craig Carothers song, but for the passion that smolders in Jeff's voice.
"Jonesin'" benefits from a similar re-tooling, steering away from obvious chord choices, creating an altogether new feel in the process. The folk tinted new tune, "With A Gun," sounds  a lot like early Elvis C., but for Jeff's vocal toughness in the choruses and the decided departure of the bridge. "Brains" too has been overhauled to sound completely new and different from its former self.
Iron John, as they shall forever henceforth be called, don't sound that much like the Raging Woodies, other than the fact that they perform much of the same material. The Iron john approach is heavier, moodier, leaner and much more interesting. Jeff Groves remains one of our stronger vocalists. And he supplants what he lacks in guitar chops with taste and inventiveness. Bishop maybe the best Rock drummer around, in Scott Plouf's absence. And Corey is among the best bassists in town. But, if anything, Iron John are even more idiosyncratic than the Woodies were, even when performing the same material. But the material is so unusual and performed so singularly, it seems inevitable that they will one day reach a greater audience.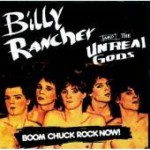 Boom Chuck Rock Now!— Billy Rancher And The Unreal Gods
Locals Only Recordings
            There aren't many people remaining in the Portland music scene who remember Billy Rancher and the Unreal Gods. This is understandable when one considers that the population of the local music scene seems to turn over every three years or so. It's been over ten years since Billy died of lymphoma, thirteen years since the band was in its prime.
But those who were around back in those days will attest to the fact that Billy and the Unreals had it goin' on. Billy was the consummate showman; so much so, it was often overlooked that, for the most part, the band's material was pretty weak. It was difficult to get past the image of Billy's lanky six-foot, four-inch frame, arms and legs akimbo in angular disarray, strutting across the stage in a leopard print jumpsuit— eyes more heavily made up than even David Bowie in his glam phase.
Billy was simply gorgeous. His charisma was comparable only to that of Elvis. Billy was a magnet for media attention at a time when Rock music did not have the "credibility" it enjoys today. The band was as much a sensation in Seattle as in Portland. At that time— long before Kurt Cobain heard Napalm Beach at Satyricon, thus spawning the Grunge movement, Portland ruled the musical battle of Northwest cities. Seattle had the Heats and the Cowboys to compete against the Unreal Gods, the Odds, the Confidentials and a host of other bands populating the Portland scene. It was no contest.
Still, for all that, on the surface it may seem strange that Rancher and the Unreal Gods  are receiving so much renewed attention: the re-release of a fifteen year old album that wasn't that great to begin with, a new book, Rocky Road, a possible movie deal for the story. What's up with that? It's not as if anybody is planning the same sort of retrospective for Shannon Hoon.
What's up with that is that Billy Rancher was a true hero in the most sublime sense of the word. He was not so much a Rock hero, but a hero as a human being. In the last year of his life, Billy was transformed in a way that can only happen to someone whose life is finite— someone who can clearly see the end of the line.
I was privileged to be a witness to Billy's transformation in that final year. I was fortunate enough to interview Billy for Two Louies in October of 1986, two months before his death. Billy came over to my house, so weak from the cancer and chemo therapy that he could barely stand, yet so optimistic and full of light in the face of his disastrous circumstances, his energy seemed almost palpable. He constantly downplayed his illness, referring to others whose lives were not so blessed as his. This despite the fact that his own life was ultimately doomed.
More impressive still was Billy's spectacular display of courage at his final recording session in November of 1986. Again I was lucky enough to be invited, along with a dozen or so other friends and family, to serve as Billy's backup band in the recording of "Make Love, Not War," which Billy had intended to release as his Christmas message to the world.
When I arrived at Jack Barr's High Tech Studios (Barr himself subsequently died of pancreatic cancer five years later), Billy was propped upon pillows, laying on a couch in the control room. His skin a ghastly shade of yellow, he was gauntly thin and so weak that he could not even sit up, let alone stand up to sing at a microphone. It was obvious to everyone in attendance that Billy was dying.
Billy's mother, Astrid, pleaded with him that the session was killing him, but Billy was adamant about the completion of the recording of his song. And, as always, he stubbornly fought to maintain artistic control over the entire project. He directed all the musicians from his place on the couch, through a grueling four hour recording session, finally singing the lead vocal from his prone position. Billy died only weeks later. "Make Love, Not War" played on all the local radio stations that Christmas. Billy never heard.
It was Billy's indomitable spirit that set him apart from most ordinary human beings. That spirit served him well when he was riding the wave of success; served him even better as he prepared to die. It was that spirit which everyone who knew him hopes to preserve for posterity. For, Billy Rancher was a very special individual. My life, and the lives of those he touched during his last days, were irrevocably changed by his selfless display of heroism; changed in ways which none of us will ever forget.
Though Boom Chuck Rock Now!  may not live up to the memories many may have of the fifteen year old recording, there is ample evidence as to why Clive Davis at Arista courted the band so heavily at the time. Several songs lend insight into the ingenuous humor the band commanded. "Boom Chuck Rock" which tells the story of  Incredible John Davis' influence upon Billy's musical upbringing, maintains a Ziggy Bowie stance against a ska rhythm. "My Girl Friend's Drawers" is humorous in a fashion that seems genuinely naive by today's standards. "Rude Buddy Holly" is the sort of frat-style white-boy  ska you can still hear to this day.
The band was great for what it was. Never overplaying, lead guitarist John DuFresne was a consistent source for inventive fills and nifty riffage. Drummer Billy Flaxel and bassist David Stricker were the bedrock foundation and keyboardist often submitted classy synth parts to the mix. An odd combination of simple hooks and a clean, straight-forward presentation.
The infectious upstroke of Billy's rhythm guitar still sounds catchy on "Symmetry In My Play," a song that despite its simplicity (check out the two-notes of Billy's solo) reins the listener in with its insistent beat. "Upstroke Down" serves as an excellent display for the numerous Bowie vocal mannerisms Billy had adopted, but later chucked. Ryder's buoyant synth-line and DuFresne's slashing guitar accents on "English Boy" evidence Who influences on the verses and the Beatles on the "Back In The USSR"-like bridge. Beyond that, the lyric demonstrates the audacious self-confidence that made Billy Rancher stand out in a crowd: "All I'm asking of your majesty/ Is stop and take a good look at me."
But the song that says the most about Billy and the person he was, is "(I'm Walking Down A) Rocky Road," a hymn that bespoke more than even he could know when he wrote it. Modeled faintly after Johnny Cash's "I Walk The LIne," "Rocky Road" is little more than a chorus repeated over and over again, a dilemma Billy attempted to remedy a few years later with a re-written version of the song— which remains unreleased thus far. But he could never surpass the aching simplicity of the original; a fact that has been borne out over time, for it stands as an understated classic.
This is the first release in what reports to be the definitive anthology of the (mostly unreleased) Unreal Gods catalogue. While the band was never able to capture on tape the intense frivolity of their live spectacles, there are many nuggets to be mined; and a memorable story to be told to the world and to the hometown that has mostly forgotten him. I'm sure it will be amazing to witness when all the memories come tumbling back, once the movie version is released. I'll tell you now. The movie will never match the memory, for that recollection is of a real human being, not some broad-stroked character in Terms of Eddie's Endearment To The Cruisers. It was an honor and a pleasure to know the real Billy Rancher.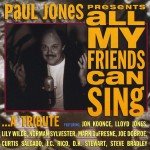 All My Friends Can Sing— Paul Jones and Various Artists
Criminal Records
            Here's an unique idea for a compilation: drummer Paul Jones gathered together some of Portland's best Blues and R&B musicians, Jim Mesi, Janice Scroggins, Rudy Draco and Bobby Torres for example, to back some of the best frontmen, such as brother Lloyd Jones, Steve Bradley, Jon Koonce, Curtis Salgado, Norman Sylvester, Lily Wilde and J.C. Rico to create an eclectic collection of material. The single thread that unifies the 13 tracks is Jones himself who drums behind all the various performing units. Delightful tracks they are.
Bradley and Mesi combine for a meaty take of "Baby, Let's Play House." Mesi's driving boogie guitar tone pushes Bradley's more laid back picking as Steve uncorks a thoroughly authentic vocal. Norman Sylvester and crew counter with the funkafied "Criminal Groove," where sterling backup singers Tina Martincic, Karyle Sloan and LaRonda Jackson match sax man Ron Hensel for outright sassiness.
Koonce's uncharacteristically tropical "Island, Island" features Paul Brainard of Jesus Presley on Reggae dappled guitar and Suzanne Richards on flavorful steel drums. A real departure for Jon, but very cool. Jones' brother Lloyd brings the true Blues with "Tracks Of Love," Janice Scroggins chiming in with zesty piano fills. Lloyd burns with a smokin' solo in the middle section. Scroggins enlivens with gospel gusto Curtis Salgado's rendition of "My Soul's Got A Hole In It." A huge background vocal chorus, stellar horn charts and Louis Pain's rich Hammond work push this number way over the top.
Lily Wilde turns in a steamy version of Tina Turner's "Nutbush,"  Roth Patterson contributing a tough series of solos over Ron Hensel's multiple sax parts. J.C. Rico lodges the most diverse entries with the snaky "Everybody Knows," where his rich baritone and soulful falsetto are given a Neville Brothers-like setting; and the opulent ballad "Walk On Water," where J.C. could easily pass for Sweet Pea Harris of Was/Not Was fame.
As a drummer, Paul Jones' contribution to this project is minimal, his primary intent apparently being to stay the hell out of everybodies way. He does this with understated elan. But as a collector, curator and sponsor of this wonderful compilation he deserves nothing but the highest praise. Indelibly listenable from the first note to the last.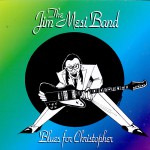 Blues For Christopher— The Jim Mesi Band
Just Ducky Records
Blues guitar savant Mesi returns with a record of his own, dedicated to the short life of his son Christopher. Jim cites traditional Blues via "C.C. Rider," the guitar heroes of the fifties: Link Wray's classic "Rumble" and Santo and Johnny's equally memorable "Sleepwalk;" tossing in versions of Louis Prima's "Jump, Jive 'n' Then You Wail" and Booker T. and the MGs' "Time Is Tight" into the mix of assorted original and cover tunes.
From the git-go, Mesi demonstrates his incomparable prowess on electric and pedal steel guitars with the uptempo original instrumental "Short-Guy Shuffle." Paul Jones on drums, Allen Hunter on bass, ex-Paul Delay mate Dover Weinberg on organ and piano and Mark Proulx on harp abet Jim in his search for speed lick perfection. "Jump, Jive 'n' Wail" serves merely as a perfunctory excuse for Mesi to show off his Les Paul-like fluidity in the solos.
Jim and the boys remain reverentially true to Link, Booker and the sleepwalking Farina brothers, while adding elements of their own to these standards. Their take on "Rumble" is actually faster than the original, but no less effected by reverb and tremelo. "Sleepwalk" receives the coloration of Weinberg's smooth organ stylings, adding a Jazzy flavor as Mesi forgoes the pedal steel guitar for the regular six-string through the first half of the song. Al Zion's wailing sax solo places the arrangement closer to "Night Train" than the original. But when Jim drags out the pedal steel for the second half of the tune, he takes the level of musicianship yet a tier higher still. The guys remain most true to the MGs' "Time Is Tight" Jim ably manning the Cropper parts while Dover dukes out the pearly Booker organ legatos.
The title blues number, which is not nearly as somber as one might anticipate, but rather jaunty in nature, grants Weinberg plenty of room for an extended, Gospel-laden organ solo, while affording Jim the space to express a sense of joy rather than one of sorrow. An uplifting piece.
Guest Duffy Bishop delivers a slow, sultry reading of "C.C. Rider," her husky contralto coaxing nuance from every cranny of the rickety old chestnut. Curtis Salgado guests with a spot-on interpretation of BB King's "Waiting On You," supplying the Blues Boy's characteristic vocal growl while Mesi adroitly duplicates the smart-assed, pluck of King's beloved Lucille.
Jim Mesi has spent over thirty years playing Portland stages, acquiring along the way the respect of his fellow musicians and the admiration of a loyal coterie of fans. That his reputation is finally spreading around the world is a testament to his supreme abilities, an affirmation of his prowess. Portland is blessed with a number of musicians whom have plied their craft over the past three or four decades: Paul DeLay, Steve Bradley, Curtis Salgado, Lloyd Jones among them. But whenever one compiles such a list, it's best to remember that Jim Mesi's name belongs at the top of it.