Rocket Girl Records
Lea Krueger is a talented individual. In her case such an observation is a tremendous understatement. Not only is she an accomplished bassist and guitarist, versatile enough to front a band or to play a solo gighose who were around back in those days wi
It's been nearly two years since On A Llama released their first eponymously entitled album. In that time Lea and her band, guitarist Greg Kirkelie and drummer Kevin Rankin have played hundreds of live shows, strengthening the impact of their presentation,. With the help of engineer extraordinaire Billy Triplett at Falcon Studios, the band have honed each arrangement for the 15 presented on their second outing. Each perspective is sharpened into stark focus, whether reliefon the harder-edged numbers such as "Small Dog," "Stay" and "The Wrong God," or softer waltzes like "Unsane Fish" and "Fated Doesn't Fly Over You."
In two instances, with "The Same Moon" and "The Middle Eight," the field is so finely focussed as to minimize the accompaniment to Lea's bass and perhaps an acoustic guitar. Still Rankin and Kirkelie distinguish themselves on many other cuts, there is room for a few with a sparser so approach.
"Unsane Fish" swims upon Greg's shimmering guitar textures, as Lea coos a lyric that places her hometown under the microscope: "empty hearts and desperate souls /fill up the small pond where I swim /sane fish swim in all of the same shallow holes /and they don't let unsane fish in." Kirkelie's ominous piano run plays off Lea's twirling bassline on "Fate Doesn't Fly Over You," giving way to a jagged guitar riff which propels the crazy waltz of the verse, "His soul is bolder, more so than mine /a monstrosity/nervous brush strokes clouding the sky /with ferocity / bigger, better, brighter than you/ wade in water to get closer to you/ find a hole in the sky where fate doesn't fly over you."
Building from a martial beat and a fragile foundation, "Small Dog" erupts in the choruses on Lea's gutteral yodeling and Greg's soaring octave guitar riffage. Kirkelie dresses up Hall with restless chord changes in the choruses and a fiery, yet restrained solo. Similarly, "Trumpet" shifts through an unusually pretty melody through the verses, before exploding in the eerie choruses. Over Lea's contrapuntal bassline, "Pull Apart Heart" unwinds upon Greg's ghostly chord progressions and Kevin's purposeful kick and tom interplay.
The simplicity of Lea's solitary bass accompaniment to "The Same Moon," only serves to underscore the gorgeous piquancy of her vocal melody and the heart-rending directness of the words she sings. "Stay" has undergone a drastic overhaul from earlier incarnations, slowly building in bluesy intensity, advancing toward a molten chorus; retreating through the ensuing verse, before igniting in the next chorus.
Kirkelie's slippery slide guitar creates elastic contours around Lea's vigorous vocals on "Tuned," one of many songs about the anguished introspection that arises out of love gone wrong. An exception is the moody "The Middle Eight," an excellent demonstration of the strange headspace one often enters when creating a song: "Driving home right past your house/Your car is parked , the lights are out/Miss you want to kiss your mouth?But that's not what this song's about/La la la la/I'm getting just a little bit tired/Of verses and/La la la la/Choruses and obligatory middle eights/Driving in between the lines/Has a place and has a time/This is it and it's all mine." This she lays out over a melodic bassline and simple acoustic guitar backing. Chillingly beautiful.
A galloping rhythm invests the folk feel of "The Wrong God," with a sense of urgency, which is heightened in the beautiful chorus, where Kirkelie interjects a simple but effective guitar tone beneath Lea's impassioned vocal. A great song. "Snap" provides a tougher arrangement that sounds a lot like Breeders-period Kelley Deal.
Riddle Canon might be three or four songs two long, but that is the only criticism one could lodge upon On A Llama's magnificent recording. With Billy Triplett's able assistance, Lea Krueger and her stalwart band have created an album rich in emotional detail and musical variety, yet always the obvious work of the same three-piece band. While it still seems difficult for Lea always to rein in her powerful voice, she has made amazing strides in that area since OAL's last release two years ago. It takes great discipline to keep such a robust instrument from going over the top on every song.
There is a band called Kay's Choice receiving airplay on Alternative radio with a song called "Not An Addict." Every time I hear that song, I think of On A Llama. Kay's Choce pale mightily in a comparison with On A Llama. It is only a matter of time before the rest of the world comes to that conclusion as well.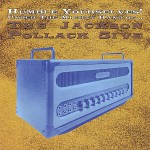 Humble Yourselves Under The Mighty Hand Of…The Jackson Pollock 5ive
Schizophonic Records
Vaughn Berger returns to the fray after a layoff of several years. When last seen, Vaughn was fronting the raucous rock band the Whirlees, a group which also featured bass player Mike Jones, one of the founders of Schizophonic Records. Before that though, Vaughn, along with Kal Tanner was one of the  intrinsic members of the seminal Salem punk unit, the Durangos, who haunted the I-5 corridor through the late Ô80sseminal Salem grunge.
The Jackson Pollack 5ive find Vaughn playing guitar and singing with drummer Dan Epley and the ubiquitous Mr. Jones reappearing in his role as bassist.ppearing in his role as bassist; forming a cohesive arsenal for Vaughn's various sonic musings.Jackson Pollack 5ive find Berger The four songs presented here are a collection of tightly constructed rock songs.
Epley's stutteringly syncopated drum fills fade in against Jones' moaning bass chords on "No Letter For Dear John," the words of which were written by poet and former TL columnist Carl Hanni. Berger enters the picture with jangling rhythm guitar and an ethereal flutelike organ figure. Sounding a bit like Michael Stipe, Vaughn softly murmurs the plaintive lyric. More angelic organ flutes garnish the simple chorus, leading to a freeform bass solo by Jones, as acoustic guitar slowly filters into the meandering bolero. Apretty tune.
"Down Goes The Swinger" seems like more familiar ground for the band, turning tightly on the Cobain?Alexakis axis. Goes The Swinger" seems like firmer stylistic, turning tightly on the Cobain/ Jones' bass snakes over Epley's dashing highhat before the cut detonatesspeedshifts into overdrive, smartly steamrolling through verses and chorus. Vaughn's Elvis Costello-like spaghetti western guitar solo gives way to a well-executed bridge before returning to the top. Nicely done.
Berger kicks off "Cave In" with a riff similar in structure to that found on the Beatles' "I Want You (She's So Heavy)." (She's So Heavy), as Jones strums his bass in fluttering rasquedos  , before Epley escalates the energy level.escalates the energy level with an animated entry.gy level with an animated entry into a jackbooted goosestepping waltz . Faint elements of Layne Staley seep into the vocals, but otherwise it's an arresting cut. Faint trace
The instrumental "Median Strip" is a low-riding sidewinder of a number, twisting like a rattlesnake around Berger and Jones' sinuous interplay. A tropical interlude ensues, entirely out of context, hangs around briefly and dissolves back into the original "Peter Gunn" flavored fracas.
The Jackson Pollack 5ive don't break a lot of new musical ground with this EP, but they repave the road with concrete solid ensemble work and asphalt pliable arrangements. And that alone sets them apart from all but a very few of their musical counterparts.piece of musical engineering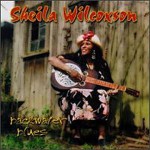 Backwater Blues– Sheila Wilcoxson
Burnside Records
Producer Terry Robb captures every shaded nuance and capricious whisper of Sheila Wilcoxson's eleqoquent vocal instrument, while providing her with an array of backup musicians including the likes of himself on various guitars, Fritz Richmond on washtub bass, Bill Rhodes and Curtis Salgado on harp and Janice Scroggins on piano. Sheila who has been around Portland since the early Ô80s, eventually fronting her own bands, first Sheila and the Boogiemen and later the Back Porch Blues band.. Sheila Those years spent plying her craft have rewarded Sheila for her persistence, as now she is availed of a supple voice, full of body and character.richly
Her repertoire is comprised of original tunes written by herself, Back Porcher Whit Draper or guitaris Alan HagerÑ interspersed with covers of tunes written by Huddie Ledbetter, Mance Lipscomb, Bessie Smith and Hoyt Axton. The styles cover several of the variations the blues has to offer, Skip Parente on violin, from the Delta feel of Draper's "No Business," and "Keep Your Eyes Open," to the hot swing of Hager's "Bad Sport Blues, gospel flavored  numbers like"Sweet Misery" and "Revival Day," to the barrelhouse character of Bessie Smith's title track.spiritualand "Looky Looky Yonder," to the gospel testimony of  and the Country/Zydeco hoedown of "Testosterone Poisoning" Sheila carves upon each form her own mark, creating a euphonious totem to the blues tradition. interspersed with renditionsand
There's not a bad song in the bunch.
"No Business" rides upon the twin acoustic bottleneck guitars of Terry Robb and Alan Hager, while Sheila writhes and contorts beneath. "Keep Your Eyes Open" is a jauntier sort of rag, Sheila singing with a smile all the song through.
Sheila gives "Sweet Misery" and  the short medley of "Looky, Looky Yonder" and "Black Betty" an acapella treatment, lending all three a sense of traditional bardic purity. Sheila's own song "Louie" is straight ahead fare, chasing the standard I-IV-V rabbit around a fairly familiar track. Albert Reda's unusual boogie line on the standup bass ent, while providing her with an illustriouslends the tune extra bite, as does Curtis Salgado's spirited harp work. Fritz Richmond's stellar washtub bass work urges Mance Lipscomb's "Honey Let Me Lay It On You," through its paces. Kneedeep in innuendo, Sheila mugs her way flawlessly across the Delta blues mud.
But the shining moment is Sheila's sparkling version of Bessie Smith's "Backwater Blues." Given scant but succinct backup in the form of Janice Scroggins' sprightly stride piano, Sheila allows the huskier aspects of her voice to radiate aspects of her voice to radiate, lending the song an aura of stylistic accuracy. One can practically hear the needle scratching on the old acetate 78. And the band join for a rousing take of the traditional spiritual "John The Revelator."
Sheila Wilcoxson's is no overnight success story. She has worked long and hard to master a musical genre that seems superficially easy to grasp. But the stylistic variations to be found in the blues are nearly endless in number,superficially easy to grasp. However and boundless in complexity. That Sheila is able to move through these divergences with such fluidity and grace is a testament that her efforts will not go unrewarded.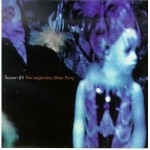 The Legendary Ether Pony-Swoon 23
Tim/Kerr Records
Never was a band nor an album so aptly named. At times it seems difficult to find a pulse on Swoon 23, so dedicated are they to an ephemeral, somnambulistic sound, reminiscent of a Velvet Underground, Cranes and Dead Can Dance slumber party. This is not to say their music is without merit. It's just not the sort of thing you want to put on your stereo and clean house by.
Keyboardist/vocalist Megan Pickerall sings in a drowsy, distracted, susurant daze, sounding like a little girl lost in a phantom dreamscape, wandering aimlessly from nightmare to nightmare. Bandmates Michael Keating, Marty Smith and Jeff Studebaker add two guitars and drums over Megan's keyboard bass drones and occasional melotron washes to create an hypnotic, otherworldly atmosphere. suggestive of the eminent Ô60s psychedelic band Kaleidoscope.listic sound.  It's likenal melotron washes to create a dark,
Much of what Swoon 23 put together is strangely beautiful. Organic guitar phrases bubble and percolate  No tempo exceeds dirge, no mood brightens above grey, no voice stronger than a miasmatic sigh.
"Fire Hanger" careens between a giant mosquito guitar figure and a distressing minor chord blast, as Megan discorporates into mere vocal molecules. An ominous pentatonic guitar solo collapses back into another verse and chorus: a shift in the chord backing more than any noticeable shift in megan's monotone. "Shady Hands" floats upon the angelic wings of Megan's voice, while guitars perambulate across a simple chord construction. An emotive guitar solo convenes at some point near the end, ushering them away into the sky.
A pretty guitar filagree weaves with a contrapuntal melotron thread on "Ether," as Megan, cooing indecipherable words, imitates the sound of warm wind on leaves and linen curtains. Her advice: "You could go to the ether," is either a perscription for sleep or meditative koan. Either way, the destination is the same. A very pretty song. "Attic" appears to address lyrically some form of disdain/envy for a person or clique whose fashion affiliations would seem to be at odds with Megan's. On "Cicadas" Megan performs an uncanny impression of . On "Cicadas" Megan affectsAlison Shaw of Cranes.
Sailing on one guitar which cycles through a heavily phased arpeggio
and another which creates a hyperventilating wheeze, a third clanks out discordant morse code through the verses of "Lunatic." The song dissembles entirely in the middle section, where a disconcerting series of organ signals interfere with the majestic space flight of the guitars.
The most successful of the four songs one of the guys sings is "Love Song 1000," which huddles around that a spare guitar extrapolation and a pallid piano apparition. Alluring. Equally seductive is "Missing Time," where a lonesome guitar emits a lovely melody over a relatively standard chord progression.
Swoon 23 never once waver from their course on this musical mystery trip through states of sleep and dream. This artistic judgment at once eliminates them from anything but the most obscure radio airplay and a loyal esoteric following. Such a decision is as much political as it is musical. Whatever their convictions and predilections, they often make ethereally beautiful music, full of random splendor and arcane refinement.This aestheticdetermination of fansit is artisticilections, Swoon 23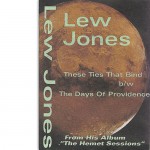 "These Ties That Bind/The Days Of Providence"- Lew Jones
Moniker Records
Lew Jones, whose local career spans nearly 30 years, has produced scores of recordings in that time. He has recorded and played with the likes of Steve Bradley, Neil Gilpin, and Dan Cunneen and Rob Langdol of the Obituaries, among countless other musicians. Yet he has rarely recorded anything as stripped down as the solitary guitar and vocal he employs on "These Ties That Bind," an advance track from his forthcoming album The Hemet Sessions.
The song is just a chorus repeated ad finitum, but Lew's honest sensibility and stength as a poet keep his vision clear- "Some sold out for the gold and the glory/Others have just gone astray/'All you need is love' was the story/And that's all we need today." Rarely does one encounter a more succinct lyrical perspective.
The flip side of Lew's stylistic coin has never been more artfully captured than with "The Days Of Providence." Churning guitars roil and boil as Lew spits out the lyric with unrestrained fervor, his voice coiled within a heavy effect, more emotionally frank than Lew has ever been. A piece of his soul was captured here.
Self-Produced
The Shandies combine the essense of Lou Reed with the snotty attitude of the early Kinks and Stones to create a sound that is less derivative than it might seem at first, but still just as much fun.
Longtime scenester David Percy lends vocal and guitar to this engaging four-piece, joined by fellow singer/songwriter, guitarist  Sean Parker, drummer Billy Brahm and bassist David james.and is here  Billy Brahm and bassist David Jjoined
"Land Of Cats" rocks with authority and wit. "Traffic" swivels, slightly unhinged, but works as a curious pop song. Interesting. "John The Divine" swings with a whipsmart snap. Even better yet. Taking a different tack, "Give In" is a moody ballad with Beatlesque qualities contrasted with characteristics that call to mind early Afghan Whigs.
Split Enz, the predecessors to Crowded House and Goldfinger could have combined to devise "Exploding" if the Shandies hadn't. "Coffee Punk" packs a mean buzz and a wicked beat. Another exemplary rave up.
The Shandies still seem a bit rough around the edges, but a little more time on stage should serve to smooth those out.And their goodnatured approach to performance works in their favor in that regard, their irrepressible humor would be hard to conceal. Good things are yet to be heard from these lads.