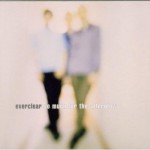 So Much For The Afterglow— Everclear
Capitol Records
Art Alexakis is one shrewd individual— a musician with the mind of a stockbroker. He has clearly followed the ever shifting trends of RocknRoll for quite some time, making adjustments in his own portfolio when the musical climate dictated such changes. Witness his astute move to Portland from the Bay area in the early '90s.
With Grunge exploding in Seattle at the time, Art made the sagacious decision to not go there to make his name: that scene already being thoroughly exploited and drained of its vitality by the major labels. Instead, Alexakis wisely opted for Portland's roiling musical cauldron, where he could develop his own brand of Grunge in a more anonymous locale; formulating his act slowly, before releasing it upon an unsuspecting world.
The unsuspecting world ate up Everclear's first Capitol release, World Of Noise  at a voracious pace; making of it one of the hits of 1996. But, as is all too common in the Rock world, in the two years since the recording of WON, much has changed about the Pop music milieu— to the extent that bands such as Squirrel Nut Zippers, Reel Big Fish and the Mighty Mighty Bosstones can be heard on "alternative" radio today. That's difficult music to conceive of in NIrvana world.
Alexakis was faced with the same conundrum as Kurt Cobain (before he blew his brains out): "What do you do to dress up standard guitar-based rock songs in a changing musical atmosphere? Add harmony vocals? Keyboards? Hip-Hop rhythms? Strings? In Art's case, for his second Capitol release, he went with all of the above.
As calculated as such measures might seem, the re-invention recipe consistently works for David Bowie, it can work for Art Alexakis. Not that Art has gone to such extremes. With So Much For The Afterglow, he has merely added touches and splashes of new elements, subtle flavors to songs that retain an inherent similarity to everything else that has come before. He's not breaking new ground exactly, he's just doing something a little different with the dirt.
But it's the same dirt. Mining the emotionally charged interpersonal issues that linger and recur from his youth, Alexakis and his relatively faceless backup band, Craig Montoya on bass and Greg Ecklund on drums, crawl the abyss with punch and gusto. Leading off with a short pæan to Brian Wilson, the band kicks into the hard driving title track with characteristic crunch. Walls of distorted electric guitars writhe beneath Art's familiar drawl; harmonies on the turnaround and second verse. But the bridge reverts to a Beach Boys feel, as hand claps and a building bassline dissolve into a single-note solo and an infectious series of rounds around the chorus to the conclusion. A very good start.
The track receiving advanced airplay follows. "Everything To Everyone" chortles upon the tandem, birdlike tones of guitar and what sounds like an organ. Over a dressed up "Louie Louie" chord progression, Art unravels his observations regarding his subject's co-dependent behavior. Gurgling, tremolo-laden guitars swell through the second verse, joined by occasional slide guitar flourishes. Beatlesque background harmonies ah in the turns, for another tightly wound piece of cotton candy.
"Normal Like You" adds Reggae textures to the verses, thick choirs of organ, voices and guitars on the choruses. A Country twang lilts through "I Will Buy You A New Life," majestic organ pads beefing up the shimmering guitars of the chorus.
Unearthing the demons of his past on "Father Of Mine," Alexakis confronts the ghosts of his youth with a poignantly Lennonlike sense of personal disclosure:  "Father of mine/Tell me what do you see/When you look back at your wasted life/And you don't see me?/Sometimes you would send me a birthday card/ With a five dollar bill/Yeah I never understood you then/And I guess I never will/Daddy gave me a name/My daddy gave me a name/Daddy gave me a name and he walked away."
A distinctive Hip-Hop rhythm leads into "One Hit Wonder," surely a term with which Alexakis has become intimately familiar over the past two years. Ecklund picks up the feel with a scintillating syncopated rhythm, as sparse guitars create the setting. The song seems aimed at the same detractors for whom he had a message in masking tape with the band's first appearance on The David Letterman Show. Keyboard brass and more Beatle-ish harmonies are laid in as the song builds to a mounting crescendo.
For all his avid posturing in regards to his eight years in recovery, Art seems more than willing to conjure ambiguous drug references in his songs. Ostensibly "Amphetamine" is  a story of a girl, perhaps related to "Heroin Girl" from his last album, but certainly as controversial as "Heroin is so passé." It would seem that to the average inane teenager, any reference to drugs by a rock hero, whether intended as a warning or an endorsement, would be accepted as cool and nothing more. So what is Alexakis' message?
"White Men In Black Suits" glorifies a similar lifestyle, a love story set amidst the needle tracks and strip clubs, "white men" being the cause of these unseemly conditions, owing to their mere presence. It would appear that because they were congregated in a club somewhere, girlfriend was forced to strip for them. An interestingly elastic sense of logic.
Art elicits Big Country bagpipe tones from his guitar on the intro to the country-tinged  "Sunflowers," Ecklund's martial drums powering the cut, Montoya's bass practically absent. Acoustic guitar, slide guitar and yes, banjo create the mood for "Why I Don't Believe In God," a jaunty riverboat song that recounts memorable childhood events such as his mother's nervous breakdown and the resulting calamity it caused in Art's life. Strange.
Stranger still is "Like A California King," seemingly a fairly straight ahead Everclear song, with harmonizer-effected guitars, until the keyboard strings and layers of background vocals kick in the chorus. Sounds more like Oasis. The obligatory "secret cut" is a charming little ditty, "Hating You For Christmas," which will no doubt make its way onto many seasonal samplers.
Success has not made Art Alexakis any less spiteful, has not lessened his rancor or cynicism. But in order to ensure his continued success, he has changed with the times. It's easy to put Art and Everclear down, they are large targets to be sure. However, this is a great album, superior to its predecessor and availed of the sort of production as to open many doors for the band. By widening the scope of the instrumentation, the band is free to travel in any of many directions, not limited to one well-trod path. This step alone, guarantees that you'll be hearing from Art Alexakis for a long time to come.
Self-Produced
Rob Daiker, a talented multi-instrumentalist and song writer, has been kicking around town for several years now. He first distinguished himself in 1995 with his debut, Extract, an often powerful recording, if a bit uneven, which featured guest appearances by the likes of Gary Fountaine on bass and Andy Stokes and Dan Reed on lead vocals. Reed also produced a cut.
With the band Generator, Daiker's connection to the Network becomes much more deeply enmeshed. Networkers, keyboardist Blake Sakamoto and drummer Dan Pred, add familiar snap to the productions. And Dan Reed returns, this time to produce the entire album, lending his prodigious talents to the mix. The result is a much more cohesive effort, one which often sounds like a Network recording, but with Billy Corgan singing the lead.
Check out "Velvet Self." The mood is Dan Reed's princely realm, Daiker's jagged funk guitar dances against Sakamoto's ethereal keys, while Pred and bassist John Stanford hold down the fort with tightly intertwined rhythms. Only Daiker's more gritty vocal style prevents this tune from sounding like a complete clone. Rob's rockier guitar style in the breakdown does not sound like Brion James either. But otherwise…
Songs such as the perky "Sunlight" and "Shadow," with it's pretty acoustic guitar phrasings and subtly dramatic keyboard figures reflect more of Daiker's previous style, more deeply rooted in Rock than Funk. "Weight" too, with it's sonic space dominated by strident guitars and a fairly straight Pop chorus, are less reminiscent of the Network. "Darlene" is kind of Styxish stylistically, with it's faux British vocal accents and a sappy chorus. "Star" is a drowsy, laid-back number. Kind of sappy as well.
But "Breathe" could easily pass as something from the "Ritual" period Network. An evocative piano figure moves against an urgent synth drone, creating a menacing ambience, as Rob enters with a distorted effect on his vocal álà Trent Reznor. As the song breaks into a ballsy prance, Pred steps up with the big beat. The song turns into a snotty strut at the chorus, recalling the days of the famous producer.
Daiker's chunky guitar intro on "Want," gives way to Sakamoto's moody keyboard riff, as Rob coolly coos through the verses. Complex Queen-like harmonies in the chorus and a tightly focused turnaround into the second verse lock in the production, driving through the bridge and succeeding choruses.
"Vanilla" sprints upon shards of gritty guitar and a remorseful keyboard line, before resolving in a more funky groove; which leads to a song more aligned with Smashing Pumpkins or even Midnight Oil. Perhaps the most successful song of the bunch.
Rob Daiker proves himself more than capable as a songwriter, musician and singer. But whether the Dan Reed treatment, as buff and big as it is, is necessarily the best showcase for his quite varied material remains to be seen.
For Generator, as a band, to succeed, they need to find an audience for their songs; to find out what works and what doesn't. As it is, the material seems uneven, as it did on Extract. Despite the stalwart production, the songs are more like showcases for a songwriter than the cohesive work of a band. And nothing here matches the gut-wrenching intensity of Andy Stokes' take on "Hold Back" from the previous album.
This is well-played, well-made music by skilled artisans, which seems too sterile and premeditated for its own good.
Airforce Records
            The evolution of Village Idiot in the '90s should be a lesson to any band as to the power of persistence. Somewhere along the line, the Idiots went from being hopeless poseurs to the logical dark successors to Sweaty Nipples' thrash/party throne— they learned to play.
Take, for instance, the Offspring offspring "Touch Freak." Over Pat Demartino's characteristically gruff guitar, keyboardist Kevin Ellis adds an eerie figure, while vocalist Chris Merrow intones a seductive rap atop Brett Snyder's smart attack; erupting apocalyptically in the ferocious chorus. Intense.
Even heavier is "Beaten Bloody Pulp:" Merrow's psycopathic vocals riveting in their raw force. Merrow turns otherwoldly on "Stomach Pump." Rob Keith's doomy bass growls over Ellis' gothic keyboard strains, while Demartino's guitar ticks away . Unwaveringly fierce. "Officer Down" twirls on Ellis' siren-like key part and Demartino's swaggering guitar, as Merrow takes the law into his own hands.
"Slow Motion Sickness," an extended opus, swirls nausily on Ellis' woozy organ pad, while Snyder's staggering drums provide the forward motion. Merrow unravels a fable about the demon bottle and its shining deadly lure for so many of his friends. A small epic.
Similarly, "Chicken Hawks" is a harrowing look at the harsh realities of prison life: "Take a deep breath/Taken by storm/You'll take it like a man/You can't take it back/Take it from me/You'll take it in the ass/And you'll love it/Forty-one jailbirds of a feather/Do more than flock together/Face down on the floor/In the slammer." Sinister.
"My Name Is Elton John And I'm An Overeater" seems even more appropriate in light of Princess Di's untimely death and Elton John's commemoration of the event with yet another version of "Candle In The Wind." How creative! How heartfelt. The Idiots' take on the man seems grotesquely on the money. "Look at… all…this food/It all…looks…so good./Sad songs… say… so much./Flush away… my lunch." Wow.
Village Idiot's hardcore antics aren't likely to win the hearts of Mom and Pop America, especially in light of their putting down the composer of "Goodbye England's Rose" and all. But that's probably not the segment of the population at which they are aiming their onslaught anyway. For the angry, disenfranchised hateful, whom remain alive in a deadly world, these are your bloody war chants, your anthems of venom and spleen. Village Idiot are your oracle.
Cold Spring Records
Reckless Kelly are an engaging Alt Country/Americana fivesome, originally hailing from Central, Oregon. Seeking fame and fortune they migrated to Austin to make a name for themselves with gigs around and amidst this year's South By Southwest Music Conference. Apparently the magic worked. They signed on with a modest Austin-label, producing unrelenting corn pone at it's finest. Fans of bands such as Thrillbilly, Haymaker and Renegade Saints will find Restless Kelly's boots to be a comfortable fit.
The brothers Braun, Cody on fiddle, mandolin and harmonica, songwriter/lead singer Willy on acoustic and electric rhythm guitar, are the heart and soul of the band. Vocally, they combine with bassist Chris Schelske for seamless three-part harmonies, far superior than anything of the ilk with which Portlanders might be familiar.
Check out lead guitarist Casey Pollock's sly reference to Johnny Rivers' "Secret Agent" on "Walton Love," a Cajun flavored piece of meadow muffin. Pollock's rocky guitar break vies with the harp and fiddle for the spotlight. "Back Around" is chock full of thang/swang/suh-ay/duh-ay colloquies and tumbleweed sentiment, but well done all the same.
"It's All Over" recalls post-Messina Poco and Gram Parsons-period Byrds, which is what the revival is all about anyway, one would suppose. "I Still Do" cops Herman's Hermits' banjo intro to "Mrs. Brown," but lays closer to Steve Earle or Delbert McClinton in musical proximity. "Black & White" calls to mind backwoods echoes of The Dillards and the Bay area hominess of Old & In The Way, before the banjo player bought it.
"Waitin' On The Blues" is a rockier tune, more reminiscent of the Refreshments than a country act. Somewhat out of place, but not bad. Closer to the early Eagles, is the whiskey flavored regret of "Hatax." "Hay Say May" calls to mind Rodney Crowell riffing on an early XTC lick, with a totally British harp solo. Weird hybrid.
"Drink Your Whiskey Down" is a pure Texas hoe-down stomp, Cody's braying fiddle vying for the solo with Casey's barking slide guitar. Veering again toward a rockier stance, "Baby's Gone" rides on Casey's darting guitar riff, snatched in part from Tommy Tutone's "Jenny (867-5309)." "Time Bomb" maintains the bolder attitude, with a predominance of electric guitar and a minimum of the more ethnic elements the band usually conveys. Kind of like Firefall.
Reckless Kelly aren't doing anything new. But what they do, they do far better than anyone else in Portland— with a polished finish and a liquid center. And given today's uncertain musical state, where distressed corporate executives are desperate to manufacture the next big thang, they could do far worse than to hang their holsters on the horns of this ol' steer. Whoo-hoo!
Self-Produced
Sophisticated rock, along the lines of the Beatles, Badfinger, Cheap Trick and Split Enz is the hallmark of the Eugene-based Phaces, anachronistic, but sharp-edged and to the point. Well-written, lightweight Pop songs that would be hits for Teenage Fanclub, Matthew Sweet or Material Issue swing through the set with regularity.
"Letting Go" is a sneering, Lennon-inflected gem. "Second Time Around" churns like Split Enz in the early days. "Better Day" could easily pass for the work of Peter & Gordon or the early Hollies. Wait a minute, that sounds like a description of the Rembrandts!
Guitarists Jesse Ruggles and Roger McConnell and bassist Mike Trathen share the songwriting chores, each with a success or two. Ruggles' "This Again" sounds right out of 1965, right down to the soulful electric 12-string riff. "Me & Aaron" stands out as being stylistically apart from the rest of the songs, not so reliant on the retro sounds, and is more rewarding for the effort. Ruggles' "Fade" incorporates organ, and sampled sounds triggered by drummer Ron Petty, into another non-derivative number of some considerable majesty. Their "secret track" rendition of the Beatles' "I Am The Walrus" contributes nothing to the arrangement, but is steadfast in it's adherence to the original version.
When they make the effort, Phamous Phaces can be a very charming band. As attached as they are to them, the band should end their love affair with the '60s and move on. They give every musical indication of being capable of such a migration. For the sake of their own well-being as a valid Rock entity, they owe it to themselves to do so.