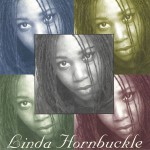 Linda Hornbuckle
FT Records
            Linda Hornbuckle has reigned as the queen of local Soul for nearly a decade, stinting with countless local bands as both a lead and back-up singer; lending her rich, full-bodied contralto to projects too numerous to tally. With this record, easily one of the ten best albums released in the Northwest this year, her enormous vocal talent is cast in clear relief.
Backed by a covey of local pros, including the likes of guitarist Doug Lewis, drummer Jeff Minnieweather, sax man Tim Bryson and Lewis Livermore on brass, Hornbuckle makes the art of singing seem so effortless and direct that one might mistakenly get the impression that the process is easy. It's not. She's simply great.
And her secret weapons are the brothers Sanders, James and John, whose scintillating keyboard wizardry is a marvel to behold. Every track drips with lush, synth-laden layers, as well as thick organ pads and crisp grand piano arpeggios. Building their musical structures on the solid foundation of Minnieweather's drumming and Randy Monroe's impeccable bass work, the Sanders brothers cover every Funk/Soul/R&B riff the idiom has ever conjured, while adding occasional dashes of Gospel, Blues and even Rock to their presentation.
In addition, John Sanders, especially, shows talent as a songwriter, with three contributions, "Like Me Like I Love You," Been Down That Road Before" and "I'll Be Waiting." Doug Lewis distinguishes himself in that regard, with two fine songs, "Got To Be Love" and "Missing You;" as well as furnishing some of the most beautifully understated guitar work ever recorded in Portland.
But truly, the show is all Linda's. Over a faintly familiar organ figure, grand piano rolls and Lewis' trademark funk riffage, she coos "Like Me Like I Love You" with a husky contralto; smooth as silk. The up tempo Blues feel of "Been Down That Road Before" allows Hornbuckle to explore her sassy side, a smart, Stevie Wonder inflected Clavinet sound bouncing along beneath. Bryson and Livermore slide slippery horns around Linda's big, mellow voice.
"I've Been Calling" casts Rock textures in the verses, with Lewis and Monroe chunking up fat lines on guitar and bass. Linda belts out the vocal, as horns stacatto sputter across the chorus, calling to mind the Tower Of Power horns. Hornbuckle handles the smooth, sexy ballad  "I'll Be Waiting," with characteristic ease and aplomb, though the hook on this tune bears an uncommon resemblance to the Doobie Brothers' Steely Dan-influenced hit of the '80s, "It Keeps You Running." Lewis, who spent years as guitarist for Cool'R, displays delightfully subtle chops throughout the track.
Perhaps the best demonstration of Linda's magnificent voice is the Gospel flavored "There Was A Time." Over the loping locomotion of Lewis' guitar and the Sanders' chugging organ and rich block piano chords, Linda swaggers and struts as if the essences of Reverend Al Green, Aretha Franklin and Mother Mavis Staples had invaded her musical soul.
A distinct '80s feel colors Lewis' "Got To Be Love." Doug motivates the tune with a jagged guitar figure, while chattering, bell-like synths ring in the choruses, as Linda belts out the seductive lyrics with matchless style. Rounding out the set with the lovely ballad, "Pages Of Time," Hornbuckle stretches out, luxuriating in the sonorous surroundings. Her voice, seemingly boundless as a means of expression, soars and swoops around the melody before finally alighting as delicately as a butterfly.
One cannot make too much of this recording or Linda Hornbuckle's incredible talents. Someone with lesser vocal abilities would be swallowed  whole by this stalwart cast of studio pros. But Linda repeatedly grasps each song on an intuitive level and rises above the complex arrangements and sublime musicianship. Singers of her calibur are quite rare, for she combines great technique with fabulous interpretive skills into a distinct versatility that most can only admire from afar. She is one of a kind.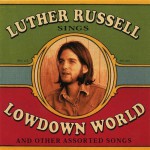 Lowdown World (And Other Assorted Songs)— Luther Russell
Highland Records
            You've gotta love Luther Russell. His musical pedigree is irrefutable. His integrity in a business that might charitably be characterized as a convocation of vermin, is admirable. His affable charm and wise intelligence are undeniable. It seems that success is inevitable for Luther Russell. And whatever success he attains will be on his own terms.
It's interesting to note that Luther has lived in Portland for two years, yet he's a relative unknown, owing primarily to the fact that he has rarely played in the rainy city. Most of his time has been spent touring with the band the Freewheelers, an offshoot of Bootheels, which Luther formed with Jakob Dylan.
Perhaps the oddest aspect from this vantage point is the fact that whileJakob's Wallflowers sound most like a hipped up version of early Tom Petty— whose sound most resembled father Bob Dylan with the Nighthawks and Al Kooper; with Lowdown World, Luther calls to mind the elder Dylan of the early, Greenwich Village period, circa 1962's Freewheelin' Bob Dylan.
With just an acoustic guitar and occasional multi-tracked drums, electric guitar and keyboards, Luther sings simple folk songs, both original compositions and his interpretations of traditional tunes, with a sure coolness that belies his young age.
His happy admission that the project was "recorded on a Yamaha 4-track in a bedroom in Portland, Or." signifies either a retreat from the rigors of the major label grind or a nod to the immediacy Elliott Smith achieved on his brilliant Either/Or, which was recorded under similar conditions.
His take on "John Hardy" is straight forwardly poignant, a single acoustic slideguitar and a naked vocal, relating the tale of a life gone desperately wrong. Luther adds drums and bass to the mix on the bluesy "Don't Talk To Strangers," a jangling banjo on the Delta mudcaked "Long Black Cloud."
The title track, "Lowdown World," combines an infectious beat laid down by guest drummer, Freewheeler Jimi Bott, with pretty electric guitar lines and ringing acoustic guitar, as if the Beatles' "Two Of Us" and "Rocky Racoon" were welded onto the Greatful Dead's "Friend Of The Devil." A real gem of a turnaround and a soothing chorus, find Luther exploring roots not far removed from those of Mister Beck Hansen. A tuneful, catchy song and the highlight of the album.
Luther's take on "Gambler's Blues" could easily pass as something culled from Bruce Springsteen's Nebraska  period. It's a strange, mournful song that has very little, lyrically or melodically to do with the title. For it is neither much about gamblers or the blues. Rather, it seems to be more about death, dying and funeral plans; and based on a two-chord Appalaichian plaint.
The original tune "Seven" is even more reminiscent of Beck with a trebly, drum machine-like snare/splash sound vying for the spotlight with a lonely Fender Rhodes. Luther's phlanged vocal and unearthly arrangement eerily evokes the work of the late ex-Byrd Gene Clark on his obscure 1974 album called No Other.  "Roll Tonight" hangs on a Dm chord for the verse, giving way to a pensive chorus and an acoustic guitar driven bridge that has its antecedent in John Lennon's "I Want You (She's So Heavy)" from Abbey Road.  Very Nice.
            "Framed On 8th St." is a jaunty rag, with Russell providing the dirty, backwater vocals. "To Be Blue" combines zesty slidework on the acoustic guitar with further phrasings on the ethereal Rhodes to create a strange ambience— unlike anything that has gone before. "I'm A Stranger" is Luther's take on moving to Portland sung to the echoes of a Bluegrass hoedown with guest David Pugh providing the buttersmooth fiddle strains. The instrumental "Are We Goin' Down? #2" provides another example of Luther's considerable talent on the Rhodes. Again the biting drum machine sound, this time with subtle bass lines woven through, propels the tune, another Beck-flavored excursion.
Luther Russell's talents are diverse and journeyman-like, not spectacular in a flashy way, but solid in their foundation and unique in their presentation. The sound of this record would give the impression that Luther is some wizened street troubador, at least twice his actual age. It is a testament to his craftsmanship as a writer and performer that his music never sounds stilted or affected. This is a guy to check out for the short time he is likely to remain around the Portland area.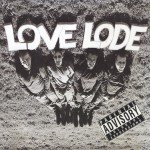 Colorful Expressions— Love Lode
Third Wave Media
This loveable four-piece lays down a versatile form of stylized Metal/Pop, bouyed by a wry sense of humor, a knack for bombastic sarcasm and an adventurous comprehension of musical cross-pollination. They seemingly never stumble when approaching an hybrid form; executing sophisticatedly air-tight arrangements with gusto and flair.
It's hard to catergorize Love Lode. If one considers songs such as "A Year And A Day," "Super Hero," Things You Make Me Do," "Just Like Me" and "Just Like You," the likely supposition is that they are a wonderfully accessable Power Pop band of the Cheap Trick variety. "Fear," "This Is How We Go," "Butterhorn"and "Colorful Expressions" are hard core death Metal flavored. The re-mix of "Fear" could easily pass for Nine Inch Nails. "Lay Down And Die," their livewire version of "Brickhouse," and to a certain extent "There Is Blood On My Sword," reflect varying degrees of Funkiness, pertinent to the mood they are attempting to create. "Blood On My Sword" however,is more closely related to the Red Hot Chili Peppers' brand of Funk.
Of the Poppy songs, "Superhero" is a special standout. With its cynically Cobainian intro of four familiar chords, the Lode delve into a more formalized structure of power chords constructed by vocalist Paul Lawrence and lead guitarist Robert Robinson, supported by Shayne Green on bass, Lawrence releates the cheerful tale of life as a savior of Mankind: "Like to par-tay, but there's never time/An attractive girl and a night on the town/Supervillain bad guys perpetrating crime/Figure 'em out, and takin' them down/There was a time when I saw myself as nuthin'/But now it's time to kick some ass or sumthin'."
"The Things You Make Me Do" is harder edged Rock, but no less palatable. Drummer Dan Carlson provides the forward motion, with double-time kick/snare action, while Robinson and Lawrence provide the jagged guitar onslaught. Strong three-part harmonies between Lawrence, Robinson and Green ignite the chorus. Robinson's fiery solo in the break adds special verve to the mix.
"Lay Down And Die" takes equal parts of funky Frank Zappa, funky Lenny Kravitz and funky Jimi Hendrix to concoct a spicy stew. Robinson again shines with superlative guitar work. Seamless vocal harmonies move through the turns and choruses. Robinson's solo is especially tasty, soaring like a satellite through deep space. Very hot stuff.
"There Is Blood On My Sword" gallops in upon a skittering bolero, recalling Be Bop Deluxe in its mid-"70s heyday, before striking off into "Suck My Kiss" territory, sliding into a mysteriously jazzy, extended trombone solo along the way. Very odd.
Love Lode may be too eclectic for their own good, merging divergent styles with relative ease. It's hard to get a fix on just where the band is coming from, they succeed at so many different types of music. But their proficiencies make them dangerous to A&R men who think in pigeonholes and record labels willing to bet only on sure things, as marketable as a candy bar. Love Lode confront that (so called) mentality with a multibladed sword, slashing through thickets of trend toward an unique sound. Here they demontstate chops galore and a propensity for clever, witty songs of multiple origins. While this might not be their definitive recording, it certainly serves as a distinct primer for the uninitiated.
Belinae Records
            Anyone who has ever caught an episode of the Two Louies Radio  Show  has probably heard their ads. Obscure, cryptic, almost satirical. As time has passed, it has become more apparent from these ads that the Weevils are a band. It has only recently come to light that the Weevils are a local group.
Ostensibly, the Weevils are the creation of guitarist, singer/songwriter Blake Wood and bassist, singer/songwriter Mike Mason. They are joined by a host of local luminaries including Billy Hagen who plays guitar and piano on many of the songs; as well as Ike Willis, who takes a vocal turn on "Invisible Lady," and Rock violinist extraordinaire, Ritsu Katsumata. The music is mostly well-played, if a bit idiosyncratic— as if rendered by an extended collective of close friends, more for their own amusement than that of any real audience.
Be that as it may, the band (as it were) crafts pleasant songs, if slightly anachronistic. The Weevils' sound is a throwback to the Folk/Rock era of the '70s, harkening to acts such as Brewer and Shipley, The Dillards, Loggins and Messina and Pure Prairie League: with dashes of Rock, R&B and even experimental music added unevenly into the soup.
The album starts off nicely with "Club Rules," an engaging Country/Rock number about huffing nitrous oxide and other philosophical concerns. "The burning house of love falls down/While Ralph sits on the couch with a permafrown/Wondering why we march for pizza/And jello when we/we could have stayed home following club rules." Hagen shines on this track with noodly wah lead guitar and equally busy piano tinklings.
"Let It All Hang Out" is a perfunctory reading of the Hombres' classic, sounding like a guitar jam upon which the vocals were recorded as an afterthought: "Hey! I could sing "Let It All Hang Out' over this!" "Bells In Heaven" is a simple song about the tribulations of being in a band; a production which benefits from guest Steven Soloman's majestic piano work.
The first two minutes of "Teenager From Outer Space" is essentially Hagen's inventive guitar work coupled with the screeching tension of guest Erik Sigrist's Viotar and bowed saws— an interesting musical installation. The remaining three minutes are a well-hewn three-chord rock song, but pretty predictable all the same.
Ike Willis is in fine vocal form on "Invisible Lady," his satin smooth baritone a true wonder to behold. Unfortunately the song is not up to Ike's abilities. It's funny: a strange tale about a guy falling in love with the transparent woman at OMSI. But melodically, the song merely follows the chords without giving Ike much upon which to chew. Too bad.
"Ruby Blues" is probably the most successful song of the set. Over a halting acoustic guitar, Wood intones a sad song in a mournful groan. Solomon's gently gorgeous organ pads offset nicely Hagen's pretty, but slightly out of control guitar leads.
"Underdog" is of course the theme song from the '60s cartoon show, done Frank Zappa style, with guest lead guitarist Dave Gill and Ritsu Katsumata trading licks through the expansive exposition section. Katsumata proves yet again how truly brilliant she is on the violin— an instrument heretofore relegated to Papa John Creech standing in Rock bands. In her hands the instrument becomes what Jimmy Page tried so hard to make a guitar sound like.
"The Song With No Name" is of course a tribute to the brilliant work of Ennio Morricone in Clint Eastwood's groundbreaking Western flicks of the '60s, featuring his character The Man With No Name. It's a fitting tour de force, highlighted by Hagen's knockoff of a Spanish guitar piece and some spot on shouting in imitation of the originals.
None More  is an enjoyable if somewhat uneven project. With so many cooks, it's no wonder it's a quizzical sonic broth they produce. for the most part the album is an excuse for extended jams in a variety of musical locales. but the songs, while sometimes funny and rarely cumbersome, seldom rise above the mundane. And without a true musical focus, the record dissolves into a blurry hodgepodge; something the Weevils most likely did not intend.
Self-Produced
            An engaging young three-piece, the Rotating Leslies occupy a sonic space located somewhere between the drony Pond cosmos and the gothy galaxy of Sylvia's Ghost. It's a region where atmospheres are vaporous and gauzy, an hypnotic rhythm pulsing through in deep sonic waves.
"Painting Pictures Blue" rides upon lead vocalist Jeff Dood's repetitive bass figure— modeled after that of Paul McCartney on the Beatles' "Rain." That particular bassline seems to have inspired many bands in the ensuing years and decades. Meanwhile, brother Brian Dood provides Eastern tinged guitar filigrees, in a style pioneered by David Lindley in the '60s psychedelic band Kaleidoscope and later exploited by Jimmy page in Led Zeppelin. Drummer Michael Staples, aided by Jesus Presley percussionist Matthew Siroka, generate syncopated rhythm patterns adding to the smoky milieu.
Jeff lays down a funky bassline to begin "Name," as Brian embroiders sinewy sitar-like guitar threads into the musical cloth. It's a dark song, a broadstroke portrait of love gone bad in the suburbia of our souls, where deceit lies at the end of every cul-de-sac, a million entrances and no exit. Brian's highly inventive solo at the end is the best part of the song.
"So Near" could be the work of Syd-era Floyd, a Piper At The Gates  Of Dawn, before it shifts dramatically into an exciting middle section, creating a mood comparable to some of Zep's best work in the field. A decidedly giant leap for the band in regards to the previous songs. Either the boys are playing a twelve-string through some sort of synthesizer or they have added keyboards to this track. Superb.
The instrumental raga "Submersion" is even more adventurous still. Over a Peter Gabriel-like drum pattern and a cello-ish drone, Brian adds watery, cascading guitar layers. As the piece builds in intensity, dense writhing drums undulate convulsively.
At first, the Rotating Leslies seem like a one-trick pony. But by recordings' end, they prove themselves to be more than capable of inventive musicianship. Brian Dood especially gives indication of developing into top-line creative talent. The songs lack definitive choruses and the vocals are nondescript at best, but the Rotating Leslies have something going on. It isn't fully formulated just yet. But they're on the right track.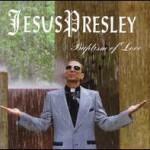 Baptism Of Love— Jesus Presley
Burning Nun
For two years, Jesus Presley have been tearing up the local club scene with their hybrid form of rock, a sound which includes but is not limited to elements of latin, jazz, r&b, blues, funk, punk, country and ambient music. Often these various musical strains are combined into a single song, giving fits to media and A&R types in their vain attempts to categorize the band.
With a core membership of nine players, including three drummers (none of whom utilize a kick drum) and two female backup singers and occasional horn sections, Jesus Presley enlisted the services of six more musicians in the making of their first studio album, Baptism Of Love. With such a handful (or three hands full, to be precise), the band wisely chose to record at Whitehorse studios, leaving the producer's chair to veteran Tim Ellis, while engineer supreme David Friedlander expertly manned the board.
The result is a production of great depth, but one that is carefully sculpted to reflect the feel of each individual song.
membership of nine or ten, a frequent horn section and an ordained minister as their leader required  each individual song, capturing Jesus Presley's charismatic appeal. It's a big league sound all the way for a record sure to make many critics' Top Ten Of 1997 lists at year's end.
Bret Malmquist's slinky bass and sexy horns by saxman Scott Hall and trumpeter Dave Monnie lead into "Tarzan," a steamy number about jungle love. Lead singer, Reverend Tony Hughes jumps in to relate a sordid tale, over SP Clarke's rolling piano lines and the snappy percussion of drummers Jason Mockley, Matthew Siroka and Jeff Lyster. Monnie and Hall alternate hot licks around every instrumental break.
"Baptism Of Love" kicks off with a Memphis style horn section, with chunky piano fills and a chiming electric guitar, while Reverend Tony delivers a fiery sermon propounding the virtues of the singlehanded prayer to Onan. Pedal steel player Paul Brainard adds a country twang to the verses. Trina Berger, Nicole Campbell  This song sounds like a hit.emphis style horn section,  joining in, as and Kristen McSheehy supply soulful, Motown style, three-part harmonies in the chorus and an angelic choir in the subsequent verses. Their rendition of Reverend Al Green's "Take Me To The River" in the bridge adds a gospel component to Hughes' complaints regarding the difficulties in securing love in these troubled times. Lead guitarist Joun Anderson contributes a searing solo in the middle break, reprising his effort at the end of the song as well. Another hit.
Reverend Tony spares no wrath for the paparazzi on "Victim." Lyster's tinkling triangle sounds like a small mind dripping tiny thoughts, Hughes' acoustic guitar grating through clenched teethmore secular , creating a claustrophobic mood.while Hughes' acoustic guitar grates, as iffearfully  The song advances into the verses behind armies of burly electric guitars and Brainard's theramin-like pedal steel flamethrower. Clarke's eerie Farfisa tones melt with the chorus into a dreamy bridge of ethereal soprano vocals and otherworldly pedal steel tones. Anderson rips through his guitar solo as if he is being electrocuted.
"Baby Can I" is a complete change of pace. Bassist Don Corey of Iron John sits in with the band on upright bass, setting up a lip curling, finger snapping Jazz groovethat the drummers quickly accent with smooth, swinging finesse. Clarke and Brainard add layers of organ and pedal steel, creating a seductively foggy atmosphere for Reverend Tony's cool, restrained pitch. Hall delivers inspired sax solos in the breaks, riffing spectacularly.
The greatest mood swing occurs with the sublimely nightmarish "The Velvet." Hughes solitary acoustic guitar evolves out of thunder and rain on a windswept sea. Mysterious lights blink across the curving horizon. Ghostly ships pass through the mist. A nocturne of foreboding birds call out in the grey shadows of gathering night. Lost. The ocean wells up, crashing down upon itself with relentless force. Calm descends again,whales and porpoises dance lazily beneath the hazy moonlight. The thunder and rain return at the beginning of anothe rcycle.
The product-oriented mentality of music industry types would never allow the vaudvillian today's stry types would never accept theaspects of the Beatles' Sgt. Pepper  in the current marketplace. Diversity and ingenuity must now take a backseat to demographics and the bottom line.stry types would never endorse It will be a hard road for Jesus Presley too. In their case, papa may have too big a bag.
Actually, Baptism Of Love  has several things in common with Sgt. Pepper. Each of the songs is an entity unto itself, yet somehow subtly connected thematically. And by the end of the album, one is hard pressed to remember exactly what has been heard. The immediate reaction is to listen to the record again, after which the process begins again. Generally, after four or five listens, the full effect starts to sink in.
Over the years Jesus Presley have proven themselves with countless memorable live shows. Because of the imposing size of the entire Jesus Presley experience, it was a good bet that they would be unable to capture their live energy in the studio. But, defying those overwhelming odds, the band has succeeded in aces. An album brimming with raucous joy and an irrepressable sense of fun.