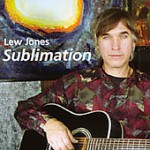 Sublimation
Mastan Music
Lew Jones has been writing songs and performing them for Portland area audiences for nearly thirty years. Always something of a maverick, he has never attained the acclaim that some of his fellow solo folk artists have received over the years. Lew has generally remained just on the periphery of public perception. Though he has surely written over a thousand songs, performing them relentlessly for over twenty five years in local pubs and coffeehouses, he has never been properly acknowledged as the local treasure that he is.
Following a stylistic trajectory not unlike that of Neil Young, Jones has always been driven by a restless musical spirit. In 1986, he formed a raucous rock trio, whose punk elements were embraced by the Portland underground. Guitarist Rob Landoll of the Obituaries often played with Lew's band.
In the early '90s, Lew became friends with Jeremy Wilson, of the Dharma Bums, an impressionable young man, who sometimes benefited from the elder musician's sage advice and hard won wisdom. Jeremy's own experience with the music industry- first with the Bums, then with his next band, Pilot- ultimately proved to be disastrous. Eventually Jeremy found himself in a career hole (dug for him by the label that was ostensibly representing him) from which it took many years to finally extricate himself. This unusual project is the culmination of Jeremy's return to the music business.
Recording Lew Jones is a very easy thing to do. Hit the record button and let 'er rip. Producing him has always been impossible. The man hates second takes, let alone multiple takes. He does not have patience for overdubs. Most of his albums sound as if they are recorded live in the studio, which, typically, they are. Though he has recorded in the neighborhood of thirty albums or so, only one comes to mind that was a true production: 1980's Rain On The Marshland. In that regard, this new album, produced by Jeremy Wilson, is, in many ways, the long awaited sequel to Rain On The Marshland.
Though two of the thirteen songs included here are of that "live in the studio" nature, the other eleven songs are given full treatment- with drums provided by Ezra Holbrook and bass by Aaron Masonek, as well as guitar and vocal support from Jeremy and John Cluff. An array of other musicians, including Lew's son Justin, add instrumentation or backing vocal support on various tracks, filling out the sound very nicely.
Three or four of the songs found here are vintage Lew Jones songs, while most are new to this project. Jeremy's song arrangement ideas and production techniques are, for the most part, non-intrusive, fleshing out nuances within the songs. They tend to succeed best on the newer songs and least with the older material. But, overall, this is a very special recording.
The first track is a Jones chestnut, "I Was Raised In Portland Town," given something of a fresh treatment by Jeremy and the backing ensemble. In the intro, sounds almost never heard on a Jones recording, Russell Bohall's whirring synth and moody block chords on the piano, set the tone; grappling with Lew's jagged electric guitar. A truly heavy transitional section and a cathartic chorus lend this song a lot of promise, when inexplicably, Jeremy decides to interject a fairly meaningless streetrap into the instrumental section in the middle (perhaps acting as Eminem making an appearance in Dido's version of "Thank You")- completely at odds with the tenor of the song. Lew reciting his own poetry, as a spoken interlude, would have been far more effective. But in truth, through the course of the whole album, that is the only real misstep.
Another Jones nugget, "Terwilliger Bridge" is given a straight-forward treatment, not much different from previous versions of the song, save for Lew's harmonica and some gentle background vocals. Steve Wilkinson, ace vocalist for Gravelpit and Mission 5, adds soothing backup.
But, "Lazy Faith" is a different story altogether. With Justin Jones' haunting keyboard figure flickering like a firefly in the foreground, propelled by the force of the muscular rhythm section, Lew (with lyrical help from Jeremy) delivers one of his best songs, ever- surely a good bet for a single. Think of Tal Bachman fronting the Psychedelic Furs doing Neil Young's "Lotta Love." Yeah, right! Whatever the case, this song is a hit, certainly worthy and deserving of radio airplay.
Similarly, with lyrical input from Jeremy, "I Think She's The One," is another of Lew's most accessible songs, with Bohall's nacreous organ pads floating through the mix, supporting Jeremy's acoustic guitar flourishes. A tender, moving song.
The ballad "Summer Sigh Lullaby," is a gently lilting number. Suspended upon frothy acoustic 12-string guitars, the song floats along slowly, like a butterfly on a soft summer breeze. Kara Stover's seductive background vocals hover like a ghost above Lew's tender musings. Very nice.
Another of Lew's "golden oldies," "The Lights" remains true to other renditions Lew has done of the song. This is the tightest and best version of the bunch, but not that much different from its predecessors. Still, Jones' lyrics remain brilliant: "The ecology is broken/But the freeway's living on/Just look in the mirror/Step on the gas and you're gone. " Just Lew's single acoustic guitar backs "Keep Your Soft Heart." His solitary vocal is backed by soft harmonies from Wilson and guest Rob Scrivner. A simple song of love.
Among the best rockers on the album is "Vanport Flood," a ballsy, bluesy number that could practically pass for the work of the Cherry Poppin' Daddies. Barbette Falk's withering sax solos adds immeasurable punch to the proceedings. Bohall's artful piano stylings lend rich coloration to Lew's punchy rhythm guitar and solid vocal presentation.
With the help of Grant Cumpston (ex of Gravelpit), who shares fiery lead guitar duties with Lew, "Pass the Torch" smolders like a boulder in a scalding volcanic cauldron. the song's antecedents are: John Lennon's "Come Together" and "Cold Turkey" (stylistically) and Jim Morrison's "Roadhouse Blues" (vocally and motivationally), among several other relevant pieces. It cooks. Lew gives, perhaps, his strongest vocal performance ever.
Lew's jangling acoustic twelve-string rhythm guitar and staccato acoustic six-string interjections lend a Spanish flavor  to "I Am A River Ascending." A simple, ambiguous love song. "I am a river/I am a door…" Bohall's roiling piano play against Holbrook's steadfast drumming and Masonek's deftly sparse bass work. A wistful, pretty song.
Masonek's McCartney-esque basslines on "Tell The World" recalls the Beatles' "Here Comes The Sun King" from Abbey Road. Swooping, muddy tones smudge the palette with Holbrook's Ringo-like tom fills dotting the landscape, while Justin Jones' lush piano phrases frame the scene. Kara Stover adds brightness and contrast with subtle backing vocals. A luxuriantly pastoral song.
The final two songs are "live in the studio" affairs, giving a fair approximation of what Jones sounds like at his typical gig. ""River City Rendezvous" is of interest for it's highly personalized lyric, which relates directly to Lew's girlfriend, and to Jeremy Wilson. "He's a 24 carat Kerouac Jack/He's a dharma bum/She's an Aussie girl/She's a Fiji pearl/It's a diamond day/At the Bread and Ink/And we go to talk/And we go to think/On a River City rendezvous."
Lew Jones has been around Portland so long that the city takes him for granted. He has recorded more albums than any other local musician. If, over the years, his albums have been uneven even, from a production standpoint, the songs he has written and performed on those albums carry no less weight or gravity. This may be his first full blown "studio" album in over twenty years. But even if that is the case, it has been well worth the wait.
From a production standpoint, Jeremy Wilson is to be commended for remaining true (for the most part) to Lew's convictions and style, while surrounding him with a coterie of talented young sideplayers. But that would be for naught if they did not have interesting songs to play. Every one has come together on this project to create a wonderful, fulfilling piece of work. Lew Jones deserves that much.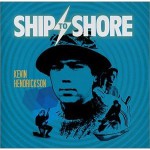 Ship To Shore
Self-Produced
As one of the founders of the curious "pirate band" movement that scuttled Portland a few years back, leaving the city awash in "avast ye landlubbers" and "arrr… mateys," Kevin Hendrickson should be commended or shot, depending on your musical vantage point. His involvement with some of the foremost bands of the ilk: Pirate Jenny and Captain Bogg & Salty  is proof enough of his commitment to the genre (if, indeed, it is a genre).
But those expecting swashbuckling rock and roll sea chanteys, thick with "yard arms" and "bilge water," will be somewhat disappointed by several songs within this wonderful pop album. Still, those longing for the sea and foam of Jenny's "Strap On Your Courage," might find something a bit familiar in "Radioman" "Open Your Heart To The Sea" or "Gumbo Jim." So the territory here isn't that different, really. Whatever the case, Hendrickson proves himself to be a talented songwriter and musician, capable of walking a much longer plank than the musical pirate ship might provide.
First among the ten songs offered on this outing is the sporty "If I Could Make My Dreams Into Movies." Joe Morgan's straight-forward drumming and peripatetic Eric Furlong's sparse, liquid basslines are the impellants behind Kevin's cool and sure Rhodes-line electric piano and slightly funky rhythm guitar. Recalling the blue-eyed soul of Squeeze from the early '80s, a non-depressed E of the Eels or a half-speed Weeezer, a memorable chorus keeps interest high.
"I'm Breathing" fairly continues the mood of its predecessor, with Hendrickson doing his own basswork, exchanging a thick organ tone for the electric piano and toughening the guitar presentation slightly, lain over Morgan's trusty drumming. The vocal melody is reminiscent of something Crash Test Dummies might create, but Kevin's voice is sort of sincerely reedy, quite unlike the Dummies' Brad Roberts' cocky muggy croak.
"Radioman," which is probably best bet for a single, is an energetic number, with warbling farfisa organ and low-string guitar lines (with hints of arpeggiated synth flutes and heavily effected piano), sounds like '60s-revival '80s stuff, which would make the time just about right…  A good seagoing story of a lyric will warm the cockles of  all the lonesome sailors out there. Good stuff.
With a melody vaguely derived from the French song "La Mer," which Bobby Darin released as "Beyond The Sea," in the early '60s, Kevin Hendrickson delivers "Open Your Heart To The Sea" as a homely paean to the salt air and, of course, l'amour. A couple of acoustic guitars and a little percussion, a solitary descending bassline on piano an occasional ring of the autoharp and voila. Nothing to it.
Tony Lash's brilliantly unusual drum support on "Rainbow Wings" adds propulsion to an otherwise melancholy number, very pretty, but nostalgic and autumnal, like the Irish air "Danny Boy." Wobbly keyboard strings and heavily effected guitars add excessive moth-like flutter to the presentation, making pitch a variable, apparently intentionally.
The Weezer sound comes up again on "Let It Show," a jaunty optimistic number with a positive message and dueling lead guitars. "Gumbo Jim" a tale about a woeful old character, has a melody faintly similar to Paul Simon's "American Tune."  Hendrickson displays a consistent knack for cobbling together melodies from familiar fragments.A Russian folk melody and lurching upstroke rhythm guitar lend a spooky aura to the sad lyrics of an unhappy highschool incident.
Humor is the fulcrum on the clever, "Vague Recollection" which sounds like something from the "double white" period Beatles. "Pacific Wonderland" is a heartfelt ditty, that praises the splendor of our Northwest home in simple, uncomplicated words. Another pretty little song.
Kevin Hendrickson distinguishes himself  as a craftsman of rustic folk/rock of modest gravity, but with a high entertainment quotient He has the ability to embroider his songs with interesting instrumentation (he was helped here in this by producer Jeff Saltzman at Larry Crane's Jackpot Recording Studios).  Hendrickson is smart, witty and clever. This is an album deserving of closer attention.
The Voice Of The Future
Pimpbionic Records
Well, here's one of the more fun local projects to come out in the past several years. This seven/eight-piece organization is dedicated to the funk, Clinton-style. George Clinton and Parliament/Funkadelic funk; although rap and hip-hop influences abound as well. But what sets this band apart, is its puerile sense of humor, wry and Zappa-like in places- with a vocabulary in their raps that defies, and, at times, extends far beyond, the genre. Immaculately produced by Sean Norton, the ten tracks (and the three or four hilarious "Interludes") on the album leap out at the listener, glistening with a sonic sheen.
That brings up a point I'd like to clear up. A couple of months ago I reviewed another band called Funk Shui. In that review I inadvertently mis-identified their bass player as Sean Norton. Justifiably, I heard about it. The Funk Shui bass player is Sean NOWLAND. The producer of this particular funk album is Sean NORTON. Both men are very well known in the local music community. I apologize for my contribution to any confusion that may have arisen over my misprint. It was entirely unintentional.
There.
Dr. Theopolis is the brain-child of Ezra and Jules Holbrook (who use the aliases Cecil Pimpington III and The Original Doctor, respectively). Ezra sings and plays tenor sax here. Jules plays guitar and sings backing vocals. Other members that can be readily identified are bassist Mr. Bone Dangles (Aaron Masonek) and drummer The Notorious PHD (Jonah/Dizzyfish drummer Jake Endicott). Other, not so easily identifiable members are: "The A-Bomb" who plays trumpet and keys, "Soft G," who plays guitar and synth. "EZ Money" is the MC. And, of course, the elusive Mr Fabulous (whom, along with little Billy, plays an important role in the Q&A sections of the various "Interludes"), is on board as "Dance Man Extraordinaire." As he is not pictured, it may well be that Mr. Fabulous and EZ Money are one and the same person. It is just too soon to tell.
Our first encounter with the band is "Fabulous," a classic piece of the funk. Upon a bed of synths trilling like goosey horns, wrapped in a blanket of  satin-smooth  background vocals, we get the first glimpses of our toaster, Mr. EZ Money. With a sly, oil slick delivery we hear, "Now let me break you off a piece/I own the mic like I signed a lease/Just watch my pimpitude increase/Till I'm so phat I'm practically obese/Watch me get ridiculous/My attention to the ladies is meticulous." Well, there you go.
"The Voice Of The Future" continues the mandatory shallow bravado, with the party call, "Everybody gotta funk somebody," but with additional physics concepts entwined. "We're on a mission here to shake the earth/And we ain't down by law, but I been down since birth/Tearin' up shit like the fabric of time/We're comin' back to the past to drop a dime…/The voice of the future/here to blast the past/And I'm ahead of my time/Because my watch is fast." Oh yeah!
Coming on with a slight change of pace, in a minor key, with buttery flute-toned synths dripping light and fantastic, is Holbrook's "Pound For Pound," although the lyrical theme here remains boastful, old-school, band boosterism. "Rollin' in my 84, whassup?/Got my windows down, cuz they won't roll up/Got all the ladies wavin' but I can't slow up/Cuz the party isn't startin' till the Doctor show up." Other assertions, regarding the massive quantities of beer the good Doctor is capable of consuming, pop into the monologue as well. Droll stuff.
"Funkatopia," with it's recurring refrain: "The name of this town is motherfunkin' Funkatopia/Funkatopia," as horn lines writhe through funky wah guitars, makes for a satisfying four minutes of listening-time spent. "It's a brave new world, so come along/Man, can't we all just git it on?"
One is sometimes given to understand, that, at the periphery of the Doctor's world, according to EZ Money anyway, things are not quite as lushly opulent as they might at first appear. "The Doctor's got what you need/Ya just come see me/And you'll be sittin' in the lap of luxury/Cuz the Doctor spares no expense/If you like the finer things, then I'll have my evidence/in the door of my Corrola, '75/Might not be fresh or clean, but at least it's a ride." The song is kind of creepy, because, in this bad dream anyway, the Doctor is a party crasher, in for the long haul, till the booze is gone, at the break of day. Meanwhile an organ phrase wheezes lethargically in the background, behind the insistent rhythmic foundation laid down by Endicott and Masonek.
A muted trumpet, some cool ambient synth swirls and dexterous staccato guitar licks punctuate Holbrook's "Sweet Love," a tale about the unrepentant "Doctor"  "gettin' laid" by his best friend's girl.. "I shoulda used my head/When I had to put a quarter in the turnstile on the way to her bed/Whoops, my bad, how'm I s'posed to know/ That that chick was yo' mama and yo mama's a ho." Ouch, Doctor!
Dropping the names of a number of well-known basketball stars as similes for the elusive liquidity of the Doctor's action, on "Pimpbionic," muted horn lines mesh with brassy synth lines to form a slightly more modern sound. "Together in some secret laboratory/Bad as Kobe Bryant, smooth as Robert Horry/Bionically enhanced so my game stay's tight/I can rocka mocka till the early light." You go boy-ee! "P to the I to the M to the P to the B to the I-O-N-I-C."
Holbrook's "Worst Thing" contains one of the great verses ever written "This is for the worst thing you ever done/Everybody's got one comin' and this is your one/The Doctor is here to do some harm/I'll break my Hippocratic oath and then I'll break your arm." It doesn't get much better than that." A good, tight, satisfying groove by the ensemble, an insistent piano line turning like a Ferris wheel, propels the tune, as Mr. Money bristles with bombastic bluster. "You ain't got what it takes to finish what your startin'/Cuz, when I saw a picture of your balls on a milk carton." Them's a-fightin' words there, Doctor.
A familiar, KC and The Sunshine Band-sort of chromatic bass/wah guitar theme motivates the inevitable "House Call." "House call/The Doctor's at your door/House call/Seven, twenty-four/House call/The fever burns all night/House call/He'll make you feel alright." Well, I guess we all knew that was coming. A bit of Morris Day and the Time floats through this number as well. Another solid groove.
Dr. Theopolis couldn't be any more enjoyable. One would expect their live shows to be a real hoot. The ten songs on this album give a fair appraisal of the Doctor's mindset. Given the evidence, stated above, one would probably not go to see the Doctor if he were extremely conservative or exceedingly religious. But anyone looking for serious, light-hearted musical fun with a groove as big as Uranus, one thing is certain. The Doctor is definitely in.